ArtReach
Award-Winning Children's Plays, Christmas Plays, Christmas Musicals for Young Performers, Children, Halloween Plays, School Plays and Scripts for Large-Cast, Small-Cast Plays. ArtReach Shows for Young Audiences. One Act Plays, One Act Dramas, Comedies for Middle Schools and High Schools. Plays for Touring to Schools, Educational Outreach Theatre. ArtReach One Act Musicals for Children and Young People.
---

Winner of a National Endowment for the Arts Playwriting Award.
---
ArtReach Plays for Young People, Postive Plays for African American Students
---

Winner of five Ohio Arts Council Playwriting Awards.
---
Multicultural
Play for Children, Schools, Churches, Communities!
---
Uplifting Children's Play for African American Children!
---
Play, Script for Martin Luther King Day (MLK Day), Black History Month!
---

Ohio Theatre Alliance Award: "Outstanding Contribution to Theatre"
---
Musical Play for Martin Luther King Day, Black History Month!
---

Post-Corbett Award for "literary excellence in Playwriting."
---
ArtReach
Children's Scripts and Plays for Kids, Young People, Schools!
---

Kathryn Schultz Miller's work has been Featured in Twenty Great Plays for Children, published by St. Martin's Press, Foreward Maurice Sendak
---
History Comes to Life on Your Stage!
---

"Thank you for such a wonderful script. Our performance was SPECTACULAR! Thanks for your help in making it a magical evening for my kids."
Molly Callender, Langley Christian School
---
Large Cast Plays and One Acts for Black History Month, Schools, Theatres, Chruches!
---

"The children were fabulous! We had so much fun! Thank you! Thank you!"
Rhonda Smith
Bayside School
Stevensville, MD
---
Martin Luther King Play just for Kids, Schools!
---

"It was absolutely a wonderful experience from beginning The script was wonderful and easy to adapt so that everyone could participate!"
Donna Stafford
First Grade Teacher
Kinston, NC
---
Beautiful Music! Simple Dialogue and Creative Staging!
---

"Your scripts are well-paced, clear, and fun for all!"
Greg Tutt
Buford Elementary
Lennox, CA
---
Plays for Young Audiences, for Martin Luther King Day (MLK Day)!
---

"My principal asked me if my students would perform it one more time!"
Allison Sands
Stevens Brook Elem
Bridgton MEI
---
Includes the Inspiring Story of Rosa Parks and Civil Rights Pioneer, Heroes and Sheroes!
---

"It was a huge success! As a result of my volunteer efforts the school gave me the full time position as drama teacher!"
Sherri Alejandro
Carden El Encanto School
Santa Cruz CA
---
School Plays and School Play Packages include Stage Diagram, Teachers Guide and Background CD!
---

"Everyone was overwhelmed at how wonderful it turned out! Thank you!"
Brooke Iverson
Signal Mountain TN
---
Dramatic Play with a message of Love and Peace!
---
C

"The students were great and you have a life long customer with our school. We are already getting ready for next school year's play.TThank you again for GREAT plays!!!"
Billy Foster
Balboa Academy
Panama
---
Multi-Cultural Play Children, Kids, Families and Communities Can Relate To!
---

"Everyone loved it and thought that it was so creative!"
Shari Glickman
PS 276
Brooklyn NY
---
Uplifting Stories that Inspire Kids to Fulfill Their Dreams!
---

"What a great compilation of music!"
Kennelyn Ceralde
Sacramento CA
---
Plays that Lift the Human Spirit!
We Are The Dream
The Legacy of Martin Luther King, Jr.
Musical School Play for Schools, Theatres and Churches!
ADDITIONAL INFORMATION
Cast List
The Best Play for You
Staging Notes
CD Soundtrack Cues
Dialogue Sample
---
WE ARE THE DREAM
CAST LIST
Running Time: About 45-50 minutes
Flexible cast of about 25, 6 Male, 5 Female, All others M/F
Easily adapted for larger or smaller cast
STUDENTS:
TONY (M/F, 13 lines)
FLORA (M/F, 14 lines)
JAMES (M/F, 12 lines)
HOPE (M/F, 13 lines)
GRACE (M/F, 13 lines)
GROWNUP JULIA (M/F, 17 lines)
YOUNG JULIA (M/F, 13 lines)
JULIA'S MOTHER (F, 9 lines)
JULIA'S FATHER (M, 15 lines)
YOUNG MARTIN (M, 11 lines)
ALBERTA (F, 8 lines)
MARTIN'S FATHER (M, 6 lines)
MARTIN (M, 37 lines)
MRS. WILLIAMS (M/F, 29 lines)
BILLY'S MOTHER (M/F, 2 lines)
SHOE CLERK (M/F, 2 lines)
CORETTA (F, 16 lines)
ROSA PARKS (F, 5 lines)
TV ANNOUNCER (M/F, 18 lines)
BUS DRIVER (M/F, 8 lines)
SHERIFF (M/F, 11 lines)
JOSEPH MCNEILL (M, 4 lines)
WAITER (M/F, 8 lines)
WALLACE (M, 6 lines)
VIVIAN JONES (F, 8 lines)
CHOIR (Optional, any size)
---




Let Your Kids Live the Dream!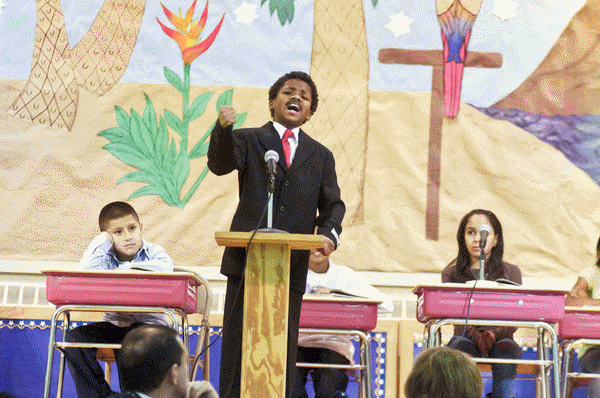 A Student Performs MLK's Dream Speech!
Charteret School, Bloomfield, NJ
---

Written especially for young people to perform.
While you may find large cast plays from other publishers, most of those were originally written for adults or professional actors to perform. They often contain difficult dialogue, unfamiliar or complex language, and speeches too long for young children to memorize. They may even contain jokes, innuendos and subject matter that may not be appropriate for children.

Easy to understand and memorize.
Dialogue is simple, fresh, quick and humorous, keeping the action flowing without stops and starts between scenes. This keeps young people and young audiences engaged throughout the performance - no awkward pauses, no dead-time, no wiggles!

Everyone participates!
All children are involved throughout the performance. This builds confidence, promotes team spirit and eliminates rehearsal rowdiness. The audience is often asked to join in the fun, and action often spills into the aisles! All of our SCHOOL PLAYS give suggestions on how to divide up large parts (such as Snow White or Cinderella) among several performers so that no one child is the "star".

Feel free to edit! Go ahead and tape it!
Most publishers insist that no changes may be made to their scripts. We know that your goal is to engage every child in the most meaningful way and that your needs are unique. Cut, eliminate, re-assign lines, or add as much as you like! Also, there are no restrictions on video tapes. Parents want a tape or DVD to remember their child's big moment. Go ahead and tape away!

---

A Joyous Experience for Kids!

Ariel Community Academy, Musical Children's Play, We Are the Dream, Chicago

---

CASTING: This script is written for adults and children of varying ages to perform together. Older children and adults may take the parts of Grownup Julia, Mrs. Williams, Martin's Father, etc. An obvious choice would be for the teacher who is directing the play to perform Grownup Julia or Mrs. Williams. The purpose is to deepen the experience of recounting Martin Luther King's life among a wide and diverse group, a true community, helping all to see it from many points of view. However, it is quite all right for all the roles to be played by young people of just one age if that is the nature of your project.

CHOIR: Using an existing choir, such as a church choir or a school singing group, will simplify this aspect of the production. The Choir may be as small as one person or as large as you can accommodate. The choir is the sole backdrop/scenery for the play placed upstage center with action taking place in front of them. Members can come and go from the Choir to perform in the play taking on the speaking roles as they are described in the script or playing non-speaking (or ad-libbed speaking) roles such as crowds at protests etc. When actors are not performing in the playing area they may step into the choir and sing through the scenes until it is time to resume their role again. If your choir is already practiced in songs you think are appropriate, by all means replace the suggested songs with those your choir members already know. If your audience is familiar with the songs feel free to encourage them to join in throughout the show. If a choir is too much for your project, a CD of background music and sound effects is available and the references to songs may be eliminated from the production.

---

We Are Martin Luther King's Dream!
Joshua Academy, We Are the Dream, Children's Musical Play, Evansville, IN

---

WE ARE THE DREAM
CD SOUNDTRACK CUES
Cues, sound effects, choir accompaniment music

The CD Soundtrack contains sound effects and music to accompany the choir (traditional spirituals and gospels) that may be used to greatly enhance the performance. Cues have 10 seconds of silence at the end - times shown below include silence.
[ Click on [sample] to hear a short sample of the indicated cues ]

NOTE: Cues marked CHOIR: contain music to accompany the choir. SKIP the CHOIR: cues if you are using a piano or live band playing for the choir. (Simple piano sheet music is included in the Teachers Guide.)
1. CHOIR: WHAT A MORNING (1:08) [sample]
2. CHOIR: NOBODY KNOWS (1:37) [sample]
3. CHOIR: NOBODY KNOWS 2 (1:37)
4. CHOIR: OH HAPPY DAY (1:56) [sample]
5. CHOIR: OH HAPPY DAY 2 (0:50)
6. CHOIR: WHAT A MORNING 2 (3:05)
7. EXPLOSION, BURNING CROSS (0:52) [sample]
8. CHOIR: QUIET HUM (0:37)
9. SINGING, CHAOS, SINGING (2:41) [sample]
10. POLICE, DOGS, MOB (0:33) [sample]
11. CHOIR: BLACK AND WHITE TOGETHER (1:52) [sample]
12. CHOIR: WALK HAND IN HAND (1:52)
13. CHOIR: SPEECH & FREE AT LAST MUSIC (2:55) [sample]
14. SPEECH ONLY (2:19)
(use either track 13 or 14 for this cue)
15. CHOIR: WE SHALL OVERCOME (Finale) (4:30) [sample]
CHOIR: Using an existing choir, such as a church choir or a school singing group, will simplify this aspect of the production. The Choir may be as small as one person or as large as you can accommodate. The choir is the sole backdrop/scenery for the play placed upstage center with action taking place in front of them. Members can come and go from the Choir to perform in the play taking on the speaking roles as they are described in the script or playing non-speaking (or ad-libbed speaking) roles such as crowds at protests etc.

Music & Sound Resources Available on the Internet
( Sheet Music, Song Books, CDs, DVDs, Sing-along, Karaoke, Sound Effects )
Internet Music Resources: Karaoke CDs & Sheet Music








Click to search Internet for karaoke cds or sheet music
---

"It's for all of us... We are the dream."

"This show is not about rehearsal, not about perfection. It's about faith and love and the message of Dr. King. This dream is for all of us. We are the dream."
Director Marianne Carruth, Tryon Fine Arts Center, NC
We are the Dream, 2011 Production

---
Young Martin has big plans but he knows he can't do it alone...
(Script pages 12-13)
CORETTA: I am Coretta Scott.

MARTIN: (Admiring.) Yes, you are.

CORETTA: Don't you know me by now, Martin? Yes, I am Alabama born and bred. But I have no intention of returning in this particular lifetime. Boston suits me fine. I'll have my music degree in a year and my masters in two! Give me one good reason why I should complicate my plans by marrying you.

MARTIN: Well, for one... because you love me.

CORETTA: How on earth could you know that?

MARTIN: Because I love you. And I can see you feel the same.

CORETTA: Has anyone ever told you you're proud?

MARTIN: Proud to be a man? Proud to be an African American? Proud to have a brilliant woman like you at my side? Guilty as charged.

CORETTA: Oh, Martin. I do love you but...

MARTIN: But?

CORETTA: I can't go back to the south. I just can't. I can never forget how I was treated down there. Like I wasn't as good as the white girls.

MARTIN: That's exactly why I got to back, Coretta. And why you got to go with me. Someone has to begin to lift our people up!

CORETTA: Oh, Martin you're a dreamer. Do you think you can do all that by preaching from a pulpit?

MARTIN: I can. I must.

CORETTA: If I say yes. If I marry you. I won't be marrying just a man. I'll have to marry your dream too.

MARTIN: I wouldn't ask you if I thought you couldn't do it. You'll be my partner, Coretta, by my side every step of the way.

CORETTA: And give up singing?

MARTIN: (Smiling.) There's always the choir.

(SOUND CUE #4: Choir, Oh Happy Day.)

CHOIR: (humming and clapping intro to song...)

CORETTA: The church choir? After all my classical training? (Rolling her eyes.) Oh, happy day!...

CHOIR: (Singing in direct response to CORETTA.)

Oh happy day... Oh happy day
Oh happy day... Oh happy day
When Jesus washed... When Jesus washed
Oh when He washed... When Jesus washed
When Jesus washed... When Jesus washed
He washed my sins away
Oh happy day... Oh happy day...

(Repeat "Happy Day" and/or lyrics as needed. CORETTA acknowledges the CHOIR with an "I can take a joke" look to them. She and MARTIN join the CHOIR and sing a phrase. END CUE.)

Note: This is a sample from the actual script. To review the entire play, order the PERUSAL SCRIPT (online instant download). Or to save 20% on the full production kit and royalty for one performance, order the SCHOOL PLAY PACKAGE (below) and start rehearsals today!



---
One payment for everything you need to perform the play at your school or organization. No need to purchase multiple scripts, no royalty quote, no separate royalty payment. Order the School Play Package and you're done -- start rehearsals immediately!

The SCHOOL PLAY PACKAGE Includes:
1. Master Script ($9.95)
2. Teachers Guide ($9.95)
3. CD Soundtrack ($29.95)
4. Performance License ($60.00)
(License: Rights to copy script, Royalty for one performance)
Get Everything ($109.85 value) - Only $99.95
( SAVE MORE $$$ WITH FULL DOWNLOAD - NO SHIPPING COSTS! )


---