A THOUSAND CRANES
Large Cast School Play for Kids to Perform
Soundtrack Cues ............ Script Sample
---
CAST LIST
Large Cast Version
Running Time: About 40 minutes
Flexible cast of about 17-38, 6 Male, 5 Female, All others M/F
Easily adapted for larger or smaller cast
CHORUS: (up to 10), Male or Female
CHORUS 1 (M/F, 18 lines)
CHORUS 2 (M/F, 18 lines)
CHORUS 3 (M/F, 18 lines)
CHORUS 4 (M/F, 17 lines)
CHORUS 5 (M/F, 17 lines)
CHORUS 6 (M/F, 17 lines)
CHORUS 7 (M/F, 17 lines)
CHORUS 8 (M/F, 17 lines)
CHORUS 9 (M/F, 17 lines)
CHORUS 10 (M/F, 17 lines)
HOSPITAL PEOPLE: (up to 4), Male or Female
HOSPITAL 1 (M/F, 12 lines)
HOSPITAL 2 (M/F, 10 lines)
HOSPITAL 3 (M/F, 10 lines)
HOSPITAL 4 (M/F, 11 lines)
SPIRITS: (up to 4), Male or Female
No lines, Significant movement
SADAKO: (up to 8), Female
SADAKO #1 (F, 17 lines)
SADAKO #2 (F, 24 lines)
SADAKO #3 (F, 8 lines)
SADAKO #4 (F, 11 lines)
SADAKO #5 (F, 13 lines)
SADAKO #6 (F, 10 lines)
SADAKO #7 (F, 10 lines)
SADAKO #8 (F, 9 lines)
KENJI: (UP TO 4), Male (or Female)
KENJI #1 (M/F, 16 lines)
KENJI #2 (M/F, 8 lines)
KENJI #3 (M/F, 13 lines)
KENJI #4 (M/F, 5 lines)
MOTHER (M/F, 19 lines)
FATHER (M/F, 17 lines)
GRANDMOTHER (F, 26 lines)
EMPEROR SPIRIT (M/F, Significant movement)
MR. ARAKI (M/F, 1 important speech)
MRS. WATANABE (M/F, 1 important speech)
DAISUKE (M/F, 1 important speech)

---

"A Huge Success! Easy to Stage!"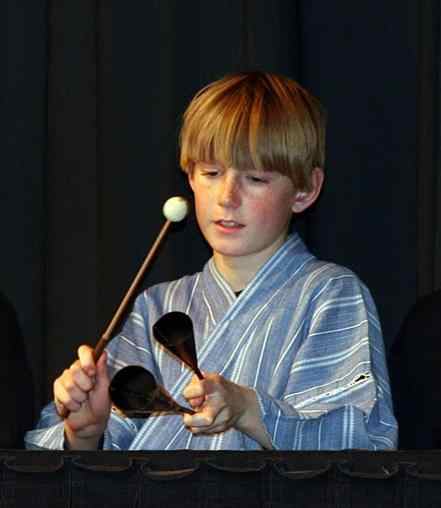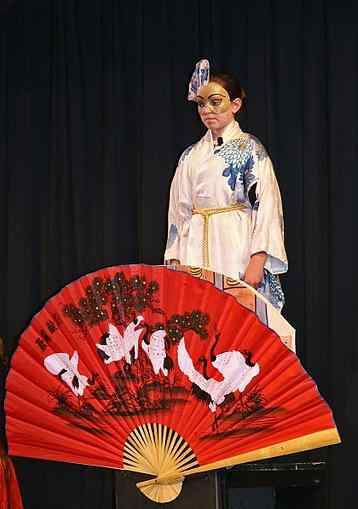 5th Graders, Upland Country Day School, Kennett Square, PA
"My Year 6 students performed A Thousand Cranes three times last week and each performance was a huge success. Thank you for such a great script that was easy to stage and which had such a beautiful and moving message!"
Mary Westall, St. Therese Primary School, Sydney, Australia
---

A THOUSAND CRANES
CD SOUNDTRACK CUES
Cues, sound effects, original background music

The CD Soundtrack contains special sound effects and background music (original music written for the play) that may be used to greatly enhance the performance. It does not contain music for the performers to sing along with. Cues have 10 seconds of silence at the end - times shown below include silence.
[ Click on [sample] to hear a short sample of the indicated cues ]
1. CRANE FOLDING / A-BOMB (2:09) [sample]
2. RUNNING MUSIC (1:44) [sample]
3. HOSPITAL VOICES (1:14) [sample]
4. KENJI CRANE FOLDING (1:06)
5. KENJI FROG (0:48) [sample]
6. HOSPITAL / FOLDING (1:21)
7. FOLDING / FLYING (repeat) (6:58) [sample]
8. A-BOMB (0:38)
9. FOLDING / CURTAIN CALL (5:05)
Note: Some teachers choose familiar songs, obtain sheet music and insert these songs into the play. We recognize that each school has a wide variety of educational needs to fulfill and we invite you to be creative in your use of our scripts; including changes or additions that are appropriate for your students. As author/publisher of our own creative works, we do ask that you obtain proper copyright permission for any additions you might make - that responsibility is up to you.

Music & Sound Resources Available on the Internet
( Sheet Music, Song Books, CDs, DVDs, Sing-along, Karaoke, Sound Effects )

---

Adapted for Children to Perform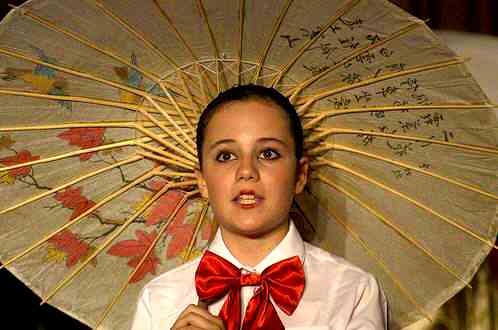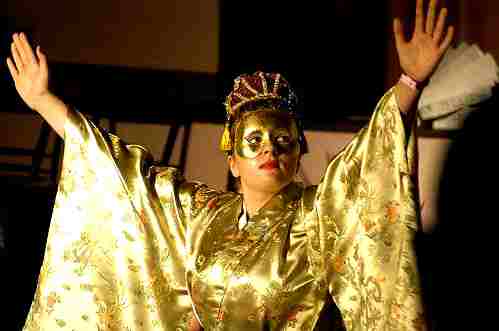 A Thousand Cranes, Fusion Youth Theatre, Grimsby, UK
"A Thousand Cranes is one of those rare experiences that teaches you what theatre for young audiences, in its highest form, is all about."
Hugh Murphy, for the Ohio Arts Councilil
---
A Thousand Cranes has many light moments! This is a fun, lively exchange between Sadako and her friend Kenji.
(Script pages 8-9)
(CHORUS picks up beat , and begins to count, quietly...)

CHORUS: Sixty-seven, sixty-eight, sixty-nine, seventy...

(KENJI comes bounding into playing area, out of breath and laughing. He begins to count, determining by how many seconds he has won the race with SADAKO.)

(Fading.) Seventy-one... seventy-two... seventy-three...

KENJI: One... two... three... four...

(SADAKO runs into playing area, out of breath and laughing.)

Beat you by four seconds!

SADAKO: Four? You're lying!

KENJI: It was actually four and a half but I let you have that.

SADAKO: Oh, you... (Slumping.) You always win! You should let somebody else win sometime.

KENJI: Why, Sadako. You can't mean that I should cheat so that you can win.

SADAKO: It wouldn't be cheating so much as... polite.

KENJI: (Laughing.) And I suppose when you run in the girl's contest next month you'll want the judges to be polite and let somebody else win.

SADAKO: Well, no.

KENJI: I thought so.

SADAKO: Oh, Kenji, do you think I have a chance to win?

KENJI: You? You win the race against the fastest girls in Hiroshima? You can't win.

SADAKO: Why not?

KENJI: Because you're a turtle that's why. A great big lumbering turtle.

(He pretends to become a turtle, laughing at his jest.)

SADAKO: I am not a turtle!

KENJI: Yes, you are.

SADAKO: Am not.

KENJI: Are too.

SADAKO: Well, if I'm a turtle, then you're a frog!

KENJI: A frog?

SADAKO: Yes. A great big green one with warts all over it.

KENJI: Sadako, you can't possibly mean... croak!

(KENJI pretends to be turning into a frog.)

Well, where on earth could that have come from? Croak!

SADAKO: Oh, you.

KENJI: Look, Sadako, my hand is turning all green... croak! ...and it has warts all over it.

(He crouches to a frog position and sticks out his tongue, leaping around, croaking. He uses the bill of his cap to indicate the mouth of a croaking frog.)

Croak! Croak!

SADAKO: (Laughing in spite of herself.) Now you stop that.

Note: This is a sample from the actual script. To review the entire play, order the PERUSAL SCRIPT (online instant download). Or to save 20% on the full production kit and royalty for one performance, order the SCHOOL PLAY PACKAGE (below) and start rehearsals today!

---

THE SCHOOL PLAY PACKAGE HAS EVERYTHING YOU NEED!
Get Everything - Only $99.95

SAVE MORE $$$ WITH FULL DOWNLOAD
-- NO SHIPPING COSTS! --