ALADDIN
Large Cast School Play for Kids to Perform

Brings Out in the Best in Your Kids!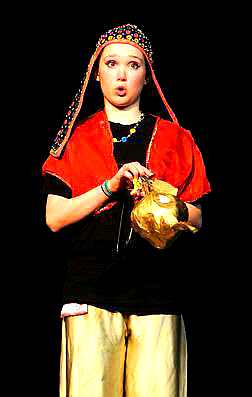 High School kids & Elementary kids work together to produce
ArtReach's ALADDIN at Vergennes Union Elem School, VT
From the wondrous lamp the Genie appears granting Aladdin three wishes and a ride upon a magic carpet, flying off to a world of adventure.

Lots of Fun Audience Participation!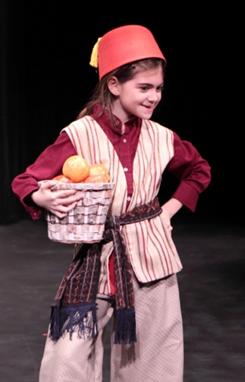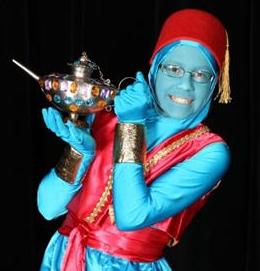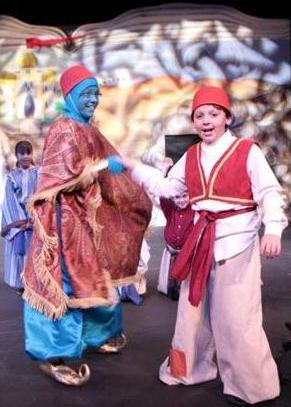 Young Aladdin Cast, Solano Youth Theatre, Vacaville, CA
"Thank you for such wonderful plays! As you can tell, I love them because I keep ordering them! I was elated when I saw that you had done Aladdin! I read the whole play today and I cannot wait to put this together!"
Sara Takeuchi, Taylor Elem, West Chester, OH

---
"Thank you for such wonderful plays!"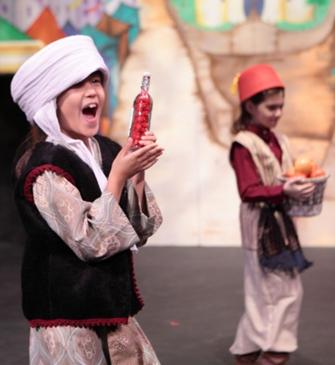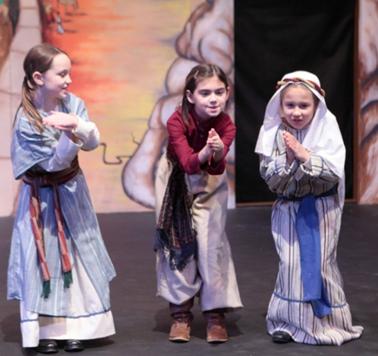 Street Peddlers, Storytellers, Every Child has a Role! Solano Youth
Aladdin longs for the love of the Princess and fights upon and land and sea to win her hand. Just when it seems all is lost, Aladdin uses his cleverness to trick the evil Magician and save the Sultan's kingdom.

Easy for Kids to Learn, Perform & Enjoy!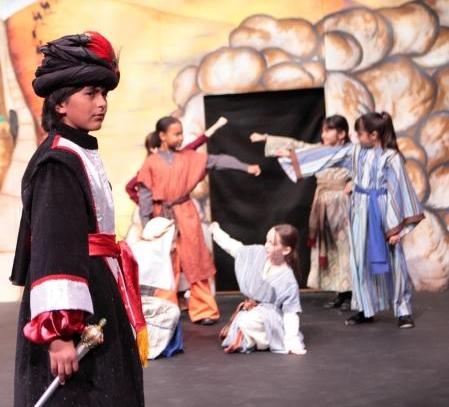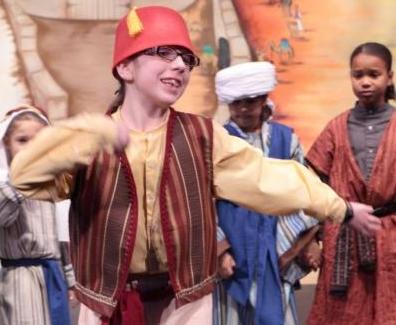 Young Aladdin Cast, Solano Youth Theatre, Vacaville, CA
At last the Sultan joins Aladdin and the Princess in a joyous marriage. For his final wish Aladdin grants the Genie his freedom and all the kingdom celebrates his victory for a... Very Happy Ending!
---

Kids Love the Funny Characters!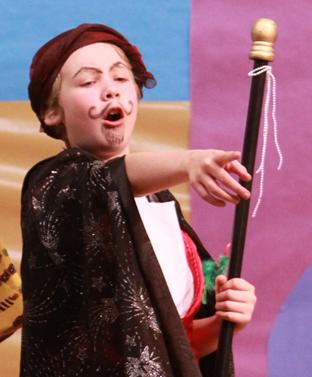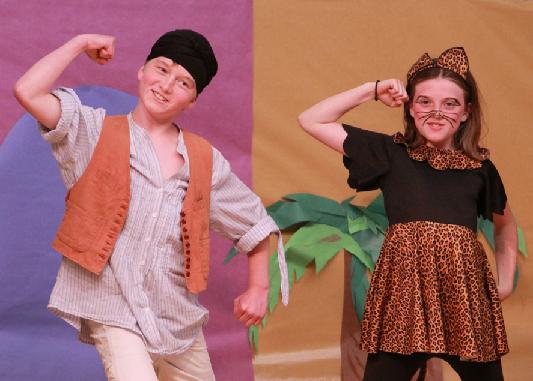 Magician, Aladdin, Persia - Monkton Central School, Vermont
"It's a very funny, funny show! Both kids and adults will get a big kick out of it. It's a huge cast of kids, that's what makes it fun. A great family adventure!"
Anthony Dost, Magic Theatre, Yuba City, CA

Easy to Adapt to Your School's Needs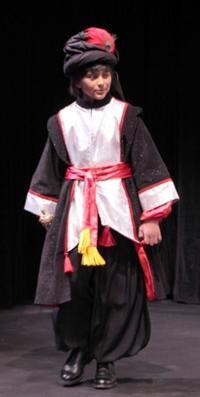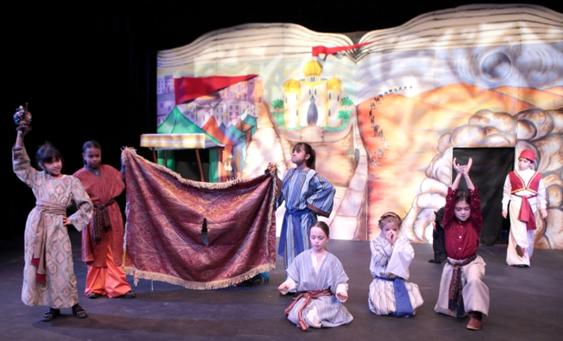 Solano Youth Theatre, Vacaville, CA
---

"A Great Family Adventure!"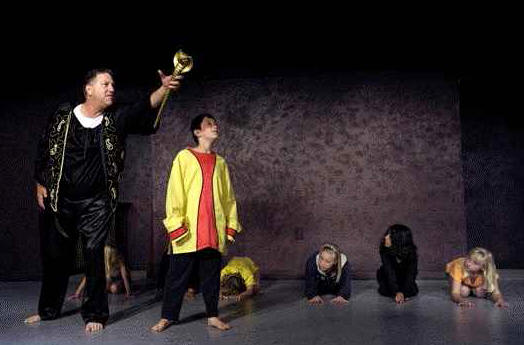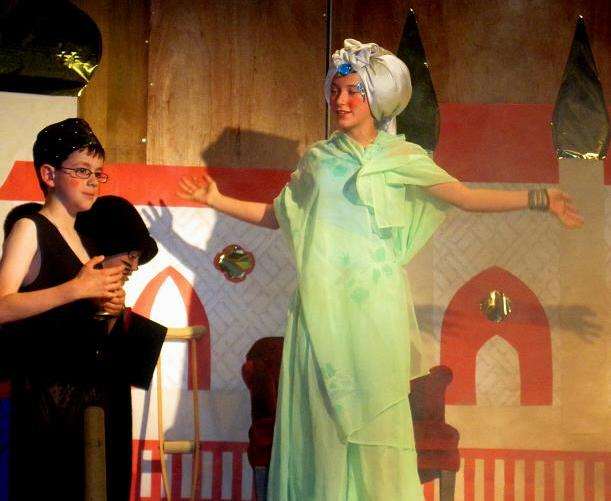 Magic Theatre, Yuba City CA - Children's Theatre Goderich, ON
---
"Humorous! Great Story! The Cast Loved It!"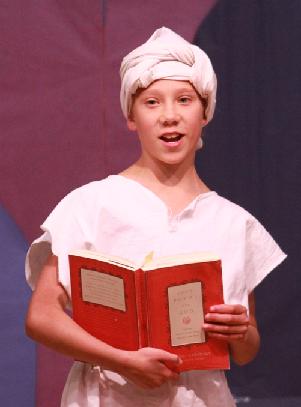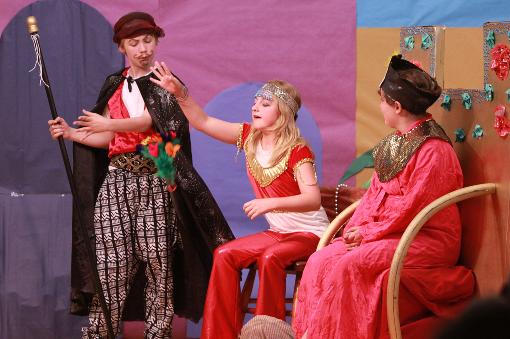 Suitors, Princess, Sultan - Monkton Central School, Vermont
The plot is true to the story and tone of Aladdin as you know it. The audience participates and is always included in the action. Sidekicks Persia the Cat, Geewiz the Magician's Assistant and two bumbling eligible Princes provide lots of laughter and fun!

"A Magnificent Production!"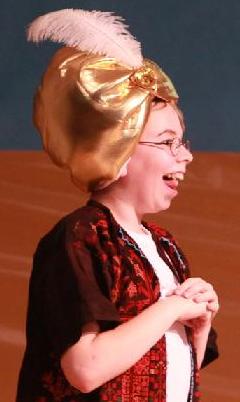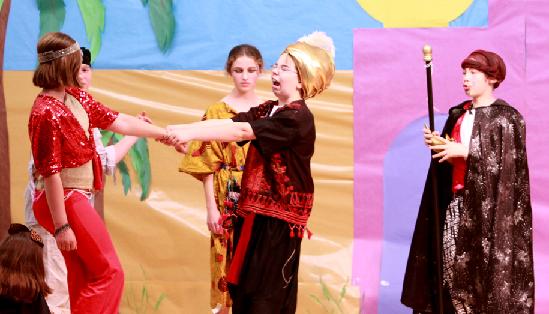 Monkton Central School, Vermont
---

Through audience participation, you and your young friends join Aladdin and the Genie on a thrilling Magic Carpet ride!

Fast Paced and Full of Fun!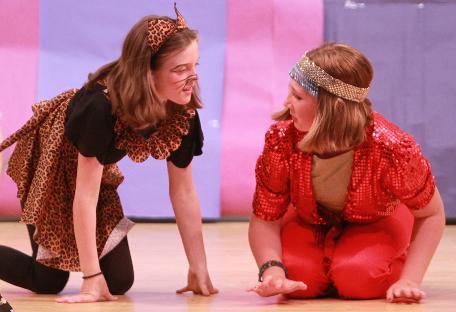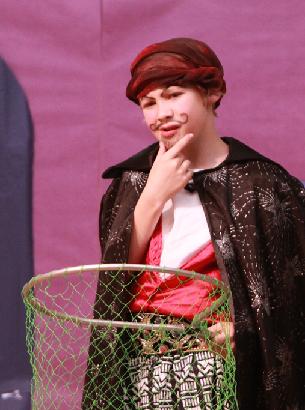 Persia, Princess, Magician - Monkton Central School, Vermont
"We had two wonderful performances of Aladdin, with great success and many cheers and applause from the audiences. Your plays and sound effect CD's are very special."
Jennifer Black, Children's Theatre Company, Goderich, ON
---

Audience Participation & Lively Action!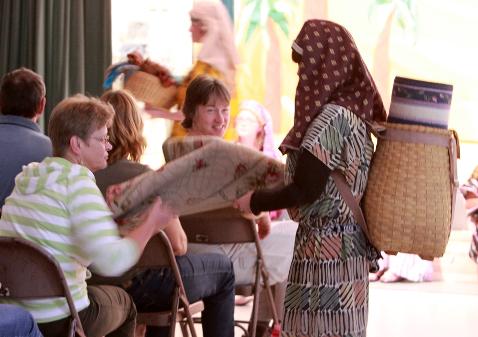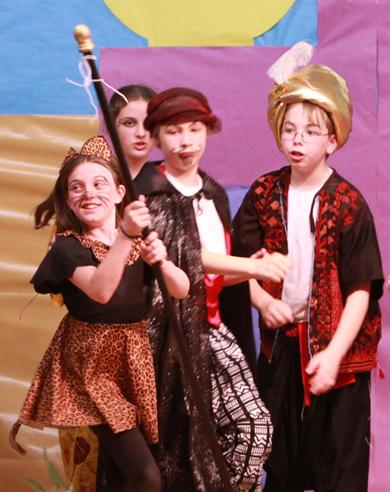 Market Sellers offer goods to audience. Audience helps defeat Magician!
Adapted for Young Performers: Speeches and vocabulary are appropriate for child performers ages 6 - 12.

A Flexible Cast of 30 Students: (Doubling and extras possible.) Every role has a name and at least three spoken lines or significant movement!

Large parts: are divided so that no one child becomes the "star".

About 40-45 minutes long: This children's play is long enough to be a substantial project and short enough to accommodate your teaching schedule.

Easy costumes and scenery: Many suggestions on how to create or find what you need to make a great looking production without breaking your budget!
Perfect for a Large Cast of Students!
Young Aladdin Cast, Solano Youth Theatre, Vacaville, CA
"We have done your school plays for the last 5 years. I love them! They are written so appropriately for the kids to understand and memorize."
Karen Dietry, Plain City Elementary, Ohio

---

Aladdin (3 Versions)



Small Cast Version
Cast of 4 (2m, 2f), for Adult Actors.

Medium Cast Version
Flexible Cast of 13 (3m, 2f, 8 m/f), grades 6-12
Large Cast Version (this page)
Flexible Cast of 31 (9m, 3f, 19 m/f), grades K-6
---

Internet Music Resources: Karaoke CDs & Sheet Music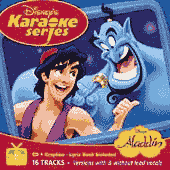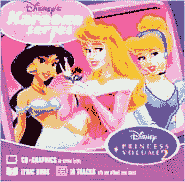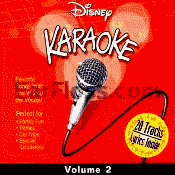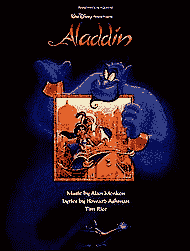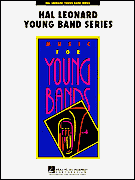 Click to search Internet for karaoke cds or sheet music

ALADDIN
Large Cast School Play for Kids to Perform