BEAUTY AND THE BEAST
Large Cast School Play for Kids to Perform
Soundtrack Cues ............ Script Sample
---

CAST LIST
Running Time: About 45 minutes
Flexible Cast about 29 - 7 Female, 7 Male, All others M/F
BEAUTY: (F, 72 lines total)
BEAUTY #1 (F, 21 lines)
BEAUTY #2 (F, 16 lines)
BEAUTY #3 (F, 18 lines)
BEAUTY #4 (F, 17 lines)
BEAST: (M, 43 lines total)
PRINCE/BEAST (M, 9 lines)
BEAST #1 (M, 8 lines)
BEAST #2 (M, 10 lines)
BEAST #3 (M, 16 lines)
PAPA: (M, 43 lines total)
PAPA #1 (M, 22 lines)
PAPA #2 (M, 21 lines)
COLOR GUARD:
RED (M/F, 8 lines)
BLUE (M/F, 7 lines)
GREEN (M/F, 7 lines)
YELLOW (M/F, 7 lines)
BEGGAR: (M/F, 12 lines)
HENRI THE PAINTER: (M/F, 8 lines, 1 long speech)
MARCEL THE MIME: (M/F, important movement)
VILLAGERS:
BEBE THE BAKER (M/F, 14 lines)
MILLIE THE MILLINER (F, 14 lines)
GERARD THE GROCER (M/F, 11 lines)
FLORENCE FLOWERS (F, 10 lines)
BRUNO: (M, 22 lines)
WOLVES:
WILD BILL (M/F, 10 lines)
FANG (M/F, 10 lines)
HOWLER (M/F, 7 lines)
CASTLE SERVANTS:
MRS. TEA-TIME (F, 21 lines)
TINK (M/F, 11 lines)
MR. WINDUP (M/F, 31 lines)
MR. SPARKLE (M/F, 32 lines)
---

Every Child Has a Chance to Shine!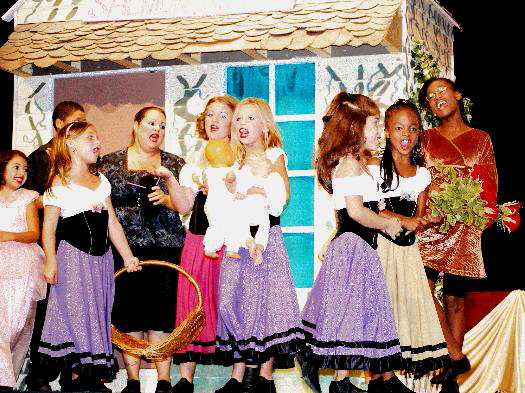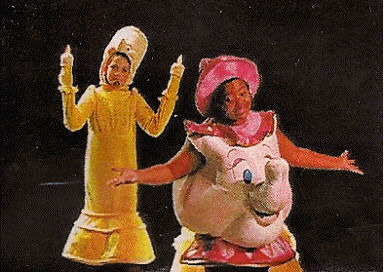 French Villagers -- Mr. Sparkle and Mrs. Tea-Time, Halo Academy, IL
"Thank you for providing outstanding adaptations, scripts, staging notes, background music and study guides. Our school had 24 cast members and additional 20 kids involved in crew. It is such a great way to engage so many children together!"
Sarah Lambrecht, Lincoln Elem, Wauwatosa WI
---

BEAUTY AND THE BEAST
CD SOUNDTRACK CUES
Cues, sound effects, background music (traditional-classical)

The CD Soundtrack contains special sound effects and background music (public domain traditional-classical) that may be used to greatly enhance the performance. It does not contain music and songs from the popular animated film, nor does it contain music for the performers to sing along with. Cues have 10 seconds of silence at the end - times shown below include silence.
[ Click on [sample] to hear a short sample of the indicated cues ]
1. THUNDER, SEA SOUNDS (1:19) [sample]
2. BEAST ROAR, SEA, HAPPY MARKET (2:31) [sample]
3. SAD MUSIC (1:01)
4. OMINOUS MUSIC, STORM (1:07) [sample]
5. MAGICAL SOUND (0:17)
6. DREAMY GARDEN (0:54)
7. BEAST ROAR (0:16)
8. BEAST ROAR (0:16)
9. FRENCH STRINGS (0:51) [sample]
10. FRIGHTENING FOREST (0:58) [sample]
11. BEAST ROAR, SCARY SOUNDS (0:43)
12. FANFARE (0:30) [sample]
13. ANGRY MOB, WALTZ (1:13) [sample]
14. ANGRY MOB, BEAST ROAR (0:56)
15. BEAST ROAR, DRUMS (0:26)
16. DANCE FINALE, CURTAIN CALL (3:36) [sample]
Note: Some teachers choose familiar songs, obtain sheet music and insert these songs into the play. We recognize that each school has a wide variety of educational needs to fulfill and we invite you to be creative in your use of our scripts; including changes or additions that are appropriate for your students. As author/publisher of our own creative works, we do ask that you obtain proper copyright permission for any additions you might make - that responsibility is up to you.

Music & Sound Resources Available on the Internet
( Sheet Music, Song Books, CDs, DVDs, Sing-along, Karaoke, Sound Effects )
Internet Resources: Karaoke CDs & Sheet Music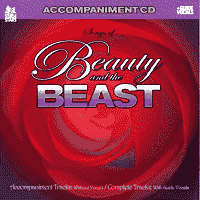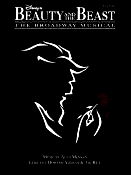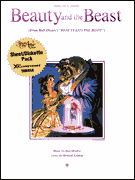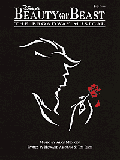 Click to search Internet for karaoke cds or sheet music
---

Popular Story! Affordable for Schools!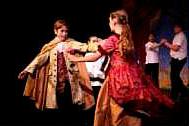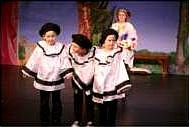 The Wedding Ball! -- Young French Artists!
Solano Youth Theatre Produced ArtReach's Beauty and the Beast
with a Large Cast of School Children!
---
The story is just as you remember it... Papa has just arrived at the Beast's castle. Here is lively exchange among the servants.
(Script pages 18-19)
TINK: What do we do now, Mama?

MRS. TEA-TIME: It's been so long I hardly know. I think we start with tea.

(She carries a teapot and pours into a cup. She gives cup to TINK, who gives it to PAPA. PAPA gulps it down.)

Oh, my.

PAPA: (Out of breath.) Merci. I've traveled so far... I've I lost my way...

(WINDUP and SPARKLE enter.)

WINDUP & SPARKLE: What is the meaning of this?

SPARKLE: What is all this hub-bub?

WINDUP: Now see here, Mrs. Tea-time. We haven't time for nonsense...

SPARKLE: If someone would endeavor to illoo-minate me...

(They stop, see PAPA, gasp!)

WINDUP & SPARKLE: A guest!

MRS. TEA-TIME: Why yes, that's what they're called. I remember now. Guests!

TINK: (Amazed.) A guest!

SPARKLE: And you know what guests need don't you, Mr. Windup?

WINDUP: I certainly do, Mr. Sparkle. They need to tidy up!

(WINDUP and SPARKLE take a big cloths from their pockets and use them to dust PAPA off, violently, big swinging strokes that knock PAPA around. WINDUP & SPARKLE twirl PAPA as they "tidy".)

SPARKLE: They need scrubbing and rubbing...

WINDUP: They need bathing and shaving...

SPARKLE: Don't forget those feet!

WINDUP: Don't forget those teeth!

MRS. TEA-TIME: How about something to eat?

WINDUP: Yes! Must have something to eat!

SPARKLE: Good!

WINDUP: Excellent!

SPARKLE: Splendid!

Note: This is a sample from the actual script. To review the entire play, order the PERUSAL SCRIPT (online instant download). Or to save 20% on the full production kit and royalty for one performance, order the SCHOOL PLAY PACKAGE (below) and start rehearsals today!

---

THE SCHOOL PLAY PACKAGE HAS EVERYTHING YOU NEED!
Get Everything - Only $99.95

SAVE MORE $$$ WITH FULL DOWNLOAD
-- NO SHIPPING COSTS! --