FREE RESOURCES
DIRECTING TIPS
Ideas & suggestions for producing a great school play
Check the Recycling Bin for Fun Ideas
Use Junk and Recycled Stuff for a Fun, Unique Show

You can make your job as director easier by enlisting the help of the kids in your cast. A great way to do this is to have the kids design and provide their own costumes. Not only does this lift the burden from you, it gets the children to invest in their own character and will certainly make their performance more fun and meaningful.

Consider this Recycled Materials Theme: Have the kids use found items, things they might find in the recycled bin (such as cereal boxes, coke bottles, milk cartons) and cut them to create hats, vests, jewelry etc. Use a mop for a wig, toilet paper rolls for horns or curls. Add old plastic toys or colorful hardware. If you don't have enough "junk" around the house take a trip to the local thrift store and scour the shelves for colorful stuff like hats, gloves, scarves etc. Add Halloween costume touches like wax-candy teeth. Gulfshore Playhouse in Naples (FL) did a whole production of ArtReach's Alice in Wonderland using junk and found objects. Here's a picture of Alice in her own special Wonderland of Junk:
Adding a twist to your production design gets everyone's creative juices flowing and makes the whole experience more fun and personal for the kids.

---

Set Your Play in a Unique Place and Time
Spark Creativity by Giving Your School Play a Theme

A great way to mix it up and get everyone's creativity sparked is to set the play in a time or place that is not traditional for the story. Wesleyan Middle School in Norcross (GA) put a Western twist on The Legend of Sleepy Hollow by setting the play in the Gay Nineties, Texas. Here Brom Bones is a tough lassoin' cowboy and, instead of the traditional tri-corner hat, Ichabod dons a silk topper:
Why not ask the kids what time and place they would like to use for their special production? Brainstorm with them about how to bring their ideas to life. What if the play was set in outer space, France, in the underwater ocean? Then assign the creation of each performer's costume and props to them. They may need some help along the way but once they get the gist of the theme they will run with it! You'll be surprised how much work they are willing to do and how it will enhance their performance!

Just think how proud they will be to wear the costume they created themselves! Your audience will love seeing how the theme plays out throughout the performance.

---

Wheelchairs on Stage
Involve every kid in a meaningful way

The Open Staging concept of ArtReach's School Plays brings everyone together. Without steps or obstacles, every child is on equal footing. Why hide a wheelchair? Make it part of the acting child's costume and decorate it with pride! And don't forget to block the movement of the character in the wheelchair just the way you would any other. Why can't King Grumbleknees (in Cinderella) whirl on stage with angry aplomb? Let him twirl and circle the stage to show his character's emotion.

A great play to include special needs kids! Don't exclude wheelchairs, they will work just fine!


A Christmas Wizard of Oz
Eagle Family Performers, a collaborative effort between the
Special Services department and the Apollo Chorus, Owensboro, KY

"Some of our most disabled students are having the most fun! We are only in early stages of rehearsal but it brings tears to my eyes to see the joy the kids are experiencing with this play."
Andrea Salapka, Swift School, Roswell, GA (Director, The Emperor's New Clothes)

You could even go a step further and integrate kids in wheelchairs with those who don't really need them. One idea would be to have all the Mermaids in Peter Pan perform in wheelchairs. Choreograph a water ballet with simple but fluid movements the performers do in unison. Just imagine -- a disabled child who may not feel included in other activities will feel right at home in your production!

Wheelchairs are good things that help us get around. There is no reason to hide them. Put them right there on stage without apology and watch how including everybody makes for a joyous and meaningful performance!

---

Cast the Shy Kids First
ArtReach's School Plays Let Your Kids Blossom

Theatre is a fantastic way to draw kids out of their shells. The written lines give shy kids something to say without having to worry about the difficulty of conversation. Without too much effort they are suddenly engaged with others – speaking, emoting and having fun with new friends! Almost every one of ArtReach's School Plays has roles that require lots of movement and very few or no lines. Kids who have trouble memorizing facts in class will love being free to perform without having to remember anything but the action of their scene!


Peter Pan
Multiple Peter Pans help each out!
Peter's Shadow, Tinker Bell & Crocodile are stars without memorizing any lines!

In Peter Pan, each pirate has a name and personality. The part of Smee is less famous than Captain Hook but it's a great part! Smee has a hilarious scene with Tiger Lily that will draw belly laughs from the audience. This will be a wonderful moment on stage that child will never forget! Very shy students or kids with learning disabilities will blossom in roles written just for them.

Tinker Bell, Peter's Shadow and, of course, the Crocodile have tremendous fun on stage without the burden of memorization. And take advantage of the multi-casting option for the large roles. When five kids play Peter Pan they will likely become a band of brothers and help each other along throughout the entire process!

When choosing a play for your class or group, instead of thinking who will be "best" in a given role, think of who will get the most out of the experience. Open up your mind to casting decisions that will bring out the hidden talents in every child in your cast. You'll be surprised how often the least obvious choice is the very best one!

---

Take a Tip From Andre
The Possibilities for Alice in Wonderland are Endless

If you've ever seen the movie "My Dinner with Andre" you know that Alice in Wonderland has a rich theatrical history. In that movie, Andre Gregory describes his experimental approach to theatre and talks about The Manhattan Theatre Project's production of Alice in Wonderland. Andre's much ballyhooed production in the 60s gave the children's story a twist for grownups, proving that theatrical possibilities are limitless.

It's always fun to dress up like a character in your favorite movie which is why most schools use designs they've seen on the screen. But a little bit of imagination can really get kids excited about making their School Play something unique and special. If you are directing ArtReach's Alice in Wonderland, you might want to mix it up by asking kids for their own ideas. Discuss and look at pictures of the traditional designs and then ask them how they might do it differently. Here's a unique production of ArtReach's medium cast version of Alice in Wonderland by Trafalgar Middle School in Montreal:
It makes us smile to see these pictures because the ideas here are decidedly French! And here's a picture from ArtReach's original professional production of Alice in Wonderland.

Let your imagination soar and don't be afraid to open your mind to new ideas. When you break with the designs that you have already seen in a movie, you make your production extra special. Alice is in Wonderland after all, and anything can happen there!

---

Using Pop Culture to Kick It Up a Notch
Jazz it Up for a Cool Show

We like to think of ArtReach's School Plays as a solid, well-structured place to hang your own ideas. Although we embellish familiar stories with tons of humor and participation, we seldom stray too far from the original story as you and your kids know it. You won't go wrong if you stick to the script. We know some of your performers may be very young. They have experienced the magic of the fairy tale quite recently and may still be captivated by the wonderment of a glass slipper or true love's kiss. For them it may be best to present the tale in the time and place that seems the truest to the story.

However, if you think your kids would prefer to jazz it up go right ahead. Add rock songs, write rhyming raps, dress everyone like the stars of Glee! If you have a teacher or student who is a great composer, by all means enlist their talents! We all know the Wizard of Oz spin-offs of The Wiz and Wicked. Go ahead and use ArtReach's script as the first step toward your own Rock Musical! Here are some cool Dwarfs from Snow White (Gellett Elementary School, Sarasota, FL) and Cinderella's Step Sisters from A Christmas Cinderella (Theatre Works, LLC of Stewartstown, PA):


Snow White ----------------- A Christmas Cinderella

When you purchase your School Play Package you have the rights to make any changes and adapt the script to make it perfect for your special performance. Terry Overfelt produced a contemporary version of ArtReach's School Play with High school students at Rock Bridge High School (MO). She had this to say:

"Peter Pan was wonderful! WE HAD SO MUCH FUN! Your giving us permission to adapt the script was liberating and inspiring!"

Liberating and inspiring? Now that's what we like to hear!

---

Adapting the Script for Your Kids
Adapting the ArtReach Script for a Large Cast of Students

Oh, no! Everyone Wants to Be in the Play!

We hear it everyday: "Last year we had 20 kids in the cast and this year 50 kids showed up wanting to try out!" First of all congratulations – last year's show was such a hit everyone wants in on the act!

But, what do you do? Should you hold auditions and give the parts to the best actors, the ones that show real talent? Or should you pack the stage with every child that wants to be there? Here's a picture and quote from one of or ArtReach fans:


ArtReach's Wizard of Oz, Columbia Children's Theatre
"Don't know if it's a record or not... but Columbia Children's Theatre is presenting ArtReach's The Wizard of Oz with 156 children!"
Jerry Stevenson, Columbia Children's Theatre, SC

Check out lots of large cast ideas here: ArtReach's Wizard of Oz

When you purchase ArtReach's School Play Package you have the rights to make any changes to the script in order to make it a perfect fit for your kids. If you want to involve every child you can easily do it! Each script gives you suggestions for adding more parts. Think herds of Munchkins, Lost Boys, Mermaids, Pirates, Mice – you get the idea.

But don't forget that each School Play has been carefully crafted to give each cast member his or her own special moment in the spotlight. So we suggest you give each new added character a name and a bit of action and/or at least one line. This doesn't have to be much, mind you. Just one second in the spotlight.

Use your imagination noodle and create something unique. For instance, in A Snow White Christmas you might have added characters actually become the snow and dance, as the Snowflakes sing. The naughty Boys & Girls in the Land of Toys in Pinocchio might have a moment of mischief, playing a game of catch and annoying Pinocchio with their ball. The added Mice in Cinderella may play a quick and funny game of hide and seek with Cinderella. You get the point – don't just add characters that stand around – add something unique and fun to the story, making sure everyone in the cast feels that they are fully a part of their School's special performance.

Have you thought of a unique way to add characters to ArtReach's School Plays? By all means, let us know and we'll pass your ideas along!

---

Everyone Loves Audience Participation
Audiences and Kids Have Fun Together

During the revolutionary 60s and 70s, a British director named Brian Way forged a new direction in children's theatre that centered on inclusion. His plays were the first to have all children participate together in a way that really offered kids a chance to use their natural impulse to play and imagine. For us at ArtReach, Brian Way is a hero.

With ArtReach's School Plays, we strive to find new and creative ways to bring audience and cast together. We don't believe in lecturing kids about how to behave during a play – we let them know that something fun is going on and they are invited to enjoy it with us. Whether you are on stage or in the audience, you are a part of this very special event we call live theatre.

In The Emperor's New Clothes, the audience is invited to help the conniving tailor pull a fast one on the Emperor. In Alice in Wonderland, the Queen of Hearts invites the audience to play along during the flamingo croquet game. In Pinocchio, the audience actually becomes the whale that swallows Geppetto and his little puppet son. In Aladdin, market sellers come right up to the audience members to sell their wares. Hope you have a coin, because the merchant is ready to make a deal!


Audience members pretend to hold the Emperor's invisible coat.
Young market Sellers in Aladdin present their wares to the audience for sale.
See more photos here: The Emperor's New Clothes and Aladdin

Every ArtReach School Play will give you lots of tips and instructions on how involve your audience. As a director, you can be sure that the audience participation is clearly explained in the script. The School Plays even have blocking suggestions that will bring your scenes right into the aisles! You will be amazed at how easily everyone catches on and how eager your audience is to join in the fun.

---

How to Hold Auditions for a School Play
Create a Safe Place for Kids to Explore Their Talents

It's important to decide what your goals are for the production. Do you want to produce a play that is as close to professional as possible? Or do you want to provide an educational experience for lots of kids in order to expose them to the dramatic arts?

ArtReach's School Plays can serve either of these goals. There's no one "right way" to do it! Many teachers produce wonderful elaborate productions with professional sets and costumes. And we love to see pictures of these productions! Take a look at these: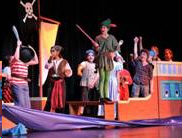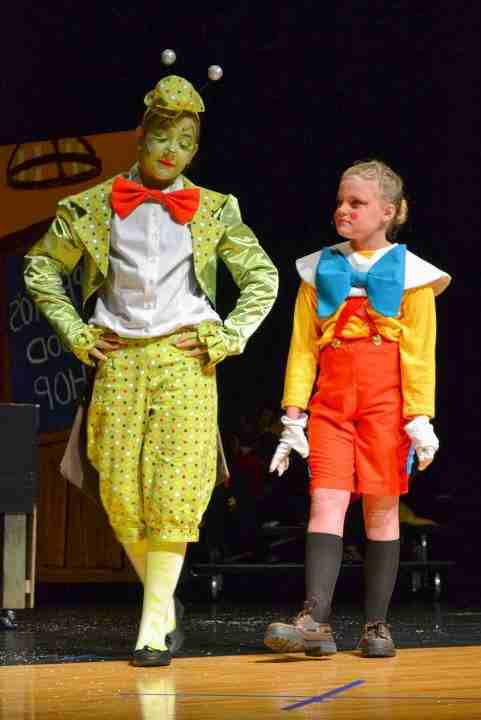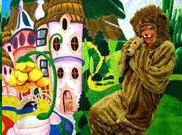 ------- Peter Pan ---------- Pinocchio -------- The Wizard of Oz
But for every gorgeously realized production, there are many productions that are quite informal that put the emphasis is on simply learning and having fun. These productions are just as exciting and meaningful to your kids!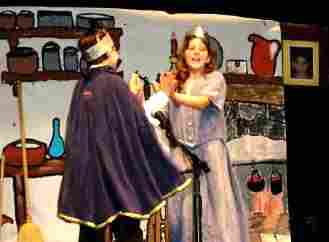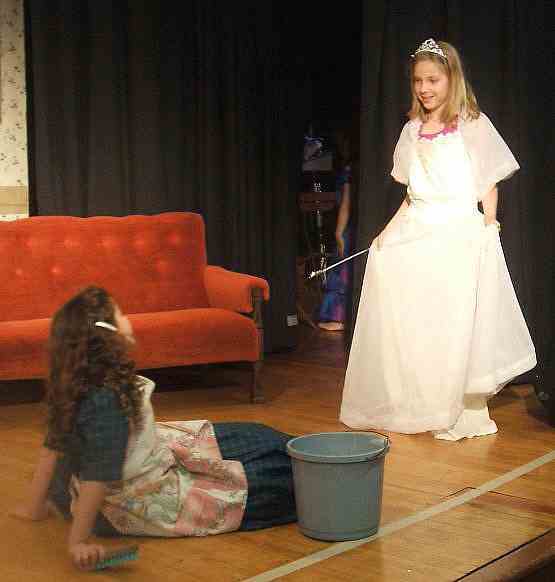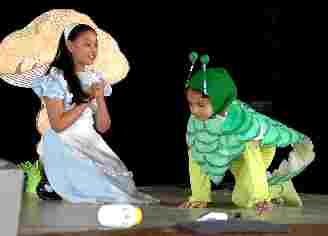 ------------------------ Cinderella ---------------------- Alice in Wonderland
If your concern is providing kids with their first taste of acting, we suggest starting with a policy of inclusion. For auditions, have everyone who is interested gather together in one large room. Have everyone stay together throughout the process. At the beginning of the session explain that everyone is being considered and everyone who wants to be in the play will be cast. Then encourage your young hopefuls to support each other during auditions. Tell them to laugh and applaud their fellow auditioners if they feel like it!

Rather than concentrating on monologues or 2 person scenes, choose group scenes from the script and have a several kids audition together. Let everyone who wants to read a scene have their chance. Never say a line for your actors and ask them to mimic you. This limits your performers and sends the signal that there is a "right way" to say the line when in fact the possibilities are endless! Your young performer may surprise you with an incredibly creative reading! Also, never interrupt a student while he or she is auditioning. Stick to the scene as you have provided it and show great respect for the performers' efforts.

Keep your eye open -- not for the next Broadway star -- but for all the signals the kids will send you about where they are in the creative process. Look for opportunities to cast kids in roles that do not seem obvious for them. The class clown might be challenged by playing the less than comic role of Prince Charming. The shyest kid in your group may come alive as Captain Hook. Look for the kids who help others and put them in roles where they can strengthen the sense of camaraderie in your cast.

At every turn in the process offer your kids a chance to explore and discover their own unique talents. Give them a safe place to enjoy this wonderful new thing called live theatre. Without a doubt you will find treasures of talent where you least expect it!

---

Which School Play is Best for Your Age-Group?
The Simplest Play Not Necessarily the Easiest

Teachers with very young kids often ask which play is the simplest for their kids to learn. The Wizard of Oz will always be fairly easy for the youngest kids because they are very familiar with the story. ArtReach's Wizard of Oz follows the L. Frank Baum book and does not stray into new side-line stories or tangents, so every part of the script will feel familiar to you and your students.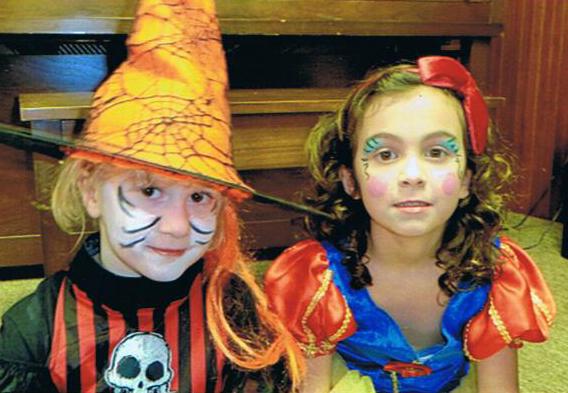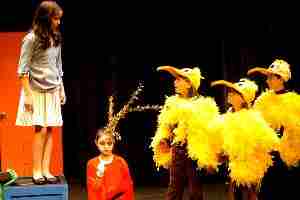 ----- Snow White ----------------- Alice in Wonderland
Great plays for K-3 kids are Cinderella and Snow White. These are a little shorter than the other plays and have lots of great roles for kids with very simple dialogue. If you are looking for a play that is written in scenes you might consider Alice in Wonderland. Alice is episodic and each scene can be separated from the whole, so that you can concentrate on one scene at a time during rehearsal.

Surprisingly, A Thousand Cranes is a very easy play to put together. Dialogue is quite simple and costumes and scenery are easy to make. However, the subject matter is a bit deeper than other plays and it's a good idea to factor discussion time in your rehearsal schedule. A Thousand Cranes is often performed by kids as young as kindergarten with terrific results!

---

Let Your Imagination Soar!
Your School Play Can Be Easy, Stress-Free & Fun

Long-time ArtReach Friend and Director Sarah Ackerman-Hale posted this last week just before the opening of her TREASURE ISLAND: YOUNG PIRATES OF THE CARIBBEAN: "Directing plays inspired me to go back to school to become an elementary teacher. As I've completed my schooling, I've come to really understand and appreciate your philosophies about the emphasis being on the process, not so much the completed "product." Here's a pic from Sarah's Madison Avenue Performing Arts summer show!


Check out Treasure Island for more pictures!

ArtReach's "open stage" suggestions give you freedom to let your imagination soar! Just because it's easy doesn't mean it's not good. Sarah gave her kids a blackboard and chalk and they created a one of kind set that is all their own! To create costumes, Sarah invited everyone to dress up for a Pirate Party. Presto! Instant set and costumes that cost almost nothing and make the most of kids' natural creativity and impulse to play.

Sometimes "easy", "stress-free" and "fun" make the end result more exciting than you ever dreamed possible!

---

How to Make Summer Drama Camp Stress-Free
Beware of Little Pirates!

One of the best things about summer is that there are lots of "big kids" around to help you with the "little kids"! Take a tip from ESF Camps at Gilman School in Baltimore. They used ArtReach's TREASURE ISLAND: YOUNG PIRATES OF THE CARIBBEAN to put together a fun and stress-free pirate day camp!


Treasure Island: Young Pirates of the Caribbean
ESF Camps at Gilman School, Baltimore MD

Enlist the older kids in your school, community or church to help put the play together. Divide your little pirates into "tribes" and put 3 or 4 older kids in charge of each. The tribe leaders can work together to coordinate activities before the little ones arrive. Divide the script up and assign portions to each tribe. This way each group has about 10 minutes of material and one song to work on. At the end of the 1 or 2 week session, put all the tribes together for a swashbuckling full-length show. What a way to make little stars shine! It's a great experience for the tribe leaders too!

ESF Camps kicked the whole shebang off with a fun Beware of Pirates Day! This helped with costume creation and gave the kids a taste for the play they would be performing.

Argg, me hearties! A grand time was had by all!

---

Join the Parade to Promote Your Summer Play
Enter a Float in the Local Independence Day Parade

Take a tip from Maumelle Youth Theater (Maubelle AR)! The creative folks at this theatre for kids came up with a fun and effective way to promote their July performance of ArtReach's TREASURE ISLAND: YOUNG PIRATES OF THE CARIBBEAN!

Have your kids design, build and enter their show-themed float in the local 4th of July Parade. This gets young creative juices flowing, costumes built early and gives everyone a shot of confidence! What a fun way to show the whole town how great your upcoming show is going to be!


Maumelle Youth Theatre won first place for their Treasure Island float.
Check out more about TREASURE ISLAND for kids

Maubelle's parade float won BEST OVERALL PARADE FLOAT on the 4th of July! They won a huge trophy and $200! Every little pirate was excited about getting started on rehearsals and looking forward to getting their pirate on! What better way to make performance ship loads of fun? Arggg!

---

Choosing An Award-Winning Play for Competition
Amelia Earhart Wins Awards for High Schools

When choosing a play for your Middle School or High School students to perform, look no further than ArtReach's One Act Plays and Touring Plays. Most of these scripts can be performed by young adults with a cast size of 3 to 15 or more. One of our top award-winning plays is AMELIA EARHART.

"We had a HUGE win with Amelia Earhart at our theatre competition! We won All-Star Cast, Best Set, Best Technical Production, Best Ensemble, Best Supporting Actress and Best Actress! We will be competing for the State!"
Jesse Tilton, Spain Park High School Theatre, Hoover AL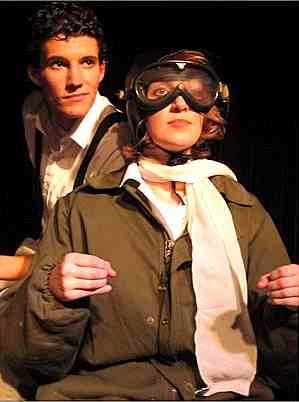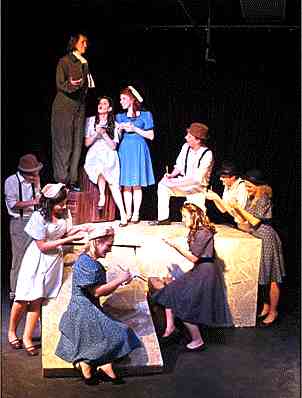 Amelia Earhart, Oak Grove High School, Hattiesburg, MS
AMELIA EARHART follows the heroine from her early attempts to make history through to her tragic final flight. It's an entertaining and surprisingly balanced look back on a period in history where our country seemed obsessed with proving themselves as Americans.

This one act play is a fast-paced drama that demands the most of your young adult performers and gives them a great opportunity to show off their thespian talents. Every year we hear from schools that have placed high or even won first place in their drama competitions. Best of all, ArtReach places no restrictions on your right to cut or edit the script to fit the time constraints of your particular contest. Your production of AMELIA EARHART is sure to be a high-flying success!

---

Alice in Wonderland: Flexible Casts of All Sizes
Why Teachers Love ArtReach's Alice in Wonderland

ALICE IN WONDERLAND is one of ArtReach's most popular scripts with lots of performances happening all over the globe! This script for kids to perform stands out because it is easy to adapt the script to the size of your cast and the ages of the young performers.

The School Play Version of the script works well for large groups of about 24. There are lots of small roles for young students such as Dormouse, March Hare and the Queens Gardeners. If you have young readers who may have trouble with memorizing lines, it is quite all right to cast them as the Storytellers and allow them to hold the script and read their parts on stage. Older kids who really want to dive in will love the Cheshire Cat, the Mad Hatter and, of course, the Queen of Hearts. If you'd like to allow up to 5 girls to play Alice, each girls will enjoy her special moment on stage. And don't forget, there's no reason why Alice must be a girl. Try casting a boy by simply changing the name to Alex!

Every Child Has a Great Part in the Play!

Five Alices -- Everyone Has Fun! Dramaworks Theatre Company, Budapest

The Medium Cast Version is great for a small sized cast of about 15. This script is essentially the same as the School Play Version but lines have been lengthened, giving each performer more to memorize and more business to do. Storytellers become much more important in this version, allowing kids to really use their imaginations as they find ways to set the stage for each scene. Because lines are longer, we often recommend this for Middle School students who are not as intimidated by long speeches.

Almost every role in the play may be played by either gender. And don't forget that you may add lines, jokes, songs and scenes! It is quite all right to make any changes to the script to make it the perfect vehicle for your kids' special performance.

---

How About Allen in Wonderland?
What if genders are reversed?
Will Alice in Wonderland be just as exciting?

Alice in Wonderland is such a meaningful part of our childhood literature that stays with us long after we reach adulthood. Often we protect our childhood memories by demanding that our first images of a story stay purified by our first imaginings and memories.
Yet the most ingrained images that we love and revere were at the start quite new and original, ignoring stereotypes. Today's kids do not have the same ideas of what a boy character and a girl character should "want". And "wanting" is the very thing that brings a child's story to life. Aladdin wants to be respected like a King; Cinderella wants to be the kind of girl who would meet a prince at the ball. Change the race, age, and gender of the protagonist and you may find what a different story seems to be. The new hero of our story may want nothing more than a small variation of the original wanted object.

Alice, the girl who wanders into and tries to understand Wonderland, may very well be a boy or a girl. The absurdity (and thrill!) of Wonderland will be the same to a child, regardless of gender. It is the same for drama. Your job as casting director is simply to bring the desires of the protagonist to life. Everything Alice wants can easily be what Allen wants. Therefore, when you cast a play, look for the actor who shows the most interest in the adventure. Alice or Allen, the story will reveal itself with the greatest fun and intensity if the actor who plays the lead part is the actor who shows the most interested in the outcome.

---

Think Outside the Wizard!
Can you imagine a world without The Wizard of Oz?

When L. Frank Baum sat down in 1990 to write American's first fairy tale, he had to make the whole thing up! Out of nowhere came his unique image of characters that are so familiar to us now that they are part of our everyday life.

Have your students imagine that they are L. Frank Baum sitting down to a blank piece of paper. Have them pretend that they have never seen the movie or a play of The Wizard of Oz. Have them draw an image of each character that is very different from those we remember so well. In order to get them thinking outside the box have them place these characters in a different culture or climate. What if Dorothy was living in China? What if the scarecrow lived in the Arctic? What if the Wicked Witch had been born on a ranch in Texas?

Creative scripts give kids lots of ideas! Here the Tin Man has a most unusual take on the costume! The Wizard of Oz! Great for Camps and Workshops!

Every now and then ArtReach's receives photos of production that have taken a very different turn from the designs we have seen in the books or movies. Add a dash of creativity to your production by making it look different than any other Wizard of Oz your audience has seen. What a great way to get kids using the arts to look at the world with new eyes!

---

Taking the Show on the Road
Why Not Perform Your ArtReach Play for Other Schools?

Hit the road, Jack! Most ArtReach Plays are ideal for touring to local schools! A little planning ahead can make it easy to share your wonderful production with hundreds of kids.

Almost everyone agrees that the arts are a vital part of a student's education, but these days schools are finding it more and more difficult to bus kids to performing arts events. Less funding for the arts and the rising cost of transportation mean kids miss out on field trips to the theatre. But where there's a will there's a way! ArtReach has always been first in providing plays that can be performed in schools, on stages or in a large room.

All of ArtReach's touring plays have been written for maximum imagination and minimum stuff to fill your van. Each touring play features small casts such as Emperor's New Clothes, Sword in the Stone and Blue Horses requiring mostly 2, 3 or 4 performers. Middle Schools and High Schools will find ArtReach's Expanded Cast versions, such as Amelia Earhart, Alice in Wonderland and Aladdin, are ideal for casts of about 10-15 performers. Even the School Plays can be performed for kids in nearby schools!

Kids Love Theatre – Take A Show to Them!

ArtReach's The Emperor's New Clothes

Call the schools in your area, talk to the principal, and tell them that you have a great production that you would like to perform for their students. Tell them you even have a great Teachers Guide that can be used in the classroom before the performance. Then check all your scenery and props and eliminate anything that is not necessary and line up vehicles to carry set and cast.

About a week before the performance choose a Tour Manager (from your cast or backstage crew) and visit the school to checkout the performing space as well as parking options and entrances and exits. Meet the principal and ask for any tips he or she might have for a smooth event. Choose a cast member to make a pre-show speech and then hold a question and answer period after so that kids in the audience can learn more about the production.

Your cast gets to show off their brilliant achievement one more time and lots of kids get to see theatre! Theatre is a wonderful experience for all – spread it around!

---

Train Your Audience for Dragon Fun
Audience participation gets everyone involved

ArtReach's script for The Reluctant Dragon offers tons of audience participation! Kids, teachers, grownups and everyone watching the performance has a vital role to play. King Fancy Pants addresses them and even asks for their help. Saint George is buoyed by the audience's support and Widget is finally proclaimed a hero by, you guessed it – the audience! But you can draw your audience in even more.

Audiences Love Dragon Fun and Participation!

Widget & Hairytoes train their dragon! The King orders a battle!

Have a dragon pyramid, Christmas tree or bulletin board in the lobby. Explain in the program that each audience member is asked to draw a dragon on the back and turn them in at the end of the show. Or if they'd rather, they may draw their image of a white knight like Saint George. While cast members are meeting audience members in the lobby after the show, have helpers put up the pictures. When all are ready for viewing, have the Town Crier ring his bell and announce the art show!

If classes are attending make sure you have lots of time for prepping before they see the show. Read Kenneth Grahame's classic story and then read the summary of the script provided in the Teachers Guide. Ask kids to discuss what elements of the story are the same and which are different. Talk about why the author of the play made certain decisions. Don't hesitate to talk about drama, plays and other presentations they have seen and discuss what makes a play different from a book.

Have young audience members dress up like dragons for the show! If kids have a dragon costume from Halloween have them wear it on the day of the show and tell the class about it. Talk about dragons the kids have seen in movies and TV shows. Do they have a favorite one they'd like to dress like? An easy way to do this is to simply make a construction paper headpiece or even decorate a ball cap.

Can you think of other fun dragon based activities? Prepare your audience and they will love the show!

---

Kids: Your Best Source of Creative Ideas
Stumped for ideas? Ask your kids, it's not cheating

Let your students help with ideas for set, costumes and even blocking!

Sometimes during after-school rehearsals your head goes – uh, duh&ldots; Your lead character looks at you for direction and your ideas just aren't there. Why not ask the kids to help you out? When you hit a low tide in the artistic flow, look around! You have lots of imaginative minds just waiting for a chance to share! Ask for their ideas!

Teachers often call me and want to know if the School Play Package includes lots of costume ideas. I always answer, yes, of course! But I always add that the kids who are actually playing the roles are your best source of ideas.

Kids are Your Best Source of Creative Ideas!

What can be more fun than playing pirates?
These kids love ArtReach's TREASURE ISLAND
Garden Island School, Hawaii, Peggy Ellenburg Director

As soon as the students have had a chance to read the script and their parts, take a few moments to speak to each child and coax out whatever visual mental images they may have of their character. Often they will think of things that are around their house like hats in a closet or keepsakes in the attic or garage. Ask them to describe what they are thinking of and have them simply ask a parent if they can wear it during the show. Ask also if the object can be embellished with sparkly art supplies to jazz it up for the stage. This makes your life so much easier and it gives kids a chance to do more than just perform. After all, costume design is a creative part of the process.

Why just assign this fun, artistic adventure to their parents or volunteers to sew on a sewing machine? Let the kids create their characters in every way and they will feel much more invested in their performance. Active participation in every artistic decision will give your kids a deeper experience and yield a more expressive performance.

Letting kids decide takes the pressure off of you and makes your job a joy!

---

ArtReach Halloween Plays are for Kids
How to Minimize the Scary and Maximize the Fun

If you are of a certain age you may remember the first time you saw the movie, The Exorcist. That movie and Hitchcock's Psycho scared the bee-jeebies out of me when I was a preteen. I remember how hard it was to turn out the lights at night for fear of demons and crazies in the shadowy corners.
We all mature at a different pace. For me, it was quite a while before I could watch a scary movie and realize it was just make believe, therefore not actually something to be afraid of. So it's tricky when producing Halloween plays for kids. Just how scary should it be?

The Legend of Sleepy Hollow takes its cue from Washington Irving's original work. Give that story a close reading and you will see that Irving meant the whole thing to be hilarious, not terrifying. The comedy comes from Ichabod's fear of ghosts and never tries to frighten the reader. In ArtReach's The Legend of Sleepy Hollow your young audience will scream at the first sight of the Headless Horseman and then laugh their heads off at Ichabod's reaction.

We offer the life of Edgar Allan Poe in the play Poe! Poe! Poe! Since it is offered as reader's theatre, this play emphasizes the literature and life of this great American writer. Though stories such as the Masque of the Red Death are dark, quite dark, the audience is left with an appreciation of the writing, not the scariness of the story.

In our newest Halloween play, Kid Frankenstein, Frankie and Irving are science nerds who have an unusual idea for the upcoming Science Fair. When Doctor Frankenstein's ancient secret book arrives from Transylvania, the friends are whisked into a sci-fi fantasy of time-warped, weirdly scary and lively adventure.

However the kids feel about scary movies these days, ArtReach's Halloween plays are perfect choices for young audiences.

---

How to Dress Your Dragon
Creative tips on how to make a fun dragon costume

There are many dragons in our culture. You can find them in hundreds of medieval paintings that depict the age-old myth of 'St. George and the Dragon'. You can find them in old and new children's books. You can even find them on the Disney Channel and in the movies!

Here are some excitingly clever costumes that recently graced the stages of The Rose Children's Theatre in Eugene, OR, and Bremerton Community Theatre Jr. in Washington State!

Train your dragon in three easy steps!

Wonderful Elaborate Dragon Costumes

It's a great idea to leave the actor's face open to the audience. Seeing both faces, the audience will quickly meld the two giving you the best of both worlds: A dragon face and the human expressions of your young performer. Also, don't forget your poor sweating performer – make the costume as comfortable as possible.

Don't let dressing your dragon scare you away from presenting this lovable beast on your stage! You will be surprised how effective a simple headpiece and tail can be. Here are some examples of simple costumes that will serve beautifully for comic and informal performances:


A little work can go a long way for clever performers!

Never forget to talk to your actor when making costume decisions. You'll be surprised how many ideas they already have in their eager, creative heads! They may actually know of something at home that they can fashion into a costume. That makes it clever, easy and wonderful fun for your young cast!

---

How to Create Amazing Costumes Kids Love to Wear
Let your all-kids cast do the creative work for you

We love all the great costume ideas we've seen lately, especially for our new Christmas Musical, THE VELVETEEN RABBIT. Check out Robbie Robot on below on the right.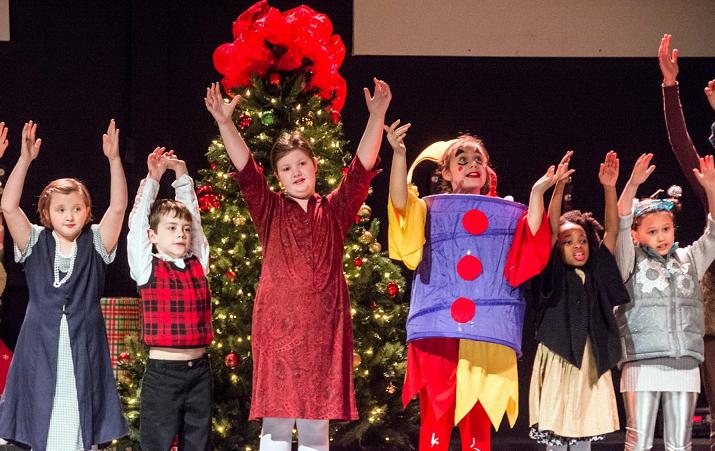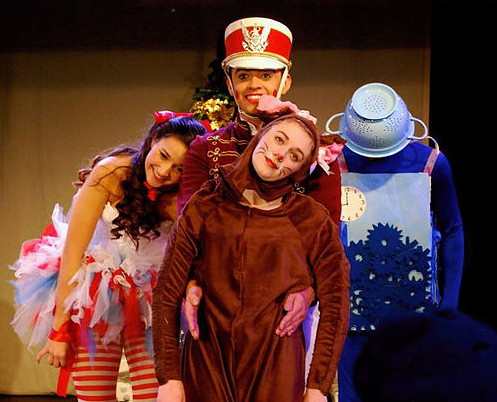 Innovation Arts, Lexington, KY --------- PACE School, NYC
You can make your directing job a lot easier by asking kids to participate in the creativon of their own costumes! Tell your young thespians to think about how their character acts, talks and walks. Then have them go home and look around for household objects that might be used in bringing their character to life! You'd be surprised how their imaginations are always turned on – a great resource for you to tap!


Get inspired by robot costumes by Élena Nazzaro of French Toast Girl!

---

It's All About the Experience
Let your school kids explore their imaginations

Maybe you know a kid who shies away from the experience of performing in a play because or she is afraid of the responsibility of learning lines, standing up straight and looking good before an audience. As director you may be primarily concerned with teaching everyone where to stand, when to come in and making sure they keep their faces toward the audience.

But at ArtReach we believe that kids need a chance to perform, act out and pretend. It's time to use funny voices, walk like crazy people, scream and laugh and dance like nobody's looking. As director you feel you must keep control of your cast and be concerned with whether or not the audience can see the action. But since these are kids, just getting their feet wet, it's quite all right to let them test their wings – and fall – if they have to. What if Captain Hook isn't the best you've ever seen? What if the audience isn't exactly thrilled with the performance?

What matters is the child performer has a chance to experience Captain Hook, try on the clothes, hobble on the peg leg and enjoy being something they never dreamt of. Give them roots and wings – the confidence to try something new and a safe place to land if they don't exactly fly.

Failure doesn't need to be pointed out or even worried about. It just isn't part of the experience. Giving kids a chance to have fun and feel free to explore something outside of the ordinary – that's what it's all about.

Give yourself the freedom to value the process over product – and you'll have the time of your life!

---

Jazz it Up with an Orchestra!
Add creative fun with percussion instruments

Danny Da Drum, Zella Bella, Horatio Hornblower, Ting-A-Ling, Tim Whistle and Huey Kazooie. What do these characters have in common? They are the members of a fun and silly orchestra for ArtReach's play THE EMPEROR'S NEW CLOTHES.

Raid the music room! Look for kazoos, triangles, drums, chimes, tambourines, rhythm sticks, slide whistles, bells, cymbals and anything that makes noise! Bring these to your first rehearsal and ask the kids to play with them during scenes to see if they enhance the performance. Show your cast an example: Peter rams his head against the castle door to open it. Use the cymbal for the crash and then a slide whistle as Peter circles his head around, dizzy from the crash. Ask them to think of similar sounds for other moments throughout the play such as the Empress' entrance, Peter's travels etc. Set aside a little time each rehearsal session to review ideas for sounds and decide which will be included in the play.
Jazzing it up for the Emperor!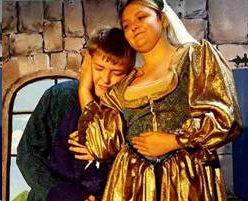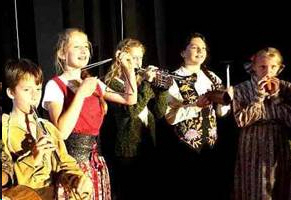 Campanile Center for the Arts, Manocqua WI - Orchestra
The script for EMPEROR'S NEW CLOTHES calls for the storytellers to also be the music/sound makers, but you may apply this idea to any of the ArtReach plays. Even if storytellers don't stay stationary at the percussion stand, they may carry small instruments in their pockets or on chains around their necks. You can also eliminate literal props by having the orchestra make the sounds such as sawing, creaking hinges, a blacksmith's tapping etc.

Example: Here's a trick I used often. When your Prince Charming hero enters have him smile big. Have someone "ting" a triangle at just that moment. It seems to make your hero's teeth glint in the sunlight. It never fails to get a laugh and establishes your hero as a super good-guy.

JACK AND THE BEANSTALK, ALICE IN WONDERLAND and LEGEND OF SLEEPY HOLLOW are great scripts for percussion instruments but the idea may applied to any play with narrators.

---