THE LITTLE MERMAID
Large Cast Musical Play for Kids to Perform
Soundtrack Cues ............ Script Sample
---

CAST LIST

Running Time: About 45 minutes
Flexible Cast of About 24-39
(39 roles listed below - 10 Female, 7 Male, 23 F/M
NEPTUNE (King of Mermen) (M, 39 lines)
NEPTUNE #1 (M, 18 lines)
NEPTUNE #2 (M, 21 lines)
MARLIN (Marquis) (M/F, 41 lines)
MARLIN #1 (M/F, 29 lines)
MARLIN #2 (M/F, 12 lines)
NEPTUNE'S COURT:
GILL (M/F, 20 lines)
OCTO (M/F, 20 lines)
MACK (M/F, 20 lines)
FLOW (M/F, 20 lines)
PEARL (M/F, 20 lines)
SEAL (M/F, 20 lines)
ODESSA (Queen of Humans) (F, 42 lines)
ODESSA #1 (F, 23 lines)
ODESSA #2 (F, 19 lines)
SLITHERY SIRS:
CECIL (M/F, 11 lines)
SNICKER (M/F, 10 lines)
SNEAK (M/F, 10 lines)
ARUBA (Flamingo) (M/F, total 67 lines)
ARUBA #1 (M/F, 27 lines)
ARUBA #2 (M/F, 25 lines)
ARUBA #3 (M/F, 15 lines)
FINNY (Fish) (M/F, total 65 lines)
FINNY #1 (M/F, 21 lines)
FINNY #2 (M/F, 27 lines)
FINNY #3 (M/F, 14 lines)
ANNABELLE (Mermaid Princess) (F, total: 47 lines + song)
ANNABELLE #1 (F, 10 lines)
ANNABELLE #2 (F, 6 lines)
ANNABELLE #3 (F, 14 lines + song)
ANNABELLE #4 (F, 14 lines)
ANNABELLE #5 (F, No lines, very significant movement.)
ANNABELLE #6 (F, 3 significant lines, movement)
SAILORS:
CALICO JACK (M/F, 19 lines, sings)
CAPTAIN SLAPPY (M/F, 19 lines, sings)
BILLY BONES (M/F, 18 lines, sings)
SCURVY DOG (M/F, 17 lines, sings)
PRINCE EDWARD (M, 35 lines)
PRINCE #1 (M, 20 lines)
PRINCE #2 (M, 15 lines)
DUKE of CHARLESTON (M, 23 lines)
ISLAND CASTLE SERVANTS:
PHILIPPE (Chef) (M/F, 13 lines + song)
MISS CALLALOO (F, 14 lines)
GINGER (F, 13 lines)
NUTMEG (F, 12 lines)
REV GUMBO (Preacher) (M/F, 8 lines)
PERFORMERS (M/F, 21 lines)
SONGS:
New lyrics are set to these familiar tunes:
"Blow the Man Down" (SAILORS) - Traditional sea shanty.
"Brahms Lullaby" (ANNABELLE) - Classical composition.
"Alouette" (PHILIPPE) - Traditional French folk song.
"Wedding March" (GINGER, NUTMEG, PERFORMERS) - Traditional.
---

Easy for Kids to Learn, Perform & Enjoy!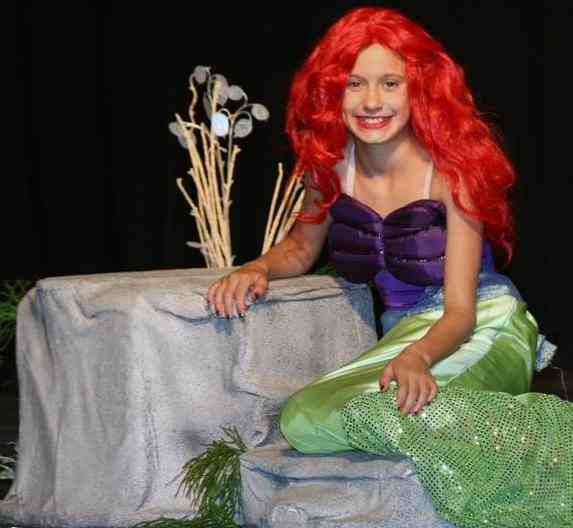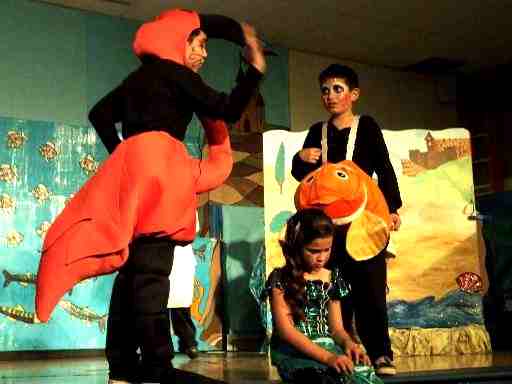 The Little Mermaid - Aruba, Finny & Little Mermaid
Gaslight Theatre, CA - Buford Elementary School, Lennox, CA
"I did this play by myself with 32 kids meeting for an hour a week during the school year. Everyone said it was our best play ever and I believe it is because of your script."
Keith Wagner, Saint Paul School, Leesburg, FL
---

THE LITTLE MERMAID
CD SOUNDTRACK CUES
Cues, sound effects, background music (traditional-classical)

The CD Soundtrack contains special sound effects and background music (public domain traditional-classical) that may be used to greatly enhance the performance. It also contains simple music to accompany the performers as they sing to three familiar melodies - "Blow the Man Down", "Brahms Lullaby" and "Alouette" (song cues shown below in red). It does not contain music and songs from the popular animated film or Broadway musical. Cues have 10 seconds of silence at the end - times shown below include silence.
[ Click on [sample] to hear a short sample of the indicated cues ]
1. OCEAN, UNDERWATER, THUNDER (1:10) [sample]
2. SINGING, BABY CRY, SINGING (0:51)
3. ODESSA'S MANIACAL LAUGH (0:22)
4. BABY CRY, WHOOSHING WATER (0:35)
5. OCEAN, SAILORS, BLOW THE MAN DOWN (2:08) [sample]
6. THUNDER, STORMY SEA (1:40) [sample]
7. FANFARE, UNDERWATER (1:24) [sample]
8. THUNDER, STORM, UNDERWATER (2:21)
9. WAVES, BRAHMS LULLABY (1:07) [sample]
10. ODESSA'S LAUGH (0:21)
11. ODESSA'S LAUGH (0:21) [sample]
12. CRASH, LAUGH, CHAOS, ETC. (1:05)
13. ALOUETTE (2:14) [sample]
14. NEPTUNE'S STORMY ENTRANCE (1:00)
15. SINGING, BRAHMS LULLABY (1:02) [sample]
16. WEDDING WARM-UP MUSIC (0:41)
17. WEDDING MARCH (1:34) [sample]
18. MAGICAL, BRAHMS LULLABY (0:42)
19. BLOW THE MAN DOWN (4:25) [sample]
20. ALOUETTE (Curtain Call Finale) (1:59) [sample]

Note: Some teachers choose familiar songs, obtain sheet music and insert these songs into the play. We recognize that each school has a wide variety of educational needs to fulfill and we invite you to be creative in your use of our scripts; including changes or additions that are appropriate for your students. As author/publisher of our own creative works, we do ask that you obtain proper copyright permission for any additions you might make - that responsibility is up to you.

Music & Sound Resources Available on the Internet
( Sheet Music, Song Books, CDs, DVDs, Sing-along, Karaoke, Sound Effects )
Internet Music Resources: Karaoke CDs & Sheet Music







Click to search Internet for karaoke cds or sheet music
---

Easy to Adapt for Your School or Theatre!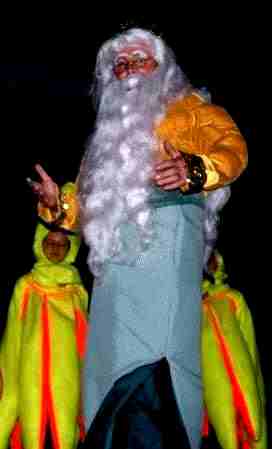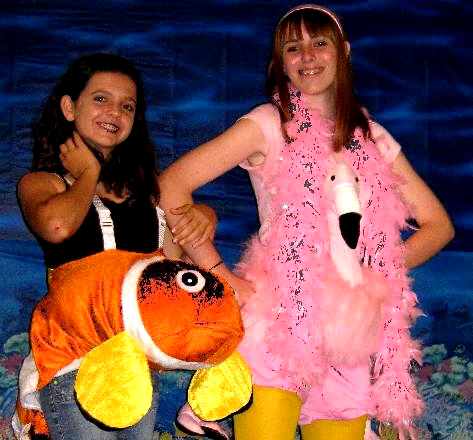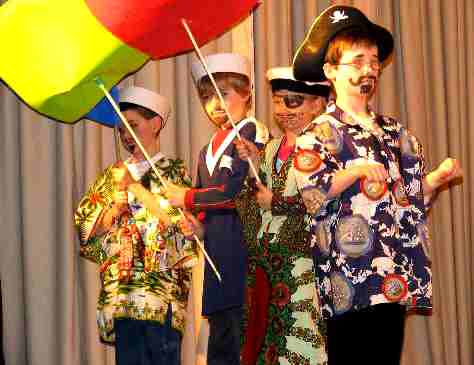 Take a Bow Productions, Children's Theatre Company, Ontario
The School Play Package gives you the rights to adapt the script, add characters, lines, songs! You also have the rights to make a Video/DVD of your special performance!
"The children loved The Little Mermaid and so did the audiences! I cast 26 children in the roles and they loved it and we had full houses. We had so much fun with it and what makes it extra special is the CD with sound effects and songs!"
Jennifer Black, Director, Children's Theatre Company, Goderich
---
The Little Mermaid, Annabelle, wants to become human to marry the Prince. Odessa, the evil Queen of Humans, tricks Annabelle and steals the Little Mermaid's voice.
(Script pages 25-28)
ODESSA: Human? HUMAN????? Ha-ha! Did I hear someone say they want to be a... human????

ARUBA & FINNY: (Terrified, pushing ANNABELLE forward.) She did.

ANNABELLE: Yes, I said it. And I'm not ashamed of it. I do want to be human.

ODESSA: Of course you do. Ah-ha! Of course you do! And that's why I'm here, dear child.

ANNABELLE: But what can you do?

SLITHERY SIRS: SSSSSSsssilencessssss!

CECIL: You Sssspeak when Sssssspoken to!

ODESSA: That's all right, Cecil. I can see this is a very good little mermaid. Brave and lovesick... Just like her father.

ANNABELLE: Do you know my father?

ODESSA: But of course. We're old friends, my dear. I met him when you were very young.

ANNABELLE: But I've never seen you before.

ODESSA: I've been keeping just out of sight. Watching, waiting. And I have lots of patience.

SLITHERY SIRS: ("Patience.") Passsshhencesss.

ODESSA: Now come to me child. Tell Odessa what's wrong.

ANNABELLE: Well, there was this human in the water and he was drowning...

ODESSA: Ah, a sad story.

ANNABELLE: Yes, but I saved him you see and then well, I guess I fell in love...

ODESSA: LOVE!!!! Ha-ha! Now where have I heard that word before?

(SLITHERY SIRS snicker with her.)

So I suppose you'd like me to make you human, hmm?

ANNABELLE: You can do that?

ODESSA: That is my specialty.

ARUBA: No, Annabelle!

FINNY: Come on, Annabelle. Let's go!

ODESSA: (Angry.) Let the little mermaid speak! (Suddenly kind.) Go on, my dear.

ANNABELLE: Please make me human. I'll do anything you ask.

ODESSA: Anything?

SLITHERY SIRS: (Thrilled.) Anything?

ARUBA & FINNY: (Horrified.) Anything?

ANNABELLE: Anything!

ODESSA: I thought so. Slithery Sirs, bring me the magic pot!

(SLITHERY SIRS hiss and scramble and return with a flower pot.)

Now, my dear. The only thing I need from you is a seed.

ANNABELLE: A seed?

ODESSA: In this case. Your voice.

ARUBA & FINNY: (Gasp!) Her voice?

ODESSA: It's a very small price don't you think? (Hums.) Just a little tune. I'll plant it right in here.

ANNABELLE: Well, I guess I could give you my voice.

ODESSA: Come, come. Hand it over.

(ANNABELLE sings softly, repeating lullaby she sang to the PRINCE.)

ANNABELLE: (Sings.)

Oh the sea's dark and deep
But for now you may sleep
You are safe here in my arms
I will keep you far from harm.

(ANNABELLE takes it from her mouth like a seed.)

PERFORMERS: No, Annabelle, no!

ANNABELLE: (To PERFORMERS.) But if it will make me human.

ODESSA: I'm waiting...

(ANNABELLE hands it to ODESSA.)

Ah!

(ODESSA plants it in pot.

SOUND CUE #12: Sudden crashing music, ODESSA's laughter.

SLITHERY SIRS dance, hissing with triumph!. SOUND CONTINUES.)

At last King Neptune! If I cannot have your hand I will have your daughter! And when I am done the Kingdom of the Sea will be mine!!! MINE!

(ODESSA and SIRS dance as ARUBA and FINNY slump in sorrow and defeat.)

But don't tell your father what I've done.

(ANNABELLE begins to speak but nothing comes out.)

Oh, that's right! Ha-ha! You can't!

(SOUND CONTINUES: Loud chaos, drums, laughter.

PERFORMERS use percussions and cymbals. ODESSA and SLITHERY SIRS laugh and hiss demonically as they twirl in victory! COURT enters with silk flags that twirl all around playing area. During the chaos they remove ANNABELLE's tail. ODESSA, SLITHERY SIRS and COURT exit.

SOUND CUE ENDS.

OPTIONAL TRANSITION: ODESSA #1 exits, ODESSA #2 enters at next entrance and continues through the end of the play.)

Note: This is a sample from the actual script. To review the entire play, order the PERUSAL SCRIPT (online instant download). Or to save 20% on the full production kit and royalty for one performance, order the SCHOOL PLAY PACKAGE (below) and start rehearsals today!

---

THE SCHOOL PLAY PACKAGE HAS EVERYTHING YOU NEED!
Get Everything - Only $99.95

SAVE MORE $$$ WITH FULL DOWNLOAD
-- NO SHIPPING COSTS! --