THE PRINCESS AND THE PEA
Large Cast Play for Schools and Theatres!
Staging Notes ........... Script Sample
---

CAST LIST
Full Length Play, 2 Acts, Running Time: About 90 minutes
Flexible Cast of 33-47: 5M, 14F, all others M/F
Easily adapted for larger or smaller cast
( Recommended for Junior and Senior High Performers )

ISADORA (F)
PRINCE HARCOURT (M)
PRINCESS GOLDEN, eligible princess (F)
PRINCESS SAPPHIRE, eligible princess (F)
ISADORA's SPIRITS:
(2-6 players, M/F, neutral gender)
TRUE PRINCESS, eligible princess (F)
BLUE PRINCESS, eligible princess (F)
QUEEN SOPHIA, Harcourt's mother (F)
PRINCE EDGAR, Harcourt's brother (M)
PRINCESS GRETA, Edgar's wife (F)
HANDMAIDENS:
MARY (F)
OLGA (F)
IDA (F)
KING ULSTED, Harcourt's father (M)
COOKS:
MACGREGOR (M/F)
MARGARET (F)
MACDONALD (M/F)
ROSE, The Princess (F)
YOUNG HARRY, At about age 10 (M/F)
(May be played by boy or girl dressed as boy)
YOUNG EDGAR, At about age 8 (M/F)
(May be played by boy or girl dressed as boy)
TOWNSPEOPLE:
(2-6 players, M/F, various gender)
PRIEST (M)
TOWN GOSSIP (M/F)
PEASANT GIRL, about 10 years old (F)
GYPSIES
(2-6 players, M/F, various gender)
STAGEHANDS
(2-4 players, M/F, neutral gender.)
TRUMPETER (M/F)
KING YORICK, Rose's father (M)
QUEEN YORICK, Rose's mother (F)
---

Easy to Adapt to Your Needs!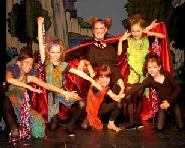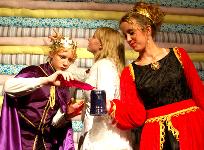 Virginia Theatre of Shelley, ID

The License allows you to adapt the script! Add parts, characters, scenes, songs! You also have the rights to make a Video/DVD of your special performance!
---

SETTING: Medieval times, a kingdom somewhere on the English Isle.

RECOMMENDED: For Junior and Senior High Performers

SET: One painted backdrop, simple freestanding flats, simple set pieces such as chairs and benches and tables. See Suggestions at the end of this script for more details.

Backdrop: Only one backdrop is needed, a painted scene of a rocky, cliff with a medieval castle perched upon it. This will serve to show the general setting of the play. Flats can represent all individual scenes.

Flats: Small freestanding flats represent the following scenes: Ulsted's Bedroom, Kitchen, Apothecary Shop, Church, Rose's Bedroom.

Special Movable Flats: Harcourt's boat, Rose's bed.

Furniture pieces: Wooden chair, tables with chairs, plain benches and stools as needed.

COSTUMES: Each character should wear a basic costume that indicates period, such as women with long skirts, men with tunics and leggings. These should be of basic color such as black or brown. Detailed pieces will indicate character.

Harcourt may have his family crest and elaborate hat. Rose may clutch a tattered shawl, which is discarded for a fine one later. Kings and Queens may wear crowns or other pieces that indicate royalty. Groups such as Handmaidens and Cooks may be represented by pieces such as hats, aprons, jackets coordinated together to indicate their particular group.

Spirits and Stagehands should wear a basic costume of black such as leotards or just contemporary pants, shirts and shoes. Isadora may wear a basic black costume underneath a fantastical headpiece and cape.

Simple pieces such as veil, capes and crowns may be used to indicate the wedding.

---

Perfect for Large Casts!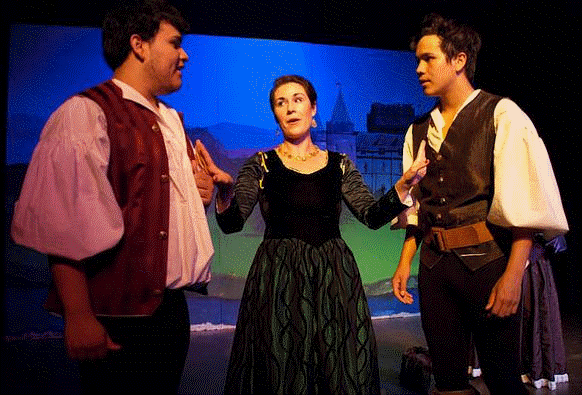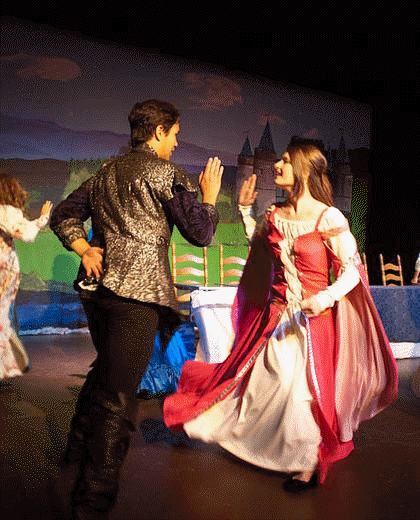 Vpstartcrow Productions, Princess and the Pea 2010!
"What a marvelous show! It had enough humor, romance, mystery, and action to keep our audiences entertained and eager for more. We added familiar songs, here and there throughout the show, which added an extra fun zip. The community simply couldn't say enough about how fun and delightful this show was. And our cast had the time of their lives - they're ready for more! Thank you for providing such a terrific show!"
Camille Gold, Virginia Theatre of Shelley, ID
---
SCENE 8, ACT 2 - HALLWAY, ULSTED CASTLE
(Script pages 76-77)
(On the opposite side of the stage, HARCOURT meets SOPHIA and ULSTED.)

HARCOURT: Father! What was that all about?

ULSTED: What was what all about?

HARCOURT: That ridiculous bed!

SOPHIA: Now, now dear. Don't worry, everything is going to work out beautifully!

HARCOURT: What do you mean?

ULSTED: It's just a little test.

SOPHIA: Harmless.

ULSTED: But effective.

HARCOURT: What kind of test?

SOPHIA: You see, your father placed a pea under the bottom mattress.

ULSTED: That's right. If Rose is a true princess she'll feel the pea through all those mattresses!

OPHIA: I'm afraid she'll have a rocky night. But it will all be worth it in the end. At last it will be proven that she is a true princess!

HARCOURT: Is this another of Edgar's ideas?

(SOPHIA and ULSTED look at each other and laugh.)

ULSTED: Not this one, my boy. Good night, Harry.

SOPHIA: Sleep tight, my son.

(THEY exit, lights dim. HARCOURT cries out.)

HARCOURT: Isadora!

(ISADORA appears in HER pool of light.)

ISADORA: Hush! Mustn't wake the princess.

HARCOURT: Isadora! Something has gone wrong. Terribly wrong!

ISADORA: Calm down, tell me.

HARCOURT: My father's cooked up some crazy scheme. He's putting Rose to a test to see if she is a real princess!

ISADORA: Well isn't that nice? At last you'll know for sure.

HARCOURT: But what if she doesn't pass the test? What if she's not a true princess?

ISADORA: Then you won't marry her, of course.

HARCOURT: (Horrified.) Isadora. Please help me. Please use your magic. Help her pass the test!

ISADORA: You mean you want to use my magic to... cheat?

HARCOURT: It doesn't matter! Isadora, can't you see that it doesn't matter if she's a princess or a peasant? If she fails I'll lose her! And I love her, Isadora! I love her no matter what!

Note: This is a sample from the actual script. To review the entire play, order the PERUSAL SCRIPT (online instant download).