SLEEPING BEAUTY
Large Cast Musical Play for Kids to Perform
Soundtrack Cues ............ Script Sample
---

CAST LIST

Running Time: About 45 minutes
Flexible Cast of About 40
(40 roles listed below - 10 Female, 8 Male, 22 F/M
STORYTELLERS/GEMS:
GOLD (18 lines, m/f)
SILVER (18 lines, m/f)
SAPPHIRE (17 lines, m/f)
DIAMOND (18 lines, m/f)
RUBY (18 lines, m/f)
EMERALD (17 lines, m/f)
LILAC (Head Good Fairy) (Total 46 lines, f)
LILAC #1 (19 lines)
LILAC #2 (27 lines, enter page 39)
GOOD FAIRIES:
DAISY (27 lines, f)
IRIS (28 lines, f)
GARDENIA (26 lines, f)
MORGANA (Bad Fairy) (Total 77 lines, m/f)
MORGANA #1 (9 lines)
MORGANA #2 (9 lines, enter page 16)
MORGANA #3 (12 lines, enter page 21)
MORGANA #4 (18 lines, enter page 32)
MORGANA #5 (29 lines, enter page 39)
SQUIRE (13 lines, m/f)
DUCHESS OF DILLYDALLY (10 lines, f)
BARONESS VON VERYSNOOT (7 lines, f)
DUKE OF BLUSTERVILLE (8 lines, m)
MARQUIS LOUIS (9 lines, m)
KING ALFRED (Total 38 lines, m)
KING ALFRED #1 (20 lines)
KING ALFRED #2 (19 lines, song, enter page 29)
QUEEN BEATRICE (18 lines, f)
KING EDWARD (14 lines, m)
YOUNG FERDINAND (3 lines, m)
GRUESOME GHOULS:
GARISH (28 lines, m/f)
GRUMBLE (28 lines, m/f)
GUNTER (28 lines, m/f)
GUS (25 lines, m/f)
AURORA (Princess) (Total 49 lines, f)
AURORA #1 (31 lines, song)
AURORA #2 (18 lines, enter page 33)
FOREST ANIMALS:
BIPPITY (Rabbit) (16 lines, m/f)
OZZY (Owl) (10 lines, m/f)
PASQUALE (Squirrel) (9 lines, m/f)
CHICKADEE (Bird) (10 lines, m/f)
ROBIN (Bird) (8 lines, m/f)
DANDY (Deer) (10 lines, m/f)
PRINCE FERDINAND (Total 34 lines, m)
PRINCE FERDINAND #1 (16 lines)
PRINCE FERDINAND #2 (18 lines, enter page 37)
---

Easy to Adapt to Your Kids' Needs!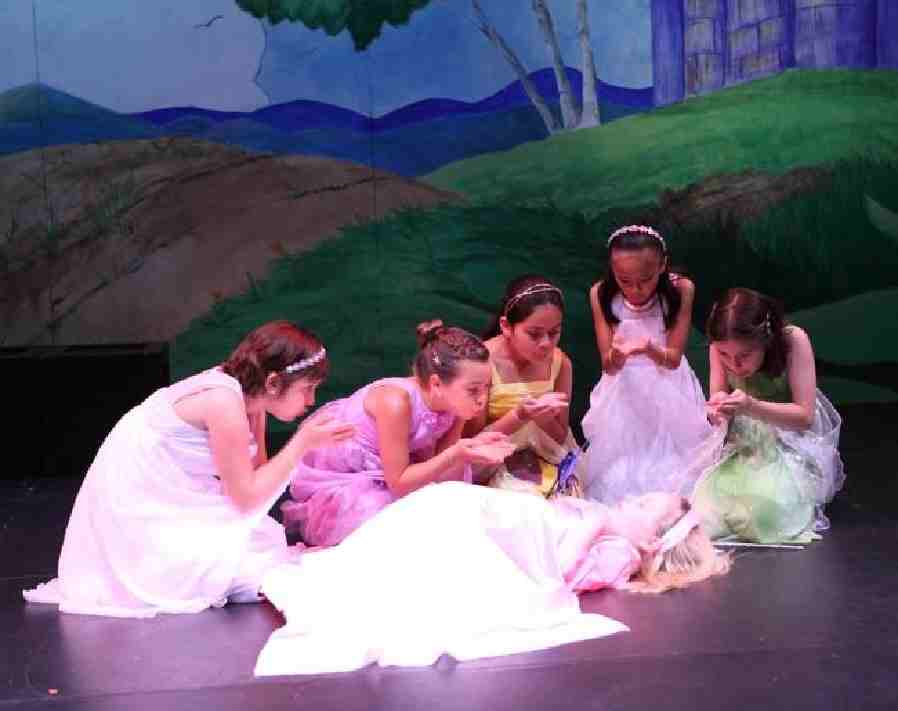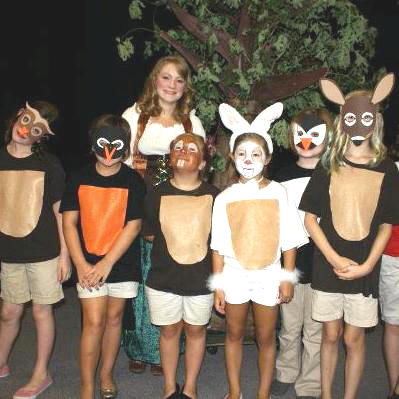 Fairies, Solano Youth Theatre, CA - Forest Animals, Magnolia Arts, AR
"Your scripts are so great, simple to use and adapt, fun for the kids and the audiences, and perfectly geared to use with a young cast. The audience loved our production!"
Greg Tutt, Buford Elementary School, Lennox, CA
---

SLEEPING BEAUTY
CD SOUNDTRACK CUES
Cues, sound effects, background music (traditional-classical)

The CD Soundtrack contains special sound effects and background music (from Tchaikovsky's Sleeping Beauty ballet) that may be used to greatly enhance the performance. It also contains simple Tchaikovsky melodies to accompany the performers as they sing (song cues shown below in red). It does not contain songs from the popular animated film or Broadway musical. Cues have 10 seconds of silence at the end - times shown below include silence.
[ Click on [sample] to hear a short sample of the indicated cues ]
1. OPENING, MORGANA'S THEME (1:26) [sample]
2. GREAT BREEZE (0:39)
3. INTRO MUSIC, STORM (0:48)
4. FANFARE (0:31) [sample]
5. THIS SPECIAL DAY [short] (0:31) [sample]
6. FANFARE (0:31)
7. FANFARE, BABY CRYING (0:50)
8. THIS SPECIAL DAY [long] (1:19) [sample]
9. GOOD FAIRIES ENTRANCE (0:56) [sample]
10. MORGANA'S THEME (0:33)
11. MAGICAL SOUND, PAUSE, MAGICAL SOUND (0:29)
12. TIME PASSES, MORGANA'S THEME (0:42) [sample]
13. SPINNING MUSIC, THUNDER (1:03)
14. IN MY DREAMS (0:55) [sample]
15. SAD TRAVELING MUSIC (0:45)
16. I'M A KING AND YOU'RE A KING (0:56) [sample]
17. WINGS, GHOULS, MORGANA'S THEME (0:44)
18. MORGANA'S THEME (0:33)
19. POIGNANT MUSIC (0:39) [sample]
20. MORNING SOUNDS (0:47) [sample]
21. MORGANA'S BATTLE [long thundering] (6:57)
22. MORGANA'S DEMISE (0:52) [sample]
23. THE MAGICAL KISS (0:56) [sample]
24. FANFARE (0:31)
25. THIS SPECIAL DAY (0:47) [sample]
26. GOOD FAIRIES EXIT (0:42)
27. CURTAIN CALL [In My Dreams] (3:38) [sample]

Note: Some teachers choose familiar songs, obtain sheet music and insert these songs into the play. We recognize that each school has a wide variety of educational needs to fulfill and we invite you to be creative in your use of our scripts; including changes or additions that are appropriate for your students. As author/publisher of our own creative works, we do ask that you obtain proper copyright permission for any additions you might make - that responsibility is up to you.

Music & Sound Resources Available on the Internet
( Sheet Music, Song Books, CDs, DVDs, Sing-along, Karaoke, Sound Effects )
Internet Music Resources: Karaoke CDs & Sheet Music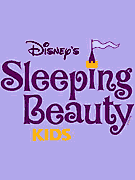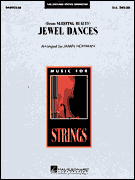 Click to search Internet for karaoke cds or sheet music
---

Every Child Has a Special Moment!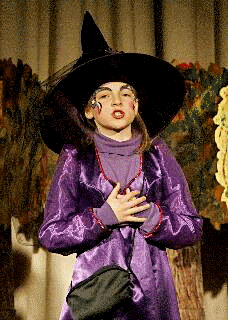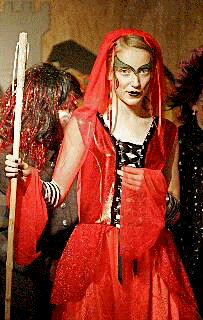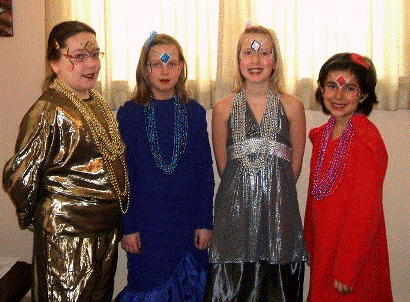 Children's Theatre Company, Goderich, ON, 2011!
---
Aurora has just learned that she is princess, soon to be wed. The Bad Fairy Morgana visits her in the castle tower.
(Script pages 33-36)
MORGANA: Ah! Such a sad sound. Why are you crying my dear?

AURORA: They say I must marry.

MORGANA: And you don't want to?

AURORA: No! I love another!

MORGANA: Tsk, tsk, tsk. What a terrible thing. I feel so sorry for you.

AURORA: You do?

MORGANA: Oh, yes, my poor child. Why don't you come here and let me comfort you.

(AURORA goes to MORGANA and buries her head in her lap. MORGANA raises her arm and snaps her fingers. GRUESOME GHOULS come forward with the spinning wheel, when it is placed they slink into shadows.)

Do you know what my mother used to say to me? Whenever you feel sad or lonely, just sit at the spinning wheel a while. It will make you better.

AURORA: (Looking up and drying her eyes.) Why how curious! I've never seen anything like that before.

MORGANA: Really? It's quite a nice little thing. When you turn the wheel it makes yarn. Like magic! Would you like to try it?

AURORA: Why, yes. Yes, I would.

(MORGANA gets up to give AURORA her seat.)

MORGANA: Just place your hand like so... (Places AURORA's hands.) That's right. Round and round...

AURORA: Ah! (Smiling.) Round and round! How quaint it is!

MORGANA: Round and round goes the wheel my girl... Just give it a tug and it starts to twirl...

AURORA: Yes, it does!

MORGANA: It won't be long till it does its trick... Don't be alarmed if you feel... A PRICK!

(MORGANA forces AURORA's finger, pricks!)

AURORA: Ah! There's blood!

MORGANA: (Delighted.) Yes, there is!

AURORA: I feel... I feel...

MORGANA: A little bit faint?

AURORA: Ah!

(AURORA faints in MORGANA'S arms.

SOUND CUE #18: MORGANA'S theme.) [sample]

MORGANA: Ha! Ha! Ha! My gift has finally arrived!!!!!!

(MORGANA lays, AURORA down, GHOULS come out of the shadows, wringing their hands, circling AURORA. MORGANA sweeps the stage, shaking her fist!)

Take this you little fairies! Take this, Lilac! Here's your goodness! Here's your beauty! The princess is dead!!!! The princess is dead!!!!!!!! Ah, ha, ha, haaaa!!!!!!!!!!

(SOUND CUE ENDS.)

GHOULS: Round and round and round...

MORGANA: The princess is dead!!!!!!!!!!!!!!!!!

GHOULS: Round and round and round...

MORGANA: Ah! Ha! Ha! Ah Ha! Ha! Ha!!!!!!

(STORYTELLERS use a cymbal crash to end the scene as MORGANA and GHOULS exit. Silence. GARDENIA enters with cloth, as if it is wedding dress. The cloth will be used later by STORYTELLERS.)

GARDENIA: Here we are, dear, this will cheer you up! Wait until you see the lovely wedding dress we've conjured up... (Sees AURORA for the first time, drops cloth.) Oh, no! Fairies! Come quick!

(GOOD FAIRIES enter and gasp! They rush to AURORA.)

DAISY: Aurora!

IRIS: My princess!

LILAC: (Looking around.) Morgana! This is your doing!

DAISY: (Touching AURORA's temple.) She's dead!

IRIS: Dead!

GARDENIA: Oh, no!

DAISY: There will be no wedding for our sweet princess.

(DAISY, IRIS, GARDENIA fall to sobbing.)

LILAC: No! Morgana cannot win!

IRIS: But what can we do?

LILAC: We must be strong. And we need everyone's help. (To Audience.) Everyone, reach deep within yourself and find all the beauty and strength you have in your heart. Gather it up in your hand. And send it to Aurora!

(LILAC blows across her hand as before, towards AURORA. Audience does the same. IRIS pats AURORA'S cheek.)

IRIS: (Tearfully.) Nothing. It didn't work!

LILAC: Try again, everyone. There is more goodness in you than you believe! Goodness must triumph over evil!

(ALL repeat the action.)

AURORA: (Sighing in sleep.) Ah!

GARDENIA: She lives! (Tearful.) She lives!

LILAC: And yet she is asleep.

Note: This is a sample from the actual script. To review the entire play, order the PERUSAL SCRIPT (online instant download). Or to save 20% on the full production kit and royalty for one performance, order the SCHOOL PLAY PACKAGE (below) and start rehearsals today!

---

THE SCHOOL PLAY PACKAGE HAS EVERYTHING YOU NEED!
Get Everything - Only $99.95

SAVE MORE $$$ WITH FULL DOWNLOAD
-- NO SHIPPING COSTS! --