SNOW WHITE and The Seven Dwarfs
Large Cast School Play for Kids to Perform
Soundtrack Cues ............ Script Sample
---

CAST LIST

Running Time: About 35-40 minutes
Flexible Cast of 30: 2-3 Female, 2 Male, All others F/M
Easily adapted for larger or smaller cast

SNOW WHITE: (F, total 35 lines)
SNOW WHITE #1 (F, 17 lines)
SNOW WHITE #2 (F, 18 lines)
QUEEN (F, 19 lines)
QUEEN/WITCH (F/M, 16 lines)
CHORUS:
BLUE (F/M, 10 lines)
GREEN (F/M, 11 lines)
ORANGE (F/M, 9 lines)
PURPLE (F/M, 10 lines)
RED (F/M, 9 lines)
YELLOW (F/M, 10 lines)
MIRROR (F/M, 8 lines)
HUNTSMAN (M, 7 lines)
TREES (4) (F/M, 7 lines)
DWARFS:
CAPTAIN (F/M, 7 lines)
GIGGLE-TOES (F/M, 7 lines)
NIN-COM-POOP (F/M, 8 lines)
A-CHOO (F/M, 8 lines)
SOUR-PUSS (F/M, 10 lines)
WALL-FLOWER (F/M, 6 lines)
SNORES-A-LOT (F/M, 5 lines)
FOREST ANIMALS:
BUCK (Bunny) (F/M, 10 lines)
SKIPPER (Bunny) (F/M, 5 lines)
SWISHY (Squirrel) (F/M, 8 lines)
LOPER (Deer) (F/M, 5 lines)
QUEEN'S SPIRITS:
WITCH HAZEL (F/M, 6 lines)
CASPER OIL (F/M, 6 lines)
GRUESOME TWOSOME (2) (F/M, 7 lines)
PRINCE (M, 4 lines)
---

Easy for Kids to Learn, Perform and Enjoy!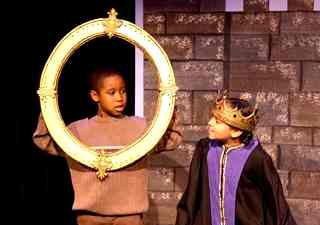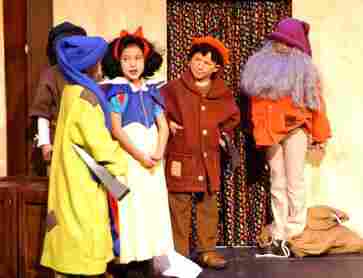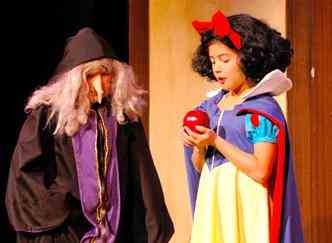 Solano Youth Theatre, Fairfield, CA
"We love your easy to use scripts and short lines for kids to memorize!"
Julie Echelmeier, Higginsville Theatre Company, Youth Theatre Academy

---

SNOW WHITE
CD SOUNDTRACK CUES
Cues, sound effects, background music (traditional-classical)

The CD Soundtrack contains special sound effects and background music (public domain traditional-classical) that may be used to greatly enhance the performance. It does not contain music and songs from the popular animated film, nor does it contain music for the performers to sing along with. Cues have 10 seconds of silence at the end - times shown below include silence.
[ Click on [sample] to hear a short sample of the indicated cues ]
1. FANFARE 1 (0:14) [sample]
2. FANFARE 2 (0:14)
3. WICKED QUEEN, GLOOM & DOOM (0:45) [sample]
4. FOREST SOUNDS (0:30) [sample]
5. TRAVELING MUSIC (0:26)
6. HOWLING WIND (0:17)
7. DWARF INTRO (0:48) [sample]
8. WICKED QUEEN (0:40)
9. BREAKING GLASS (0:14)
10. WITCHES BREW (1:10) [sample]
11. GLOOM & DOOM (0:18)
12. HOWLING WIND (0:17) [sample]
13. HAPPILY EVER AFTER (0:34)
Note: Some teachers choose familiar songs, obtain sheet music and insert these songs into the play. We recognize that each school has a wide variety of educational needs to fulfill and we invite you to be creative in your use of our scripts; including changes or additions that are appropriate for your students. As author/publisher of our own creative works, we do ask that you obtain proper copyright permission for any additions you might make - that responsibility is up to you.

Music & Sound Resources Available on the Internet
( Sheet Music, Song Books, CDs, DVDs, Sing-along, Karaoke, Sound Effects )
Internet Music Resources: Karaoke CDs & Sheet Music







Click to search Internet for karaoke cds or sheet music
---

Creative Script! Sparks Imaginations!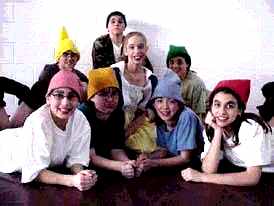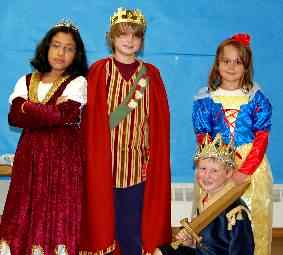 St. Robert School, Flushing, MI - Stage Stormers, Spring City, PA
---
Returning home from a day at the mines, the Seven Dwarfs make an amazing discovery!
(Script pages 9-10)
CAPTAIN: Shiver me timbers, mates!

(CAPTAIN is at the head of the line, He stops suddenly. All DWARFS run into each other like dominos. CHORUS can make a funny sound for this bit.)

NIN-COM-POOP: What's that you see?

WALL-FLOWER: It's a light out yonder!

A-CHOO: It's coming from our window!

(They all look at each other, wide-eyed.)

SNORES-A-LOT: Who could it be?

GIGGLE-TOES: Varmints!

CAPTAIN: Pirates!

SOUR-PUSS: Rascals!

CAPTAIN: All hands on deck! We'll sneak up from the starboard side and ambush em'. Follow me!

(They stay in line and tiptoe with all feet moving together. They pantomime opening the door. CAPTAIN is at the front and surveys the scene.)

(Whispering.) Thar' she blows, boys!

(DWARFS ALL gasp. They tiptoe in together, carefully approach the bench where SNOW WHITE is sleeping. As the CAPTAIN counts the DWARFS raise their axes.)

On the count of three.

ALL DWARFS: One... Two...

SNOW WHITE: (Turns in her sleep.) Ah, me...

(The DWARFS freeze with their axes held high.)

NIN-COM-POOP: That ain't no varmint.

WALL-FLOWER: It sounded more like a... (He's embarrassed to say it.) Like a... awe, gee...

GIGGLE-TOES: Like a lady!

(They gasp. CAPTAIN takes the blanket from SNOW WHITE'S head. They all gasp again.)

A-CHOO: She's beautiful!

SNORES-A-LOT: Can we keep her?

SOUR-PUSS: Certainly not! No dogs, no pets, no ladies!

Note: This is a sample from the actual script. To review the entire play, order the PERUSAL SCRIPT (online instant download). Or to save 20% on the full production kit and royalty for one performance, order the SCHOOL PLAY PACKAGE (below) and start rehearsals today!

---

THE SCHOOL PLAY PACKAGE HAS EVERYTHING YOU NEED!
Get Everything - Only $99.95

SAVE MORE $$$ WITH FULL DOWNLOAD
-- NO SHIPPING COSTS! --