TREASURE ISLAND:
YOUNG PIRATES OF THE CARIBBEAN
Large Cast Musical Play for Kids to Perform
Lively Comedy! Easy Songs & Pirate Talk!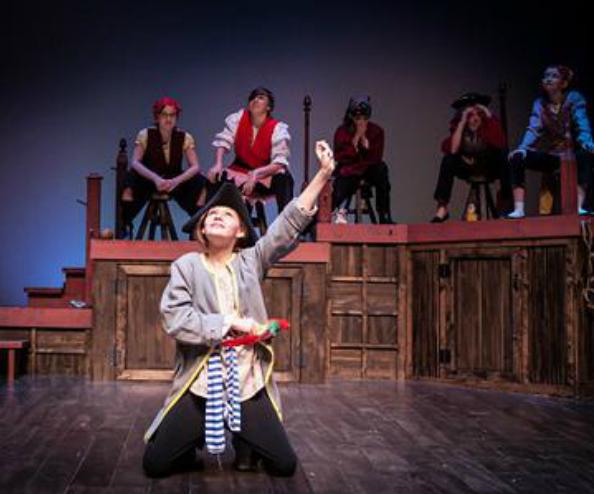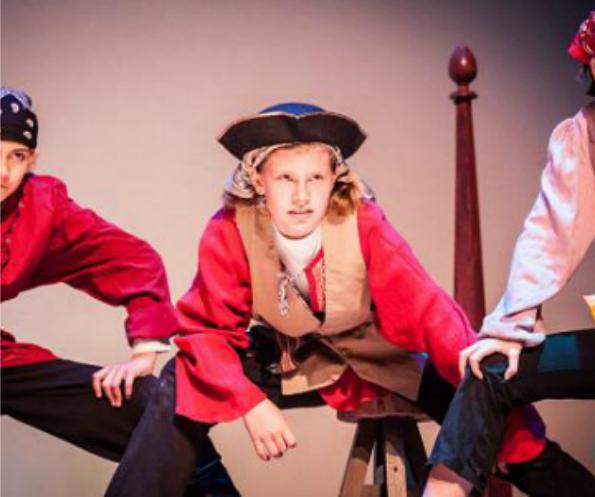 Greenbrier Valley Theatre, GVTweens After School Program, Lewisburg WV
Jim's fantasy comes to life when pirate Billy Bones steps right into his bedroom! Suddenly we're swept into the action of high seas adventure!

Billy Bones leaves Jim a treasure map and we're off! Sailing on the Hispaniola to Skeleton Island! The ship's crew are a rowdy bunch, who are whipped into mutiny by the one-legged man... Long John Silver!

A Cast of Fifth Graders Sail the Ocean Blue!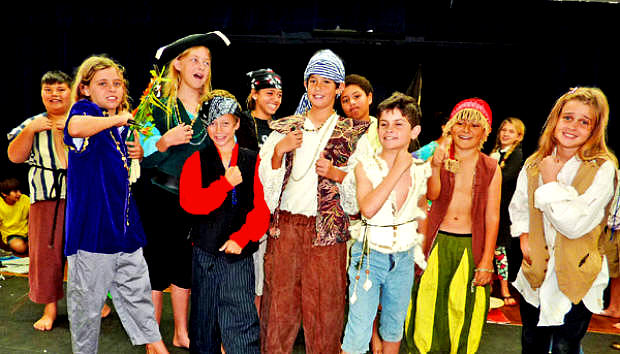 Garden Island School HI, Peggy Ellenburg Director
Storytellers keep the action moving fast, providing creative staging and audience participation. When the Captain and his loyal sailors are captured, only our boy hero -- Jim Hawkins -- can save the day!
---

Easy to Adapt to Your School's Needs!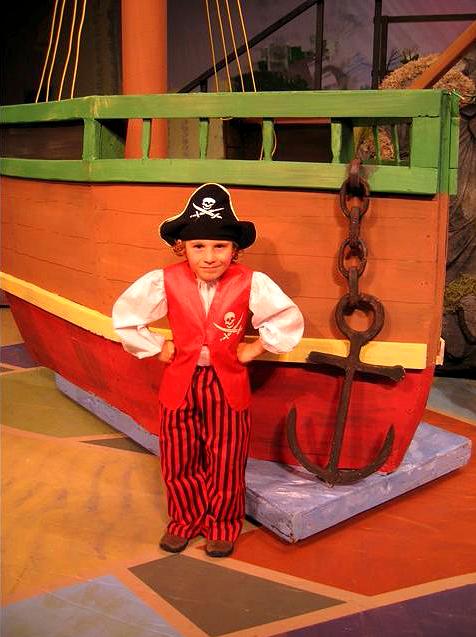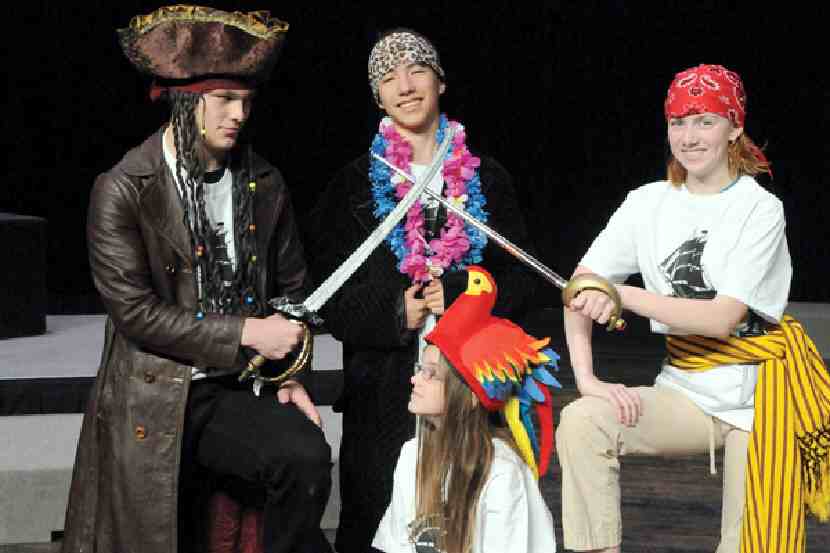 Bremerton Community Theatre Jr, WA
Nampa Civic Center Musical Theatre, ID
Jim discovers marooned pirate Ben Gunn and his hilarious band of Island Natives - and quickly uncovers the coveted treasure. When Jim tricks the pirates, Long John's mutineers turn against him and present him with -- The Dreaded Black Spot!
"Perfect for Large Casts of Fun-Loving Stundents!"



Tchefuncte Middle School, Mandeville LA
Jim and the ship's loyal crew sail away with the treasure! Before he goes, Long John Silver gives Jim his beloved parrot.

"The Foster Park Elementary School Drama Club — which consists of fourth and fifth-graders — wowed audiences with Treasure Island. They really made it their own."
T. J. Tyler, Foster Park Elementary, Union, SC

---

Dramatic Fun for Your School!

English Language School, Macedonia
Nikolaus Homestead, AZ

Back at home, Jim's new bird is a hit with his friends. It's time for trick or treating and guess what? Everyone is dressed as a pirate! Argg, me maties, they're pirates!

"The classic story is told through the lens of Jim Hawkins and is made "more fanciful" and "child-friendly" through his eyes. 'This is the first that we've done on a professional level. We're really going all out. It will be a thrill for audience members.'"
News and Advance, Lynchburg VA, Rockfish River Elementary School

---

Kid-Friendly and Age Appropriate!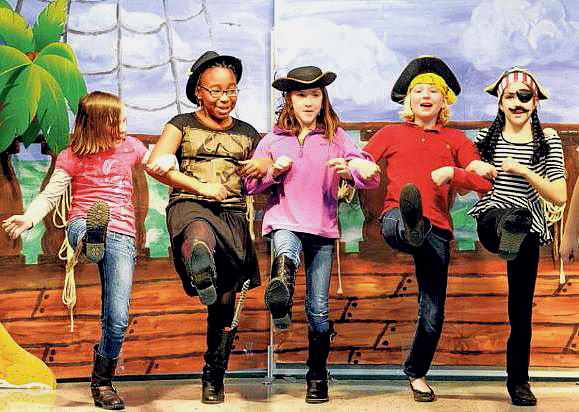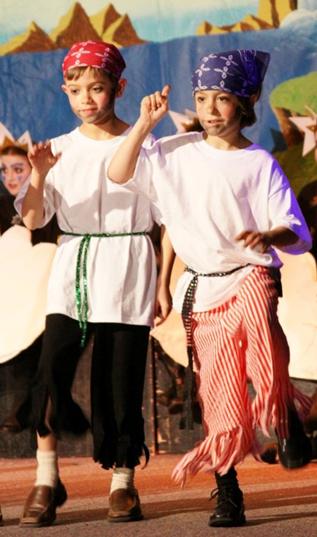 Rockfish River Elementary, Lynchburg, VA
Newport Heights Elementary, Bellevue WA
ArtReach's version of Treasure Island is just for kids! The story and many characters remain true to the beloved book. By placing Jim Hawkins in present day, we see the story as his fantasy. This adds fun and imagination to the action while softening some of the rougher aspects of Stevenson's pirates. Every part of ArtReach's version is appropriate for young performers!

Just for Kids: Speeches and vocabulary are appropriate for child performers ages 6 - 14. Lots of Pirate Talk with a glossary in the Teachers Guide.

A Flexible Cast of 30 Students: Easily adapted for a smaller or larger cast. Add as many roles as you like!

Great Parts for Boys and Girls: Who says pirates have to be boys? Not us! Every role in the play can be performed by a boy or girl!

About 45-55 minutes: Long enough to be a substantial project and short enough to accommodate your teaching schedule.

Easy Costumes and Scenery: Many suggestions on how to create or find what you need to make a great looking production without breaking your budget!

A Musical Soundtrack: Treasure Island has a backing track CD with familiar tunes. Songs are easy for children to learn and perform.

Ho Ho Ho and a Bundle of Fun!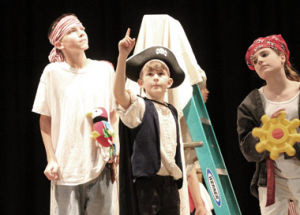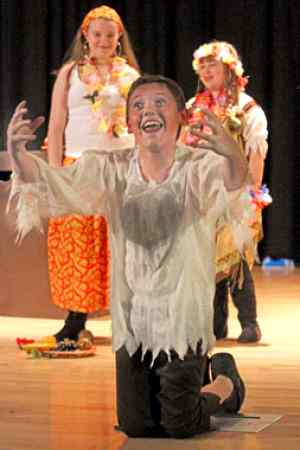 All-Kids Large Cast - Maricopa Children's Theatre, AZ
---
Argg! Me Hearties!
Kids Love to Play Pirates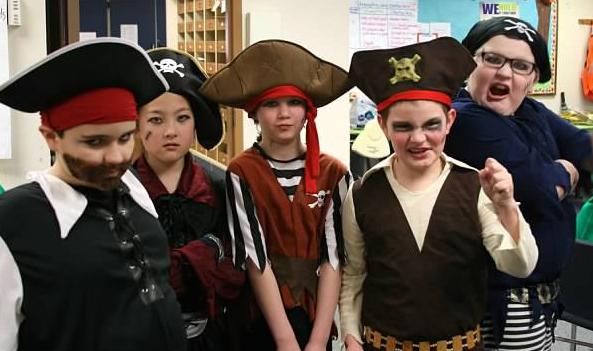 Shoultes Elementary School, Marysville, WA
"I have used your scripts for the last 5 years for my students. It is always a FABULOUS production!"
Chris Bloese, South Broward High School, Hollywood, FL

"Such a Wonderful Script!"

Madison Avenue Performing Arts, Spring Hill KS

---

"Our performance was spectacular!"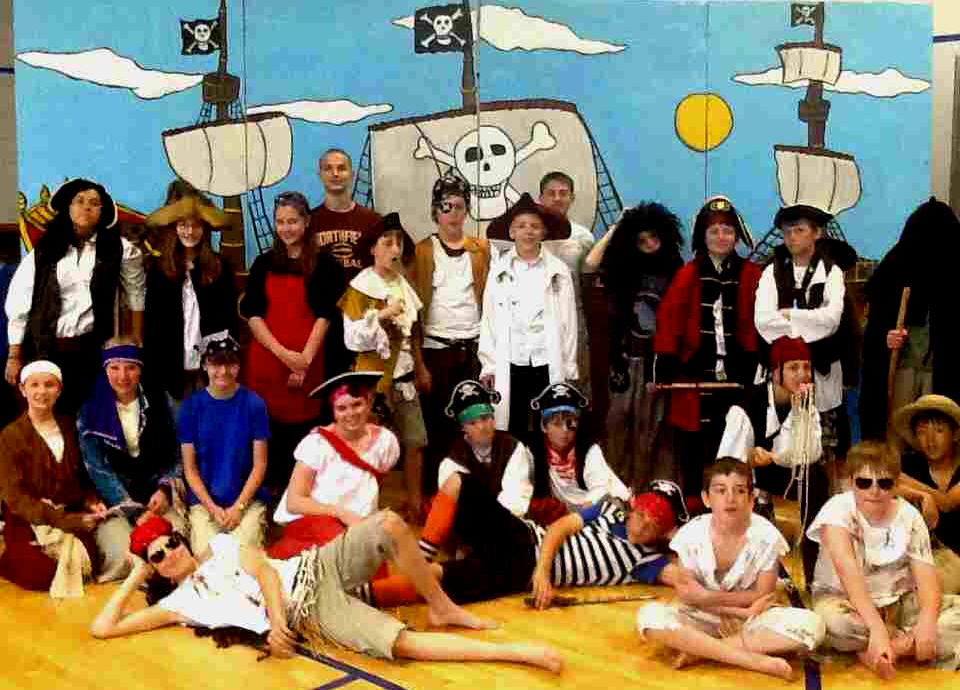 St. Dominic's School, Northfield, MN
"Our Day Campers performed Treasure Island: Young Pirates of the Caribbean! All ages participated and made it a great show! We loved the fun songs!"
Gilman Day Camps, Baltimore, MD

TREASURE ISLAND
Large Cast Musical Play for Kids to Perform