WE ARE THE DREAM
The Legacy of Dr. Martin Luther King, Jr.
Large Cast Musical Play for Kids to Perform
Staging Notes......Soundtrack .... Script Sample
---

CAST LIST
Running Time: About 45-50 minutes
Flexible cast of about 25, 6 Male, 5 Female, All others M/F
Easily adapted for larger or smaller cast
STUDENTS:
TONY (M/F, 13 lines)
FLORA (M/F, 14 lines)
JAMES (M/F, 12 lines)
HOPE (M/F, 13 lines)
GRACE (M/F, 13 lines)
GROWNUP JULIA (M/F, 17 lines)
YOUNG JULIA (M/F, 13 lines)
JULIA'S MOTHER (F, 9 lines)
JULIA'S FATHER (M, 15 lines)
YOUNG MARTIN (M, 11 lines)
ALBERTA (F, 8 lines)
MARTIN'S FATHER (M, 6 lines)
MARTIN (M, 37 lines)
MRS. WILLIAMS (M/F, 29 lines)
BILLY'S MOTHER (M/F, 2 lines)
SHOE CLERK (M/F, 2 lines)
CORETTA (F, 16 lines)
ROSA PARKS (F, 5 lines)
TV ANNOUNCER (M/F, 18 lines)
BUS DRIVER (M/F, 8 lines)
SHERIFF (M/F, 11 lines)
JOSEPH MCNEILL (M, 4 lines)
WAITER (M/F, 8 lines)
WALLACE (M, 6 lines)
VIVIAN JONES (F, 8 lines)
CHOIR (Optional, any size)
---

Let Your Kids Live the Dream!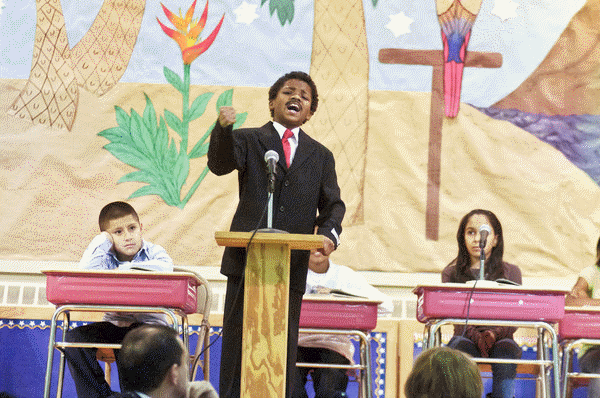 A Student Performs MLK's Dream Speech!
Charteret School, Bloomfield, NJ
---

CASTING: This script is written for adults and children of varying ages to perform together. Older children and adults may take the parts of Grownup Julia, Mrs. Williams, Martin's Father, etc. An obvious choice would be for the teacher who is directing the play to perform Grownup Julia or Mrs. Williams. The purpose is to deepen the experience of recounting Martin Luther King's life among a wide and diverse group, a true community, helping all to see it from many points of view. However, it is quite all right for all the roles to be played by young people of just one age if that is the nature of your project.

CHOIR: Using an existing choir, such as a church choir or a school singing group, will simplify this aspect of the production. The Choir may be as small as one person or as large as you can accommodate. The choir is the sole backdrop/scenery for the play placed upstage center with action taking place in front of them. Members can come and go from the Choir to perform in the play taking on the speaking roles as they are described in the script or playing non-speaking (or ad-libbed speaking) roles such as crowds at protests etc.

When actors are not performing in the playing area they may step into the choir and sing through the scenes until it is time to resume their role again. If your choir is already practiced in songs you think are appropriate, by all means replace the suggested songs with those your choir members already know. If your audience is familiar with the songs feel free to encourage them to join in throughout the show.

If a choir is too much for your project, a CD of background music and sound effects is available and the references to songs may be eliminated from the production.

---

We Are Martin Luther King's Dream!

Joshua Academy, We Are the Dream, Children's Musical Play, Evansville, IN

---

WE ARE THE DREAM
CD SOUNDTRACK CUES
Cues, sound effects, choir accompaniment music

The CD Soundtrack contains sound effects and music to accompany the choir (traditional spirituals and gospels) that may be used to greatly enhance the performance. Cues have 10 seconds of silence at the end - times shown below include silence.
[ Click on [sample] to hear a short sample of the indicated cues ]

NOTE: Cues marked CHOIR: contain music to accompany the choir. SKIP the CHOIR: cues if you are using a piano or live band playing for the choir. (Simple piano sheet music is included in the Teachers Guide.)
1. CHOIR: WHAT A MORNING (1:08) [sample]
2. CHOIR: NOBODY KNOWS (1:37) [sample]
3. CHOIR: NOBODY KNOWS 2 (1:37)
4. CHOIR: OH HAPPY DAY (1:56) [sample]
5. CHOIR: OH HAPPY DAY 2 (0:50)
6. CHOIR: WHAT A MORNING 2 (3:05)
7. EXPLOSION, BURNING CROSS (0:52) [sample]
8. CHOIR: QUIET HUM (0:37)
9. SINGING, CHAOS, SINGING (2:41) [sample]
10. POLICE, DOGS, MOB (0:33) [sample]
11. CHOIR: BLACK AND WHITE TOGETHER (1:52) [sample]
12. CHOIR: WALK HAND IN HAND (1:52)
13. CHOIR: SPEECH & FREE AT LAST MUSIC (2:55) [sample]
14. SPEECH ONLY (2:19)
(use either track 13 or 14 for this cue)
15. CHOIR: WE SHALL OVERCOME (Finale) (4:30) [sample]

Music & Sound Resources Available on the Internet
( Sheet Music, Song Books, CDs, DVDs, Sing-along, Karaoke, Sound Effects )
Internet Music Resources: Karaoke CDs & Sheet Music







Click to search Internet for karaoke cds or sheet music
---
"This dream is for all of us. We are the dream."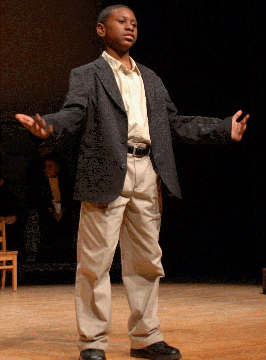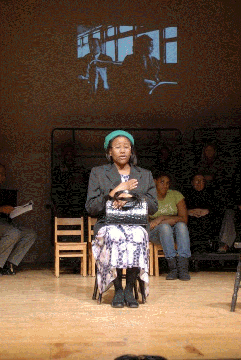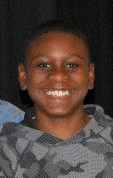 "This show is not about rehearsal, not about perfection. It's about faith and love and the message of Dr. King. This dream is for all of us. We are the dream."
Director Marianne Carruth, Tryon Fine Arts Center, NC

---
Young Martin has big plans but he knows he can't do it alone...
(Script pages 12-13)
CORETTA: I am Coretta Scott.

MARTIN: (Admiring.) Yes, you are.

CORETTA: Don't you know me by now, Martin? Yes, I am Alabama born and bred. But I have no intention of returning in this particular lifetime. Boston suits me fine. I'll have my music degree in a year and my masters in two! Give me one good reason why I should complicate my plans by marrying you.

MARTIN: Well, for one... because you love me.

CORETTA: How on earth could you know that?

MARTIN: Because I love you. And I can see you feel the same.

CORETTA: Has anyone ever told you you're proud?

MARTIN: Proud to be a man? Proud to be an African American? Proud to have a brilliant woman like you at my side? Guilty as charged.

CORETTA: Oh, Martin. I do love you but...

MARTIN: But?

CORETTA: I can't go back to the south. I just can't. I can never forget how I was treated down there. Like I wasn't as good as the white girls.

MARTIN: That's exactly why I got to back, Coretta. And why you got to go with me. Someone has to begin to lift our people up!

CORETTA: Oh, Martin you're a dreamer. Do you think you can do all that by preaching from a pulpit?

MARTIN: I can. I must.

CORETTA: If I say yes. If I marry you. I won't be marrying just a man. I'll have to marry your dream too.

MARTIN: I wouldn't ask you if I thought you couldn't do it. You'll be my partner, Coretta, by my side every step of the way.

CORETTA: And give up singing?

MARTIN: (Smiling.) There's always the choir.

(SOUND CUE #4: Choir, Oh Happy Day.)

CHOIR: (humming and clapping intro to song...)

CORETTA: The church choir? After all my classical training? (Rolling her eyes.) Oh, happy day!...

CHOIR: (Singing in direct response to CORETTA.)

Oh happy day... Oh happy day
Oh happy day... Oh happy day
When Jesus washed... When Jesus washed
Oh when He washed... When Jesus washed
When Jesus washed... When Jesus washed
He washed my sins away
Oh happy day... Oh happy day...

(Repeat "Happy Day" and/or lyrics as needed. CORETTA acknowledges the CHOIR with an "I can take a joke" look to them. She and MARTIN join the CHOIR and sing a phrase. END CUE.)

Note: This is a sample from the actual script. To review the entire play, order the PERUSAL SCRIPT (online instant download). Or to save 20% on the full production kit and royalty for one performance, order the SCHOOL PLAY PACKAGE (below) and start rehearsals today!

---

THE SCHOOL PLAY PACKAGE HAS EVERYTHING YOU NEED!
Get Everything - Only $99.95

SAVE MORE $$$ WITH FULL DOWNLOAD
-- NO SHIPPING COSTS! --