YOU DON'T SEE ME
One Act Play for Schools and Theatres!

Play About Hope & Joy for Kids!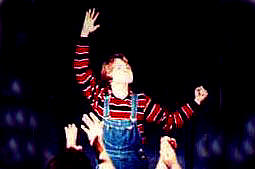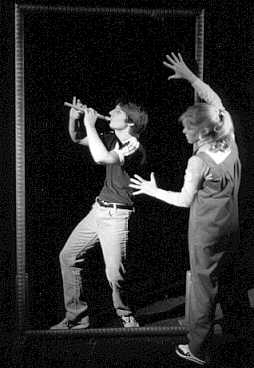 Stephanie Wins First Place at the Science Fair!
ArtReach Touring Theatre, Uplifting Play for Children!
You Don't See Me tackles the subject of family grief in the same way children naturally resolve difficult issues -- through creative play!

Stephanie, learns to live with the loss of her brother by creating a fantasy in which he appears. Jimmy speaks poignantly to her through pantomime and the eloquence of the sound of his flute. He stays by her side as she prepares a project for the science fair.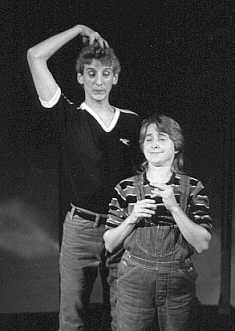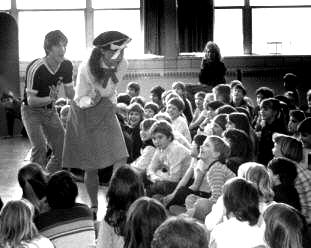 While Stephanie concentrates on earthly goals, her brother guides her toward acceptance. Through his love that radiates beyond the barrier of mortality, Stephanie is strengthened and finds the heart to go on.

You Don't See Me is a fun play with lots of comedy! Part of the joy is seeing sister and brother play together, and realizing that love touches and heals every aspect of life!

"Kathryn Schultz Miller writes in a language familiar to young people in their everyday conversation. In ordinary language she knits the troubles to which youngsters fall prey. Then reaching to a deeper level of human understanding she finds the caring and compassion with which people help each other through their deepest difficulties."
David Jewell, Publisher, Coach House Press

---
Production Information

| | |
| --- | --- |
| Audience | Elementary Schools, Middle Schools, Parents, Teachers, Families, Community |
| Cast | 2m, 2f, larger cast possible |
| Time | About 45 minutes |
| Published By | Dramatic Publishing Co. |
| Royalty | Royalty & Performance License Required (Details) |


YOU DON'T SEE ME
One Act Play for Schools and Theatres!