ArtReach's Famed
Award-
Winning Play 'A Thousand Cranes' has been performed around the world! Sadako's message inspires young people with hope and peace!
---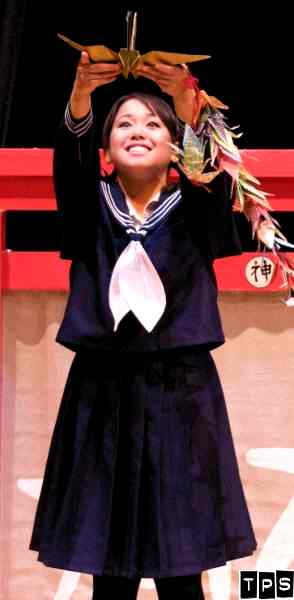 "I wanted to congratulate you on 1000 Cranes. It was more than a play, it truly was a total EXPERIENCE!! I loved it. Your very talented cast put so much life into such a poignant and important story!"
Sheryl Altman, Southboro, Prana Center, Holliston
---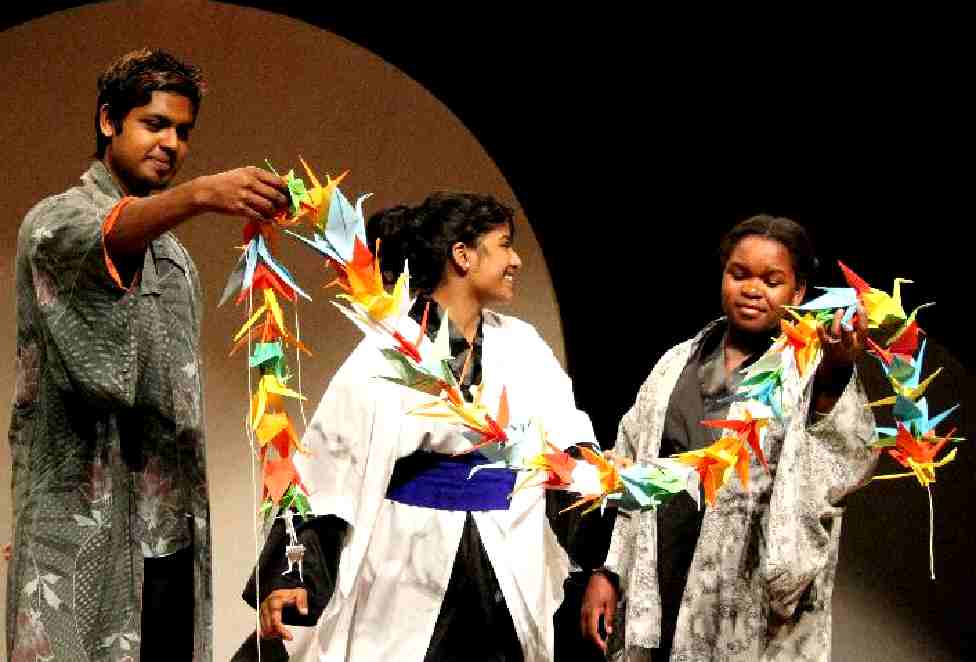 "As a young girl I read Sadako's story and remember how much it resonated with me. Here is a girl with dignity, grace and irrepressible spirit. Sadako reminds us what a single gesture of kindness can have on future generations."
Lauren Unlekant, Educational Outreach, Syracuse Stage, NY
---

Running Time: About 40 minutes.
---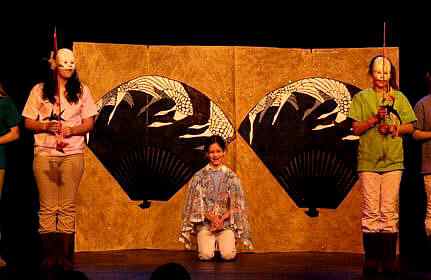 Morristown-Beard School, NJ

ArtReach's Medium Cast is for a Medium Size Flexible cast of 13, 4 Male, 4 Female, All others M/F.
---

Easily adapted for larger or smaller cast.
---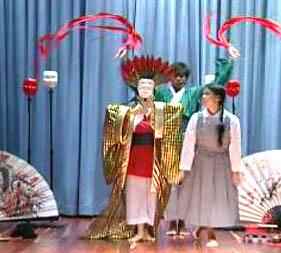 Asian Children's
Play Festival

UIL (University Interscholastic League) Approved Play!
---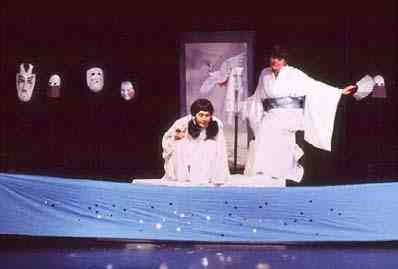 "My high school drama club won the North Dakota State One Act competition yesterday, mostly because the possibility of great things with your script."
Melissa Entzi, Drama Teacher, Edgeley High School, NC
---

A Thousand Cranes Inspires Compassion!
---

"If you haven't seen A Thousand Cranes, don't miss it! It was incredibly moving. Until you see these young actors and actresses portray the life of one affected 12 year old girl, you haven't really felt the story with your heart."
Ceci LeBeau, Holliston Prana Center, MA
---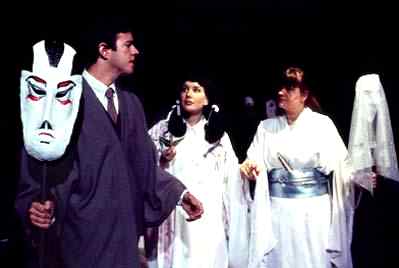 Medium Version: This one act play is perfect for Middle Schools, High Schools, Community Theatres, One-Act Play Contests and One-Act Play Festivals.
---

A Beautiful Soundtrack CD with easy cue sheet will add incredible polish and professionalism to your production.
---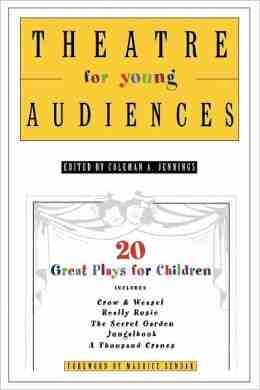 Featured in Theatre for Young Audiences: 20 Great Plays for Children
---

"This is a story of beauty and hope."
Lauren Unlekant, Educational Outreach, Syracuse Stage, NY
---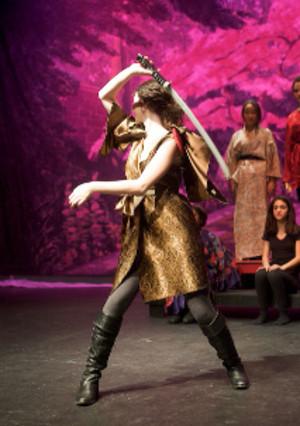 Ancient Emperor,
Harvey Middle, Katonah, NY
---

"A Thousand Cranes left me emotional but hopeful for a future where we have learned from the past."
Katie Roundy, Utah Theatre Bloggers
---

"A THOUSAND CRANES is a moving story of one girl's courage and triumph."
Julia Magnasco Education Director, First Stage, Milwaukee, WI
---

"Telling the true story of a young Japanese girl who lived through Hiroshima in World War II, allowed ACT to bring history, literature, art, science and world studies to hundreds and hundreds of local students."
Director Sarah Diamond Burroway, Actors for Children Theatre, Flatwoods KY
---

"A Thousand Cranes", was presented Saturday at the One Act Festival at Cumberland High School where Galileo nabbed second place overall in the district competition."
Director Glenn Weyler
---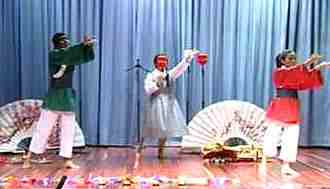 "Thanks again for a wonderful story. Everyone in the audience loved our A Thousand Cranes. Our cast has been proud to tell this story. We all agreed that we would be a little sad to perform A Thousand Cranes for the last time."
Jan Thompson, Central High School Wise, VA
---

Instructions on How to Fold a Paper Crane and where to send them to Sadako's Statue in Japan are in ArtReach's Teacher's Guide!
---

"A Thousand Cranes is filled with messages of hope, strength, and courage and continues to encourage young people throughout the world to work for peace."
Chapel Hill, Carrboro, NC
---

"This multiple award-winning play has been produced by countless professional and community theatres in the United States and in other countries around the world."
Skwalking Heads Chattanooga Center
---
East Central High School Drama Club (Kathy Ebnet, Director), of Sandstone, MN, Minnesota. Their A Thousand Cranes was selected out of 481 nominations to represent the US in the American High School Theatre Festival, Fringe Festival in Edinburgh, Scotland.
---
A Thousand Cranes
Play for Middle & High Schools. Medium Cast.

The True Story of Sadako and the Thousand Paper Cranes
FULL DOWNLOAD - Entire School Play Package with Soundtrack Audio Files

A Powerful Story for Young People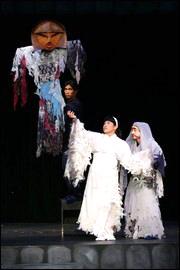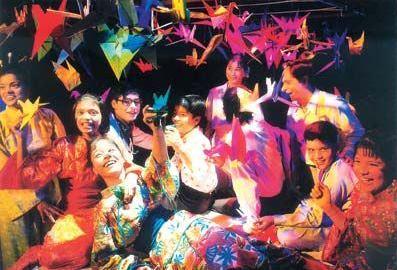 Honolulu Theatre for Youth - The National School of Drama, Delhi, India
For A Medium Size (Medium) Cast of Teens, Middle Schools, High Schools

A Thousand Cranes is an extraordinary experience for young performers and young audiences. This One Act Play may be staged with a few simple props and unlimited imagination. The result is always elegant and moving.

Excellent Roles for Young Performers

Play for Kids to Perform - Lansing Middle School, NY

"It was an outstanding production. The performance left me with burning eyes and a lump in my throat and a fear that my heart would burst with pride!"
Greg Brooks, Headmaster, St. Mary's DSG School for Girls, South Africa
---

A Thousand Cranes is the true, poignant story of Sadako Sasaki. Sadako was only two years old when the Hiroshima bomb fell and seemed to be unharmed, but at twelve she was diagnosed with "radiation sickness".

Easy to Stage a Stunning Production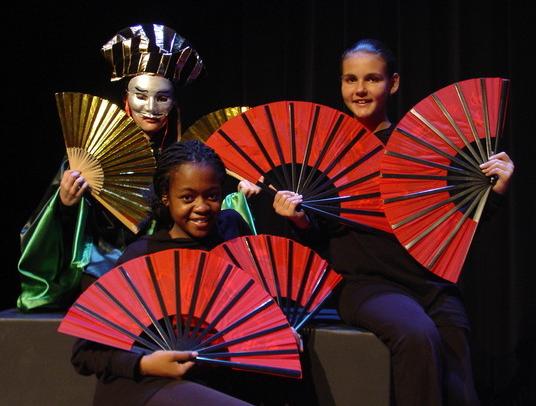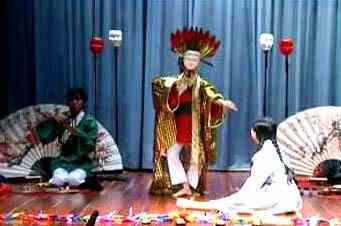 Somerset Co. Vocational School, NJ - Asian Children's Theatre Festival
"A local touring troupe for children won top honors at the Kentucky Theatre Association Community Theatre Festival. Actors for Children Theatre of Flatwoods, KY was selected as KTA's 2013 "Outstanding Production" for its performance of A Thousand Cranes."
Herald-Dispatch, Huntington WV

"A Single Gesture of Kindness..."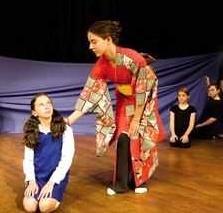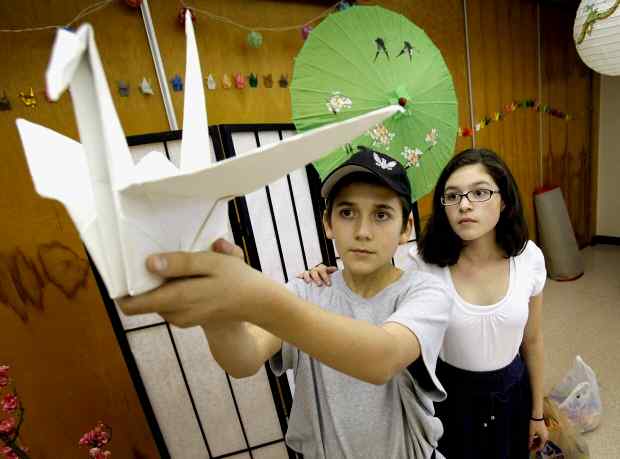 Ashland Children's Theatre - Orcutt Academy, Santa Maria, CA
With boundless optimism, she takes an old story to heart: "If a sick person folds a thousand paper cranes the gods will grant her wish and make her well again." Sadako begins to fold her thousand cranes.

---

"The Students Were Amazing!"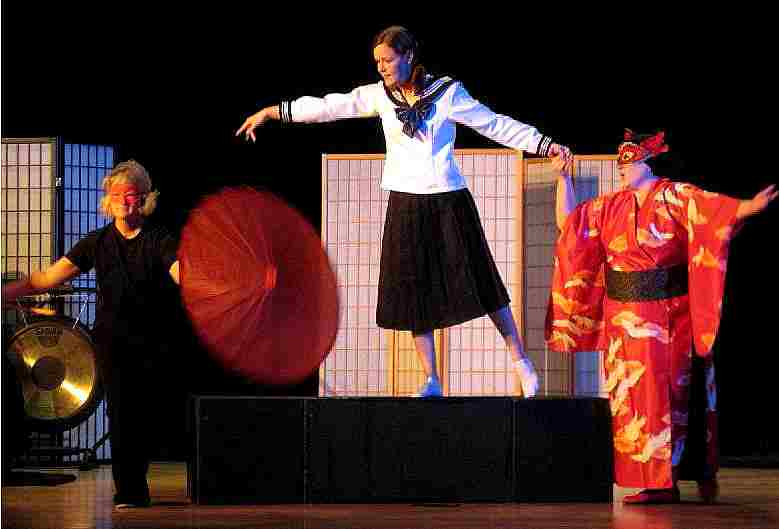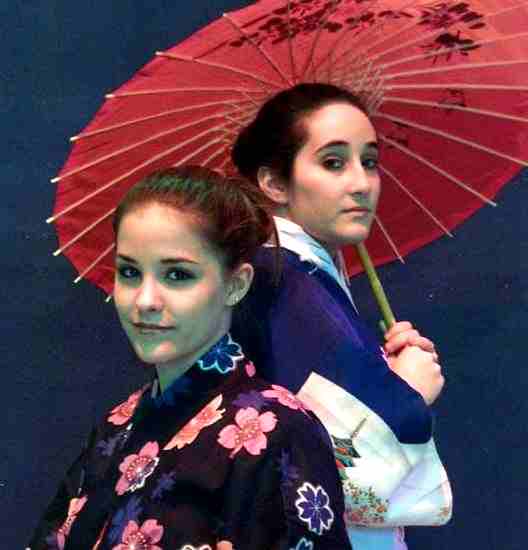 Actors for Children Theatre, Flatwoods, KY - Centenary Stage, MA
Before Sadako is able to complete her task, she is visited by her Grandmother who lovingly carries her on the back of a glorious crane, to the land of a thousand, thousand spirits. There Sadako joins her ancestors and learns that her true wish may be granted.

"Resonates Beautifully"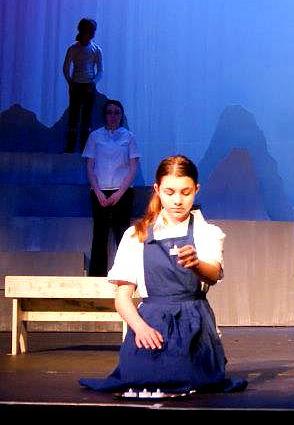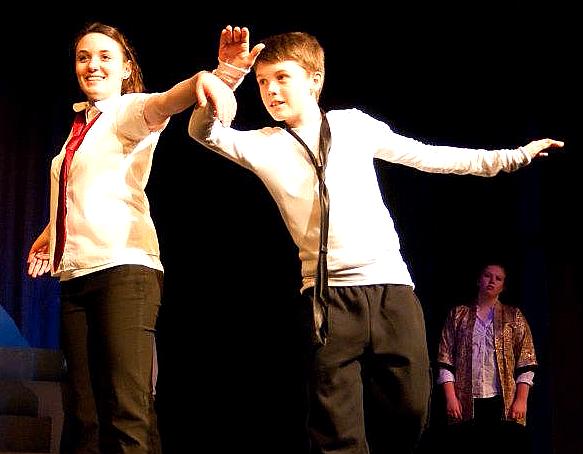 Young Cast, Majestic Theatre, Crovallis, OR, 2012
Sadako's friends and classmates finished Sadako's work. They folded enough paper cranes to make a thousand.
---

Sadako's Friends Folded Paper Cranes

Lexington Children's Theater, KY - Seattle Peace Park

Today children in Japan and all over the world, children fold a thousand paper cranes and lay them at the feet of Sadako's statue in the Hiroshima Peace Park. Their wish is engraved at the bottom of the monument:
"This is Our Cry - This is Our Prayer..."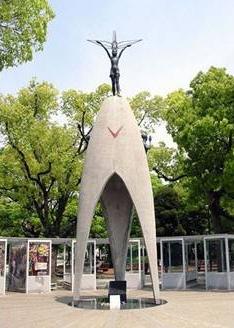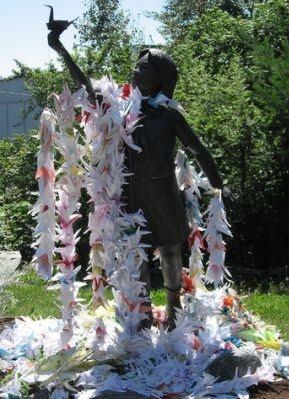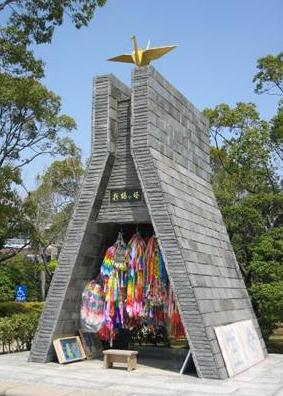 "Peace in the World"
---

Play for Schools, Theatres, Youth Groups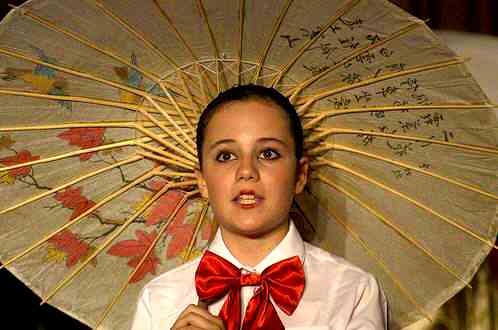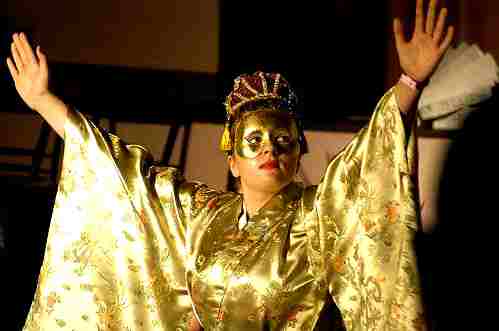 A Thousand Cranes, Fusion Youth Theatre, Grimsby, UK
A THOUSAND CRANES GETS 5 STARS IN SALT LAKE CITY!
"AWESOME!" "LOVED IT!" "The dedication and outpouring of soul
oozing from each cast member resonates beautifully."
Brigham Young University, Utah, Utah Stages Review

Sadako Flies on a Wonderous Journey!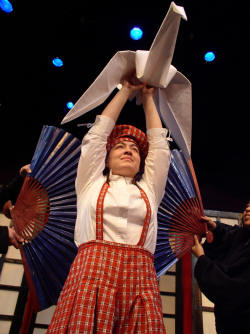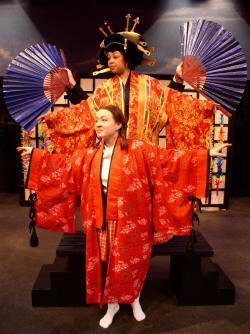 A Thousand Cranes, Lexington Children's Theatre, KY
"What an absolutely unforgettable experience you have given us. We had an overwhelming response to A THOUSAND CRANES. We had a total sold-out audience of nearly 600 and the show held everyone enthralled! No one moved a muscle during the entire show and there were always tears and prolonged applause."
Sharon Sproule Ontario's Espanola Youth Theatre
---

National Endowment for the Arts Winner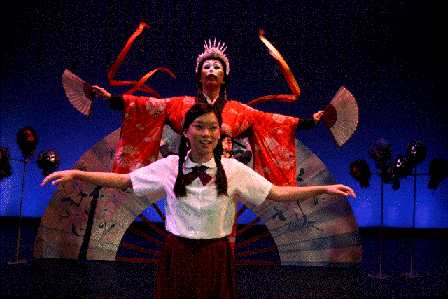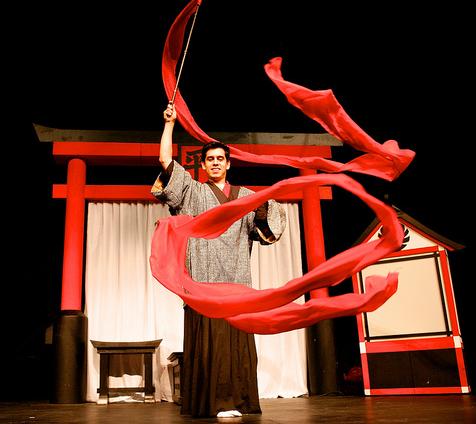 Winner of the National Endowment for the Arts Playwriting Award
Phantom Projects, La Mirada Theatre, CA - Syracuse Stage
"A Thousand Cranes made history come alive for these kids," Director Wilson said. "It has given them a life experience that they would have never had without doing this dramatic piece. I think it's touched them all greatly. District administrators watched a dress rehearsal of the play Wednesday with tears in their eyes."
Kids Grades 6, 7, 8 at Orcutt Acadmey, Santa Maria, CA

Dramatic Roles for Your Talented Students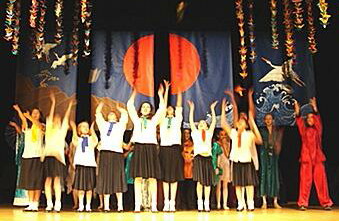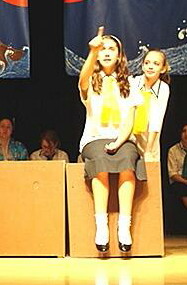 Lansing Middle School, NY
"The ideas and movements used are inspired by traditional, Japanese theatre, and are also visually beautiful," said the Players' artistic director Katy Brown, who's also directing A Thousand Cranes. "The audience will be taken to another country and culture through Japanese percussion, music, costumes, masks, glowing lanterns and a stunning set."
Barter Theatre, Abington, VA
---

"An Unforgettable Experience!"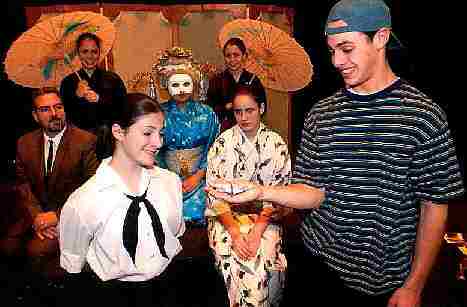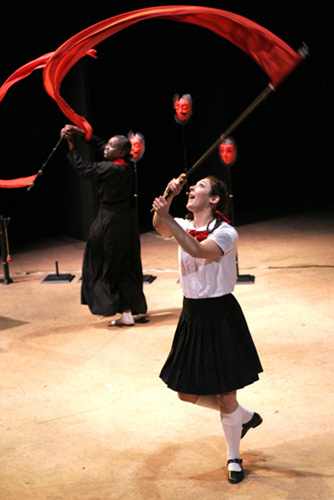 University of Wisconsin - Syracuse Stage
A Flexible Cast of 13: (4m, 4f, 5 m/f) Doubling & extras possible. You have permission to adjust the cast to your school's needs.

One Act Play Length: About 40-45 minutes long: Perfect for touring to your local elementary school.

Easy staging, costumes, scenery: Inexpensive masks, fans and paper parasols create a setting of stunning drama. Several special costumes may be created in the shop or art room. Your students' imaginations will soar!

Medium Cast for Teens to Perform!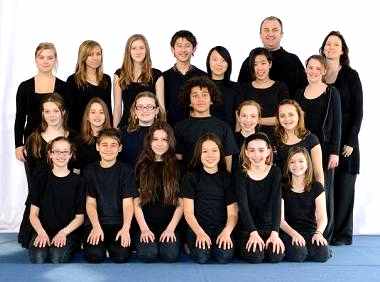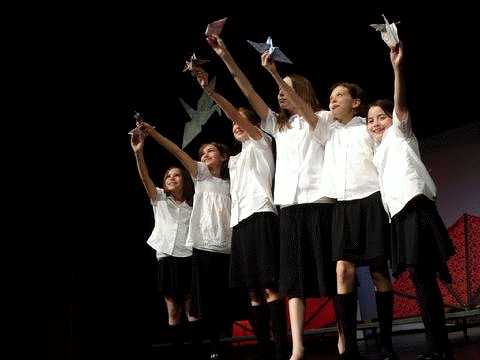 Western Academy of Beijing - Bednarcik Junior High School, Oswego IL
---

One-Act Play Award Winner!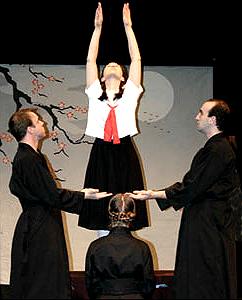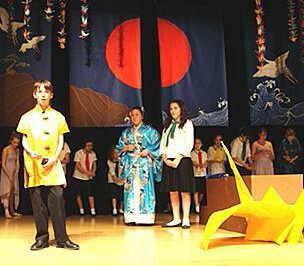 Barter Theatre, Abington, Va -- Lansing Middle School, NY
"A wonderful One Act Playscript that gives the actors and director complete artistic choice! There were very few dry eyes in the house at the end of this performance."
Stephanie Brotherton, Drama Teacher, Marion C. Early High School, MO

Send Your Paper Cranes to Sadako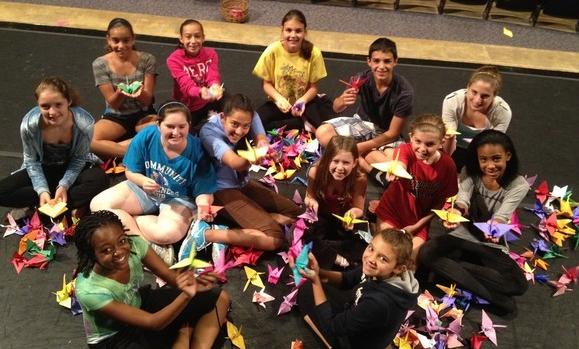 Somerset County Vocational School, NJ
"In honor of this amazing story of one little girl who helped change the world, PPT is encouraging all the students attending the school shows to fold an origami crane to be hung in the Norvell Theater throughout the run of the show."
Piedmont Players, Salisbury, NC

---










A Thousand Cranes (3 Versions):

Touring Version
Cast of 3, for Adult Actors. (1m, 2f)

Medium Version (this page)
Flexible Cast of 13 for grades 6-12
(4m, 4f, 5m/f)

School Play Version
Flexible Cast of 17-38, grades K-6
(2m, 4f, 9-32m/f)

---

"The students were amazing and our audience very appreciative. We made 1000 cranes to send to Japan and now all feel so satisfied with our efforts. What a great experience!"
Phyl Cameron, Phoenix Players, NZ

"What a great experience!"
Middle School Performers, Phoenix Players, New Zealand

"Our production is unique in that in additional to spoken English, we have seamlessly interwoven American Sign Language, which is spoken by everyone in the play. A Thousand Cranes is the story of one girl's brave battle, and the wish that made her a national heroine in Japan."
Ritual Theatre Company, New York, New York
---
ELEMENTARY SCHOOL TEACHERS! Are you looking for a version of this play that you can perform with your students? Cast size 30+, adapted for young performers.