ArtReach's Beauty and the Beast is an enchanting script for a large cast of kids. It's the favorite classic story simplified for young people to perform!
---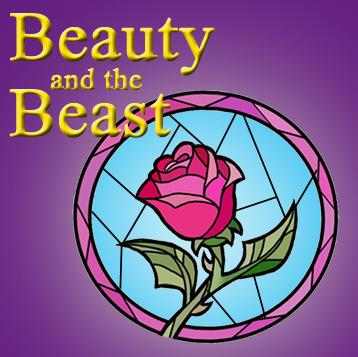 "Our group just recently performed Beauty and the Beast - it went great!"
Lisa Kelly, Stillwater, OK
---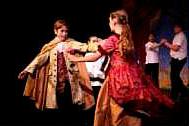 "We have had huge successes the past two years with Peter Pan and Beauty and the Beast...we love your shows! Keep them coming!"
Jan Plank, Director, Temple Beth Hillel Day School, Valley Village, CA
---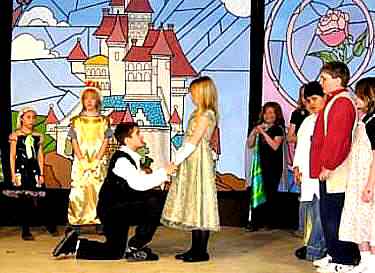 The School Play Package allows you to adapt the script, add songs, lines, roles and make a Video/DVD of your special performance.
---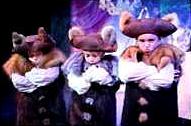 "I just performed Beauty and the Beast with my 4th and 5th grade drama club last night and it was AWESOME!! I love your plays!"
Holly Kidwell, Teacher
---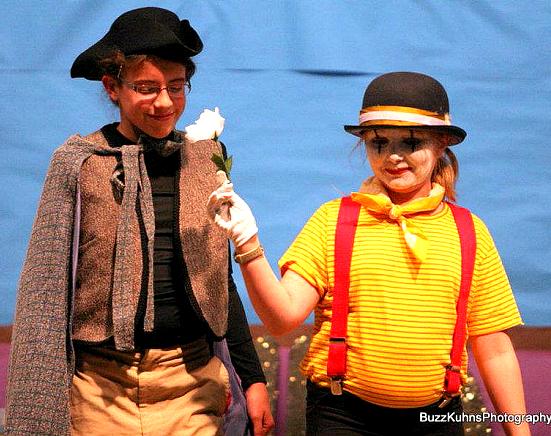 Teachers, this children's play version of Beauty and the Beast is written just for you and your students. It is a faithful telling of the story you know so well, simplified for young performers. Best of all, it's lots of fun for everyone!
---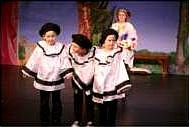 "We love your easy to use scripts and short lines for kids to memorize."
Julie Echelmeier, Higginsville Theatre Company Theatre Academy
---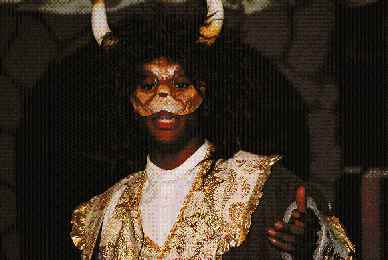 This School-Play Version is written in simple terms with lots of practical suggestions.
---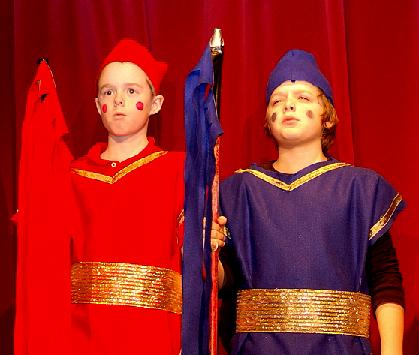 Open staging! Your gymnasium, cafeteria or any other large room is perfect.
---

Recommended for Grades 1 and Up!
---

Lots of humor, fun and helpful directing tips.
---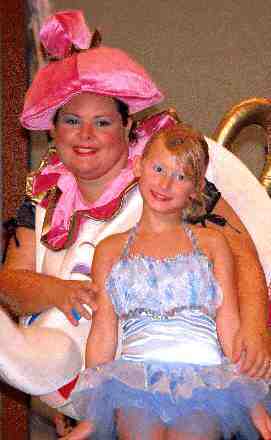 "Your shows are wonderful!"
Holly Ellen Roby, Executive Director, Jackson Community Theatre, OH
---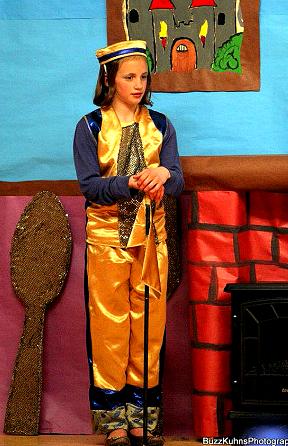 "I have used your scripts for the last 5 years for my students with special needs. It is always a FABULOUS production!"
Chris Bloese, South Broward High School, Hollywood, FL
---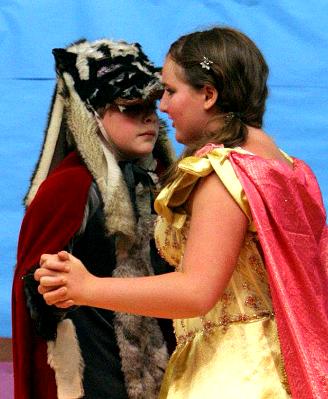 Fun Parts for Boys and Girls! Several Boys May Play Papa, Prince, Beast and the Gnarly Wolves: Wild Bill, Fang & Howler.
---
Beauty and the Beast
School Play for Children to Perform

Classic Fairy Tale Script for Kids, Schools and Youth Groups
FULL DOWNLOAD - Entire School Play Package with Soundtrack Audio Files

Storybook Magic for Your School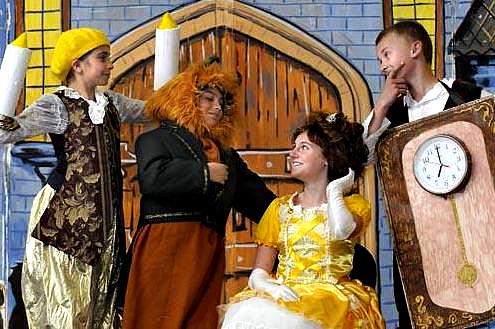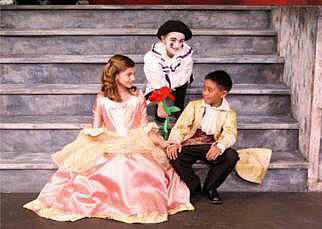 Dana Elementary School, Santa Maria, CA - Solano Youth Theatre, CA
Teachers, this is what you are looking for! A large cast script of Beauty and Beast that's easy to stage, written just for your kids to perform. Everyone has a role, everyone gets to be involved!

Easy for Kids to Learn, Perform and Enjoy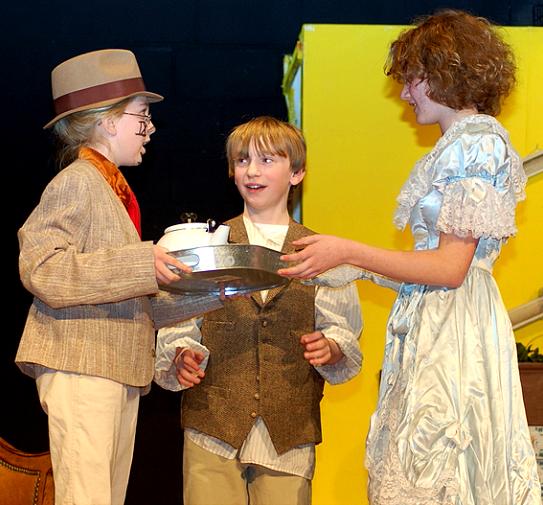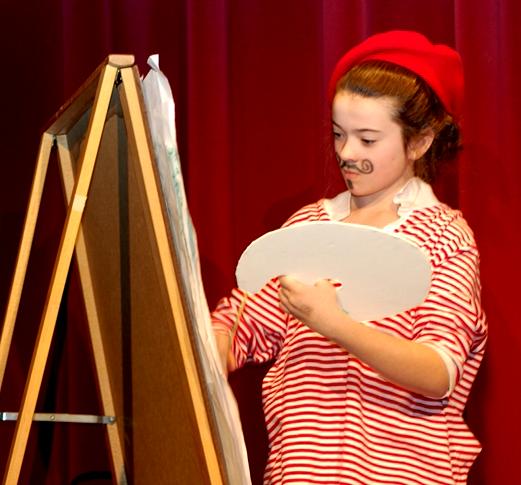 Tea Time at the Castle, Henri the Painter - Indian Mountain, CT
"ArtReach's "Beauty and the Beast" is a definite go for next year. The kids read the perusal script and really liked it! They chose yours over the Disney version hands-down."
Joseph Reynolds, Gerisch Middle School, Southgate, MI
---

Easy to Adapt to Your School's Needsl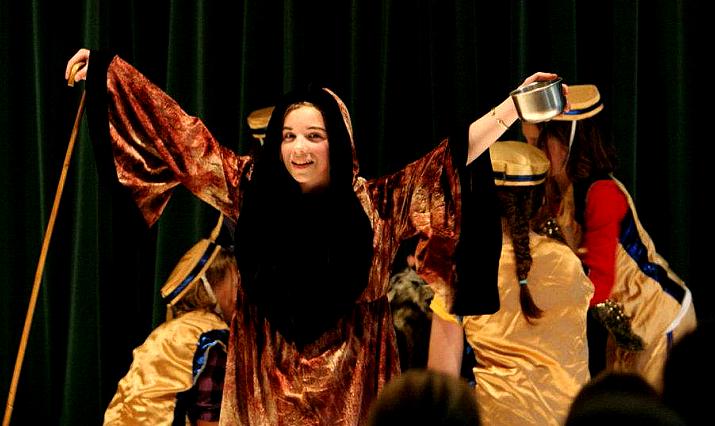 Monkton Central School, Bristol, VT
"It was so easy to work with the children's script and adapt
it to my students' needs!
Sherri Alejandro, Carden El Encanto School, Santa Cruz CA

Add As Many Songs & Parts As You Like!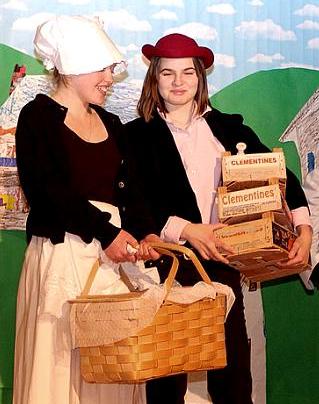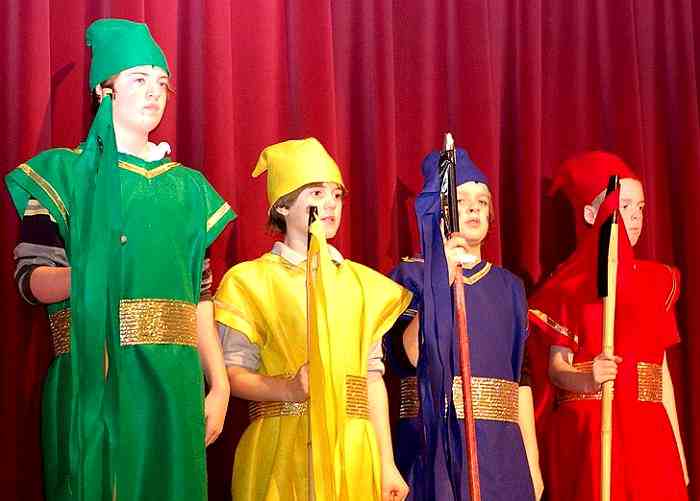 French Villagers, Color Guard Storytellers, Indian Mountain School, Lakeville CT
---
A World of Enchantment


| | | | |
| --- | --- | --- | --- |
| | | A World of Enchantment comes alive with your students in all the starring roles: Beauty, Beast, Papa, Villagers, Wolves, Castle Servants and many more. Audiences young and old will be delighted by its familiar story. | |
"The children were fabulous! We had so much fun!
Thank you! Thank you!"
Rhonda Smith, Teacher, Bayside School, Stevensville, MD

"We Had So Much Fun!"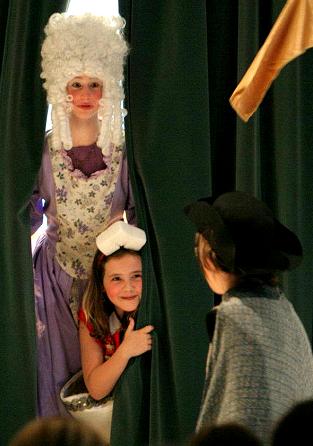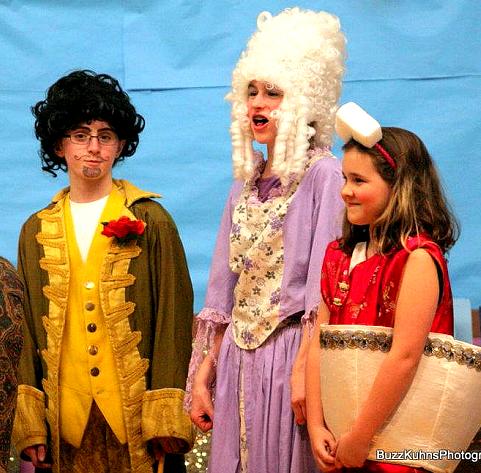 Monkton Central School, Bristol, VT
---

This Beauty and the Beast Play Script is great way to enjoy this famous fairy tale. The story is just as you remember it. Set in the French countryside, a handsome prince lives in a beautiful castle...

Stirs Young Imaginations! Everyone Has a Role!

Greater Rumford Community Center, ME - Zachary Hodge Director

"Thank you for providing outstanding children's play adaptations, scripts, staging notes, background music and study guides. Our school had 24 cast members and additional 20 kids involved in crew."
Sarah Lambrecht, Teacher, Lincoln School, Wauwatosa WI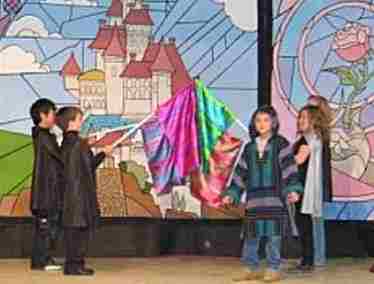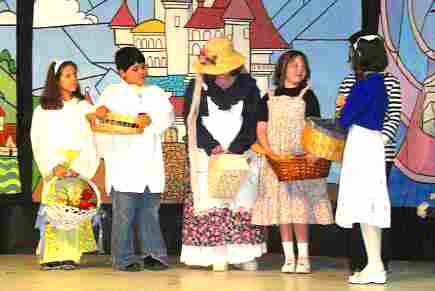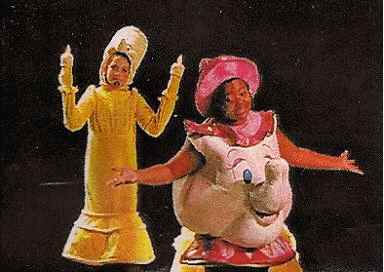 Shoultes Elementary School, Marysville, WA - Halo Academy, MD
Though the Prince was rich and fortunate, he cared little for his people. For his cruelty a spell is cast. Until he is loved by a good and fair lady, he will remain a beast.

---

Lots of Comedy & Drama -- Easy to Stage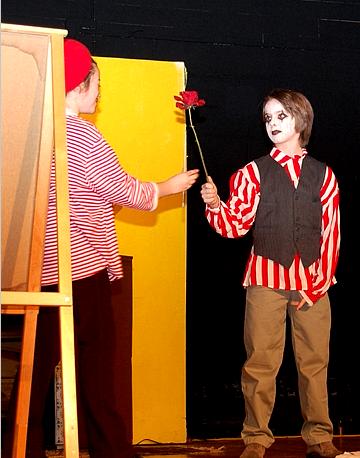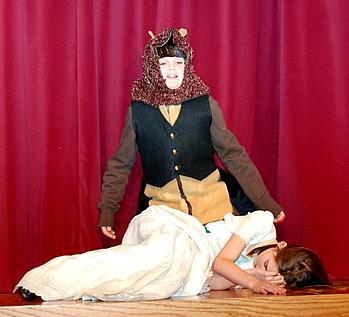 Marcel the Mime, Beast and Beauty - Indian Mountain, Lakeville CT
With lots of fun, comedy and drama, this children's script is fast paced, exciting, and filled with easy creative staging to showcase your talented students.

"I love the adaptation you did of the story by Charles Perrault. Beauty and the Beast is beautiful and you did an amazing job with it."
Joice Riedel, Ontario Local Schools, OH

Dramatic Fun for Your School's Kids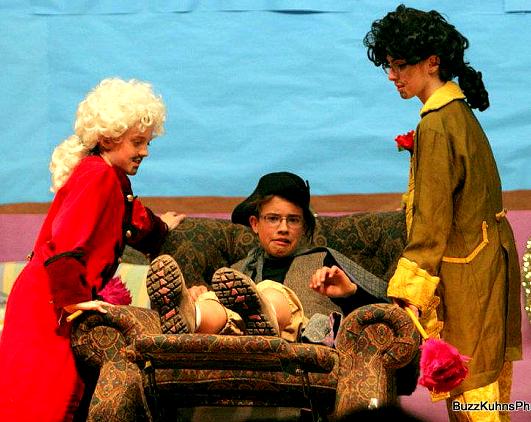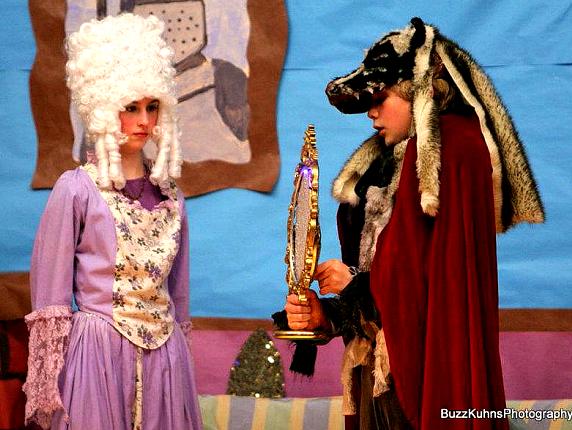 Monkton Central School, Bristol, VT
---
Young Kids Love to Play
The Fun Characters

Simple, witty dialogue keeps the play moving quickly from Village to Castle. All roles have names and personalities so that every child is a significant part of the production. The soundtrack (background sound effects) CD adds a professional touch.
Just for Kids: Simple dialogue and vocabulary are appropriate for children and young performers ages 6 - 14.

A Flexible Cast of 29 Students: Easily adapted for a smaller or larger cast. Every role has at least three spoken lines.

Beauty can be played by up to 4 girls to ensure that no one child is the "star". Multiple roles are also suggested for the roles of Beast and Papa.

About 40-45 minutes long: This children's play is long enough to be a substantial project and short enough to accommodate your teaching schedule.

Internet Resources: Karaoke CDs & Sheet Music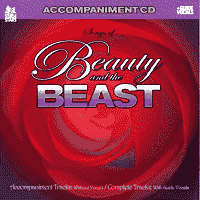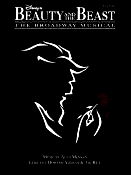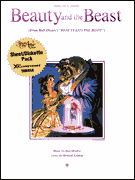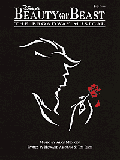 Click to search Internet for karaoke cds or sheet music