ArtReach's A Christmas Cinderella is the classic fairy tale with a Christmas twist. Perfect for your holiday celebration!
---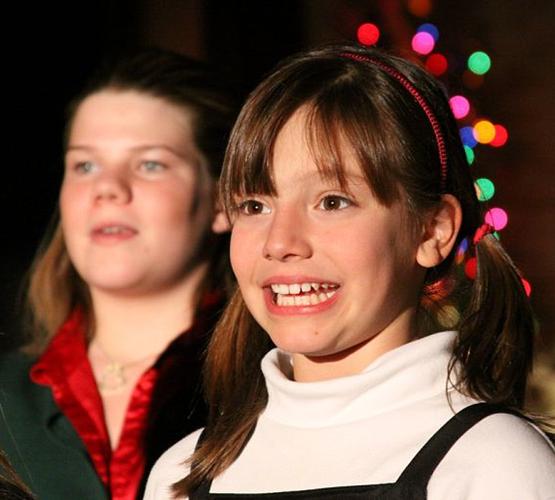 If

"If you love feisty mice, beautiful ladies, fairies, and laughable royals, then you will LOVE A Christmas Cinderella, by Kathryn Schultz Miller."
Lakefront Youth Theatre Experience, New Orleans
---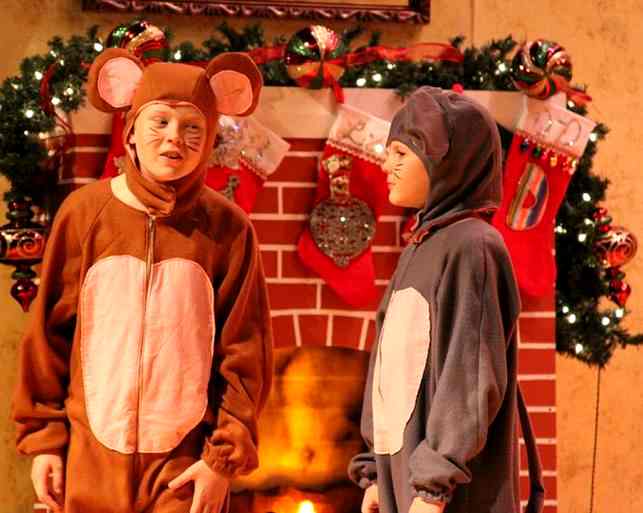 Kids in the audience will be encouraged to sing along to Christmas songs, help the Fairy Godmother turn Cinderella's pumpkin into a sleigh, mice into flying reindeer and Cinderella's coachman into Santa Claus.
---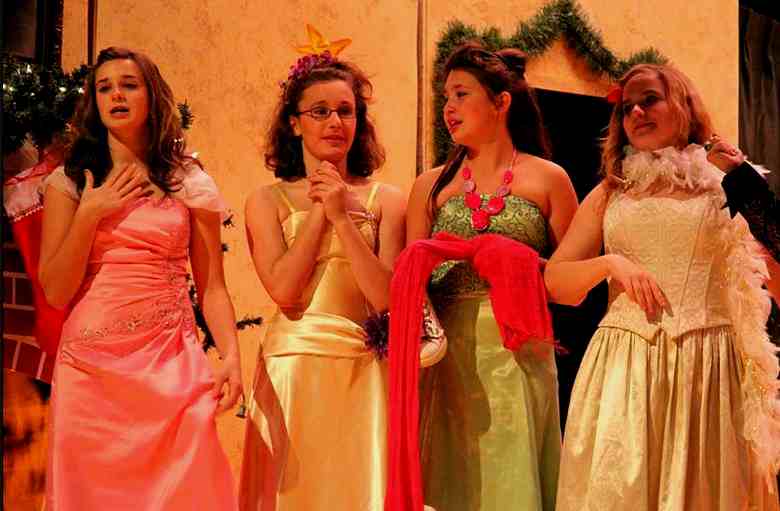 "Our Christmas Cinderella was the most successful show to date! Three of the four shows were sold out, and two were SRO! Over fifty kids ages six to seventeen put on a truly entertaining show for the holidays."
The Bremerton Community Theatre Junior, WA

---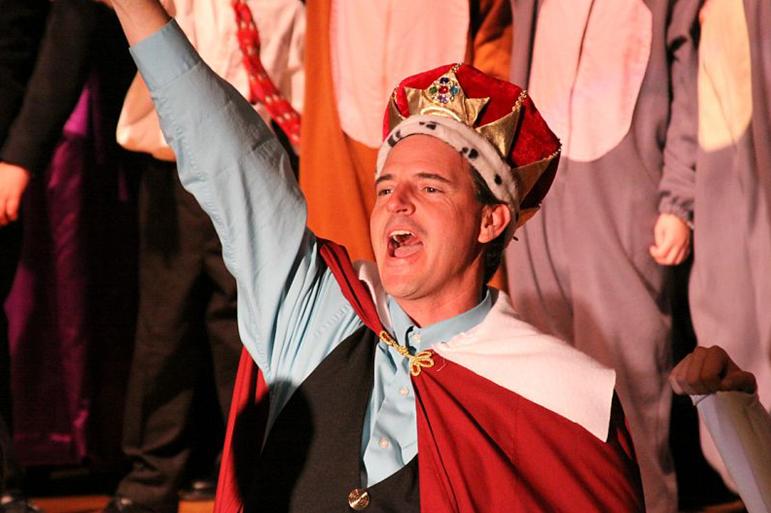 This Children's Christmas Musical Play, A Cinderella Christmas, requires no professional experience in theatre. It is written in simple terms with lots of practical suggestions.
---

A Christmas Cinderella is Recommended for Grades 1 and Up. Easy, Fun Songs for Everyone to Sing.
---

"We are a residential facility for adults with disabilities. We performed your "Christmas Cinderella" last year and it was a hit!"
Baddour Center, Senatobia, MS
---

Teachers, this children's Christmas play, a holiday adaptation of Cinderella, is written just for you and your students.
---

Involve the whole school & community. For extra fun, the cameo role of Santa Claus may be played by anyone well known in your school or community, such as the principal, the town mayor, a parent or even the director of the show.
---

The School Play Package allows you to adapt the play, add songs, roles, scenes and make a Video/DVD of your special performance.
---

A Christmas Cinderella has a wonderful CD of background music for the performers to sing to.
---

"We had to add 4 more shows!"
Artie's Playhouse Hurst, TX
---

"We had standing room only! Our Audiences couldn't get enough of A Christmas Cinderella."
Bremerton Players, Jr. WA
---

Open staging. Lots of directing tips are included in the script and Teachers Guide.

---

"Our performance of A Christmas Cinderella went great! The children painted the sets, helped with the costumes and really did a super job. The script was great! I think our "Greta Snagglebones" will be famous one day."
Katie McAllister, Teacher, Central Elementary School
---

"LYTE has managed to pull together some serious Christmas cheer in just two short weeks. Tickets for A Christmas Cinderella are going like hotcakes!"
Lakefront Youth Theatre Experience, New Orleans
---
A Christmas Cinderella
Christmas Musical Play for Children to Perform

Cinderella is a Fun Christmas Script for Kids and Families
FULL DOWNLOAD - Entire School Play Package with Audio Files


Kids Love A Christmas Cinderella!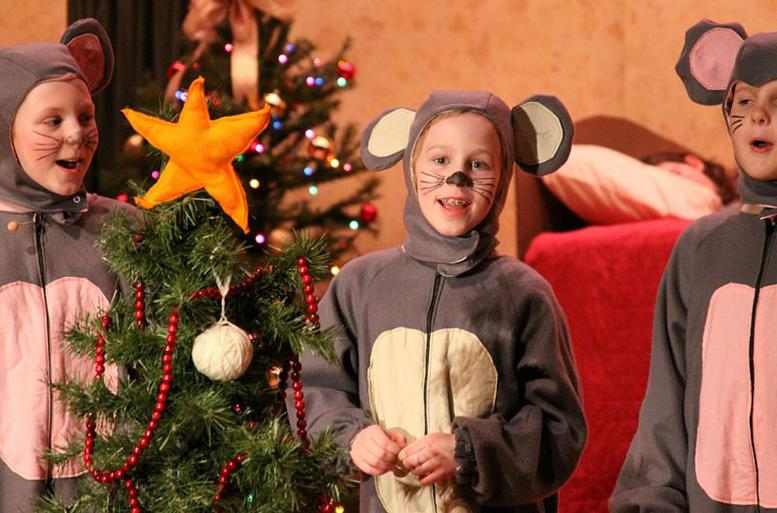 Creative, Simple Staging, Easy Songs, Audience Participation.
A Christmas Cinderella, Theatre Works, LLC of Stewartstown, PA
"Children love this play version of Cinderella!"
Carol Ellingson, Teacher, Home Connections, Blaine WA

Dreams Come True at Christmas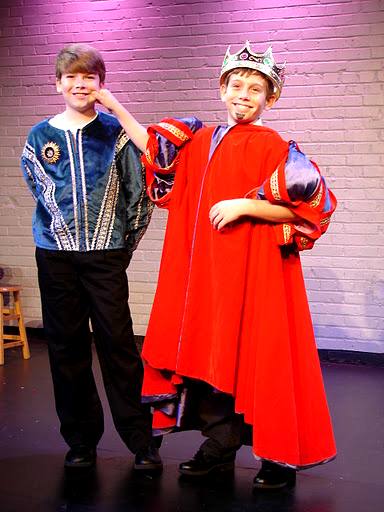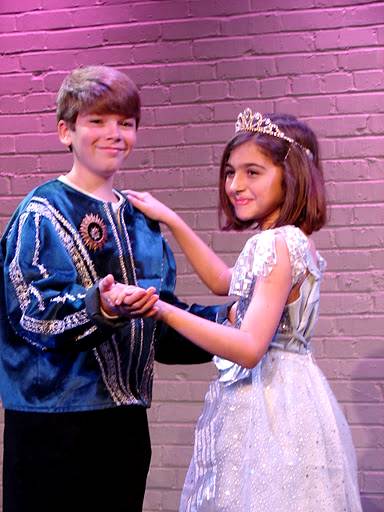 The Lakefront Youth Theatre Experience, New Orleans

The story of A Christmas Cinderella is true to
the famous fairy tale as you know it. Poor Cinderella works all day to please her Stepmother and Stepsisters and dreams of going to the Christmas ball.
---

But since this play is set at Christmas, the pumpkin becomes a sleigh, the mice become flying reindeer! And who should be the coachman? Why it's Santa Claus himself!

Cinderella's Coach becomes Santa's Sleigh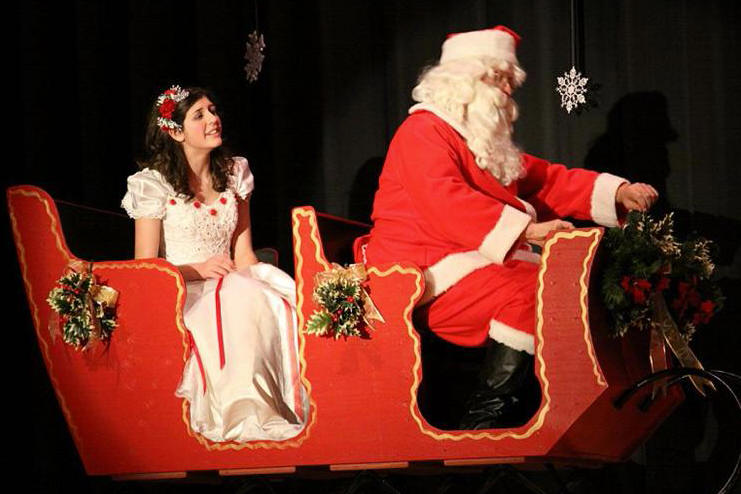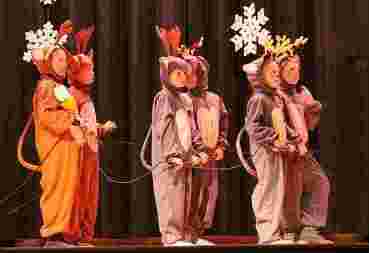 Theatre Works, LLC of Stewartstown, PA created this Christmas sleigh
drawn by six mice turned Santa's flying reindeer.
The audience joins in the fun singing Christmas Carols like Deck the Halls and O Christmas Tree. Characters sing clever lyrics to familar Christmas tunes. Cinderella's special mouse friends take center stage in their comic plot to help Cinderella meet her Prince Charming, just in time for a Christmas Day wedding.
| | | |
| --- | --- | --- |
| | | |
| | | Cinderella's Mice Steal The Show! A Christmas Cinderella offers lots of great roles for young performers! Kids love playing Cinderella's mice: NIBBLES, SQUEAKY, SWEETIE-PIE, NOSY, CHEESE-HEAD, and SAM. Mouse dialogue is simple and funny, easy for kids to learn and memorize. These mousy kids are likely to steal the show! |
---

Easy to Adapt to Your School's Needs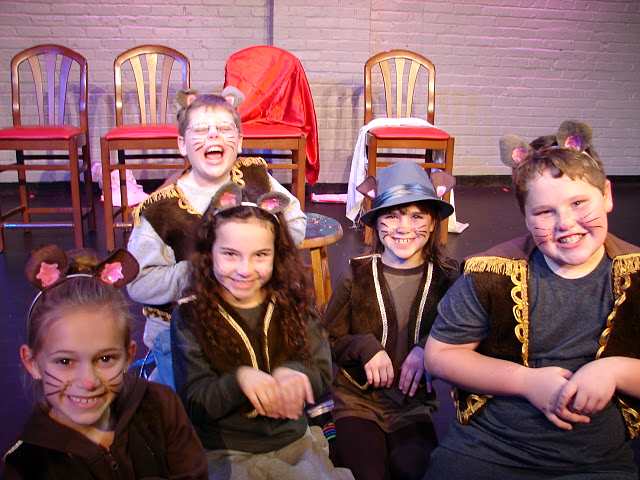 The Lakefront Youth Theatre Experience, New Orleans
"Thank you for your wonderful scripts and musical plays. I produced and directed Cinderella at Christmas at my children's elementary school. The script was wonderful and the end result was fantastic!"
Caroline Hart, Teacher, Oxford, OH
"Our kids did a super job. The script was great!"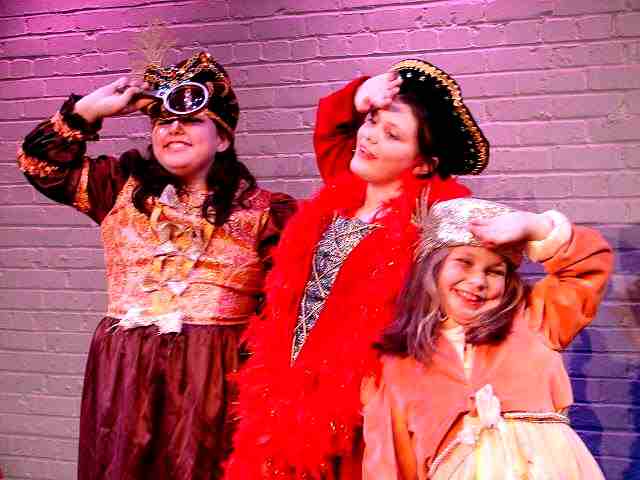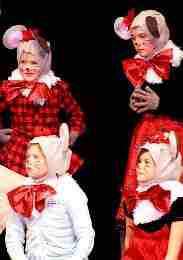 The Lakefront Youth Theatre Experience -- Bremerton Community Theatre
"It was so easy to work with the children's script and adapt it to my students needs."
Sherri Alejandro, Teacher, Carden El Encanto School, Santa Cruz CA

---

"The End Result Was Fantastic!"
The Lakefront Youth Theatre Experience, New Orleans

Adapted for Young Performers: Simple dialogue and vocabulary are appropriate for child performers ages 6 - 12. No long speeches. Easy for kids to memorize.

Familiar Christmas songs: Audience sings songs they already know like O Christmas Tree. Characters sing new lyrics to songs like The Twelve Days of Christmas.

A Flexible Cast of 24 Students: (Doubling and extras possible and easy.) Every role has at least three spoken lines.

Great Roles for Every Cast Member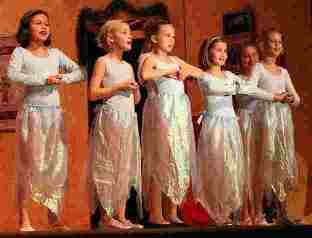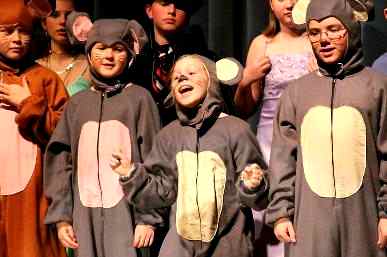 The Chorus tells Cinderella's Story! Everyone Sings Together!
Theatre Works, LLC of Stewartstown, PA
Cinderella can be played by up to 5 girls to ensure that not one child is the "star".

About 30-40 minutes long: This children's play is long enough to be a substantial project and short enough to accommodate your teaching schedule.

Easy costumes and scenery: Many suggestions on how to create or find what you need to make a great looking production without breaking your budget.
---
Great for Theatres, Schools, Youth Groups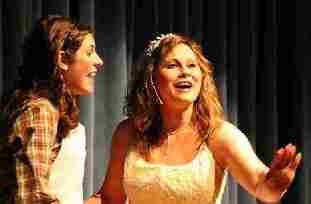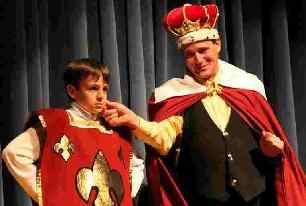 Fairy Godmother - King Grumbleknees Chides His Reluctant Son.
Theatre Works, LLC of Stewartstown, PA
"Your scripts have been perfect for our students. Thank you for making affordable, engaging scripts that appeal to all students."
Sarah Maggard, David T. Wilton Elementary School, Brandenburg, KY"A
Kids Love The Fun Comedy and Action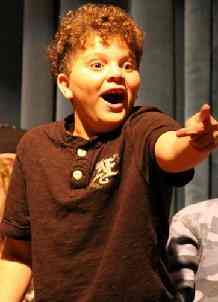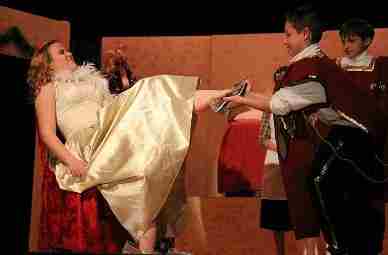 Snagglebones Stepsister tries on the glass slipper.
Theatre Works, LLC of Stewartstown, PA
---

Large Cast with Great Parts for Everyone



La Gloria ISD, Falfurrias TX

Internet Music Resources: Karaoke CDs & Sheet Music







Click to search Internet for karaoke cds or sheet music