Read Free
Script Sample, Read Cast List,
Hear Sound Cues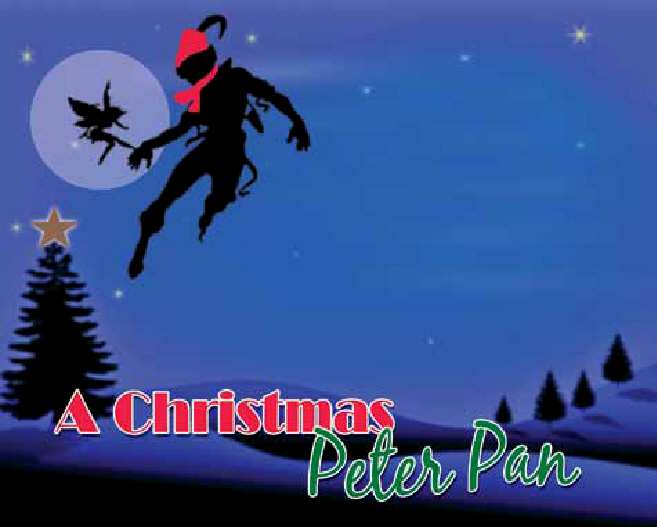 ---
"

"A Christmas Peter Pan" is a swashbuckling musical that combines all the magic and drama of the original story with the holiday fun of Christmas Carols and everyone's favorite Christmas characters."
Louisiana Center for Theatrical Arts, Students Ranging in ages 7-16.
---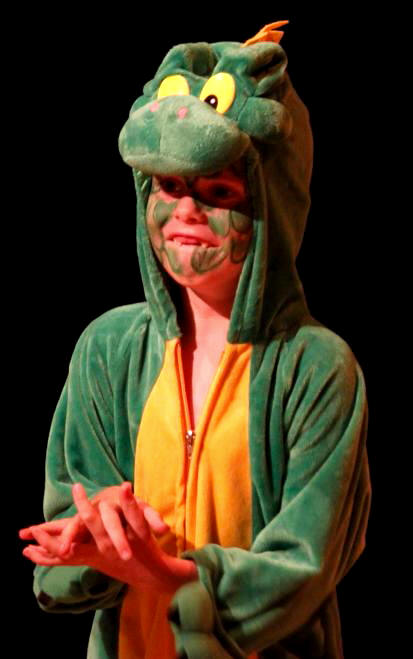 "One of the highlights of the year was "A Christmas Peter Pan" and what a success it turned out to be!"
Derek Braans, Junior School Head, Kingswood College, So. Africa
---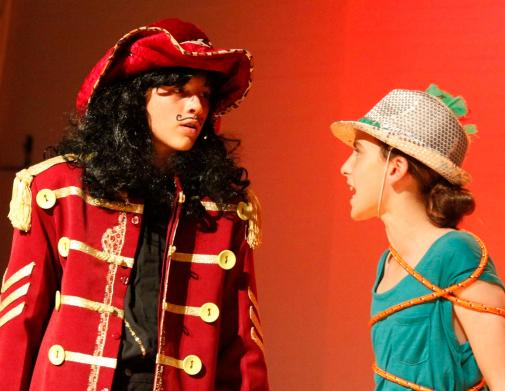 Smee and Captain Hook sing "On the Worst Day of Christmas!"
---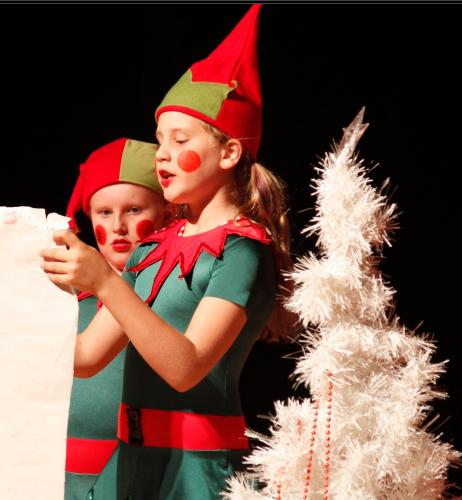 "A Christmas Peter Pan comes to life! It's almost like we're in a dream! ArtReach writes for kids to perform, making the audience use as much of their imagination as the kids!"
Kent Streed, Pendragon Theatre Inc. Saranac Lake, NY
---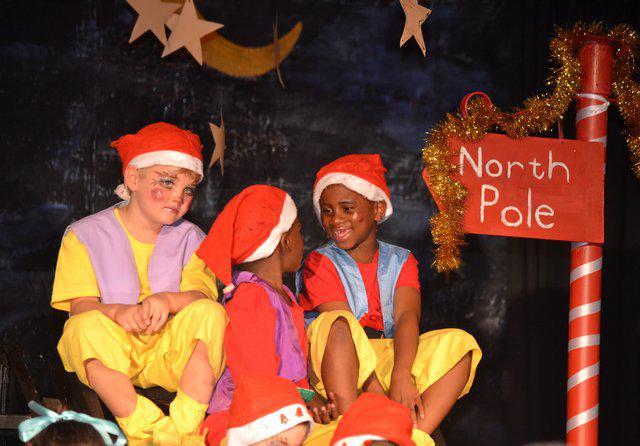 "A Christmas Peter Pan is a holiday adaptation of the original J.M. Barrie story with audience participation and fun for all ages!"
Shawnee Playhouse, PA
---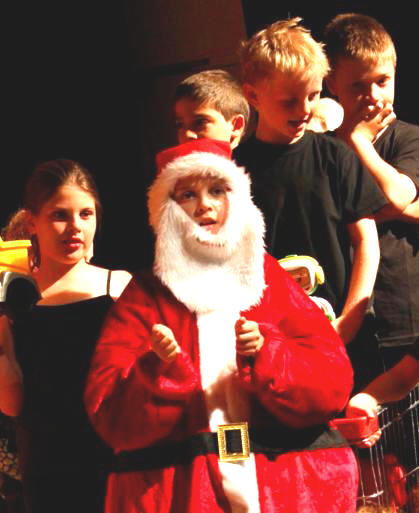 "Angels Academy's students added a holiday spin to the year's Christmas Program with "A Christmas Peter Pan" story. Even the Christmas Sing-A-Long Songs were sung to familiar tunes with a variation in the words to reflect the program's theme."
The Abaconian, Bahamas
---

Santa's Elves are saved by Peter and his friend the Crocodile!
---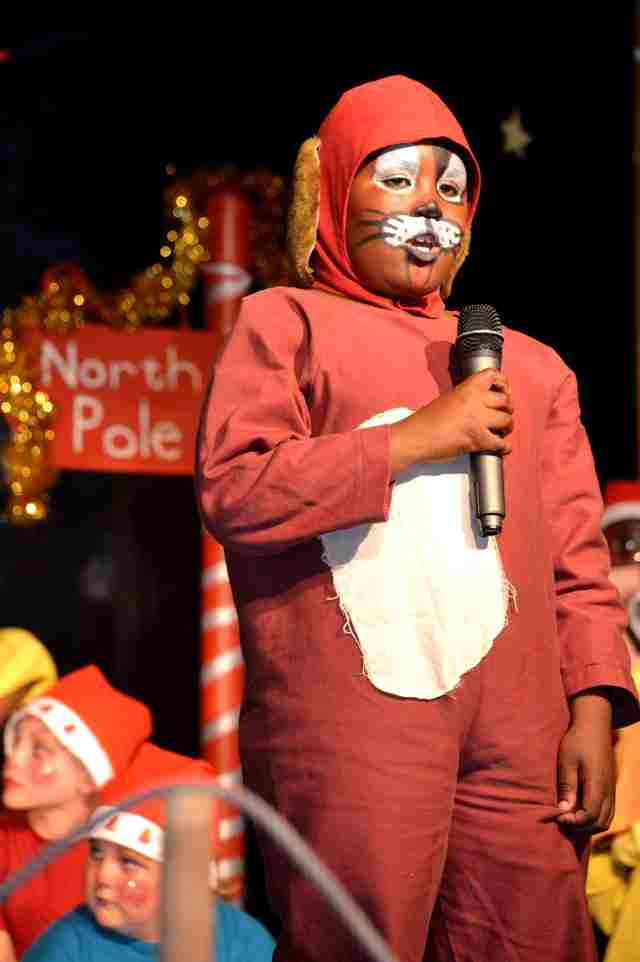 The Lost Toys sing "Toys to the World for Everyone!"
---

Christmas Carols, Audience Participation, Easy Dialogue, Storybook Characters, make this play a terrific choice for kids to perform at Christmas!
---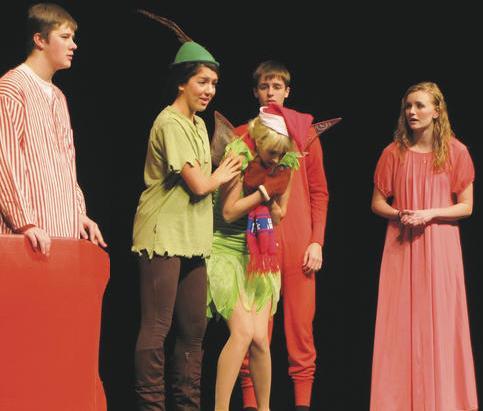 Christian Needs, LaMars IA

"There are so many roles that are perfect for kids. Everyone got to choose a part!"
Sarah Ackerman-Hale, Spring Hill Civic Center, Paola KS
---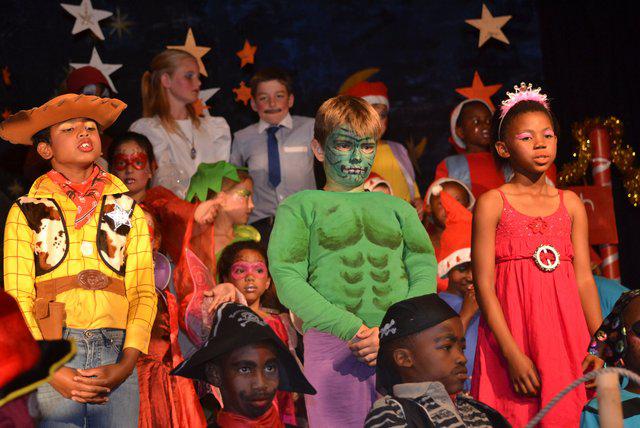 "I ordered Peter Pan for my church's camp play. It was incredible! The parents enjoyed it and the children loved doing it!"
Dea Goodson Jackson, Worship Leader and Camp Director
---

"A Christmas Peter Pan was a tremendous success - standing room only!"
Rana Tan, Program Director, BCTjr,
Bremerton Community Theatre
---

"We love your easy to use scripts and short lines for kids to memorize!"
Julie Echelmeier, Higginsville Theatre Company, Youth Theatre Academy
---

Snow Fairies and the audience help un-freeze Santa Claus! The Lost Toys gather on Santa's sleigh and off he flies to deliver Christmas toys to children all over the world!
---

Peter Pan leads Wendy and the children home where they find Santa has left them the very Lost Toys they met at the North Pole!
---

Lots of Pirates, Lost Toys, Fairies, Elves! Everyone has their own special moment!
---

Teachers, A Christmas Peter Pan is adapted just for kids to perform! With simple songs, audience participation and lots of comic fun, A Christmas Peter Pan will be a big hit for your Holiday Celebration!
---

Peter Pan and Tinker Bell save Santa Claus and Christmas!
---

Large roles are divided so that you may cast several Peter Pans, Wendys and Captain Hooks!
---
A Christmas Peter Pan
ADDITIONAL INFORMATION
Cast List
CD Soundtrack Cues
Script Sample
---

A CHRISTMAS PETER PAN
CAST LIST
Running Time: About 40-45 minutes
Flexible Cast of about 35: 1 Male, 3 Female, All others M/F
Easily adapted for larger or smaller cast

WENDY (F, 48 lines total)
WENDY #1 (F, 27 lines)
WENDY #2 (F, 21 lines)
JOHN (M/F, 41 lines total)
JOHN #1 (M/F, 20 lines)
JOHN #2 (M/F, 21 lines)
MICHAEL (M/F, 53 lines total)
MICHAEL #1 (M/F, 23 lines)
MICHAEL #2 (M/F, 30 lines)
NANA (M/F, 8 lines)
MOTHER (F, 12 lines)
FATHER (M, 10 lines)
TINKER BELL (M/F, 15 kazoo "lines")
SNOW FAIRIES (M/F, 5 lines together, includes song)
MORNINGSKY (M/F, 12 lines)
MOONDUST (M/F, 13 lines)
STARSHINE (M/F, 14 lines)
WHITEWING (M/F, 14 lines)
SANTA'S ELVES (M/F, 7 lines together, includes song)
PINKIE (M/F, 24 lines)
TOOTLES (M/F, 11 lines)
CURLY (M/F, 9 lines)
IGLOO (M/F, 10 lines)
PIRATES (M/F, 4 lines together, includes song)
TATTOO BILL (M/F, 2 lines)
SKYLIGHTS (M/F, 2 lines)
NOODLER (M/F, 2 lines)
SMEE (M/F, 29 lines, includes 2 songs)
SMEE #1 (M/F, 14 lines, includes song)
SMEE #2 (M/F, 15 lines, includes song)
CAPTAIN HOOK (M/F, 38 lines, includes song)
CAPTAIN HOOK #1 (M/F, 18 lines, includes song)
CAPTAIN HOOK #2 (M/F, 20 lines)
PETER PAN (M/F, 45 lines total)
PETER PAN #1 (M/F, 14 lines)
PETER PAN #2 (M/F, 14 lines)
PETER PAN #3 (M/F, 17 lines)
CROCODILE (M/F, 0 lines, 3 scary entrances)
LOST TOYS (M/F, 4 lines together, includes song)
TERRY (PTERODACTYL DINOSAUR TOY) (M/F, 10 lines)
BIGFOOT (MONSTER ROBOT TOY) (M/F, 6 lines)
STINKY (GARBAGE TRUCK TOY) (M/F, 5 lines)
BARBIE (HOLIDAY BARBIE DOLL) (F, 4 lines)
CRAYOLA (BOX OF CRAYONS) (M/F, 6 lines)
MY LITTLE PONIES (PONY TOYS) (M/F, song)
(2 or more PONIES may be cast.)
SANTA CLAUS (M/F, 4 lines)
---

Easy to Adapt to Your School's Needs!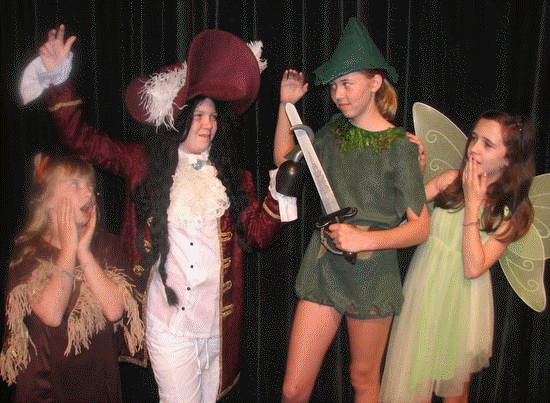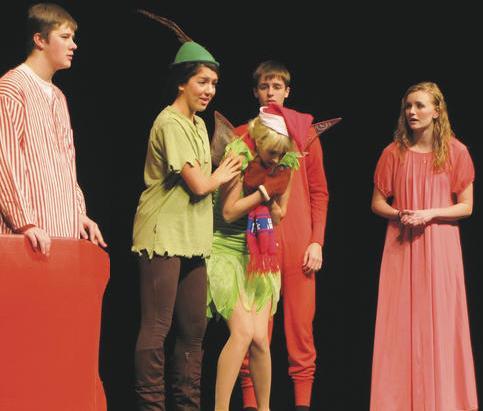 Gorton Center, Lake Forest, IL - Christian Needs Center, LaMars IA
"It was so easy to work with the script and adapt it to my students needs."
Sherri Alejandro, Carden El Encanto School, Santa Cruz CA

The School Play Package gives you the rights to adapt the script! Add as many characters, lines and scenes as you like! You also have the rights to make a Video/DVD of your special performance! Include Special Needs Kids!

---

A CHRISTMAS PETER PAN
WHY IS THIS PLAY BEST FOR YOUR SCHOOL?

Written especially for young people to perform.
While you may find large cast plays from other publishers, most of those were originally written for adults or professional actors to perform. They often contain difficult dialogue, unfamiliar or complex language, and speeches too long for young children to memorize. They may even contain jokes, innuendos and subject matter that may not be appropriate for children.

Easy to understand and memorize.
Dialogue is simple, fresh, quick and humorous, keeping the action flowing without stops and starts between scenes. This keeps young people and young audiences engaged throughout the performance - no awkward pauses, no dead-time, no wiggles!

Everyone participates!
All children are involved throughout the performance. This builds confidence, promotes team spirit and eliminates rehearsal rowdiness. The audience is often asked to join in the fun, and action often spills into the aisles! All of our SCHOOL PLAYS give suggestions on how to divide up large parts (such as Snow White or Cinderella) among several performers so that no one child is the "star".

Familiar stories with upbeat endings.
The story line stays as close as possible to the familiar story the kids already know. While some authors feel the need to "improve" the story, our SCHOOL PLAYS stay as close to the familiar narrative as possible, making it easier for children - and your audience - to understand.

Feel free to edit! Go ahead and tape it!
Most publishers insist that no changes may be made to their scripts. We know that your goal is to engage every child in the most meaningful way and that your needs are unique. Cut, eliminate, re-assign lines, or add as much as you like! Also, there are no restrictions on video tapes. Parents want a tape or DVD to remember their child's big moment. Go ahead and tape away!

---
| | |
| --- | --- |
| | Kathryn Schultz Miller is one the most prolific and most produced playwrights for children. Her script, A THOUSAND CRANES, won the National Endowment for the Arts Playwright Award (and countless others) at a time when plays for children were not considered serious works. Now, many of her published scripts are considered classics for young audiences. When teachers voiced their need for great plays that kids can perform Ms. Miller responded with ArtReach's School Plays: "I never dreamed I'd write for anyone other than professionals. But writing for child performers has been the most profound and rewarding experience of my life". |
---

In the past few years we've seen a tremendous increase of confidence in the teachers we hear from. Most are finding it easier to let the process flow and worry less about the final product. I firmly believe that the experience will be best for all when you keep a few things in mind:

Free yourself from worry about whether or not it's "good". No one is paying big ticket prices; no one expects a Broadway success. The key to making this project meaningful is to put the emphasis on process; realize that rehearsal and practice are as much a part of the experience as the actual performance. Encourage fun and you will free the children from embarrassment and stress. If the kids can't learn the lines let them carry a script or use their own words to convey the character's message. If they seem to wander the stage, let them explore where they want to go - they might surprise you with a wonderful idea. In every aspect of the process give them the wings to create and think. Give them a comfortable, supportive place to go and their confidence and self-expression will soar!

Above all else, make sure you are having fun. If you've never directed a play before, don't worry. It's all just pretend -- you can't do it wrong! The quality of your experience is every bit as important as that of the children. You need the joy of self-expression too, that doesn't go away when we grow up. So give yourself a break. And when all else fails, laugh!

Thank you so much for choosing A Christmas Peter Pan. I hope you and your young friends have as much fun performing this play as I did writing it.

- KSM

---

A CHRISTMAS PETER PAN
CD SOUNDTRACK CUES
Cues, sound effects, background music (traditional-classical)

The CD Soundtrack contains special sound effects and background music (public domain traditional-classical) that may be used to greatly enhance the performance. It also contains simple music to accompany the performers and audience as they sing the Christmas songs in the play (song cues shown below in red). It does not contain music and songs from the movie or stageplay. Cues have 10 seconds of silence at the end - times shown below include silence.
[ Click on [sample] to hear a short sample of the indicated cues ]
1. WE WISH YOU A MERRY CHRISTMAS (1:08) [sample]
2. MAGICAL CHIMES (0:25)
3. JINGLE BELLS; CHIMES (0:49)
4. SNOW FAIRIES MUSIC (1:03) [sample]
5. DRAMATIC STORY MUSIC (1:39) [sample]
6. WIND & FLYING MUSIC (1:24)
7. O CHRISTMAS TREE (1:02) [sample]
8. PIRATE MUSIC (1:11) [sample]
9. DECK THE HALLS (0:37)
10. TWELVE DAYS OF CHRISTMAS (0:40)
11. TICK-TOCK, TICK-TOCK (0:49)
12. TICK-TOCK, SCARY CROCODILE (0:51) [sample]
13. JOY TO THE WORLD (0:56)
14. PONY SOUNDS; CAPTAIN HOOK (0:53) [sample]
15. TICK-TOCK, SCARY CROCODILE (1:18)
16. JINGLE BELLS; MAGICAL CHIMES 1:15)
17. GOD REST YE MERRY GENTLEMEN (1:35) [sample]
18. WATER; DECK THE HALLS (0:37)
19. TICK-TOCK, TICK-TOCK (0:38)
20. TICK-TOCK; WIND; SCARY CROCODILE (1:24)
21. JINGLE BELLS; MAGICAL CHIMES (1:02)
22. WIND & FLYING MUSIC (1:05) [sample]
23. GENTLE CHRISTMAS MUSIC (1:09)
24. CURTAIN CALL MUSIC (2:36) [sample]
25. TICK-TOCK, TICK-TOCK (0:28)
26. OPTIONAL AFTER-SHOW MUSIC (3:16)
Note: Some teachers choose familiar songs, obtain sheet music and insert these songs into the play. We recognize that each school has a wide variety of educational needs to fulfill and we invite you to be creative in your use of our scripts; including changes or additions that are appropriate for your students. As author/publisher of our own creative works, we do ask that you obtain proper copyright permission for any additions you might make - that responsibility is up to you.

Music & Sound Resources Available on the Internet
( Sheet Music, Song Books, CDs, DVDs, Sing-along, Karaoke, Sound Effects )
Internet Music Resources: Karaoke CDs & Sheet Music







Click to search Internet for karaoke cds or sheet music
---

Great Roles and Fun for Young Kids!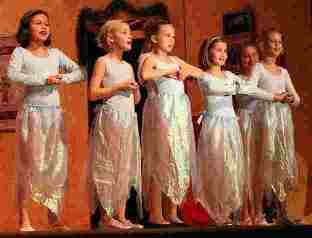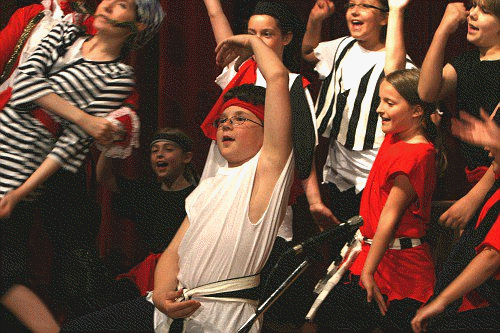 Theatre Works, LLC of Stewartstown, PA - North Shore Children's Theatre, Salem, MA
Snow Fairies sing and tell story! Pirates get rowdy!
"I recently purchased your Peter Pan soundtrack. What a great compilation of music!"
Kennelyn Ceralde, Sacramento CA

---
The Snow Fairies introduce the Pirates and Captain Hook.
(Script pages 18-20)
MORNING SKY: And not far away in Peppermint Cove...

STARSHINE: Captain Hook's boys were hiding out...

(SOUND CUE #8: Pirate music. [sample]

PIRATES enter as their names are called carrying mops, except for SMEE who carries the bucket. They can dip their mops in bucket, later SMEE will use it for pudding pot.)

WHITEWING: The first pirate's name was Tattoo Bill...

TATTOO BILL: (Pushes up sleeve and flexes muscles, to audience.) Ha-ha! See my terrible tattoos, you scallywags! Argg!

MORNINGSKY: Then came Skylights...

SKYLIGHTS: Ha-ha! See my terrible glass eye! (Lifts eye patch.) Argg!

MOONDUST: Then Noodler whose hands were fixed on backwards.

NOODLER: Ha-ha! See my terrible hands that are fixed on backwards! Argg!

STARSHINE: Then Smee who was a terrible, terrible cook!

SMEE: Ha-ha! Try my terrible, terrible food! (He goes to audience in front row or aisle seat and offers a spoonful of soup.) Have a taste of my Pirate Plum Puddin'! (Puts wooden spoon to audience member's mouth.) Terrible, isn't it? (audience member agrees.) Argg!

(SKIP FORWARD TO NEXT SOUND CUE.

SOUND CUE #9: Deck the Halls [short intro]. [sample]

SMEE leads PIRATES in song as they mop.)

ALL PIRATES: (Singing.)

Swab the deck and scrub the galley!
Fa la la la la la la la la la.
Tis the season to be rowdy!
Fa la la la la la la la la la.
We're the pirates of the season!
Fa la la la la la la la la la.
Join us now in merry treason!
Fa la la la la la la la la la.

(SOUND CUE ENDS. All PIRATES except SMEE exit.)

WHITEWING: But there was one pirate more terrible than all the others put together...

SMEE: Psst! Coast is clear, Captain!

(CAPTAIN HOOK sticks his head out, looking around cautiously, sniffing for enemies.)

CAPTAIN HOOK: No Indians?

SMEE: No.

CAPTAIN HOOK: No children?

SMEE: No!

CAPTAIN HOOK: No cro... cro... crocodile?

SMEE: No sir, Captain! Haul him in!

(CAPTAIN HOOK pulls on rope, tugging in his bounty: PETER PAN wrapped in ropes with gag in his mouth. PETER PAN struggles and makes muted sounds while SMEE and CAPTAIN HOOK tie him to the Christmas tree.)

CAPTAIN HOOK: Ha-ha, Peter Pan! What's the matter there, Peter? Looks like you're a little tied up at the moment!

SMEE: You just had to get an eyeful of old Santy, didn't ya?

CAPTAIN HOOK: That's what I like about you Peter. You'll never grow up.

(PETER PAN spits out his gag.)

PETER PAN: What have you done with Santa, Hook?

CAPTAIN HOOK: Let's just say we've got him on ice.

SMEE: Let's just say he's a little under the weather.

CAPTAIN HOOK: Let's just say he's got himself a little... cold!

(CAPTAIN HOOK and SMEE laugh uproariously.)

PETER PAN: Ice? Cold? You've frozen Santa?

CAPTAIN HOOK: What else am I supposed to do with all this ice we got up here at the North Pole, hmm?

PETER PAN: But you can't do that! He's got toys to deliver! It's almost Christmas morning!

CAPTAIN HOOK: Christmas! Christmas! Blast your blitherin' blubberin' Christmas! It's over, Peter! All over!
CAPTAIN HOOK & SMEE: (Singing.)

On the worst day of Christmas we poked 'em in the brig!
We've captured Peter! We've frozen Santa!
We're gonna blow it! We're gonna sink it!
We're gonna crush it! We're gonna bash it!
Christmas beware!
No lousy trees!
No darned socks!
No toys for tots!
Stick it all in your jolly old ear!

(SOUND CUE ENDS.)

PETER PAN: That's all well and good for me, Captain! But what do you think the Crocodile will think of it?

CAPTAIN HOOK: (Suddenly terrified.) Crocodile! Did you say Cro... cro... cro... Crocodile?

SMEE: Shut your claptrap! Nobody says that around the Captain. Never say...

PETER PAN: What? Crocodile??? Oh, that's right the Captain doesn't like crocodiles does he? He's scared of the Crocodile, isn't he?

SMEE: Ever since that scallywaggin' reptile ate his arm...

CAPTAIN HOOK: Arg! (Grabs his hook, swoons with fear.) Ahhhrrrgggg!!!!

Note: This is a sample from the actual script. To review the entire play, order the PERUSAL SCRIPT (online instant download). Or to save 20% on the full production kit and royalty for one performance, order the SCHOOL PLAY PACKAGE (below) and start rehearsals today!



---

SCHOOL PLAY PACKAGE (Everything)

One payment for everything you need to perform the play at your school or organization. No need to purchase multiple scripts, no royalty quote, no separate royalty payment. Order the School Play Package and you're done -- start rehearsals immediately!

The SCHOOL PLAY PACKAGE Includes:
1. Master Script ($9.95)
2. Teachers Guide ($9.95)
3. CD Soundtrack ($29.95)
4. Performance License ($60.00)
(License: Rights to copy script, Royalty for one performance)
Get Everything ($109.85 value) - Only $99.95
( SAVE MORE $$$ WITH FULL DOWNLOAD - NO SHIPPING COSTS! )


---