Read Free Script Sample, Hear Sound Cues, Read Cast List

---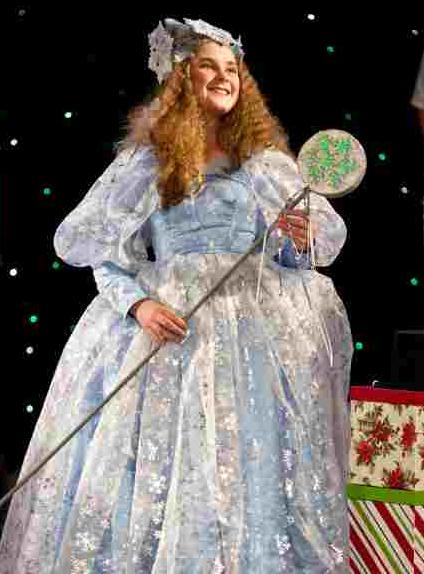 T

"The magic of Christmas merges with a beloved children's story as Shawnee Playhouse presents Kathryn Schultz Miller's "A Christmas Wizard of Oz,"
Pocono Record, PA
---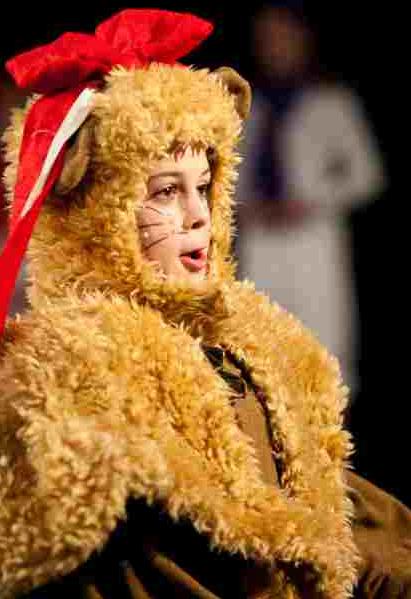 "We're moving on down the yellow brick road to the Wortham Theater for a Christmas Wizard of Oz! Our 2nd - 6th Graders are gearing up for a performance you will not forget!"
The Rhodes School, Houston TX
---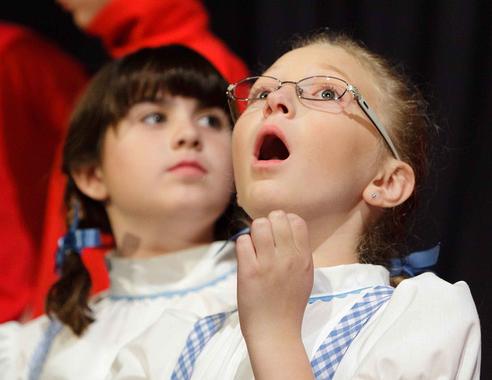 "It takes a classic story — one we all know and love — and turns it into a fresh, fun and funny fantasy. It is a feel-good show, filled with well-known Christmas carols and bright, colorful costumes."
Midge McKlosky, Artistic Director, Shawnee Playhouse
---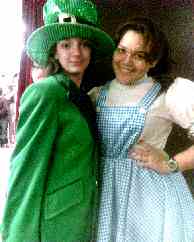 Adam Roebuck Productions, Off Off Broadway New York!
---

"We did your Christmas Wizard of Oz. It was AWESOME! The kids loved it, parents loved it. We had a full cast plus we added 30 to the script. We had K-8 with 3rd-8th grades! It was PHENOMENAL!"
Mrs. S. Immerman, Sculptor Charter School, Titusville, FL
---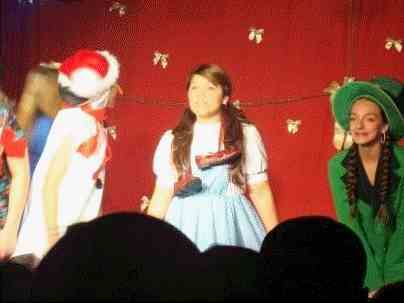 "The message of "A Christmas Wizard of Oz" is a simple one. There's no place like home... especially at Christmastime."
Pocono Record, Strousburg, PA
---

A Christmas Wizard of Oz is Recommended for Grades 1 and Up! This School Play Version of A Christmas Wizard of Oz requires no professional experience in theatre. It is written in simple terms with lots of practical suggestions.
---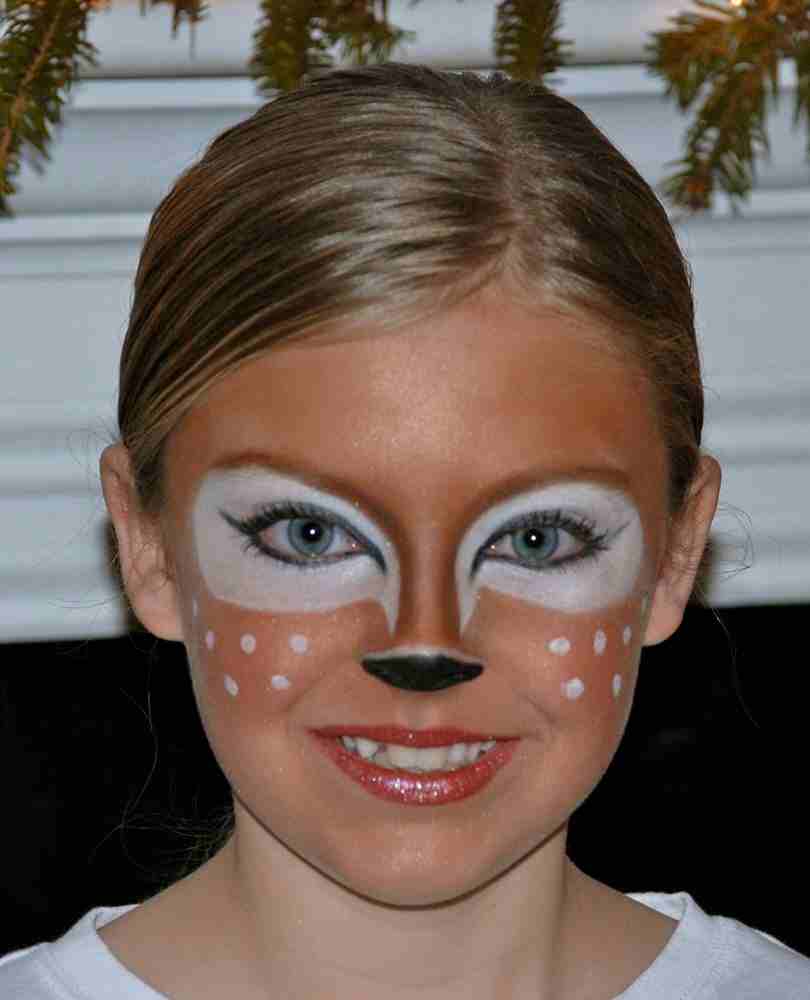 With fun, clever lyrics set to familiar tunes, A Christmas Wizard of Oz is filled with audience interaction and great roles for every single one of your students.
---

You won't believe how beautifully the story of the Wizard of Oz lends itself to the traditional Christmas message!
---

What could be better than the Wizard of Oz at Christmas? So light up the Christmas tree and break out the Santa suit! Round up those elf ears and reindeer antlers!
---

Teachers, A Christmas Wizard of Oz is written just for you and your students. With a CD of well-known tunes and new, Christmas lyrics, this script fits well in your curriculum and your schedule. Best of all, it's lots of fun for everyone!
---

"We ordered A Christmas Wizard of Oz last year and it was a HUGE hit! Thank you for all that you are doing to support theatre education!"
Erin C. Mulder, St. George's Episcopal School, Milner, GA
---

"We put on A Christmas Wizard of Oz with 64 12-year-old kids. They loved it! It was great for their morale and kept them motivated right to the end. Well done! You are providing a wonderful service!"
Patricia O'Donovan, Primary School Teacher, Middleton, Ireland
---
A Christmas Wizard of Oz
ADDITIONAL INFORMATION
Cast List
CD Soundtrack Cues
Script Sample
---

A CHRISTMAS WIZARD OF OZ
CAST LIST
Running Time: About 45-50 minutes
Flexible Cast of 34: 5 Male, 4 Female, All others M/F
Easily adapted for larger or smaller cast


CHORUS:
BLUE (M/F, 20 lines)
GREEN (M/F, 27 lines)
ORANGE (M/F, 22 lines)
PURPLE (M/F, 22 lines)
RED (M/F, 20 lines)
YELLOW (M/F, 23 lines)
DOROTHY:
DOROTHY #1 (F, 35 lines)
DOROTHY #2 (F, 32 lines)
DOROTHY #3 (F, 14 lines)
DOROTHY #4 (F, 17 lines)
DOROTHY #5 (F, 11 lines)
DOROTHY #6 (F, 35 lines)
TOTO: (M/F, 26 lines: "Ruff! Ruff!")
GLINDA THE GOOD WITCH: (F, 20 lines)
ELFINS:
BURLY (M/F, 11 lines)
CURLY (M/F, 12 lines)
JOE (M/F, 12 lines)
SNOWMAN:
SNOWMAN #1 (M/F, 26 lines)
SNOWMAN #2 (M/F, 10 lines)
SNOWMAN #3 (M/F, 7 lines)
SNOWMAN #4 (M/F, 13 lines)
TREES:
WOODY (M/F, 4 lines)
SHADY (M/F, 4 lines)
TIN SOLDIER:
TIN SOLDIER #1 (M/F, 21 lines)
TIN SOLDIER #2 (M/F, 22 lines)
STUFFED LION: (M/F, 36 lines)
MR. JINGLES: (M/F, 22 lines)
WIZARD OF OZ: (M, 36 lines)
FLYING REINDEER:
RUDY (M/F, 10 lines)
ROSIE (M/F, 9 lines)
RACEY (M/F, 10 lines)
GROUCHY GRUMBLE OF THE WEST: (M/F, 13 lines)
AUNTIE EM: (F, 7 lines)
UNCLE HENRY: (M, 6 lines)
---

Easy to Adapt to Your School's Needs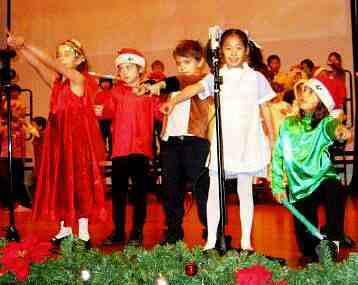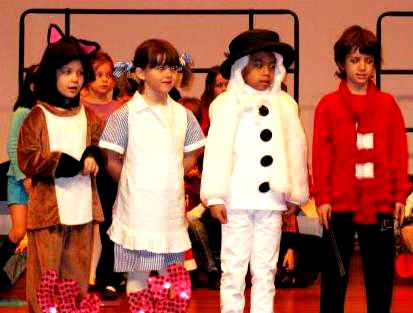 A Christmas Wizard of Oz, British International School, Shangai, China
"Splitting the parts so that several kids could play the large parts was just a God-send! No crying because they didn't get to be Dorothy!"
Linda Holleman, Teacher, Tarkington High School Drama

---

A CHRISTMAS WIZARD OF OZ
WHY IS THIS PLAY BEST FOR YOUR SCHOOL?

Written especially for young people to perform.
While you may find large cast plays from other publishers, most of those were originally written for adults or professional actors to perform. They often contain difficult dialogue, unfamiliar or complex language, and speeches too long for young children to memorize. They may even contain jokes, innuendos and subject matter that may not be appropriate for children.

Easy to understand and memorize.
Dialogue is simple, fresh, quick and humorous, keeping the action flowing without stops and starts between scenes. This keeps young people and young audiences engaged throughout the performance - no awkward pauses, no dead-time, no wiggles!

Everyone participates!
All children are involved throughout the performance. This builds confidence, promotes team spirit and eliminates rehearsal rowdiness. The audience is often asked to join in the fun, and action often spills into the aisles! All of our SCHOOL PLAYS give suggestions on how to divide up large parts (such as Dorothy in Wizard of Oz) among several performers so that no one child is the "star".

Familiar stories with upbeat endings.
The story line stays as close as possible to the familiar story the kids already know. While some authors feel the need to "improve" the story, our SCHOOL PLAYS stay as close to the familiar narrative as possible, making it easier for children - and your audience - to understand.

Feel free to edit! Go ahead and tape it!
Most publishers insist that no changes may be made to their scripts. We know that your goal is to engage every child in the most meaningful way and that your needs are unique. Cut, eliminate, re-assign lines, or add as much as you like! Also, there are no restrictions on video tapes. Parents want a tape or DVD to remember their child's big moment. Go ahead and tape away!

---
| | |
| --- | --- |
| | Kathryn Schultz Miller is one the most prolific and most produced playwrights for children. Her script, A THOUSAND CRANES, won the National Endowment for the Arts Playwright Award (and countless others) at a time when plays for children were not considered serious works. Now, many of her published scripts are considered classics for young audiences. When teachers voiced their need for great plays that kids can perform Ms. Miller responded with ArtReach's School Plays: "I never dreamed I'd write for anyone other than professionals. But writing for child performers has been the most profound and rewarding experience of my life". |
---

In the past few years we've seen a tremendous increase of confidence in the teachers we hear from. Most are finding it easier to let the process flow and worry less about the final product. I firmly believe that the experience will be best for all when you keep a few things in mind:

Free yourself from worry about whether or not it's "good". No one is paying big ticket prices; no one expects a Broadway success. The key to making this project meaningful is to put the emphasis on process; realize that rehearsal and practice are as much a part of the experience as the actual performance. Encourage fun and you will free the children from embarrassment and stress. If the kids can't learn the lines let them carry a script or use their own words to convey the character's message. If they seem to wander the stage, let them explore where they want to go - they might surprise you with a wonderful idea. In every aspect of the process give them the wings to create and think. Give them a comfortable, supportive place to go and their confidence and self-expression will soar!

Above all else, make sure you are having fun. If you've never directed a play before, don't worry. It's all just pretend -- you can't do it wrong! The quality of your experience is every bit as important as that of the children. You need the joy of self-expression too, that doesn't go away when we grow up. So give yourself a break. And when all else fails, laugh!

Thank you so much for choosing a A Christmas Wizard of Oz. I hope you and your young friends have as much fun performing this play as I did writing it.

- KSM

Perfect for a Middle School Cast!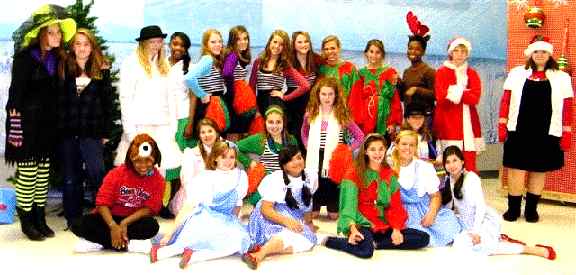 Cario Middle School, Drama Club, SC, Christmas Wizard of Oz!
---

A CHRISTMAS WIZARD OF OZ
CD SOUNDTRACK CUES
Cues, sound effects, background music (traditional-classical)

The CD Soundtrack contains special sound effects and background music (public domain traditional-classical) that may be used to greatly enhance the performance. It also contains simple music to accompany the performers and audience as they sing the Christmas songs in the play (song cues shown below in red). It does not contain music and songs from the movie or stageplay. Cues have 10 seconds of silence at the end - times shown below include silence.
[ Click on [sample] to hear a short sample of the indicated cues. ]
1. FANFARE (0:30) [sample]
2. O CHRISTMAS TREE (0:53) [sample]
3. BLIZZARD, HOUSE, CRASH (1:35) [sample]
4. MAGICAL LAND OF OZ (0:37)
5. WE WISH YOU A MERRY CHRISTMAS (1:11) [sample]
6. JINGLE BELLS (Yellow Brick Road theme) (1:04) [sample]
7. JINGLE BELLS 2 (0:28)
8. JINGLE BELLS 2 (0:28)
9. JINGLE BELLS 2, WE THREE KINGS, ICE FIELD (2:22) [sample]
10. PALACE OF TOYS (1:10)
11. MAGICAL WIZARD OF OZ (0:26) [sample]
12. GROUCHY GRUMBLE INTRO (0:51)
13. GROUCHY GRUMBLE MELTING (0:40) [sample]
14. DING DONG, MERRILY ON HIGH (1:03) [sample]
15. JINGLE BELLS 3 (0:45)
16. MAGICAL WIZARD OF OZ (0:26)
17. TENDER MUSIC (1:14)
18. MAGICAL LAND OF OZ (0:37)
19. CHRISTMAS MORNING (3:41) [sample]
20. FANFARE, CURTAIN CALL (2:31)
21. FINALE (WE WISH YOU A MERRY CHRISTMAS) (0:19) [sample]


Note: Some teachers choose familiar songs, obtain sheet music and insert these songs into the play. We recognize that each school has a wide variety of educational needs to fulfill and we invite you to be creative in your use of our scripts; including changes or additions that are appropriate for your students. As author/publisher of our own creative works, we do ask that you obtain proper copyright permission for any additions you might make - that responsibility is up to you.

Music & Sound Resources Available on the Internet
( Sheet Music, Song Books, CDs, DVDs, Sing-along, Karaoke, Sound Effects )
Internet Music Resources: Karaoke CDs & Sheet Music







Click to search Internet for karaoke cds or sheet music
---

Santa Claus, Toys R Oz, Munchkin Elves!

The Land of Oz Gets a Holiday Twist! Reindeer, Toys, Elves!

The School Play Package gives you the rights to add characters, lines, songs! You also have the rights to make a Video/DVD of your special performance!

---
Dorothy's adventure in Oz ... but this time it's Christmas!
(Script pages 40-42)
DOROTHY: Oh I do so want to go home. Can you tell me how?

GLINDA: You have the power, Dorothy. You have had it with you all the time.

DOROTHY: I have?

GLINDA: It's in your ruby slippers. Remember I told you they were magical? All you have to do is to click the heels together three times and say "There's no place like home". An in the blink of an eye, you will be home.

DOROTHY: Oh, Good Glinda, I can't thank you enough. (To others.) I guess it really Is goodbye this time.

SNOWMAN: Be good, Dorothy.

STUFFED LION: Stay strong.

TIN SOLDIER: Go home for Christmas -- to the ones you love.

DOROTHY: Here goes. (She closes her eyes, clicks her heels.) There's no place like home. There's no place like home. There's no place like home...

(SNOWMAN, TIN SOLDIER and STUFFED LION say "There's no place like home," with her once, then ALL PERFORMERS (and audience if they like!) chant with DOROTHY.)

ALL: There's no place like home. There's no place like home...

(Repeat as SNOWMAN, TIN SOLDIER and STUFFED LION exit slowly, waving. RED and BLUE use the large piece of cloth and raise it as before, in front of DOROTHY.)

DOROTHY: Hurry, Toto. We can't miss our chance again!

(TOTO barks happily as cloth rises. Behind the cloth DOROTHY removes her shoes and PERFORMERS help her to slip a nightgown over her dress. TOTO exits. PERFORMERS enter with Christmas tree and light it up. They put presents under the tree. AUNTIE EM and UNCLE HENRY enter and look at the tree and gifts. They smile and hug each other.)

AUNTIE EM: Dorothy! It's Christmas morning!

(SOUND CUE #19: Christmas morning; fades during following scene.)

UNCLE HENRY: Wake up Dorothy! Santa came!

(DOROTHY enters, yawning.)

DOROTHY: Oh, Auntie Em! Uncle Henry! I had the strangest dream!

AUNTIE EM: Look what Santa brought you!

DOROTHY: Oh, he did come! So I didn't miss it after all!

UNCLE HENRY: Did you think Santa couldn't find us through the blizzard?

DOROTHY: No! No, I didn't! I didn't doubt him for a minute.

AUNTIE EM: Come see what you got.

(DOROTHY dives in and flips the tops off the boxes, looks inside them.)

DOROTHY: A stuffed lion! (She opens another.) And a toy soldier!

UNCLE HENRY: And look out the window, Dorothy.

(SNOWMAN enters and strikes a jaunty pose. STUFFED LION and TIN SOLDIER hide behind SNOWMAN.)

DOROTHY: A snowman!

AUNTIE EM: Your uncle made it for you this morning.

DOROTHY: Oh, Snowman! I didn't leave you after all. You were right here with me all the time!

(STUFFED LION steps out from behind SNOWMAN.)

STUFFED LION: Remember me, Dorothy?

(TIN SOLDIER steps out from behind SNOWMAN.)

TIN SOLDIER: And me?

DOROTHY: Oh, how could I ever forget!

(She runs to hugs them all.)

Oh, there's no place like home. There's no place like home!

(TOTO comes bounding in barking at DOROTHY and others.)

TOTO: ("Hey! Let me in on the hugs!") Ruff! Ruff! Ruff!

Note: This is a sample from the actual script. To review the entire play, order the PERUSAL SCRIPT (online instant download). Or to save 20% on the full production kit and royalty for one performance, order the SCHOOL PLAY PACKAGE (below) and start rehearsals today!



---
One payment for everything you need to perform the play at your school or organization. No need to purchase multiple scripts, no royalty quote, no separate royalty payment. Order the School Play Package and you're done -- start rehearsals immediately!

The SCHOOL PLAY PACKAGE Includes:
1. Master Script ($9.95)
2. Teachers Guide ($9.95)
3. CD Soundtrack ($29.95)
4. Performance License ($60.00)
(License: Rights to copy script, Royalty for one performance)
Get Everything ($109.85 value) - Only $99.95
( SAVE MORE $$$ WITH FULL DOWNLOAD - NO SHIPPING COSTS! )


---