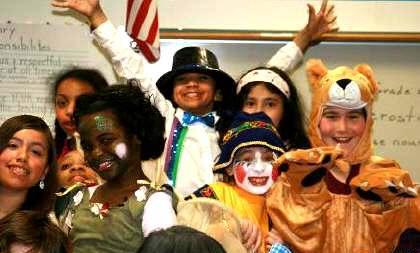 ArtReach Children's Theatre Plays
Great Plays for Great Kids!
Plays, Scripts, Musicals for Children, Kids, Teens, Families, Schools & Theatres
.
ArtReach
Award-Winning Children's Plays, Christmas Plays, Christmas Musicals for Young Performers, Children, Halloween Plays, School Plays and Scripts for Large-Cast, Small-Cast Plays. ArtReach Shows for Young Audiences. One Act Plays, One Act Dramas, Comedies for Middle Schools and High Schools. Plays for Touring to Schools, Educational Outreach Theatre. ArtReach One Act Musicals for Children and Young People.
---

Winner of a National Endowment for the Arts Playwriting Award.
---

Winner of five Ohio Arts Council Playwriting Awards.
---
NOTE: This information is for the FULL DOWNLOAD option which includes MP3 Audio files. For information about standard downloads (Sripts, Teachers Guides, Licenses), click DOWNLOAD.
Entire Play Packages can be downloaded directly from our site using the FULL DOWNLOAD option. Use our secure online Shopping Cart and you'll immediately get everything you need: Script, Teachers Guide, Performance License and Soundtrack MP3 Audio files so you can burn your own CD for the performance.

No Additional Shipping Costs and no wait for the CD to arrive -- GREAT FOR INTERNATIONAL CUSTOMERS!

Documents (Scripts, Teachers Guides, Licenses) are available in the universally standard Adobe PDF file format (Windows or MacIntosh). If you don't have Adobe Acrobat (or Adobe Reader), you can download a FREE copy of Adobe Reader for viewing and printing PDF files here...
Soundtracks (Cues, Sound Effects, Background Music) are available as standard MP3 Audio files of the tracks on the CD Soundtrack. The MP3 Audio files can be played directly on your computer via your Media Player, transferred to a portable MP3 Player, or burned onto a CD for use in your performance.
---
When you order the FULL DOWNLOAD you'll get an online RECEIPT web page which has a LINK ("Download", in blue) below the item name. Your Order Confirmation email also has the same LINK.

Example of item name and download LINK shown on your RECEIPT...
Quantity

Name

Your
Price

Total

1

A Christmas Carol School Play Package DOWNLOAD (ship CD)
Download << click here to download

$99.95

$99.95
Click "Download" and you'll get a dialogue box to open the web page for your FULL DOWNLOAD (WinXP sample below):

OPEN -- opens the FULL DOWNLOAD web page in your Internet browser. Follow the instructions on the web page to download the PDF Documents (STEP 1) and the MP3 Audio files (STEP 2). You can close the web page when you have downloaded all files.

[ SAVE, CANCEL, MORE INFO buttons -- you do not have to use these options. Use the OPEN option to open the web page to access all the files for the FULL DOWNLOAD. ]
---
To run a test of the FULL DOWNLOAD web page, click below:

NOTE: If you have problems downloading the Documents or Audio files, or if you're not sure how to create the Soundtrack for use in performance, we recommend ordering the standard DOWNLOAD (or HARDCOPY) version which includes a standard audio CD.
---