Read Free Script Sample, Hear CD Sound Cues, See Cast List

---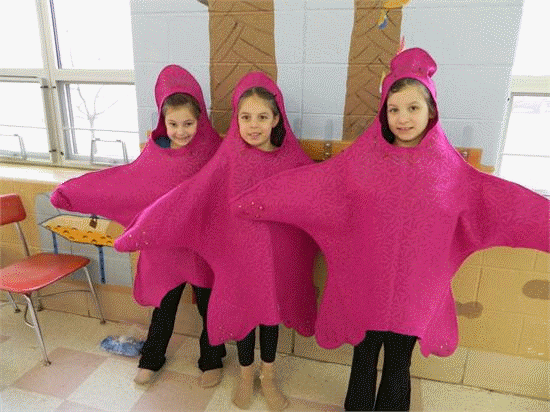 "The Little Mermaid is the third play of yours we have produced! Each play has been a treasure."
Laree Ott, Drama Teacher, St. Anthony Middle School, Kailua, Hawaii
---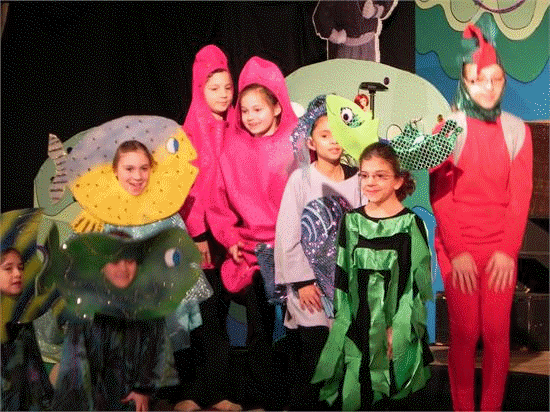 "I was very happy with the results of your Little Mermaid script a few years ago and had a great time with that show."
Scott Nelson, O'Gorman High School, Sioux Falls, SD
---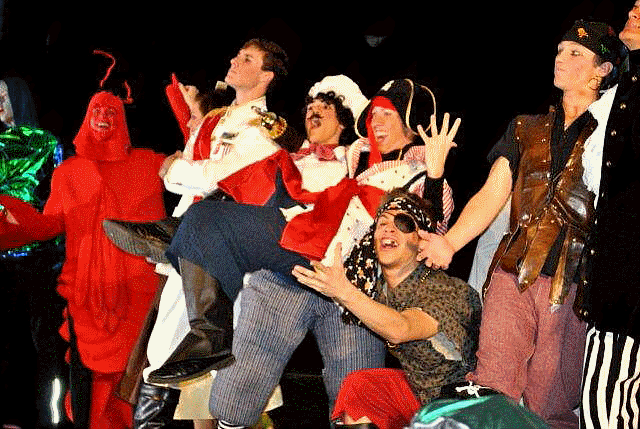 "We just finished performing The Little Mermaid, and I must say that was another amazing play you have written!"
Mary Ellen Herder, Take A Bow Productions, Chatham, Ontario
---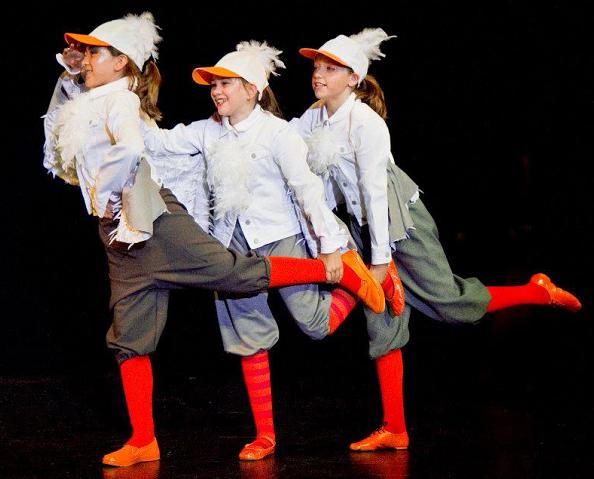 "My Drama Club performed the Little Mermaid last year. It was a huge success!"
Deb Dominic
---

The School Play Package gives you the freedom to adapt the script to your needs. Add characters, lines, songs, dances. You also have the rights to make a DVD/Video of your special performance!
---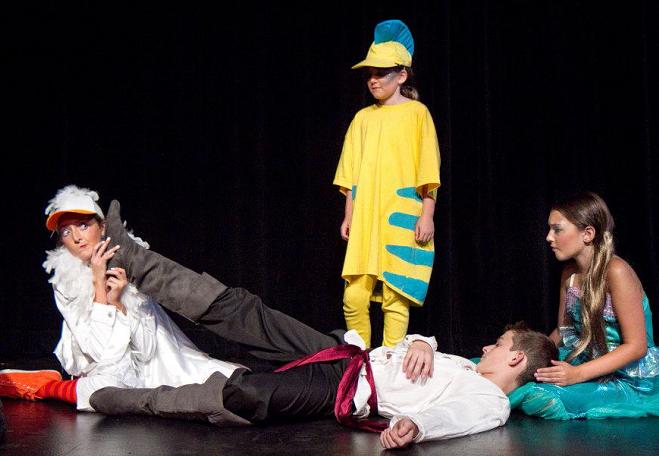 "We had so much fun with The Little Mermaid and what makes it extra special is the CD with sound effects and songs!"
Jennifer Black, Director, Children's Theatre Company, Goderich, Ontario
---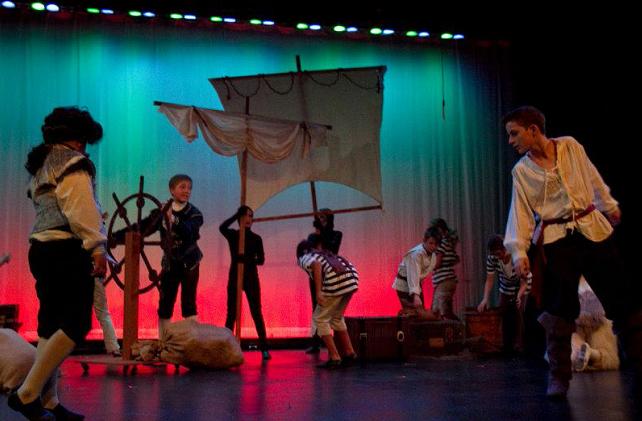 Teachers, this musical children's play The Little Mermaid is written just for you and your students. It is a faithful telling of the story you know so well, simplified for young performers. Best of all, it's lots of fun for everyone!
---

"Thank-you so much for your time and the work that you do to support children's development in the arts."
Heather Robertson, Pike Lake School, CA
---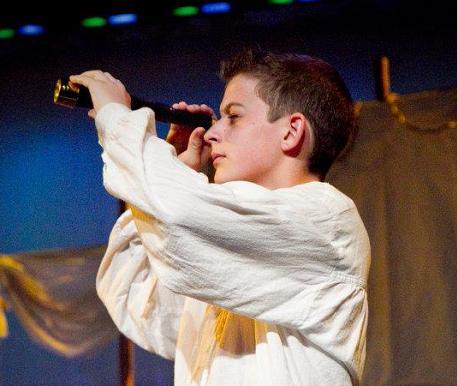 "We have performed your plays four times and I am never disappointed."
Jane Moores, 5th grade teacher, Crisafulli School, Westford, MA
---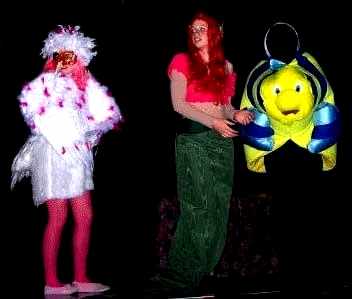 "We love your easy to use scripts and short lines
for kids to memorize!"
Julie Echelmeier, Higginsville Theatre Company Youth Theatre Academy
---

"I am so grateful for all the wonderful ArtReach scripts I have been able to use over the years. Bless you!"
Jennifer Pryor, Inland Leaders Charter School, Yucaipa, CA
---

"My school performed one of your plays last year and we absolutely loved it! Thank you so much for creating these plays!"
Katelyn Cognetti, Mayfield, PA
---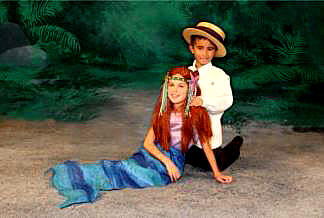 Fun and easy lyrics are set to familiar tunes such as Blow the Man Down, Brahms Lullaby and Alouette. The CD of background music and sound effects gives it a professional touch!
---

"It was a complete success!!! The students had a blast! Students and teachers could not get enough of the play, they love it!"
Blanca Muniz, Teacher, Ramey School, Puerto Rico
---

"The kids and parents loved it! We will continue to come to you for our all our children's plays!"
Karen Dougherty & Nancy Lockhart, Jackson School, Lawrenceville, GA
---

This School Play, Children's Musical Play, The Little Mermaid requires no professional experience in theatre. It is written in simple terms with lots of practical suggestions.
---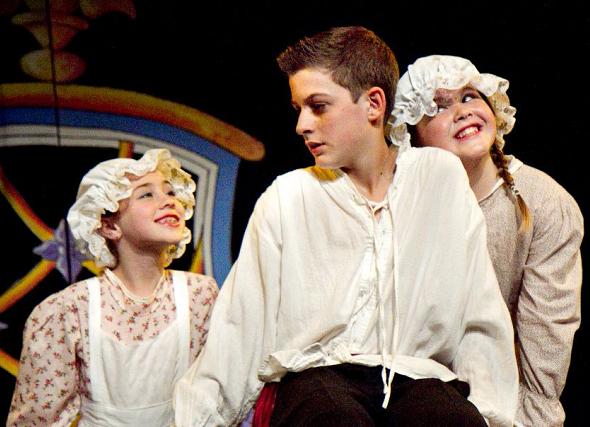 Open staging! Your gymnasium, cafeteria or any other large room is perfect for a staging of The Little Mermaid.
---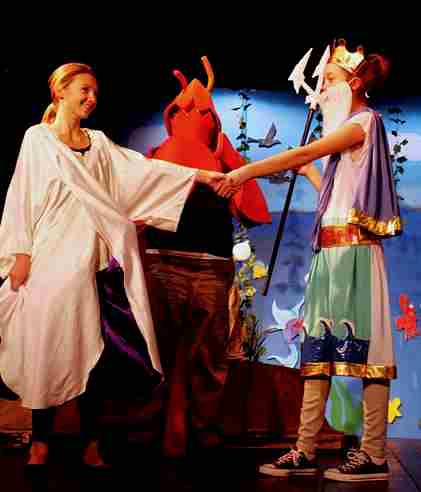 Recommended for Grades 1 and Up!
---

The Little Mermaid has lots of humor, fun and helpful directing tips.
---

A beautiful musical soundtrack: The Little Mermaid has a backing track CD with familiar tunes. Songs are easy for children to learn and perform.
---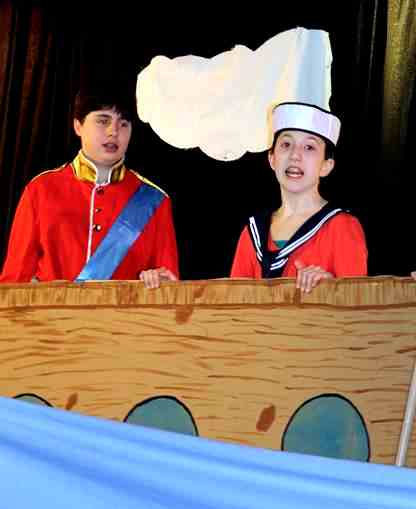 "The script for The Little Mermaid was so much fun and easy to perform."
Scott Nelson, O'Gorman High School, Sioux Falls
---
The Little Mermaid
Musical Play for Young People, Kids to Perform!
ADDITIONAL INFORMATION
Cast List
CD Soundtrack Cues
Script Sample
---

THE LITTLE MERMAID
CAST LIST
Running Time: About 45 minutes
Flexible Cast of About 24-39
(39 roles listed below - 10 Female, 7 Male, 23 F/M
*NEPTUNE (King of Mermen) (M, 39 lines)
NEPTUNE #1 (M, 18 lines)
NEPTUNE #2 (M, 21 lines)
*MARLIN (Marquis) (M/F, 41 lines)
MARLIN #1 (M/F, 29 lines)
MARLIN #2 (M/F, 12 lines)
NEPTUNE'S COURT:
GILL (M/F, 20 lines)
OCTO (M/F, 20 lines)
MACK (M/F, 20 lines)
FLOW (M/F, 20 lines)
PEARL (M/F, 20 lines)
SEAL (M/F, 20 lines)
*ODESSA (Queen of Humans) (F, 42 lines)
ODESSA #1 (F, 23 lines)
ODESSA #2 (F, 19 lines)
SLITHERY SIRS:
CECIL (M/F, 11 lines)
SNICKER (M/F, 10 lines)
SNEAK (M/F, 10 lines)
*ARUBA (Flamingo) (M/F, total 67 lines)
ARUBA #1 (M/F, 27 lines)
ARUBA #2 (M/F, 25 lines)
ARUBA #3 (M/F, 15 lines)
*FINNY (Fish) (M/F, total 65 lines)
FINNY #1 (M/F, 21 lines)
FINNY #2 (M/F, 27 lines)
FINNY #3 (M/F, 14 lines)
*ANNABELLE (Mermaid Princess) (F, total: 47 lines + song)
ANNABELLE #1 (F, 10 lines)
ANNABELLE #2 (F, 6 lines)
ANNABELLE #3 (F, 14 lines + song)
ANNABELLE #4 (F, 14 lines)
ANNABELLE #5 (F, No lines, very significant movement.)
ANNABELLE #6 (F, 3 significant lines, movement)
SAILORS:
CALICO JACK (M/F, 19 lines, sings)
CAPTAIN SLAPPY (M/F, 19 lines, sings)
BILLY BONES (M/F, 18 lines, sings)
SCURVY DOG (M/F, 17 lines, sings)
*PRINCE EDWARD (M, 35 lines)
PRINCE #1 (M, 20 lines)
PRINCE #2 (M, 15 lines)
DUKE of CHARLESTON (M, 23 lines)
ISLAND CASTLE SERVANTS:
PHILIPPE (Chef) (M/F, 13 lines + song)
MISS CALLALOO (F, 14 lines)
GINGER (F, 13 lines)
NUTMEG (F, 12 lines)
REV GUMBO (Preacher) (M/F, 8 lines)
*PERFORMERS (M/F, 21 lines)


*ANNABELLE is broken into 6 parts because you will probably have lots of girls who'd like to be the Little Mermaid. These parts may be combined for a smaller cast.

*NEPTUNE, MARLIN, ODESSA & PRINCE are fairly large roles that can be divided into two parts, as suggested, if necessary. However, if you want to retain larger roles for particularly advanced players you may choose to have these played by just one actor.

*PERFORMERS are young people seated in the front row that surrounds the playing area. They are always involved and often sing, speak together and play percussion instruments as part of the production, as indicated in the script. They may also be assigned to play the above characters in addition to their participation as PERFORMERS.

*ARUBA and FINNY may be represented by puppets: ARUBA, the flamingo, may have a hat like headpiece with a super long pink neck that snakes above his head with a stick attached at the throat/neck. The performer uses the stick to turn the bird's head when he speaks. The performer uses a kazoo and toots on it whenever ARUBA is excited or needs to show emphasis. FINNY, the fish, may be represented by a windsock on a pole. The performer hovers the windsock overhead during conversation and sails and swoops through the air, as if swimming, when excited.

---

Easy to Adapt for Your School or Theatre!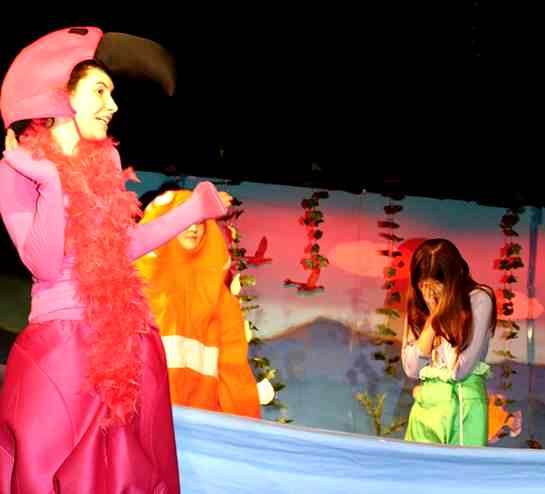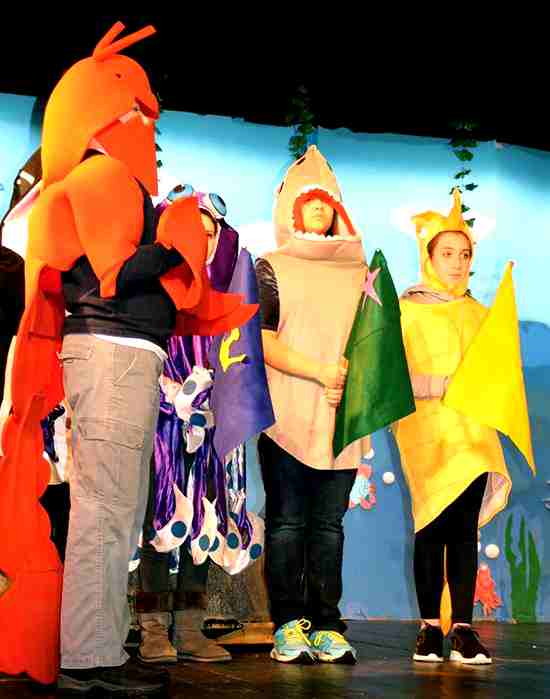 Old Rochester Regional Jr High School, VT

The School Play Package gives you the rights to adapt the script, add characters, lines, songs! You also have the rights to make a Video/DVD of your special performance!
SONGS:
New lyrics are set to these familiar tunes:
"Blow the Man Down" (SAILORS) - Traditional sea shanty.
"Brahms Lullaby" (ANNABELLE) - Classical composition.
"Alouette" (PHILIPPE) - Traditional French folk song.
"Wedding March" (GINGER, NUTMEG, PERFORMERS) - Traditional.
---
Written especially for young people to perform.
While you may find large cast plays from other publishers, most of those were originally written for adults or professional actors to perform. They often contain difficult dialogue, unfamiliar or complex language, and speeches too long for young children to memorize. They may even contain jokes, innuendos and subject matter that may not be appropriate for children.

Easy to understand and memorize.
Dialogue is simple, fresh, quick and humorous, keeping the action flowing without stops and starts between scenes. This keeps young people and young audiences engaged throughout the performance - no awkward pauses, no dead-time, no wiggles!

Everyone participates!
All children are involved throughout the performance. This builds confidence, promotes team spirit and eliminates rehearsal rowdiness. The audience is often asked to join in the fun, and action often spills into the aisles! All of our SCHOOL PLAYS give suggestions on how to divide up large parts (such as Dorothy in Wizard of Oz) among several performers so that no one child is the "star".

Familiar stories with upbeat endings.
The story line stays as close as possible to the familiar story the kids already know. While some authors feel the need to "improve" the story, our SCHOOL PLAYS stay as close to the familiar narrative as possible, making it easier for children - and your audience - to understand.

Feel free to edit! Go ahead and tape it!
Most publishers insist that no changes may be made to their scripts. We know that your goal is to engage every child in the most meaningful way and that your needs are unique. Cut, eliminate, re-assign lines, or add as much as you like! Also, there are no restrictions on video tapes. Parents want a tape or DVD to remember their child's big moment. Go ahead and tape away!

---
| | |
| --- | --- |
| | Kathryn Schultz Miller is one the most prolific and most produced playwrights for children. Her script, A THOUSAND CRANES, won the National Endowment for the Arts Playwright Award (and countless others) at a time when plays for children were not considered serious works. Now, many of her published scripts are considered classics for young audiences. When teachers voiced their need for great plays that kids can perform Ms. Miller responded with ArtReach's School Plays: "I never dreamed I'd write for anyone other than professionals. But writing for child performers has been the most profound and rewarding experience of my life". |
---

In the past few years we've seen a tremendous increase of confidence in the teachers we hear from. Most are finding it easier to let the process flow and worry less about the final product. I firmly believe that the experience will be best for all when you keep a few things in mind:

Free yourself from worry about whether or not it's "good". No one is paying big ticket prices; no one expects a Broadway success. The key to making this project meaningful is to put the emphasis on process; realize that rehearsal and practice are as much a part of the experience as the actual performance. Encourage fun and you will free the children from embarrassment and stress. If the kids can't learn the lines let them carry a script or use their own words to convey the character's message. If they seem to wander the stage, let them explore where they want to go - they might surprise you with a wonderful idea. In every aspect of the process give them the wings to create and think. Give them a comfortable, supportive place to go and their confidence and self-expression will soar!

Above all else, make sure you are having fun. If you've never directed a play before, don't worry. It's all just pretend -- you can't do it wrong! The quality of your experience is every bit as important as that of the children. You need the joy of self-expression too, that doesn't go away when we grow up. So give yourself a break. And when all else fails, laugh!

Thank you so much for choosing The Little Mermaid. I hope you and your young friends have as much fun performing this play as I did writing it.

- KSM

---

Great Roles for Lots of Kids!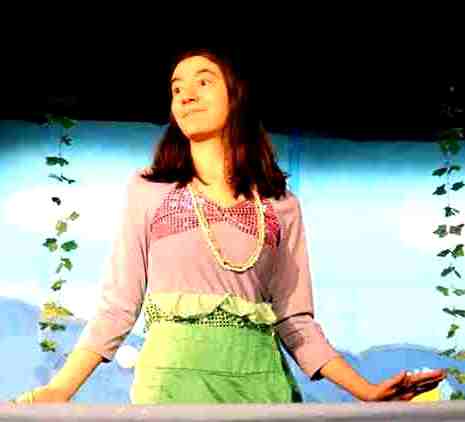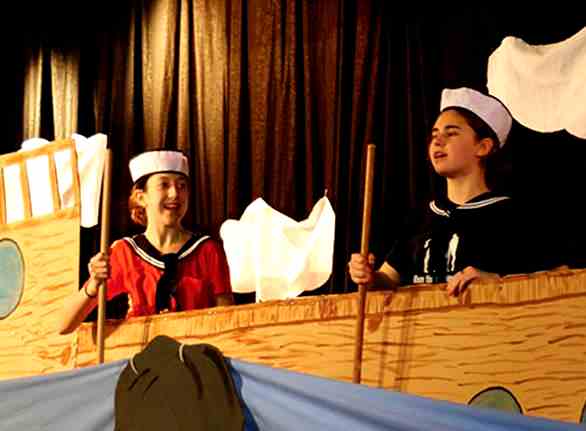 Lindsey Elementary, Chesterland OH - Old Rochester Regional Jr High VT
"I did this play by myself with 32 kids meeting for an hour a week during the school year. Everyone said it was our best play ever and I believe it is because of your script."
Keith Wagner, Saint Paul School, Leesburg, FL

---

THE LITTLE MERMAID
CD SOUNDTRACK CUES
Cues, sound effects, background music (traditional-classical)

The CD Soundtrack contains special sound effects and background music (public domain traditional-classical) that may be used to greatly enhance the performance. It also contains simple music to accompany the performers as they sing to three familiar melodies - "Blow the Man Down", "Brahms Lullaby" and "Alouette" (song cues shown below in red). It does not contain music and songs from the popular animated film or Broadway musical. Cues have 10 seconds of silence at the end - times shown below include silence.
[ Click on [sample] to hear a short sample of the indicated cues ]
1. OCEAN, UNDERWATER, THUNDER (1:10) [sample]
2. SINGING, BABY CRY, SINGING (0:51)
3. ODESSA'S MANIACAL LAUGH (0:22)
4. BABY CRY, WHOOSHING WATER (0:35)
5. OCEAN, SAILORS, BLOW THE MAN DOWN (2:08) [sample]
6. THUNDER, STORMY SEA (1:40) [sample]
7. FANFARE, UNDERWATER (1:24) [sample]
8. THUNDER, STORM, UNDERWATER (2:21)
9. WAVES, BRAHMS LULLABY (1:07) [sample]
10. ODESSA'S LAUGH (0:21)
11. ODESSA'S LAUGH (0:21) [sample]
12. CRASH, LAUGH, CHAOS, ETC. (1:05)
13. ALOUETTE (2:14) [sample]
14. NEPTUNE'S STORMY ENTRANCE (1:00)
15. SINGING, BRAHMS LULLABY (1:02) [sample]
16. WEDDING WARM-UP MUSIC (0:41)
17. WEDDING MARCH (1:34) [sample]
18. MAGICAL, BRAHMS LULLABY (0:42)
19. BLOW THE MAN DOWN (4:25) [sample]
20. ALOUETTE (Curtain Call Finale) (1:59) [sample]

Note: Some teachers choose familiar songs, obtain sheet music and insert these songs into the play. We recognize that each school has a wide variety of educational needs to fulfill and we invite you to be creative in your use of our scripts; including changes or additions that are appropriate for your students. As author/publisher of our own creative works, we do ask that you obtain proper copyright permission for any additions you might make - that responsibility is up to you.

Music & Sound Resources Available on the Internet
( Sheet Music, Song Books, CDs, DVDs, Sing-along, Karaoke, Sound Effects )
Internet Music Resources: Karaoke CDs & Sheet Music







Click to search Internet for karaoke cds or sheet music
---

Easy for Kids to Learn, Perform & Enjoy!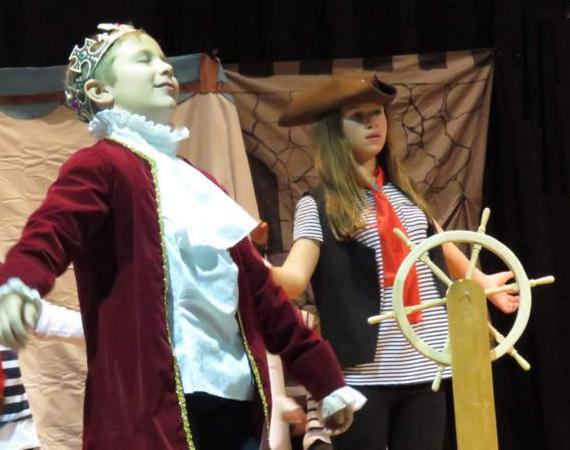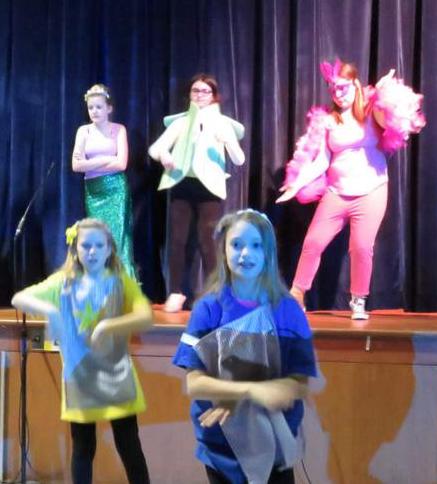 George J. Mitchell School, Egg Harbor NJ
"The children loved The Little Mermaid and so
did the audiences! I cast 26 children in the roles and they loved it and we had full houses. We had so much fun with it and what makes it extra special is the CD with sound effects and songs!"
Jennifer Black, Director, Children's Theatre Company, Goderich

---
The Little Mermaid, Annabelle, wants to become human to marry the Prince. Odessa, the evil Queen of Humans, tricks Annabelle and steals the Little Mermaid's voice.
(Script pages 25-28)
ODESSA: Human? HUMAN????? Ha-ha! Did I hear someone say they want to be a... human????

ARUBA & FINNY: (Terrified, pushing ANNABELLE forward.) She did.

ANNABELLE: Yes, I said it. And I'm not ashamed of it. I do want to be human.

ODESSA: Of course you do. Ah-ha! Of course you do! And that's why I'm here, dear child.

ANNABELLE: But what can you do?

SLITHERY SIRS: SSSSSSsssilencessssss!

CECIL: You Sssspeak when Sssssspoken to!

ODESSA: That's all right, Cecil. I can see this is a very good little mermaid. Brave and lovesick... Just like her father.

ANNABELLE: Do you know my father?

ODESSA: But of course. We're old friends, my dear. I met him when you were very young.

ANNABELLE: But I've never seen you before.

ODESSA: I've been keeping just out of sight. Watching, waiting. And I have lots of patience.

SLITHERY SIRS: ("Patience.") Passsshhencesss.

ODESSA: Now come to me child. Tell Odessa what's wrong.

ANNABELLE: Well, there was this human in the water and he was drowning...

ODESSA: Ah, a sad story.

ANNABELLE: Yes, but I saved him you see and then well, I guess I fell in love...

ODESSA: LOVE!!!! Ha-ha! Now where have I heard that word before?

(SLITHERY SIRS snicker with her.)

So I suppose you'd like me to make you human, hmm?

ANNABELLE: You can do that?

ODESSA: That is my specialty.

ARUBA: No, Annabelle!

FINNY: Come on, Annabelle. Let's go!

ODESSA: (Angry.) Let the little mermaid speak! (Suddenly kind.) Go on, my dear.

ANNABELLE: Please make me human. I'll do anything you ask.

ODESSA: Anything?

SLITHERY SIRS: (Thrilled.) Anything?

ARUBA & FINNY: (Horrified.) Anything?

ANNABELLE: Anything!

ODESSA: I thought so. Slithery Sirs, bring me the magic pot!

(SLITHERY SIRS hiss and scramble and return with a flower pot.)

Now, my dear. The only thing I need from you is a seed.

ANNABELLE: A seed?

ODESSA: In this case. Your voice.

ARUBA & FINNY: (Gasp!) Her voice?

ODESSA: It's a very small price don't you think? (Hums.) Just a little tune. I'll plant it right in here.

ANNABELLE: Well, I guess I could give you my voice.

ODESSA: Come, come. Hand it over.

(ANNABELLE sings softly, repeating lullaby she sang to the PRINCE.)

ANNABELLE: (Sings.)

Oh the sea's dark and deep
But for now you may sleep
You are safe here in my arms
I will keep you far from harm.

(ANNABELLE takes it from her mouth like a seed.)

PERFORMERS: No, Annabelle, no!

ANNABELLE: (To PERFORMERS.) But if it will make me human.

ODESSA: I'm waiting...

(ANNABELLE hands it to ODESSA.)

Ah!

(ODESSA plants it in pot.

SOUND CUE #12: Sudden crashing music, ODESSA's laughter.

SLITHERY SIRS dance, hissing with triumph!. SOUND CONTINUES.)

At last King Neptune! If I cannot have your hand I will have your daughter! And when I am done the Kingdom of the Sea will be mine!!! MINE!

(ODESSA and SIRS dance as ARUBA and FINNY slump in sorrow and defeat.)

But don't tell your father what I've done.

(ANNABELLE begins to speak but nothing comes out.)

Oh, that's right! Ha-ha! You can't!

(SOUND CONTINUES: Loud chaos, drums, laughter.

PERFORMERS use percussions and cymbals. ODESSA and SLITHERY SIRS laugh and hiss demonically as they twirl in victory! COURT enters with silk flags that twirl all around playing area. During the chaos they remove ANNABELLE's tail. ODESSA, SLITHERY SIRS and COURT exit.

SOUND CUE ENDS.

OPTIONAL TRANSITION: ODESSA #1 exits, ODESSA #2 enters at next entrance and continues through the end of the play.)

Note: This is a sample from the actual script. To review the entire play, order the PERUSAL SCRIPT (online instant download). Or to save 20% on the full production kit and royalty for one performance, order the SCHOOL PLAY PACKAGE (below) and start rehearsals today!



---
One payment for everything you need to perform the play at your school or organization. No need to purchase multiple scripts, no royalty quote, no separate royalty payment. Order the School Play Package and you're done -- start rehearsals immediately!

The SCHOOL PLAY PACKAGE Includes:
1. Master Script ($9.95)
2. Teachers Guide ($9.95)
3. CD Soundtrack ($29.95)
4. Performance License ($60.00)
(License: Rights to copy script, Royalty for one performance)
Get Everything ($109.85 value) - Only $99.95
( SAVE MORE $$$ WITH FULL DOWNLOAD - NO SHIPPING COSTS! )