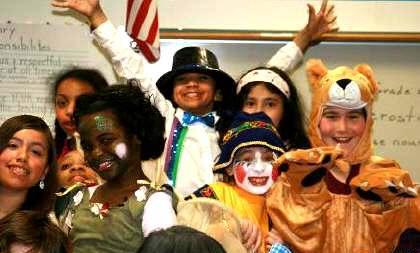 ArtReach Children's Theatre Plays
Great Plays for Great Kids!
Plays, Scripts, Musicals for Children, Kids, Teens, Families, Schools & Theatres
.
ArtReach
Award-Winning Children's Plays, Christmas Plays, Christmas Musicals for Young Performers, Children, Halloween Plays, School Plays and Scripts for Large-Cast, Small-Cast Plays. ArtReach Shows for Young Audiences. One Act Plays, One Act Dramas, Comedies for Middle Schools and High Schools. Plays for Touring to Schools, Educational Outreach Theatre. ArtReach One Act Musicals for Children and Young People.
Online Order - Performance License
( Pay Royalty - Obtain Rights to Copy Script & Perform Play )
Add Items to Shopping Cart
Scroll down to order
PERFORMANCE LICENSE, ADDITIONAL PERFORMANCE(S)
for any of our plays (or click here).


PERFORMANCE LICENSE - $60.00

If you ordered a PERUSAL SCRIPT and now you want to perform the play, you must purchase a PERFORMANCE LICENSE which includes:
1. Rights to copy the script for your cast and crew.
2. Royalty for one (1) performance before a live audience.
(Required for both paying and non-paying audiences)
Note: If you purchase a SCHOOL PLAY PACKAGE (or Script & License Package) you DO NOT have to purchase a separate PERFORMANCE LICENSE.
All Prices in U.S. Dollars [ International Currency Conversion ]
DOWNLOAD YOUR LICENSE, START REHEARSALS TODAY!

* * *
If you want to do two or more performances, you will also need to pay the ADDITIONAL PERFORMANCE ROYALTY for each additional performance beyond the first...

ADDITIONAL PERFORMANCE(S) - $45.00 each

The ADDITIONAL PERFORMANCE ROYALTY must be paid for each additional performance after the first performance and after purchasing the initial PERFORMANCE LICENSE. (For example: for three performances your total royalty would be $60 + $45 + $45 = $150).
All Prices in U.S. Dollars [ International Currency Conversion ]
PLEASE NOTE:
If you are planning a TOUR (or MORE THAN 10 PERFORMANCES), please contact us for a special Royalty Quote and Performance License Agreement.
---

Order Performance License (Pay Royalty)
( For Any Children's Theatre Plays.com Play )

DOWNLOAD - immediately download your License (PDF file).
HARDCOPY - printed License will be mailed (for no charge).
DOWNLOAD

HARDCOPY

PERFORMANCE LICENSE - $60.00
Rights to copy script, royalty 1 performance

Additional Performances - $45.00 ea.
For EACH additional performance.
Select number additional ( # Addt'l ) above.
* Important Copyright Notice *
All Children's Theatre Plays.com scripts are copyrighted, registered and protected by United States and International Copyright Laws. Federal law prohibits the reproduction of the publisher's material without written permission. No performance may be given without the purchase of production copies and the payment of all royalties in advance. Title 17, United States Code, Sec. 106.
ALL RIGHTS WILL BE STRICTLY ENFORCED