ArtReach's 'Pinocchio' makes children's dreams come true! Full of laughter and magic, 'Pinocchio' is enchantment for all ages!
---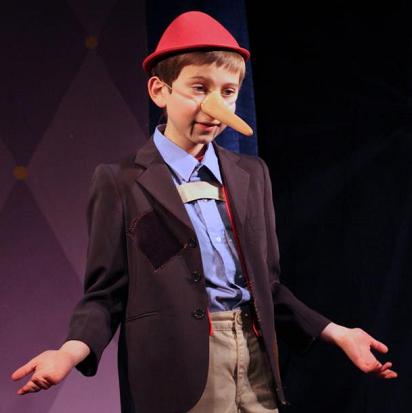 "Pinocchio has been so much fun," said Director Kelly Gilson. "Lots of kids and energy make this a crowd pleaser. We have 32 in the cast and all of the kids -- and parents -- have been wonderful to work with."
Daily Corinthian - Corinth Theatre Arts Presents Pinocchio
---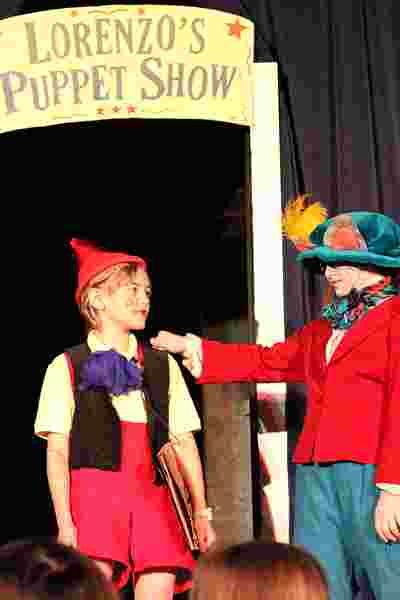 "We had 3rd, 4th and 5th graders in our Pinocchio! Thank you very much for your work and allowing freedom with the scripts."
Scott Kohanek, Kenwood School, Minneapolis
---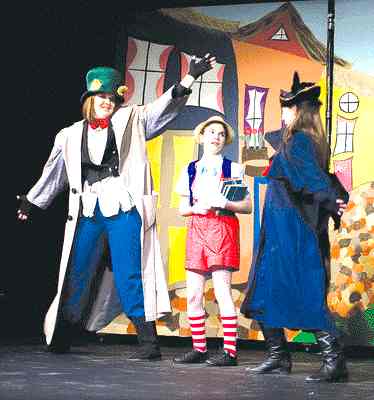 Teachers, this School Play version of Pinocchio is written just for you and your students. It is a faithful adaptation of the original Carlo Collodi story with audience participation and lots of fun for everyone!
---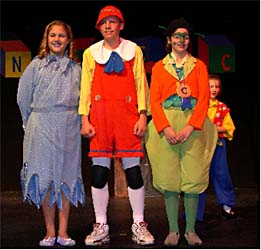 "Thanks for writing the parts so that most can be played by either boys or girls!"
Rebecca Roesener, Teacher, Sunnyside Elem, Idaho Falls ID
---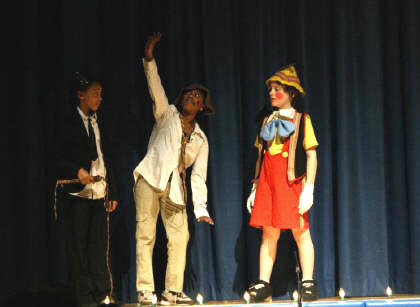 The Pinocchio School Play Package allows you to make a Video/DVD!
---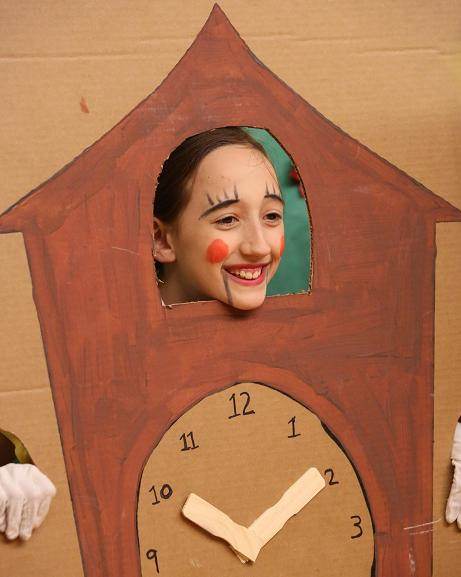 "My goal was achieved: Every student felt like a star, and that is what it's all about."
Karie Gipson, Director, Pinocchio, Cardinal Pacelli School, Cincinnati
---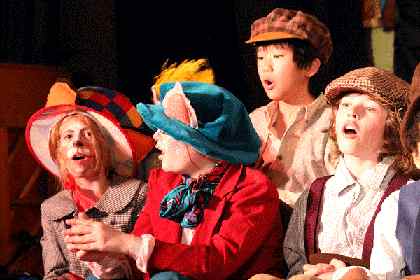 Add as many roles, lines and songs as you like! There are many ways to include everyone! Include all your special needs kids in Pinocchio!
---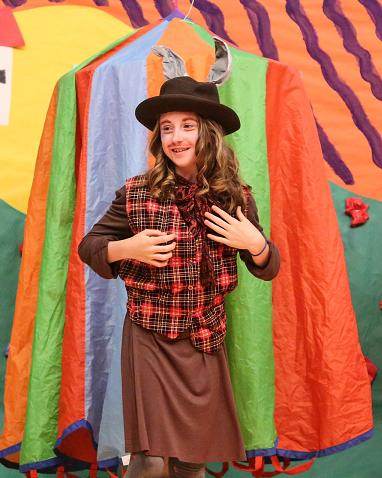 "I produced the play "Pinocchio" last year! The children thoroughly enjoyed it. Many thanks!"
Therese Dixon, Hunua Youth Theatre, Papakura, New Zealand
---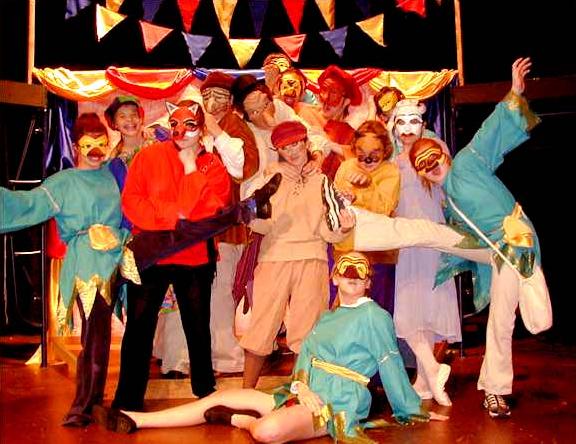 Artistic Director Gary Schwartz praised Pinocchio writer, Kathryn Schultz-Miller, whose scripts he's used in other shows, saying, "She just knows how to write this kind of interaction."
Valley Center Stage, Snoqualmie Valley Record
---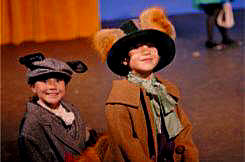 Pinocchio is Recommended for Grades 1 and Up!
---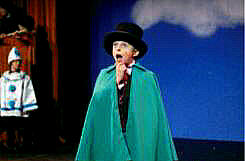 ArtReach's School Play, Pinocchio requires no professional experience in theatre. It is written in simple terms with lots of practical suggestions.
---

"More than 30 third and fourth grade students from Lincoln Akerman School took the stage to perform Pinocchio! The audience was filled with family, friends and teachers. Younger siblings excitedly pointed up to the stage and sometimes not so quietly whispered, "There he is!"
Stacey Bellen, Lincoln Ackerman School, NH
---

Pinocchio is Easy to Adapt to Your School's Needs! The School Play Package allows you to adapt the script!

---

"Pinocchio is full of fun, audience participation and an old moral dilemma for the audience to help resolve,"
Director Dori Blodgett Harbor Performing Arts Center, Brookings OR
---

The Pinocchio script comes with suggestions on how to use simple percussion instruments to excellent effect.
---

"Teacher Cindy Wortmann used this year's "Pinocchio" production as a springboard for writing assignments and study skills."
The Garden Island, HI
---

"Lady's Island Elementary, SC, has integrated this well-loved story from literature, adapted for younger audiences. The story is a character lesson in behavior and consequences – about being brave, unselfish and truthful."
---
Pinocchio
School Play for Children to Perform

Carlo Collodi's Storybook Classic of a Puppet Who Became a Real Boy
FULL DOWNLOAD - Entire School Play Package with Soundtrack Audio Files

Fun Script! Classic Story! Just for Kids!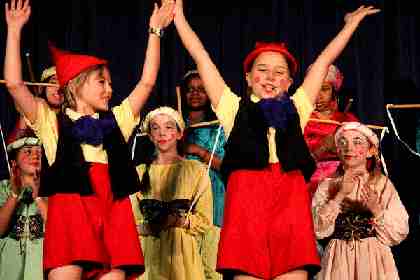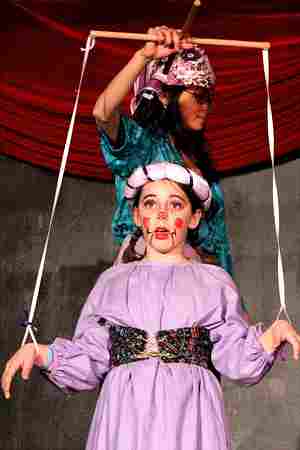 Kenwood School, Minneapolis -- 3rd, 4th and 5th Graders.
Teachers, Pinocchio is just what you are looking for.
A great, fun script for all your students to perform together!

"It has been a total joy and blessing working on PINOCCHIO! The kids are acting, building the sets, and working as running crew. They have really been involved in every part of the show, and are having a great time doing it!"
Director Jean Grewe, Young Footliters, Coralville Center for the Performing Arts, IA

Easy Dialogue! Lots of Laughs and Drama!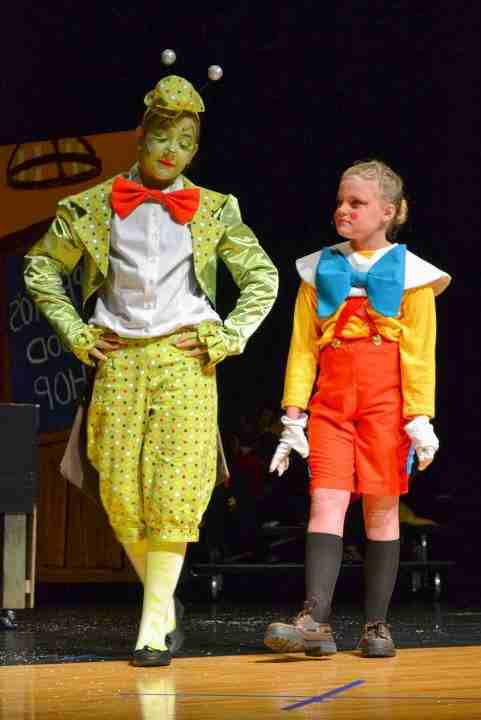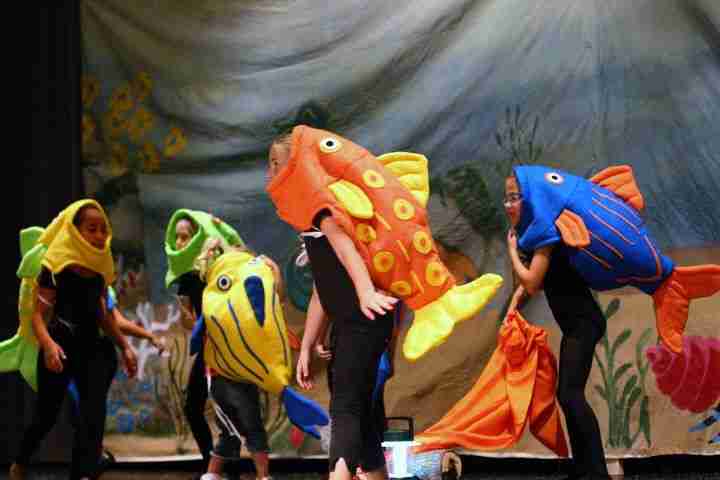 Talking Cricket, Fish in the Sea, Broadway Review, Kansas City

---

Easy for Kids to Learn, Perform and Enjoy!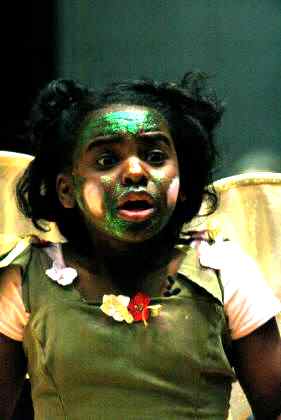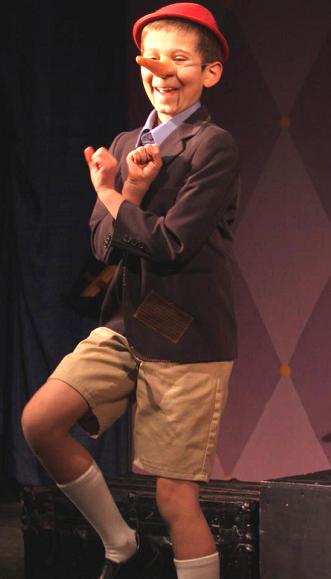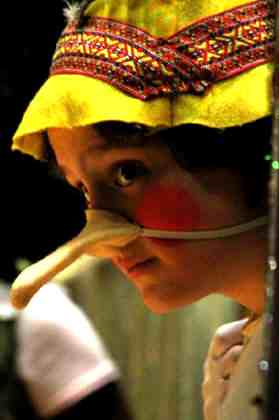 Grady School, Elmsford NY - Valley Center Stage, Northbend WA
Hop a ride with Pinocchio as he takes off on his classic adventure! This adaptation is faithful to the original beloved story by Carlo Collodi with lots of fun and comedy!

Dramatic Fun for Your School's Kids!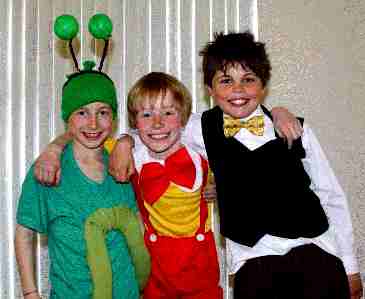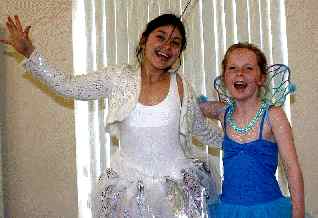 Pinocchio! St Martin's Ampleforth, Gilling East, York, UK
"We love your easy to use scripts and short lines
for kids to memorize!"
Julie Echelmeier, Higginsville Theatre Company, Youth Theatre Academy

Lots of Audience Participation!

| | |
| --- | --- |
| | One lonely night the Blue Fairy grants Geppetto's wish and brings his little wooden puppet to life. So begins Pinocchio's journey as he tangles with the tricksters, Fox and Cat, and meets up with Lampwick and his no-good buddies in the Land of Toys. |
---

Pinocchio's Classic Story Comes to Life!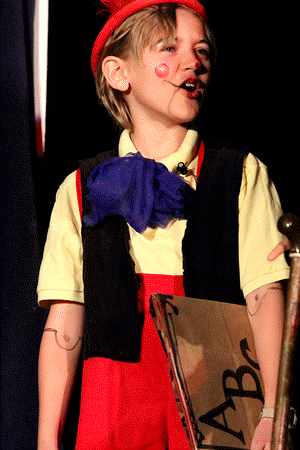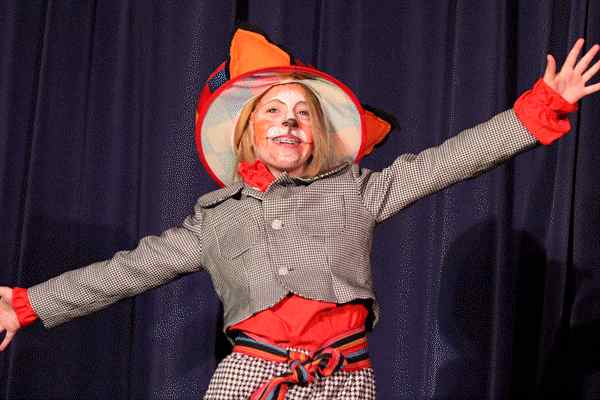 Kenwood School, Minneapolis -- 3rd, 4th and 5th Graders.
Will Pinocchio save Geppetto from the belly of the whale? Will he ever prove to the Lucky Stars that he is good enough... to become a Real Boy?

"Every Student Felt Like a Star!"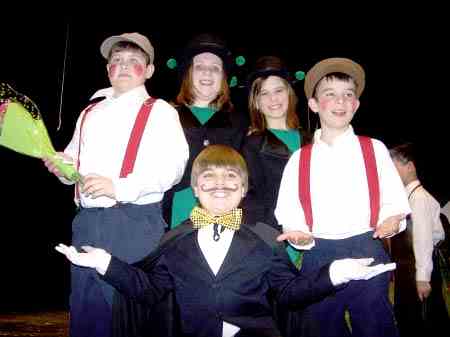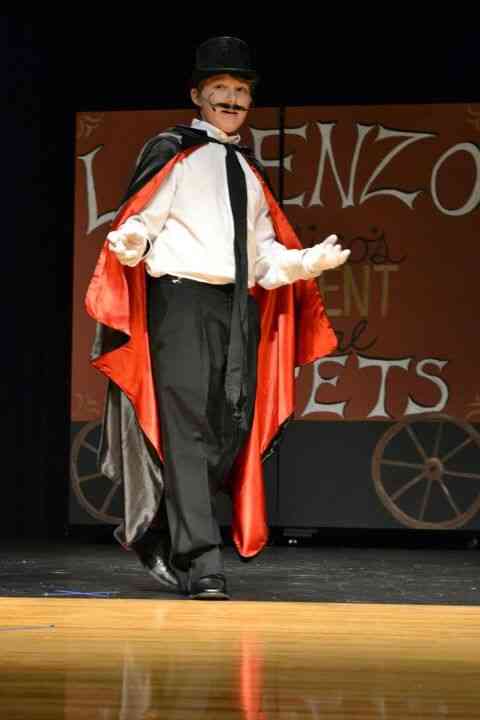 Lorenzo the Magnifico! Lost Boys and Hickory Crickets!
Lincoln Akerman School - Hampton Falls, NH
"The traditional photo-op at the end of the show was filled with young actors smiling from ear to ear and hamming it up for their parent's cameras - justifiably proud of a job well done."
Sheila Tanguay, The Hampton Union, NH
---
Creative Script! Kids Play Puppets on Stage!

| | |
| --- | --- |
| This innovative script uses puppets and puppeteers to tell the story. Clever staging and easy direction help you bring the magic to life. | |

Your Children Shine in Pinocchio!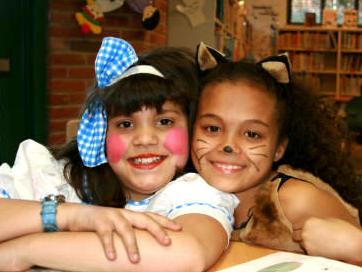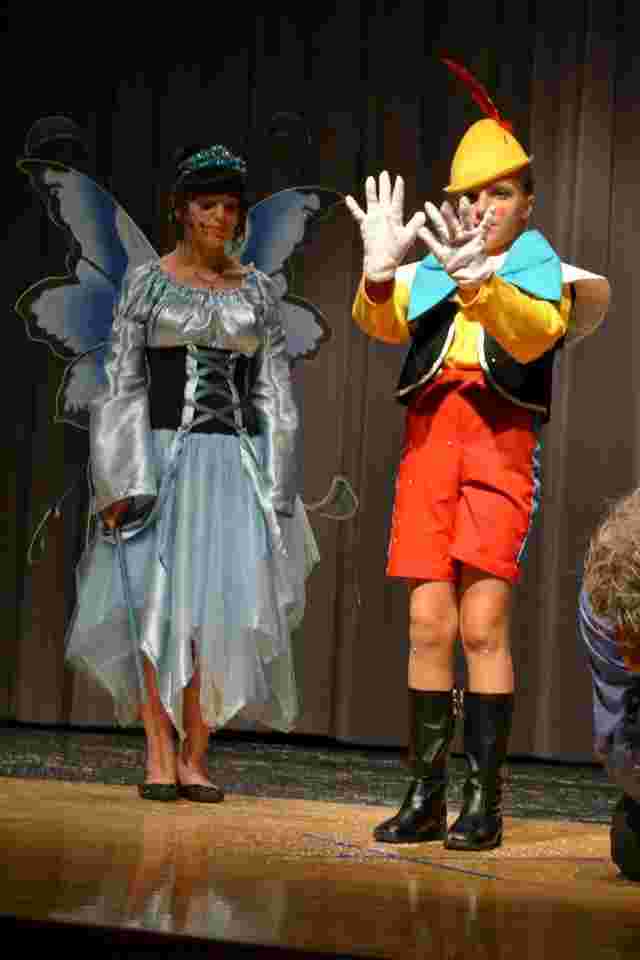 Alice E. Grady Elementary, Elmsford NY - Broadway Review, Kansas City
"Thank you for such a wonderful playscript. Our performance was SPECTACULAR! I would ABSOLUTELY purchase from you again - for the quality of your children's plays and your personal helpfulness."
Molly Callender, Drama Teacher, Langley Christian School

---

Storybook Magic for Kids to Perform!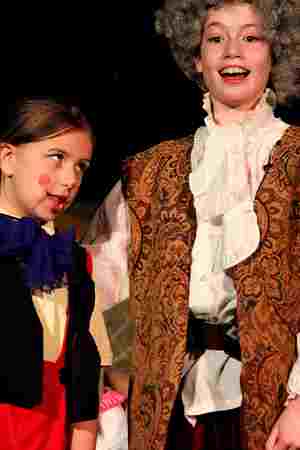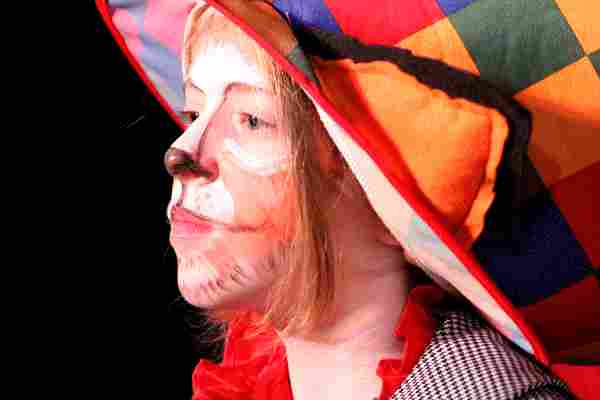 Kenwood School, Minneapolis -- 3rd, 4th and 5th Graders.
"It was so easy to work with the playscript and
adapt it to my students' needs!"
Sherri Alejandro, Carden El Encanto School, Santa Cruz CA

"This Show has Been So Much Fun!"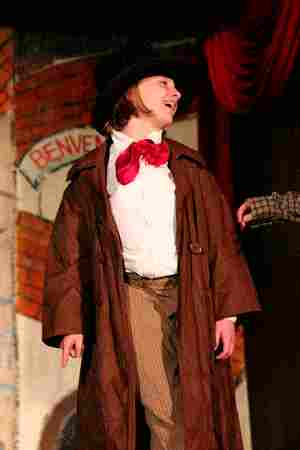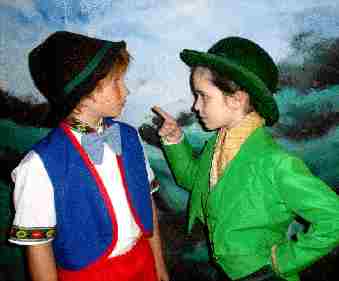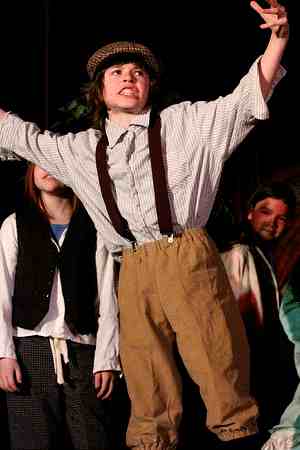 Kenwood School, Minneapolis -- Sutter Street Theatre, CA
---
"Pinocchio was great! Dreams came true!"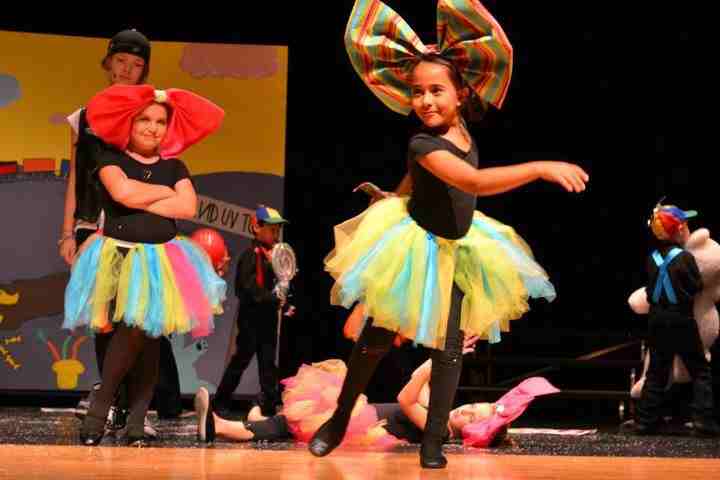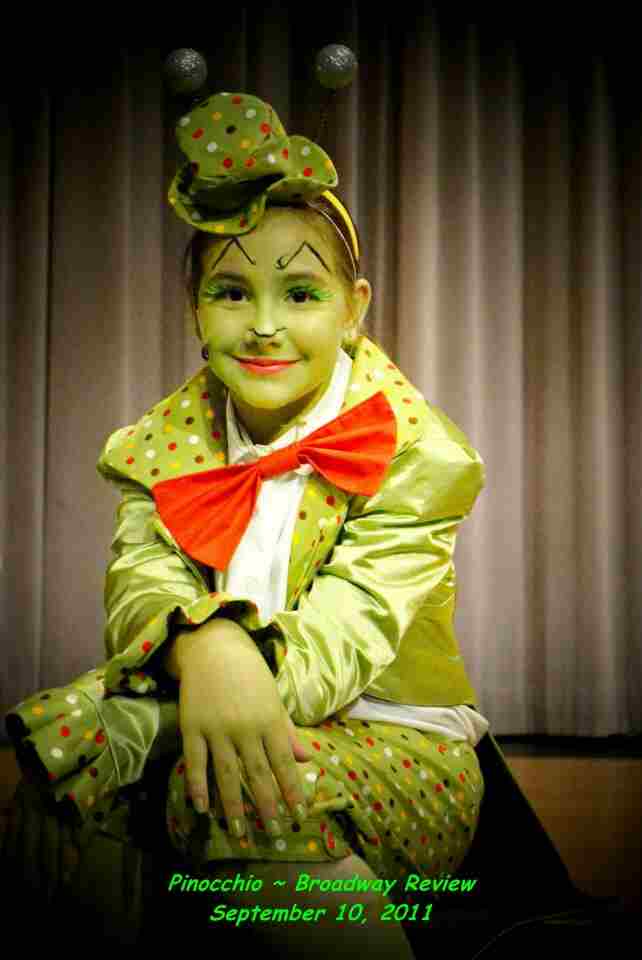 Lost Girls in The Land of Toys & Hickory Cricket! Broadway Review, Kansas City
"Your scripts are simply THE BEST for kids! Pinocchio was great...
we got so many compliments...dreams came true!!!"
Sarah Ackerman-Hale, Broadway Review, Kansas City

Six Pinocchios & Four Talking Crickets!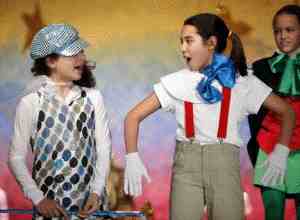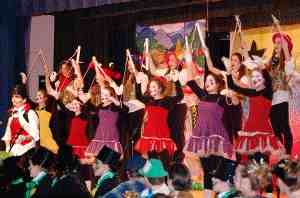 Blue Fairy, Pinocchio, Lorenzo's Puppets, Cardinal Pacelli, Cincinnati
---

"We had 3rd, 4th and 5th Graders!"

Lefty, Fibber, Pinocchio, Lucky Star, Lorenzo the Magnifico!
Alice E. Grady Elementary School, ArtReach School Play, Elmsford, NY

Adapted for Young Performers: Speeches and vocabulary are appropriate for child performers ages 6 - 12. Easy dialogue, easy for kids to memorize.

A Flexible Cast of 30 Students: (Doubling and extras possible.) Every role has a significant purpose to the story!

About 40-45 minutes long: Long enough to be a substantial project and short enough to accommodate your teaching schedule.

Easy costumes and scenery: Many suggestions on how to create or find what you need to make a great looking production without breaking your budget!

Many Parts for Girls or Boys!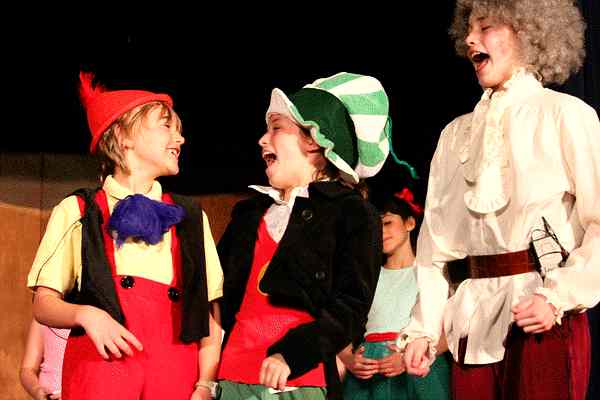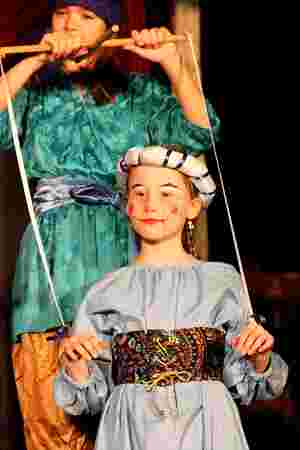 Kenwood School, Minneapolis -- 3rd, 4th and 5th Graders.
---

Every Child Has a Special Moment!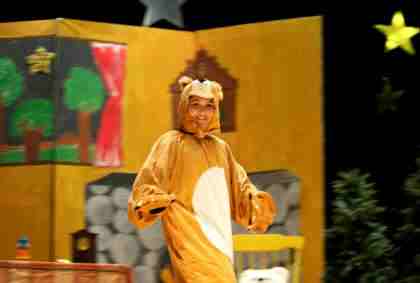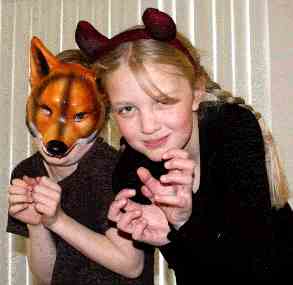 Fibber struts his stuff in Pinocchio! - Fibber Fox & Lefty Cat!
"I am really taken with your wonderfully theatrical and hugely imaginative version of Pinocchio and our Espanola Little Theatre Young Company would like to do it!
Sharon Sproule, Espanola Little Theatre, ON, Canada
"Your scripts are simply THE BEST for kids!"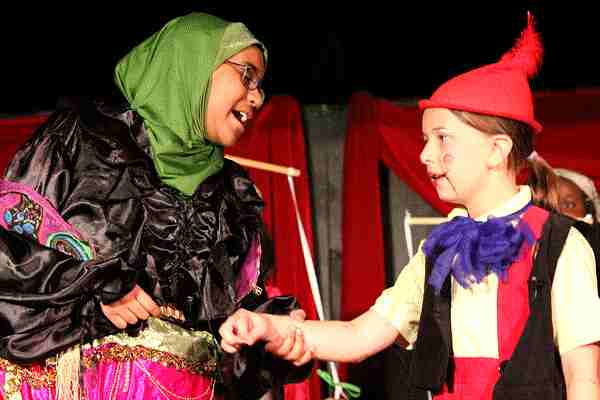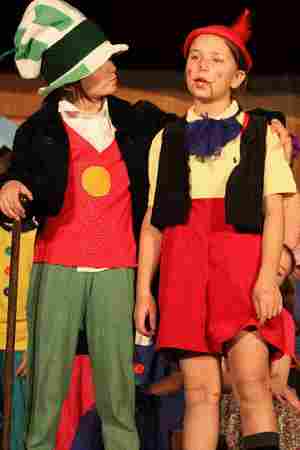 Kenwood School, Minneapolis -- 3rd, 4th and 5th Graders.
"I would never be able to express to you the delight your children's plays have brought to so many of our students and their parents."
Pamela Nation, Woodward Academy, College Park GA
---
Internet Music Resources: Karaoke CDs & Sheet Music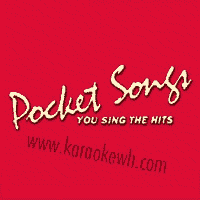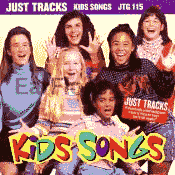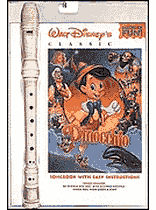 Click to search Internet for karaoke cds or sheet music
---