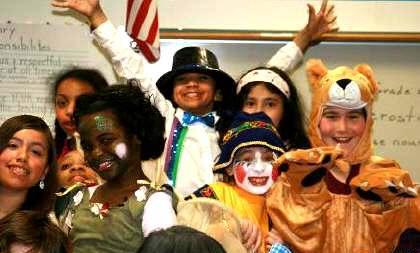 ArtReach Children's Theatre Plays
Great Plays for Great Kids!
Plays, Scripts, Musicals for Children, Kids, Teens, Families, Schools & Theatres
.
ArtReach offers Award-Winning Children's Scripts and Plays for Schools, Families and Young Audiences!
---

Read free script samples, hear sound cues, see cast lists and more!
---

"ArtReach's plays always make me look like a genius!"
Deborah Eischen, Teacher, Martinez Middle School, Romeoville, IL
---
C

"My school's drama club has been using your plays for 7+ years and we love them all!"
Nancy Hamrick, Jackson Elementary School, GA
---

"Thanks for all the wonderful plays you do!"
Jennifer Stearns, Beaverbank Kinsac/Sackville Heights Elem, Nova Scotia
---
"

"I had the entire script and cues downloaded within 15 minutes. WOW! My mind's juices are flowing with ideas!"
Bruce Birch, Carson Elementary School, BC Canada
---

"Your scripts have been perfect for our students. Thank you for making affordable, engaging scripts that appeal to all students!"
Sarah Maggard, David T Wilson Elementary, Brandenburg, KY
---
FUN FOR KIDS AROUND THE WORLD!
Instantly download your full production package from anywhere!
"I had the entire script and cues downloaded within 15 minutes. WOW! My mind's juices are flowing with ideas!"
Bruce Birch, Carson Elementary School, BC, Canada
PRODUCTIONS BY COUNTRY

10,000+ PRODUCTIONS

United States (12,620)

"I have been using your plays for several years and they are FANTASTIC! Your shows really allow me to let the students have so much input and really make the show their own."
Darla Senecal, Monkton Central School, VT



1,000+ PRODUCTIONS

Canada (1,136)

United Kingdom (1,576)

"Amazing service from your company. The JUNGLE BOOK package downloaded with ease. Thanks for making the whole process SO simple & flexible. Very user friendly. So fast."
Sheena Liversidge, Horncastle Young Stagers, Liverpool, UK



100+ PRODUCTIONS

Australia (711)
New Zealand (126)

Ireland (294)

"We have just performed TWAS THE NIGHT BEFORE CHRISTMAS and everyone said it was our best show yet!"
Karen Dixon, Hunua Elementary School, Papakura, New Zealand



10+ PRODUCTIONS

Argentina (23)
Bermuda (19)
Botswana (11)
Brazil (11)
Chile (10)
China (43)
Colombia (19)
Cyprus (10)
Egypt (12)
France (30)
Germany (56)
Greece (27)
Hong Kong (43)
India (54)
Indonesia (29)
Italy (33)
Japan (56)
Malaysia (25)

Mexico (73)
Norway (13)
Pakistan (11)
Philippines (18)
Poland (22)
Puerto Rico (14)
Qatar (12)
Romania (18)
Russia (11)
Singapore (40)
South Africa (91)
South Korea (25)
Spain (82)
Switzerland (22)
Taiwan (35)
Thailand (20)
Turkey (35)
United Arab Emirates (28)

"ALICE IN WONDERLAND was enjoyed by everyone! Super children's play, thanks to you for your beautiful script."
Greenwood Kindergarten, Hyderabad, Andhra Pradesh, India



1-9 PRODUCTIONS

Albania
American Samoa
Austria
Bahamas
Bahrain
Bangladesh
Barbados
Belgium
Belize
Bhutan
Bosnia Herzegovina
British Virgin Islands
Brunei
Bulgaria
Cayman Islands
Cocos Islands
Costa Rica
Croatia
Cyprus
Czech Republic
Denmark
Dominican Republic
Ecuador
El Salvador
Estonia
Ethiopia
Finland
Georgia
Ghana
Greenland
Guam
Guatemala
Honduras
Hungary
Iceland
Israel
Jamaica
Jordan
Kazakhstan
Kenya
Kuwait

Laos
Lebanon
Lesotho
Lithuania
Luxembourg
Macao
Macedonia
Maldives
Malta
Martinique
Mongolia
Morocco
Mozambique
Namibia
Netherlands
Nigeria
Northern Mariana Islands
Oman
Papua New Guinea
Paraguay
Peru
Pitcarin Island
Portugal
Saudia Arabia
Serbia
Sri Lanka
Slovenia
St. Kitts and Nevis
Swaziland
Sweden
Tanzania
Trinidad and Tobago
U.S. Minor Outlying Islands
Uruguay
U.S. Virgin Islands
Vanuatu
Vatican City
Venezuela
Vietnam
Yugoslavia
Zimbabwe

"We had two wonderful performances. The students did a superb job portraying the message, which brought me to the verge of tears."
Dorothy Loveland, Bayan School, Bahrain