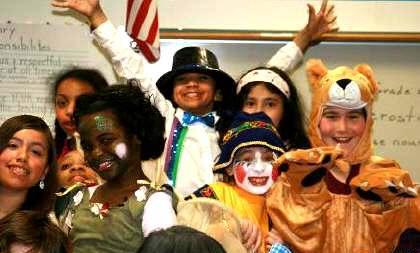 ArtReach Children's Theatre Plays
Great Plays for Great Kids!
Plays, Scripts, Musicals for Children, Kids, Teens, Families, Schools & Theatres
.
ArtReach Children's Theatre Plays offers
Award-Winning Scripts for Kids to perform. Our Christmas Musicals and School Play Packages are Perfect for Teachers and Students.
---
Teachers, this is what you are looking for! These School Plays are easy for you to stage and easy for kids to perform.
---
The School Play Package gives you everything you need and makes it easy to create a memorable performance at your school.
---
T

The School Play Package includes:
Master script to make as many copies you need for your cast.
Teachers Guide with classroom activities and help for new directors.
CD of Background Music and Sound Effects.
Performance license for first show.
---
Choose from straight plays or musicals. (Musicals come with backing tracks for kids to sing to.)
---
Teachers, these School Plays are written especially for elementary and primary school teachers to direct and large cast of students to perform.
---
No stage is necessary. Perform in your gym, cafeteria or any large room. The open staging makes it easy for all.
---
Dialogue is simple, fresh and easy to memorize.
---
School Play Packages are available for immediate download.
---
Every child in your cast has a fun role to play with their own lines or their own special action.
---
The School Play Package gives you the freedom and the rights to adapt the script to your school's special needs. You may add lines, songs and characters if you like.
---

"Thanks for all the wonderful plays you do!"
Jennifer Stearns, Beaverbank Kinsac/Sackville Heights Elementary, Nova Scotia
---
"Your scripts have been perfect for our students. Thank you for making affordable, engaging scripts that appeal to all students!"
Sarah Maggard, David T Wilson Elementary, Brandenburg, KY
---
"We have done your school plays for the last 5 years. I love them! They are written so appropriately for the kids to both understand and memorize. "
Karen Dietry, Teacher, Plain City Elementary, OH
---
School Plays for Children
Large Cast Scripts & Musicals for Kids to Perform

School Plays & Musicals written especially for young performers.
Perfect for a large cast of students and easy for teachers to direct.
---

Plays & Musicals Especially for Kids to Perform

Adapted for Young Performers: Speeches are short, dialogue and vocabulary are appropriate for child performers ages 6-12 or older.

Flexible Casts of around 25-35 Students: Doubling roles and adding extras possible for smaller or larger casts. Every role has a name and at least three spoken lines or significant action or movement.

Large parts are divided so that no one child becomes the "star" or has to memorize too many lines. Line counts and transitions are shown in the scripts.

About 40-45 minutes long: The plays are long enough to be substantial presentations and short enough to accommodate your teaching schedule.

Easy costumes and scenery: We provide many suggestions on how to create or find what you need to make a great looking production without breaking your budget.

Kids & Teachers Love ArtReach's School Plays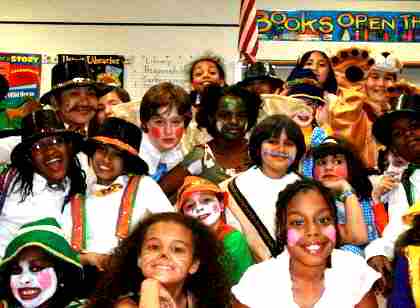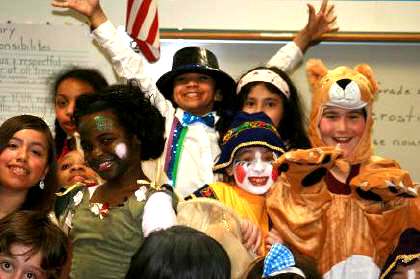 Alice E. Grady Elementary School, Pinocchio School Play Cast, Elmsford, NY