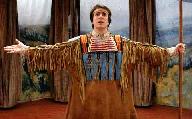 ArtReach Children's Theatre Plays
Great Plays for Great Kids!
Plays, Scripts, Musicals for Children, Kids, Teens, Families, Schools & Theatres
.
ArtReach's
Award-Winning children's scripts and plays have been professionally developed and performed in schools and theatres
worldwide.
---

"Your script was a joy to work with!"
Artistic Director, Allen Schmeltz, Sutter Street Theatre, Folsom CA
---
A Producers, ArtReach's award-winning plays have been performed in school gyms and on mainstages everywhere! They are written for small casts, excellent for Middle Schools and High School aged performers.
---

"I LOVED the script! It was beautifully written!"
Artistic Director, Tricia Oliver, Auburn Children's Theatre, AL
---
ArtReach's Plays have audience participation and educational themes!
---
All Scripts are one act plays with running times under an hour. These allow for morning and afternoon performances that fit into schools schedules.
---
Touring Plays have creative staging, minimal props, sets, and require little tech.
---
Every play has been professionally produced and is a proven success.
---
ArtReach plays have won Awards from the National Endowment for the Arts and the Ohio Arts Council.
---
Small Cast Children's Scripts
Award-Winning Plays For Kids & Young Audiences

Touring Plays for Children's Theatre Performances
One Act Comedies & Dramas for Mainstage and School Tours