'Treasure Island: Young Pirates of the Caribbean' is ArtReach's fun new musical for every kid who dreams of adventure!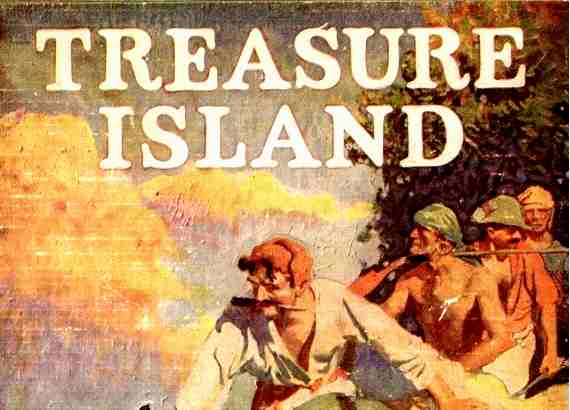 ---

"Everyone has put their unique mark on this wonderful production of 'Treasure Island'!"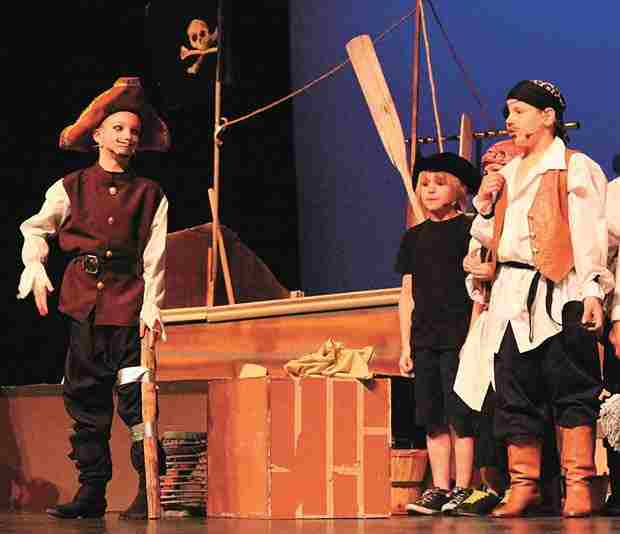 "From our audition day through dress rehearsal, the kids have made this their show!"
Jean Goad, Grand Rapids Players Summer Theatre Kids Camp
---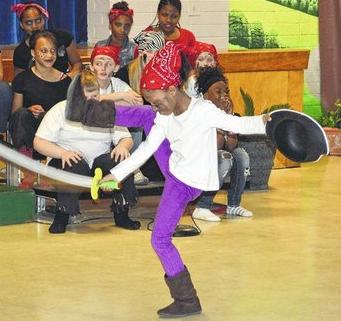 "The story features the young Jim Hawkins, a typical 10-year-old boy, who loves stories of adventure and pirate treasure. Fifth Grade Teacher Ellenburg, appreciates ArtReach's scripts for their flexibility and audience interactiveness."
The Garden Island Newspaper, HI
---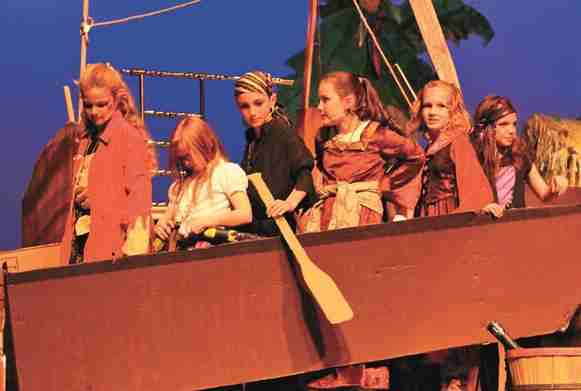 The Treasure Island School Play Package gives you the freedom to adapt the script to your needs. Add songs, lines, characters if you like. You also have the right to make a video/DVD of your special show!
---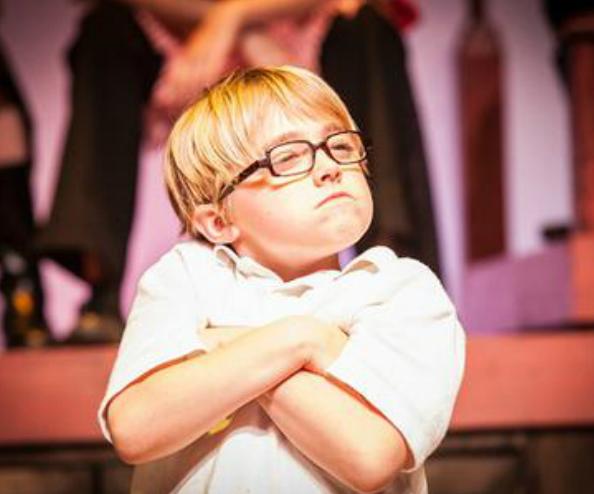 "Your scripts are some of the few that I have found that cater to the child actor as well as the child audience."
Island School, HI
---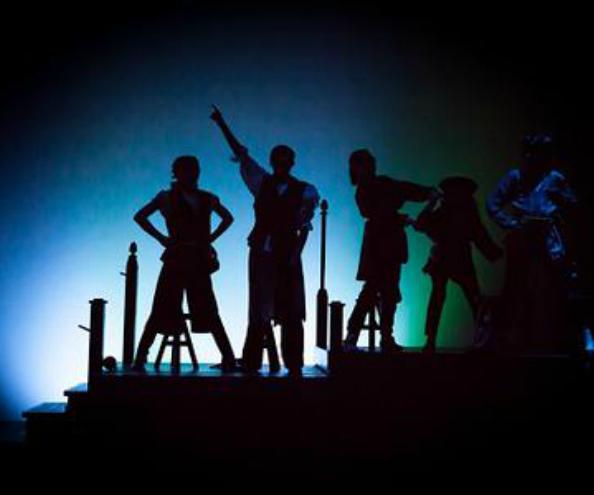 Robert Louis Stevenson's Classic Adventure Treasure Island book is adapted for the stage with easy songs and creative drama!
---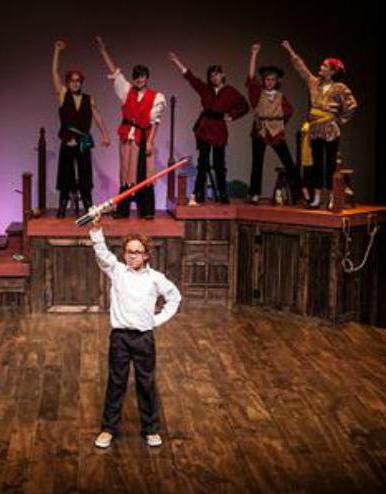 "Young Jill Hawkins and a crew of pirates including Long John Silver take us on an adventure for hidden treasure and fun! It's a great program that we put a lot of hard work and heart into and it pays off when you see their faces while they are on stage."
Nampa Civic Center's Musical Theatre Camp, ID
---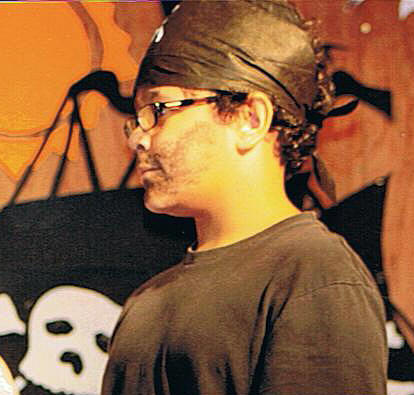 "Our Day Campers performed Treasure Island: Young Pirates of the Caribbean! All ages participated and made it a great show! We loved the fun songs!"
Gilman Day Camps, Baltimore MD
---

"After a week long camp, the Children's Glassworks Theater debuted Treasure Island: Young Pirates of the Caribbean! The kids did a great job!"
Northshore, Cleveland, OH
---

Jim Hawkins and Long John Silver can be played by more than one performer to ensure that no one child is the "star".
---

"We have performed your plays four times and I am never disappointed."
Jane Moores, 5th grade teacher, Crisafulli School, Westford, MA
---

"Unlike other publishers, ArtReach produces scripts that are uniquely kid and audience friendly!"
David Motroni, Christian Arts and Theatre, Corona, CA
---

"Our Club includes 3rd through 5th graders. We love your scripts!"
Jennifer Sypert, Floyd Elementary, Mesquite, Texas
---

"Your scripts have been perfect for our students. Thank you for making affordable, engaging scripts that appeal to all students!"
Sarah Maggard, David T Wilson Elementary, Brandenburg, KY
---

"My school performed one of your plays last year and we absolutely loved it! Thank you so much for creating these plays!"
Katelyn Cognetti, Mayfield, PA
---
"

I "I LOVE your scripts - and the kids do too. It makes life so much easier especially for our small school where I have huge turnouts for drama. Your scripts can make stars out of kids!"
Keith Wagner, St. Paul School, Leesburg, FL
---
"W

"Our school's extra curricular drama club has used your company for two years and we are so very pleased with the entire show kit!"
Erin Conley, Coyote Ridge Elem, Broomfield, CO
Treasure Island
Young Pirates of the Caribbean!

Robert Louis Stevenson's Classic Tale is a Musical Play for Kids to Perform!
FULL DOWNLOAD - Entire School Play Package with Soundtrack Files

Fun, New Pirate Adventure Script for Kids!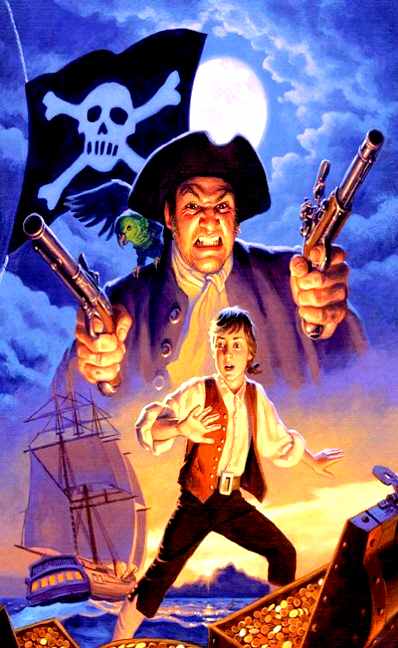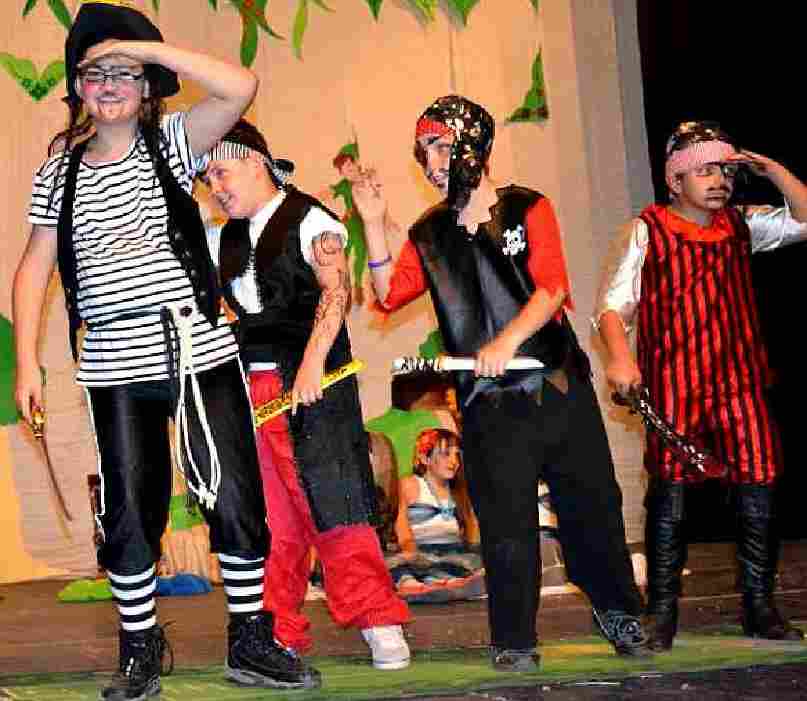 Poster, Spotlight Acting Company, Edmond, OK - English School, Republic of Macedonia
Ahoy, me hearties! Robert Louis Stevenson's classic adventure is adapted just for kids! Teachers, this fun new musical play engages every child in your cast! The simplified story and dialogue make it easy for kids to get their pirate on!

Kid-Friendly! Pirate Fun on the High Seas!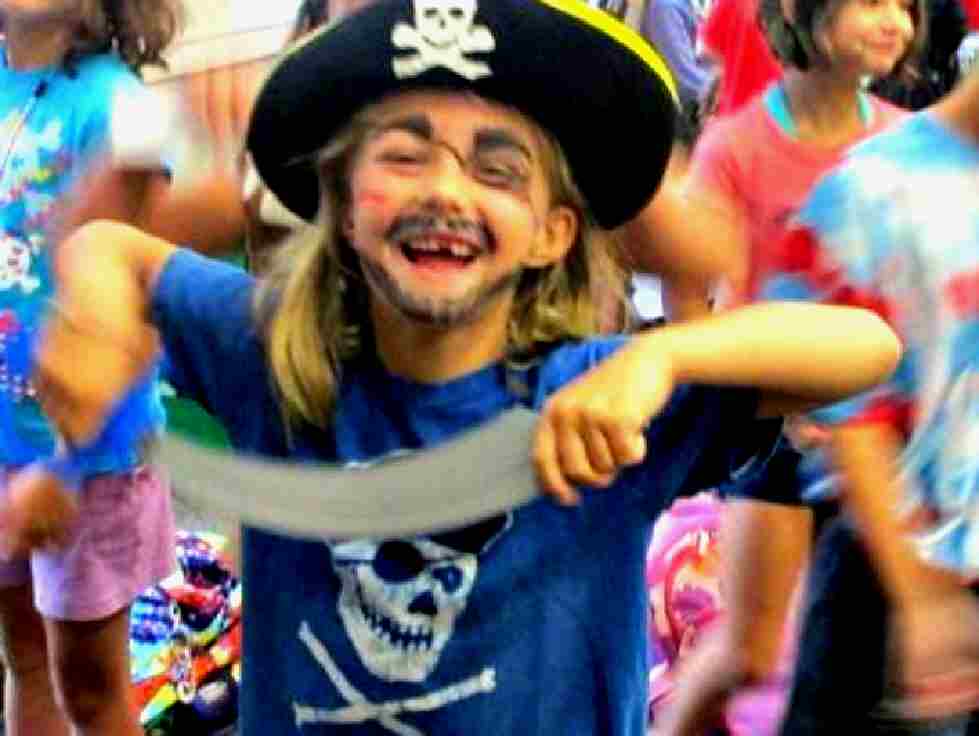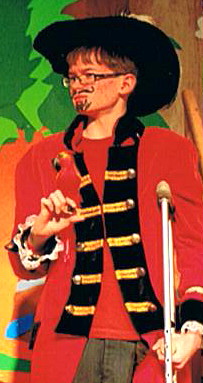 ESF Camps, Bryn Mawr, PA - Children's Theatre of Goderich, ON
This imaginative new script is full of fun pirate characters including Long John Silver and his talking parrot! Young Jim Hawkins is an ordinary boy looking forward to Halloween.

"We have thoroughly enjoyed working on TREASURE ISLAND! Our after-school students love your plays! Thank you for all you do!"
Courtney Susman of Greenbrier Valley Theatre (WV)!
---

Jim's fantasy comes to life when pirate Billy Bones steps right into his bedroom! Suddenly we're swept into the action of high seas adventure!

Lively Comedy! Easy Songs & Pirate Talk!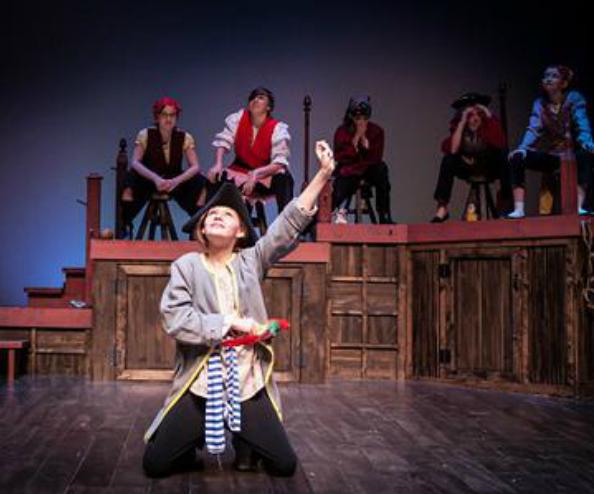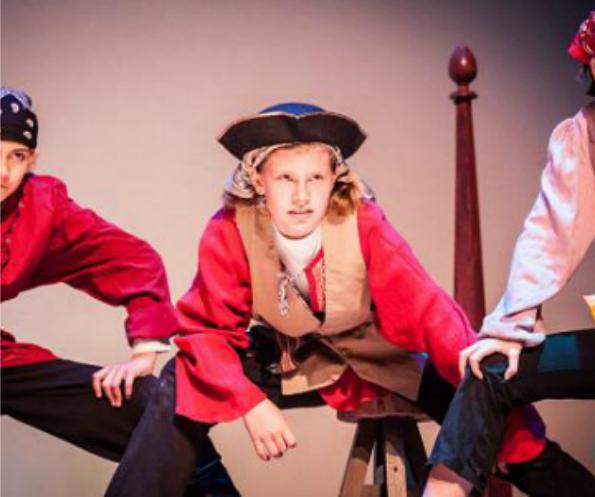 Greenbrier Valley Theatre, GVTweens After School Program, Lewisburg WV
Billy Bones leaves Jim a treasure map and we're off! Sailing on the Hispaniola to Skeleton Island! The ship's crew are a rowdy bunch, who are whipped into mutiny by the one-legged man
-- Long John Silver.

A Cast of Fifth Graders Sail the Ocean Blue!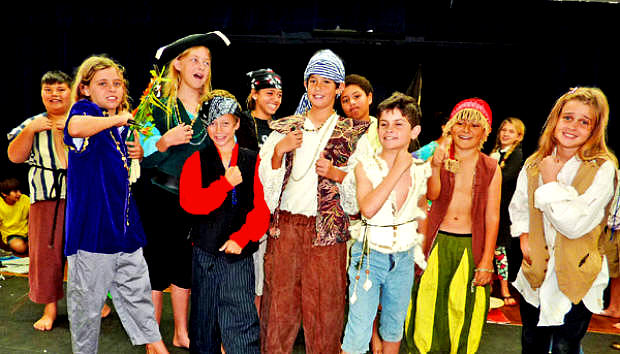 Garden Island School HI, Peggy Ellenburg Director
Storytellers keep the action moving fast, providing creative staging and audience participation. When the Captain
and his loyal sailors are captured, only our boy hero --
Jim Hawkins can save the day!
---

Easy to Adapt to Your School's Needs!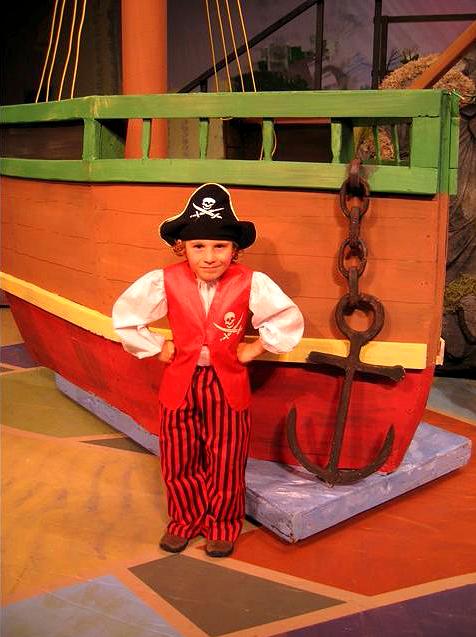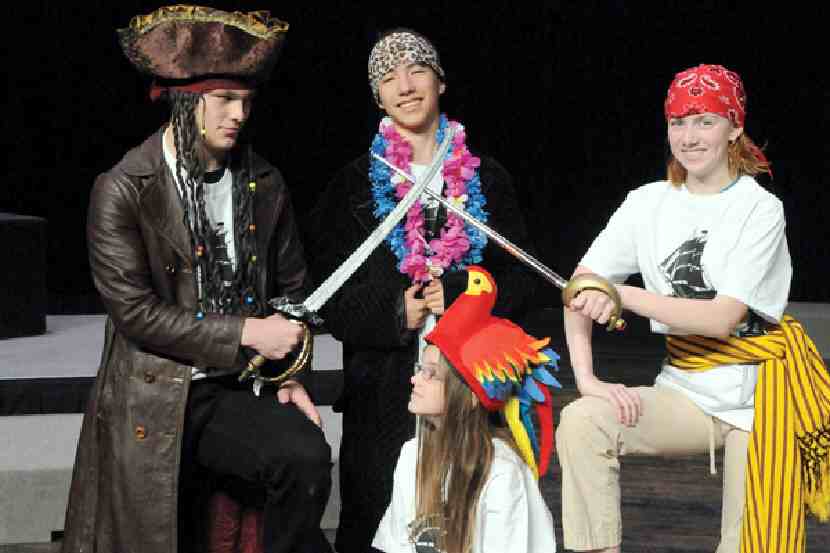 Bremerton Community Theatre Jr, WA - Nampa Civic Center Musical Theatre, ID
Jim discovers marooned pirate Ben Gunn and his hilarious band of Island Natives - and quickly uncovers the coveted treasure. When Jim tricks the pirates, Long John's mutineers turn against him and present him with -- The Dreaded Black Spot!

"Perfect for Large Casts of Fun-Loving Students!"



Tchefuncte Middle School, Mandeville LA
Jim and the ship's loyal crew sail away with the treasure! Before he goes, Long John Silver gives Jim his beloved parrot.

"The Foster Park Elementary School Drama Club — which consists of fourth and fifth-graders — wowed audiences with Treasure Island. They really made it their own."
T. J. Tyler, Foster Park Elementary School, Union SC

---

Treasure Island! Dramatic Fun for Your School!

English Language School, Republic of Macedonia - Nikolaus Homestead, AZ

Back at home, Jim's new bird is a hit with his friends. It's time for trick or treating and guess what? Everyone is dressed as a pirate! Argg, me maties, they're pirates!

"The classic story is told through the lens of Jim Hawkins and is made "more fanciful" and "child-friendly" through his eyes. 'This is the first that we've done on a professional level. We're really going all out. It will be a thrill for audience members.'"
News and Advance, Lynchburg VA, Rockfish River Elementary School

---

Kid-Friendly and Age Appropriate!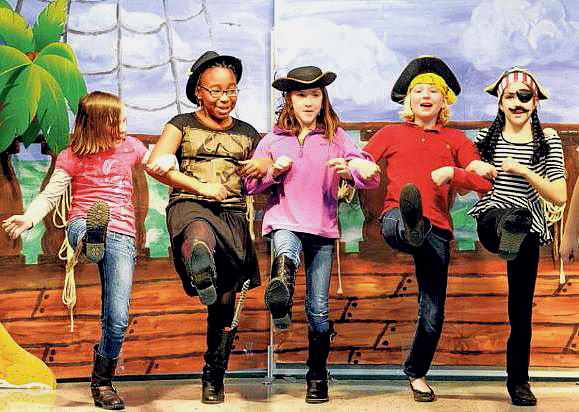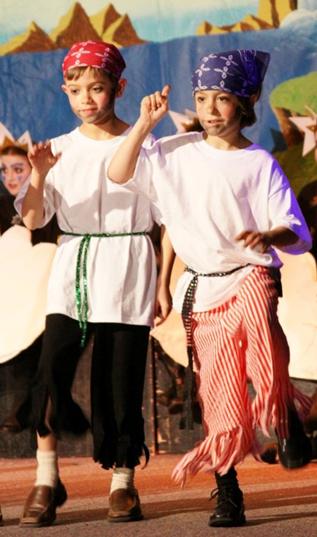 Rockfish River Elem, Lynchburg VA - Newport Heights Elem, Bellevue WA
ArtReach's version of Treasure Island is just for kids! The story and many characters remain true to the beloved book. By placing Jim Hawkins in present day, we see the story as his fantasy. This adds fun and imagination to the action while softening some of the rougher aspects of Stevenson's pirates. Every part of ArtReach's version is appropriate for young performers!

Just for Kids: Speeches and vocabulary are appropriate for child performers ages 6 - 14. Lots of Pirate Talk with a glossary in the Teachers Guide.

A Flexible Cast of 30 Students: Easily adapted for a smaller or larger cast. Add as many roles as you like!

Great Parts for Boys and Girls: Who says pirates have to be boys? Not us! Every role in the play can be performed by a boy or girl!

About 45-55 minutes long: Long enough to be a substantial project and short enough to accommodate your teaching schedule.

Easy Costumes and Scenery: Many suggestions on how to create or find what you need to make a great looking production without breaking your budget!

A Musical Soundtrack: Treasure Island has a backing track CD with familiar tunes. Songs are easy for children to learn and perform.

Ho Ho Ho and a Bundle of Fun!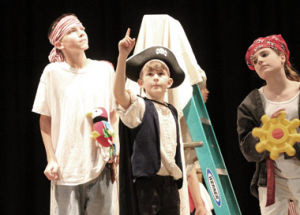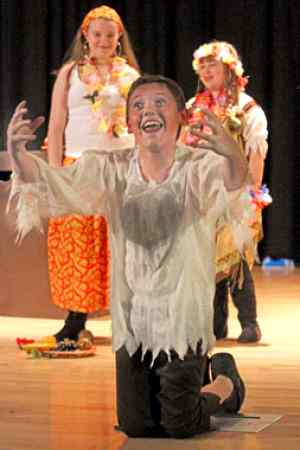 All-Kids Large Cast Treasure Island - Maricopa Children's Theatre, AZ
---

Argg! Me Hearties! Kids Love to Play Pirates!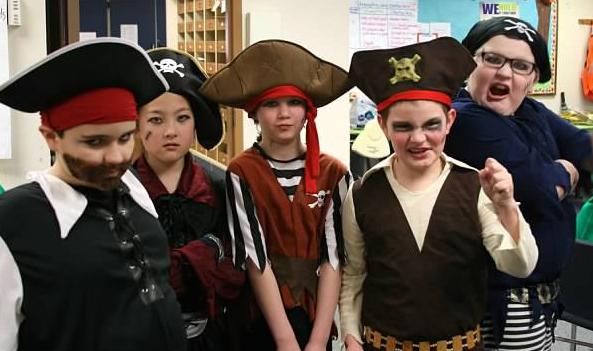 Shoultes Elementary School, Marysville, WA
"I have used your scripts for the last 5 years for my students.
It is always a FABULOUS production!"
Chris Bloese, South Broward High School, Hollywood, FL

"Such a Wonderful Script!"

Madison Avenue Performing Arts, Spring Hill KS

---

"Our performance was spectacular!"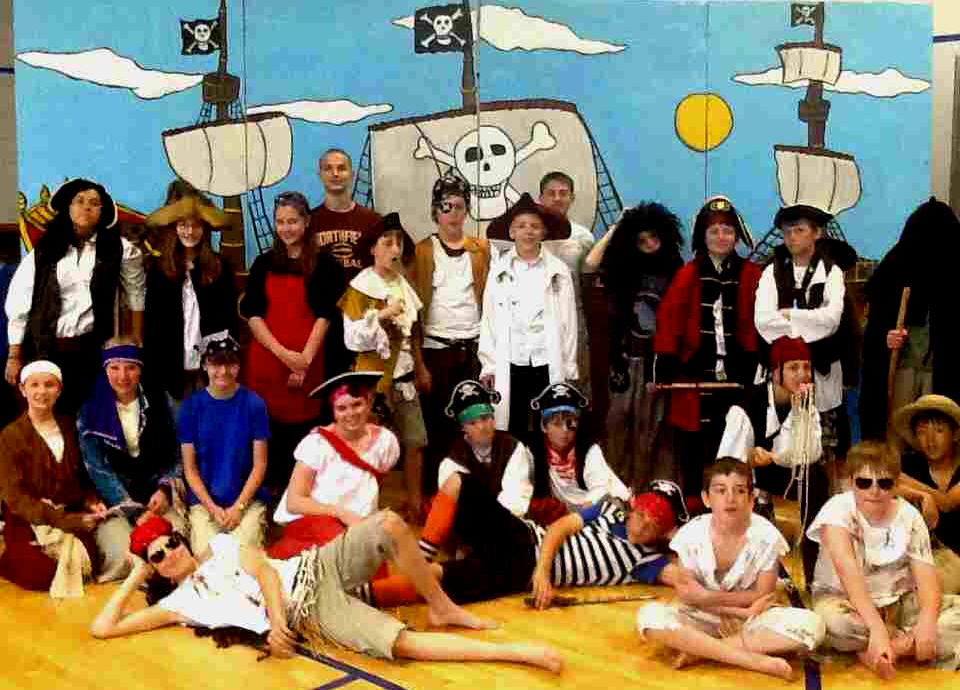 St. Dominic's School, Northfield, MN
"It was AWESOME! The kids loved it, parents loved it. We had a full cast plus we added 30 kids. We have a K-8 school, with 3-8th grade participating. Again, it was PHENOMENAL!"
Mrs. S. Timmerman, Sculptor Charter School, Titus, FL
---