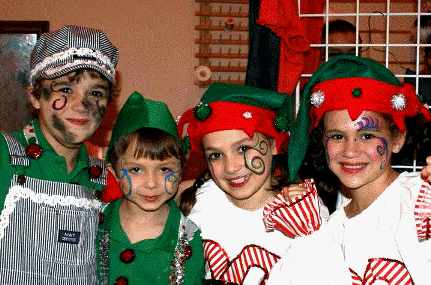 ArtReach Children's Theatre Plays
Great Plays for Great Kids!
Plays, Scripts, Musicals for Children, Kids, Teens, Families, Schools & Theatres
.
ArtReach "The Very Bestest Christmas Present" is a short easy project to brighten the holidays!

---

Running Time: 15-20 minutes.
---

Cast of 13+, all can be Male or Female.
---

Easily adapted for smaller/larger cast.
---

This short, hilarious skit was written for performances at the mall during Christmas. It's a great way to present something creative for Christmas -- without a lot of work!
---

Script includes sheet music for one song: "The Very Bestest Present". This song is sung throughout the performance.
---
The Very Bestest Christmas Present

Easy, Short Skit for Kids! Hilarious Fun for the Holidays!
Poor Norman. He's come to the mall to get "the very bestest present in the whole wide world" and he's only got fifty cents!
"Thank you for providing us The Very Bestest Christmas Present! We had a lot of fun practicing and performing it and when we were through the kids wanted to know what the next play was going to be!"
Kelly McClain, Marysville Theatre for Young Actors, WA

The mall is full of tricksters and busy bodies but Norman holds tight to his dream: "the very, very..." well, you get the idea. At last Santa steps in and knows just what to do with those meager coins.


And Norman goes away a happy boy!
---

NOTE: This is not a School Play Version or School Play Package.
Questions? Call (941) 753-3222.
Production Information

Audience

Elementary Schools, Parents, Teachers, Families, Community

Cast

13+, all can be male or female! Larger/smaller cast possible. There are 13 characters with names, unlimite number of other performers.

Time

About 20 minutes, about 15 pages.

Music

Script includes piano/sheet music to one song to be sung throughout ("The Very Bestest Present")

Perusal Script

$7.95 (Contains sheet music)

Royalty

$50.00 First performance, right to copy script.
$25.00 Each additional performance.
(Details)