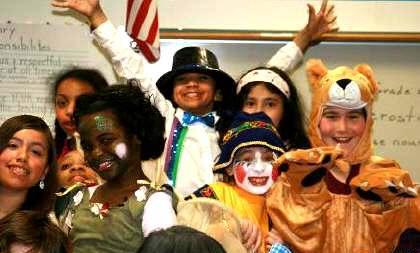 ArtReach Children's Theatre Plays
Great Plays for Great Kids!
Plays, Scripts, Musicals for Children, Kids, Teens, Families, Schools & Theatres
.
ArtReach offers Award-Winning Children's Scripts and Plays for Schools, Families and Young Audiences.
---

Read free script samples, hear sound cues, see cast lists and more.
---

"ArtReach's plays always make me look like a genius!"
Deborah Eischen, Teacher, Martinez Middle School, Romeoville, IL
---
C

"My school's drama club has been using your plays for 7+ years and we love them all!"
Nancy Hamrick, Jackson Elementary School, GA
---
"

"I had the entire script and cues downloaded within 15 minutes. WOW! My mind's juices are flowing with ideas!"
Bruce Birch, Carson Elementary School, BC Canada
---
I

"I loved the new script, The Jungle Book. Very well done. I love your scripts!"
Zach Hodge, Peru Elementary School, Dixfield ME
---
.

Award-Winning Children's Theatre Plays


"Your scripts are simply THE BEST for kids!"


Sarah Ackerman-Hale, Broadway Review, Kansas City
FULL DOWNLOAD available for ALL SCHOOL PLAY PACKAGES
ArtReach Plays celebrates over 30 years of great scripts, plays and musicals for schools, families, kids, theatres and young audiences around the world.
School Play Packages, Instant Download & Same Day Shipping
"Our Performance was SPECTACULAR!"
Molly Callender, Langley Christian School, BC Canada
Order Your Play, Script or Musical Package Today!
SECURE ONLINE CREDIT CARD ORDERS (Instant Download)



Phone Orders: 941-753-3222 (M-F, 9-5 EST)
Fax Orders: 941-753-5407 (Fax & Mail Form)
Credit Card, Check or Purchase Order
Thousands of Shows Worldwide
ArtReach's plays and musicals for young audiences have been performed around the world. Our large cast School Plays and Musicals are written especially for young kids to learn, enjoy and perform. We also offer One Act Plays for older Middle School and High School students. ArtReach's Award Winning Touring Plays are perfect for theatres to perform in schools for young audiences and students. Our Christmas Musicals and Halloween Plays make seasonal celebrations special.
--- ACROSS THE GLOBE ---
Over 15,000 Productions in 124 Countries!