ALICE IN WONDERLAND
Large Cast School Play for Young Performers

Large Cast Script Includes Everyone!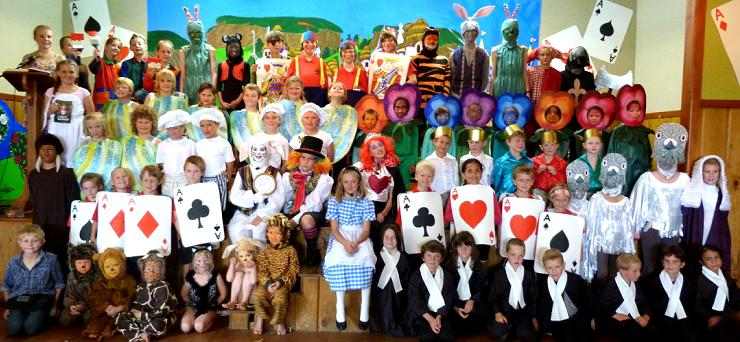 Karapiro School, Cambridge, New Zealand
Welcome to Wonderland where everything is curiouser and curiouser! This innovative children's script brings Lewis Carroll's beloved classic to life!

---

Kids Love ArtReach's Alice!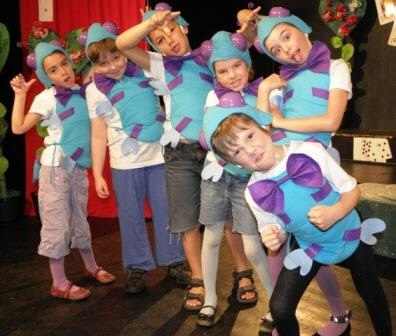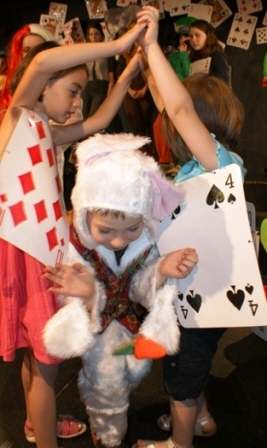 Dramaworks Theatre Company, Budapest

All your favorite characters are here: Alice, White Rabbit, Cheshire Cat, Mad Hatter and of course, the Queen of Hearts! The use of Storytellers and open staging brings flexibility and comedy to the production!

Easy to Memorize and Have Fun!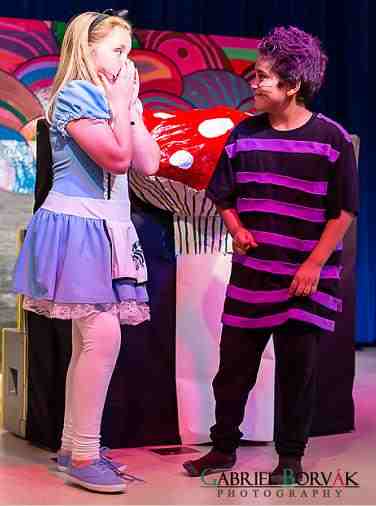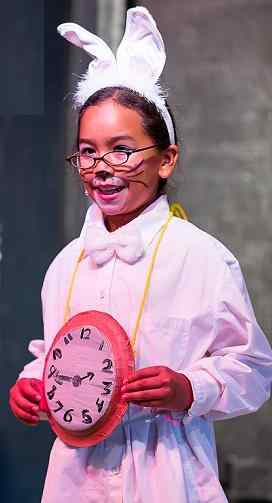 Brandenburg Elementary School, Irving, TX

Lots of Audience Participation!
---

Every Child Has a Great Part in the Play!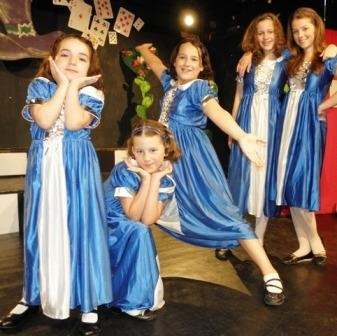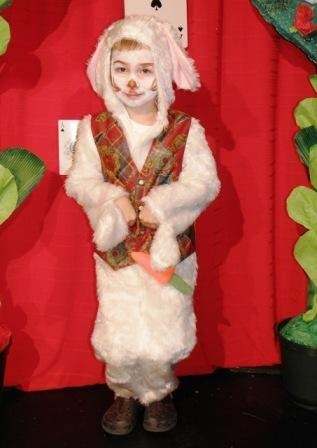 Dramaworks Theatre Company, Budapest
"The audience laughed and loved it! Thank you for adapting this wonderful story to accommodate our K-5th grade stars!"
Arlene I. Krausz, Darby Avenue Elem School, Northridge, CA

"The Audience Laughed and Loved It!"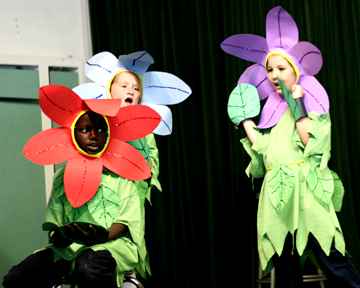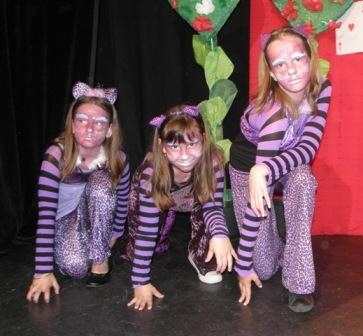 Pinecrest Elementary School, Van Nuys -- Dramaworks, Budapest
"We love your easy to use scripts and short lines for kids to memorize!"
Julie Echelmeier, Higginsville Theatre Company, Youth Theatre Academy

---

Easy to Adapt to Your School's Needs!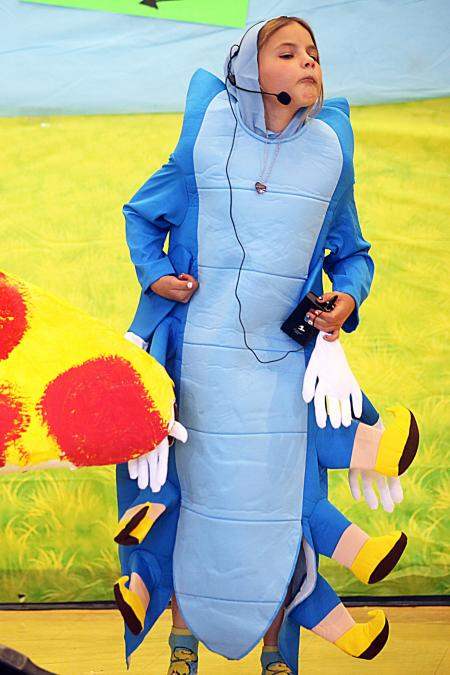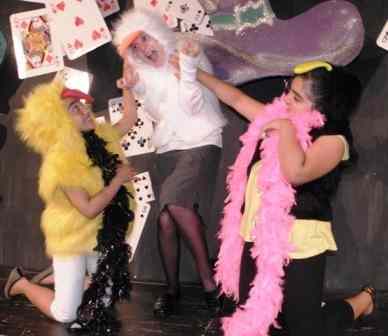 Valley View Elem School, Sierra Vista, AZ - Dramaworks, Budapest
The School Play Package gives you the rights to adapt the play to your needs. Add songs, lines, characters. You may also make a Video/DVD of your special performance!

"It was great fun and a huge hit!"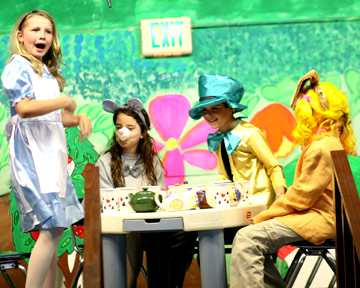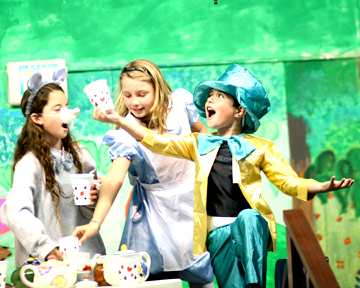 Pinecrest Elementary School Drama Club, Van Nuys CA
"Our community theater performed Alice in Wonderland this past weekend! It was great fun and a huge hit! The children are already asking what play we are planning next. We will definitely use ArtReach Plays again!"
Mandi Stutsy, Teacher, Pontotoc Community Theater, MS

---

Written Just for Teachers and Students!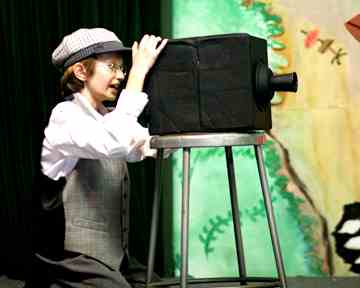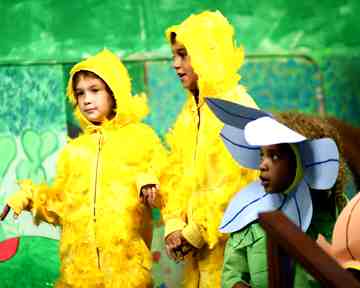 Lewis Carroll Runs the Show! -- Pigeons, Storytellers!
Pinecrest Elementary School Drama Club, Van Nuys, CA
Just for Kids: Speeches and vocabulary are appropriate for child performers ages 6 - 12.

A Flexible Cast: 24 or more students, doubling and extras possible. Every role has a name and at least three spoken lines.

About 40-45 minutes: Long enough to be a substantial project and short enough to accommodate your teaching schedule.

Alice can be played by up to 5 children to ensure that not one child is the "star".

Easy costumes and scenery: Many suggestions on how to create or find what you need to make a great looking production without breaking your budget!

Sure to Be a Big Hit With Family Audiences!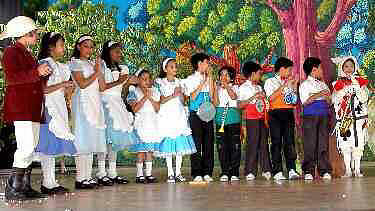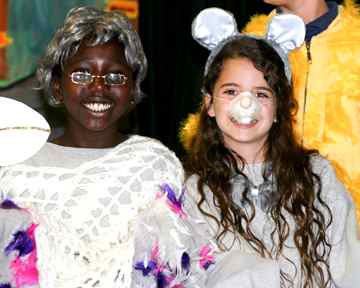 Greenwood Kindergarten - Pinecrest Elementary School
---

Five Alices! Everyone's a Star!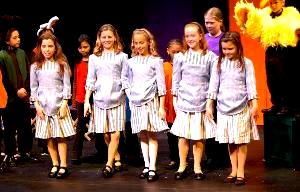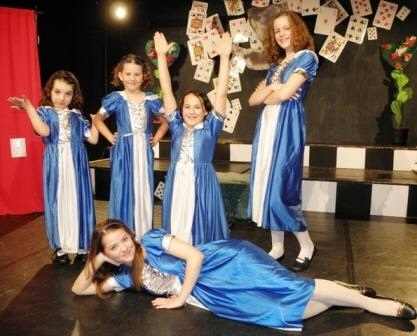 Solano Youth Theatre, CA - Dramaworks, Budapest
Casting Option: The script allows for five Alices giving more girls the chance to play their favorite part!

"We love your children's plays! We did Alice in Wonderland with 75 students, and every child had a part! We loved that we were able to expand the numbers to fit our drama club. It is very hard to find scripts for large groups (over 90 this year)."
Karen Dougherty & Nancy Lockhart, Jackson School, Lawrenceville, GA

Students Perform Together As a Team!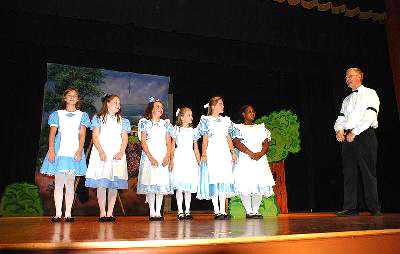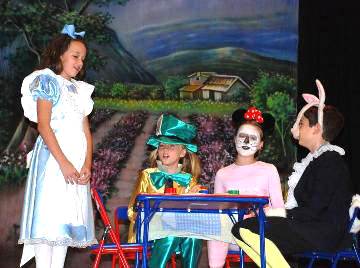 Pontotoc Community Theater, Pontotoc, MI
---
Alice in Wonderland
Has 3 Versions



Small Cast
Touring Version
Cast of 2, Adult Actors.
(1m, 1f)





Medium Cast Version
Flexible Cast of 14, grades 6-12
(1m, 1f, 12 m/f)

Large Cast
School Play Version (this page)
Flexible Cast of 24, grades K-6
(1m, 5f, 18m/f)
---
Storybook Magic On Your Stage!

Pinecrest Elementary - Greenwood Kindergarten - Dramaworks

ALICE IN WONDERLAND
Large Cast School Play for Young Performers