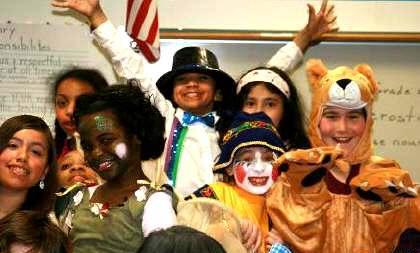 ArtReach Children's Theatre Plays
Great Plays for Great Kids!
Plays, Scripts, Musicals for Children, Kids, Teens, Families, Schools & Theatres
.
ArtReach
Award-Winning Children's Plays, Christmas Plays, Christmas Musicals for Young Performers, Children, Halloween Plays, School Plays and Scripts for Large-Cast, Small-Cast Plays. ArtReach Shows for Young Audiences. One Act Plays, One Act Dramas, Comedies for Middle Schools and High Schools. Plays for Touring to Schools, Educational Outreach Theatre. ArtReach One Act Musicals for Children and Young People.
---

Winner of a National Endowment for the Arts Playwriting Award.
---
School Plays for Teachers and Students!
---

Winner of five Ohio Arts Council Playwriting Awards.
---
Classic Literature, Large Cast Scripts made simple and easy for Kids!
---

Ohio Theatre Alliance Award: "Outstanding Contribution to Theatre"
---
Fun, Innovative School Plays, a Delight for Children to Stage and Perform!
---

Post-Corbett Award for "literary excellence in Playwriting."
---
ArtReach Creative Children's Theatre Scripts and Plays!
---

Kathryn Schultz Miller's work has been Featured in Twenty Great Plays for Children, published by St. Martin's Press, Foreward Maurice Sendak
---
Children's Plays, Plays for Schools! Scripts Kids Love to Perform!
---

"Thank you for such a wonderful script. Our performance was SPECTACULAR! Thanks for your help in making it a magical evening for my kids."
Molly Callender, Langley Christian School
---
Large Cast Plays and One Acts, School Play Packages, Perfect for Schools, Assemblies!
.

School Play Package
EVERYTHING YOU NEED FOR A GREAT PRODUCTION!
THE SCHOOL PLAY PACKAGE HAS EVERYTHING!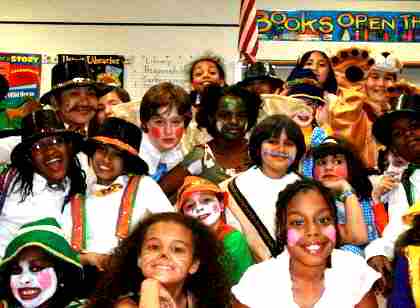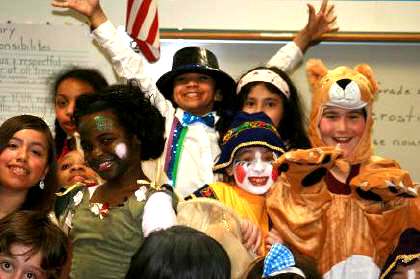 Our SCHOOL PLAY PACKAGE contains everything you need to perform our Large Cast Children's Plays at your school or organization... No need to purchase multiple scripts... No special royalty quote... No separate royalty payment (first performance)...
Order the SCHOOL PLAY PACKAGE and you're done -- start rehearsals right away!

Here's what you get...


Make as many copies as you need for your cast!
No need to buy more scripts or playbooks...
Large print, standard size paper, single staple...
Easy to copy at school, copy centers, anywhere...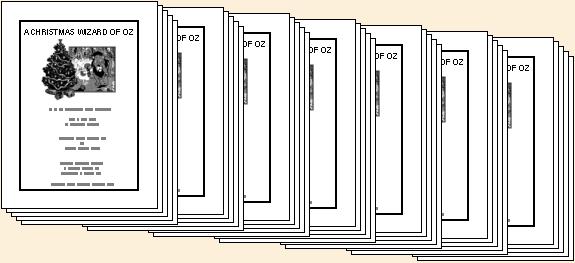 Comprehensive Study Guide and Production Guide
STUDY GUIDE: synopsis, background, author bio, classroom activites.
PRODUCTION GUIDE: information, ideas, and suggestions to help you and your students create, rehearse, and perform the play.
--------------------------------------------

Sound Effects... Background Music...
( Includes Piano Accompaniment for Musical Plays )
The CD Soundtrack contains special sound effects and background music that may be used to greatly enhance the performance.

For our Musicals and Christmas Musical Plays, it also contains piano music to accompany the performers and audience as they sing the songs.
(SONG LYRICS and SHEET MUSIC are included in the Teachers Guide.)

4. PERFORMANCE LICENSE (Reg $60.00)
( DOWNLOADABLE -- PDF file )

Rights to copy the Master Script for your cast
and
Royalty for the FIRST performance.
( For two or more performances order the Additional Performance Licence at $45.00 for each additional performance after the first. )

---




THE SCHOOL PLAY PACKAGE
HAS EVERYTHING YOU NEED!
Order online today and start rehearsals right away!
Order School Play Packages!

One payment for everything you need to perform these large cast children's School Plays at your school or organization. No need to purchase multiple scripts, no royalty quote, no separate royalty payment. Order the School Play Package and you're done -- start rehearsals immediately!
The SCHOOL PLAY PACKAGE Includes:
1. Master Script ($9.95)
2. Teachers Guide ($9.95)
3. CD Soundtrack ($29.95)
4. Performance License ($60.00)
(License: Rights to copy script, Royalty for one performance)

Get Everything ($109.85 value) - Only $99.95
( SAVE MORE $$$ WITH FULL DOWNLOAD - NO SHIPPING COSTS! )
---