A Thousand Cranes
Large Cast School Play for Kids to Perform

---
A THOUSAND CRANES (Large Cast Version)
CAST LIST
Running Time: About 40 minutes
Flexible cast of about 17-38, 6 Male, 5 Female, All others M/F
Easily adapted for larger or smaller cast
CHORUS: (up to 10), Male or Female
CHORUS 1 (M/F, 18 lines)
CHORUS 2 (M/F, 18 lines)
CHORUS 3 (M/F, 18 lines)
CHORUS 4 (M/F, 17 lines)
CHORUS 5 (M/F, 17 lines)
CHORUS 6 (M/F, 17 lines)
CHORUS 7 (M/F, 17 lines)
CHORUS 8 (M/F, 17 lines)
CHORUS 9 (M/F, 17 lines)
CHORUS 10 (M/F, 17 lines)
HOSPITAL PEOPLE: (up to 4), Male or Female
HOSPITAL 1 (M/F, 12 lines)
HOSPITAL 2 (M/F, 10 lines)
HOSPITAL 3 (M/F, 10 lines)
HOSPITAL 4 (M/F, 11 lines)
SPIRITS: (up to 4), Male or Female
No lines, Significant movement
SADAKO: (up to 8), Female
SADAKO #1 (F, 17 lines)
SADAKO #2 (F, 24 lines)
SADAKO #3 (F, 8 lines)
SADAKO #4 (F, 11 lines)
SADAKO #5 (F, 13 lines)
SADAKO #6 (F, 10 lines)
SADAKO #7 (F, 10 lines)
SADAKO #8 (F, 9 lines)
KENJI: (UP TO 4), Male (or Female)
KENJI #1 (M/F, 16 lines)
KENJI #2 (M/F, 8 lines)
KENJI #3 (M/F, 13 lines)
KENJI #4 (M/F, 5 lines)
MOTHER (M/F, 19 lines)
FATHER (M/F, 17 lines)
GRANDMOTHER (F, 26 lines)
EMPEROR SPIRIT (M/F, Significant movement)
MR. ARAKI (M/F, 1 important speech)
MRS. WATANABE (M/F, 1 important speech)
DAISUKE (M/F, 1 important speech)
---
"A Huge Success! Easy to Stage!"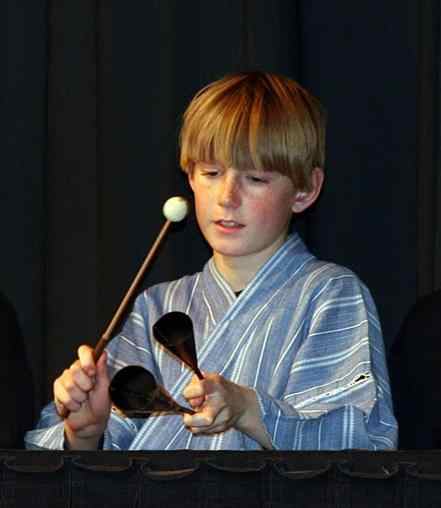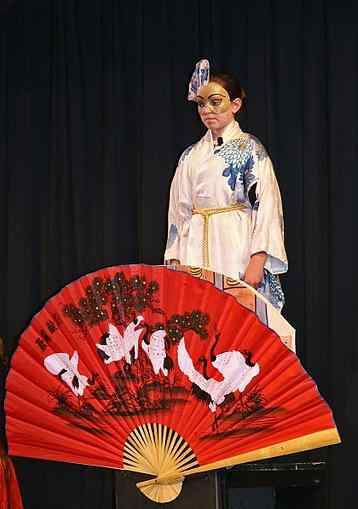 5th Graders, Upland Country Day School, Kennett Square, PA
"My Year 6 students performed A Thousand Cranes three times last week and each performance was a huge success. Thank you for such a great script that was easy to stage and which had such a beautiful and moving message!"
Mary Westall, St. Therese Primary School, Sydney, Australia

---

A THOUSAND CRANES (Large Cast Version)
WHY IS THIS PLAY BEST FOR YOUR SCHOOL?

Written especially for young people to perform.
While you may find large cast plays from other publishers, most of those were originally written for adults or professional actors to perform. They often contain difficult dialogue, unfamiliar or complex language, and speeches too long for young children to memorize. They may even contain jokes, innuendos and subject matter that may not be appropriate for children.

Easy to understand and memorize.
Dialogue is simple, fresh, quick and humorous, keeping the action flowing without stops and starts between scenes. This keeps young people and young audiences engaged throughout the performance - no awkward pauses, no dead-time, no wiggles!

Everyone participates!
All children are involved throughout the performance. This builds confidence, promotes team spirit and eliminates rehearsal rowdiness. The audience is often asked to join in the fun, and action often spills into the aisles! All of our SCHOOL PLAYS give suggestions on how to divide up large parts (such as Snow White or Cinderella) among several performers so that no one child is the "star".

Feel free to edit! Go ahead and tape it!
Most publishers insist that no changes may be made to their scripts. We know that your goal is to engage every child in the most meaningful way and that your needs are unique. Cut, eliminate, re-assign lines, or add as much as you like! Also, there are no restrictions on video tapes. Parents want a tape or DVD to remember their child's big moment. Go ahead and tape away!

---

A THOUSAND CRANES (Large Cast Version)
A NOTE FROM THE PLAYWRIGHT

Some years ago my husband and I were watching a nature documentary on television about the whooping crane. As an aside, they mentioned what the crane means in Asian cultures and told the brief story of Sadako and her paper cranes. My husband suggested it would make a great play for kids. I nearly laughed at him. A play about Hiroshima for children? They could never understand! And besides it would never sell!

Of course, the story stayed with me and against what I thought was my better judgment I took a chance and produced A Thousand Cranes for my theatre company, ArtReach. Since then, this little play seems to have flown on its own wings all over the world. I have seen it many times, in countless styles, with music and dance, small cast and large, amateur and professional. It's quite a durable little story; it seems to stand up under any circumstances.

The most important advice I can give you is to forget about making it perfect. No one is paying big money to see it; no one expects a Hollywood hit. It's not important that the kids memorize all the lines, let them carry a script. Let the audience see all of it; the changing of costumes, the playing of instruments, eight Sadako(s). Let them see the children stumble and triumph as Sadako did.

Sadako's message of peace becomes more meaningful everyday. The heartbreak of current events belongs to all of us, even the children. By tackling A Thousand Cranes, you and your young friends will take an active role in keeping Sadako's healing strength and hope alive.

Thank you so much for choosing A Thousand Cranes. I hope you and your young friends have a most successful production!

- KSM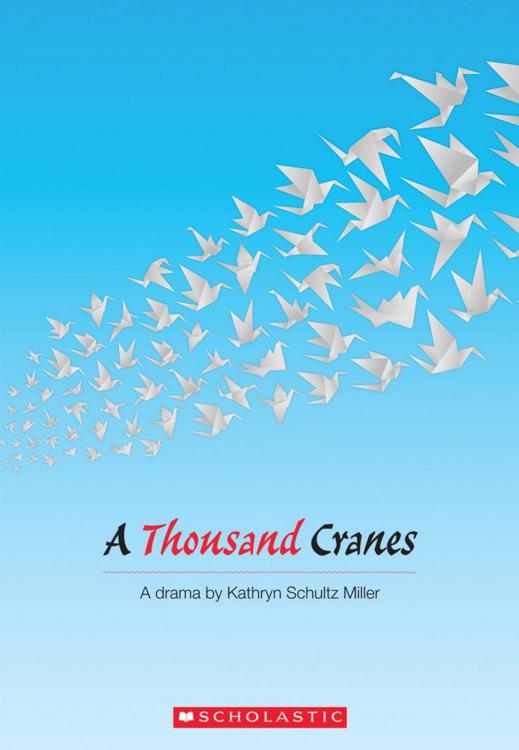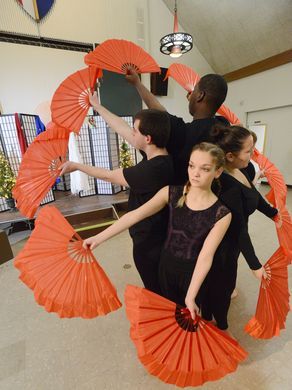 Published by Scholastic - Centenary Stage Co. NJ
---
A THOUSAND CRANES (Large Cast Version)
CD SOUNDTRACK CUES
Cues, sound effects, original background music

The CD Soundtrack contains special sound effects and background music (original music written for the play) that may be used to greatly enhance the performance. It does not contain music for the performers to sing along with. Cues have 10 seconds of silence at the end - times shown below include silence.
[ Click on [sample] to hear a short sample of the indicated cues ]
1. CRANE FOLDING / A-BOMB (2:09) [sample]
2. RUNNING MUSIC (1:44) [sample]
3. HOSPITAL VOICES (1:14) [sample]
4. KENJI CRANE FOLDING (1:06)
5. KENJI FROG (0:48) [sample]
6. HOSPITAL / FOLDING (1:21)
7. FOLDING / FLYING (repeat) (6:58) [sample]
8. A-BOMB (0:38)
9. FOLDING / CURTAIN CALL (5:05)
---
Note: Some teachers choose familiar songs, obtain sheet music and insert these songs into the play. We recognize that each school has a wide variety of educational needs to fulfill and we invite you to be creative in your use of our scripts; including changes or additions that are appropriate for your students. As author/publisher of our own creative works, we do ask that you obtain proper copyright permission for any additions you might make - that responsibility is up to you.

Music & Sound Resources Available on the Internet
( Sheet Music, Song Books, CDs, DVDs, Sing-along, Karaoke, Sound Effects )

---
"Such an Inspiring Play!"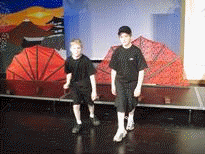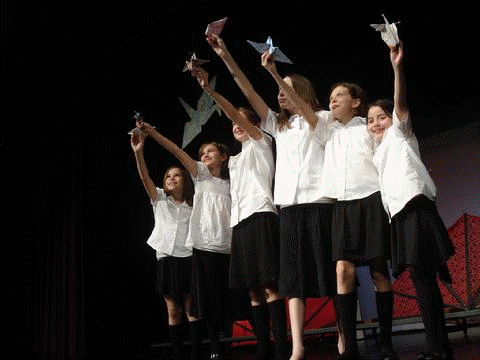 Bednarcik Junior High School, Oswego IL
"Thank you for writing such an inspiring play. I've been teaching drama for three years at St. Mary Magdalen and never have my students been more engaged with a story."
Anne Mantha, St. Mary Magdalen School - Hazel Park, MI

---
A THOUSAND CRANES (Large Cast Version)
SCRIPT SAMPLE
A Thousand Cranes has many light moments! This is a fun, lively exchange between Sadako and her friend Kenji.
(Script pages 8-9)

(CHORUS picks up beat , and begins to count, quietly...)

CHORUS: Sixty-seven, sixty-eight, sixty-nine, seventy...

(KENJI comes bounding into playing area, out of breath and laughing. He begins to count, determining by how many seconds he has won the race with SADAKO.)

(Fading.) Seventy-one... seventy-two... seventy-three...

KENJI: One... two... three... four...

(SADAKO runs into playing area, out of breath and laughing.)

Beat you by four seconds!

SADAKO: Four? You're lying!

KENJI: It was actually four and a half but I let you have that.

SADAKO: Oh, you... (Slumping.) You always win! You should let somebody else win sometime.

KENJI: Why, Sadako. You can't mean that I should cheat so that you can win.

SADAKO: It wouldn't be cheating so much as... polite.

KENJI: (Laughing.) And I suppose when you run in the girl's contest next month you'll want the judges to be polite and let somebody else win.

SADAKO: Well, no.

KENJI: I thought so.

SADAKO: Oh, Kenji, do you think I have a chance to win?

KENJI: You? You win the race against the fastest girls in Hiroshima? You can't win.

SADAKO: Why not?

KENJI: Because you're a turtle that's why. A great big lumbering turtle.

(He pretends to become a turtle, laughing at his jest.)

SADAKO: I am not a turtle!

KENJI: Yes, you are.

SADAKO: Am not.

KENJI: Are too.

SADAKO: Well, if I'm a turtle, then you're a frog!

KENJI: A frog?

SADAKO: Yes. A great big green one with warts all over it.

KENJI: Sadako, you can't possibly mean... croak!

(KENJI pretends to be turning into a frog.)

Well, where on earth could that have come from? Croak!

SADAKO: Oh, you.

KENJI: Look, Sadako, my hand is turning all green... croak! ...and it has warts all over it.

(He crouches to a frog position and sticks out his tongue, leaping around, croaking. He uses the bill of his cap to indicate the mouth of a croaking frog.)

Croak! Croak!

SADAKO: (Laughing in spite of herself.) Now you stop that.
---
Note: This is a sample from the actual script. To review the entire play, order the PERUSAL SCRIPT (online instant download). Or to save 20% on the full production kit and royalty for one performance, order the SCHOOL PLAY PACKAGE (below) and start rehearsals today!