FREE RESOURCES: Behind the Scenes [ Page 1 ]
Background info about the stories and themes of ArtReach's plays
< Prev | 1 | 2 | 3 | 4 | 5 | 6 | Next >
2019 Adelaide Fringe Show Announcement!
Author: The Gemini Collective, AU - How to fold a Paper Crane tutorial

The atomic bomb that dropped on Hiroshima changed everything, especially for 12-year-old Sadako Sasaki. In a concord of contemporary dance and original music her true story, captured in A Thousand Cranes play by Kathryn Schultz Miller, lives on. Following a five-star debut in 2018, The Gemini Collective pay homage to the girl who sparked a movement of peace.

"These paper cranes were folded from medicine wrapping paper and other scraps by Sadako Sasaki, who was hospitalized with Leukemia, causes by the atomic bombing. In Japan it has long been believed that a wish would be granted to those who folded a thousand paper cranes. Sadako folded paper cranes hoping for a cure, but her condition only worsened. She died after fighting her disease for eight months."

"The girl who sparked a movement of peace."

Picture taken from our trip to Japan in August 2017.

If you have children around Yr 3 age and upwards, we would love for you to come and see our 2019 Adelaide Fringe performance 'A Thousand Cranes'. It will be an experience they talk about long after a toy has been forgotten.

We are folding 1000 cranes before March 5th 2019, opening night of our production "A Thousand Cranes". Follow this link to our YouTube Channel to watch Sarah fold a Paper Crane and learn how. Let's get folding!

YouTube: https://www.youtube.com/watch?v=JCH-X1g3WXY

Fifth-graders take dramatic step, audition for play
The Vindicator, Youngstown OH
By Kristine Gill, AUSTINTOWN

Unease filled Frank Ohl Intermediate's gym as nervous fifth-graders auditioned for speaking parts in "A Christmas Carol," the school's first play.

"Oh spirits, you have saved me," Sabrina Bliss, 11, read from the script. "I have time, time to make amends, time to be good and kind to my fellow man."

Sabrina is one of more than 90 Frank Ohl fifth-graders participating in the new drama club this year. Teachers Jeff Swavel and Shelly Culp decided to start the club last year during some drama exercises they did in their language-arts classes. "Some of the lower-performance students just came alive," Swavel said. Culp noticed the same.

"Some of the lower-performance students just came alive."

Photo: Evan Shobel, a fifth-grader and member of the Frank Ohl Intermediate School Drama Club, reads a part during auditions
for "A Christmas Carol," the school's first play, based on Charles Dickens' famous story. Photo: Kayla Sahli reads a part
during her audition. She is one of more than 90 Frank Ohl fifth-graders participating in the new drama club this year.

"What's so fun about this is it makes literacy fun for kids," she said, adding that acting out a play can be a good alternative for students who don't enjoy sitting down and reading a book.

"It's kind of like teaching reading through the back door," Culp said.

The club is free to join, and Principal Dennis Rice used the principal's fund to pay royalties for the script by Kathryn Schultz Miller. Swavel said the group will rely on student and teacher donations when it comes to costumes and props. He said they may have a fundraiser for their spring play.

The group meets each Tuesday for 45 minutes after school. Culp and Swavel had expected a few dozen students to join and were thrilled to see 90 the first day. Justin Neff, 10, said he joined because the group sounded fun. He doesn't mind having to stay after school for practice.

"I always liked acting," Justin said.

On Tuesday, students were divided into smaller groups for auditions. Parts will be announced Thursday, and the play will be performed in December.

"Don't be afraid to act the part," Swavel reminded students auditioning Tuesday.

Veronica Kist, 10, said she was excited to join the club and try out for an acting part in the play. She said the first opportunity for drama club doesn't come until seventh grade at Austintown Middle School.

"I'm happy we don't have to wait until AMS," Veronica said.

Swavel said the fifth-graders are just as ready and able to act as the middle-school students and that starting this club was sort of a reward for them.

"They kind of feel like they're the top dogs," Swavel said.

Veronica said she learned a lot when Culp and Swavel acted out a play for students during their first practice.

"We have to have expression. You have to act with hand motions. You have to be your character," Veronica said. "And you don't have to wear lots of makeup because you're pretty the way you are."

Auditions went without a hitch Tuesday, except for a few nerves. Culp said one student in her audition group cried before having to read for a speaking part. With encouragement from her peers, she was able to finish the audition.

"That's what it's about - taking risks, doing things you're afraid to do," Culp said.

Mexico High School presents 'The Legend of Sleepy Hollow' as fall play
By Brenda Duncan, Syracuse.com

Students in Mexico High School's Drama Club will perform "The Legend of Sleepy Hollow," by Kathryn Schultz Miller as their fall play.

"The Legend of Sleepy Hollow" is a spooky classic story by Washington Irving, presented with all the thrills, chills and laughs that keep young audiences on the edge of their seats.

The storybook tale revolves around the main characters - the bumbling schoolteacher Ichabod, the coquettish Katrina and Ichabod's brutish rival, Brom Bones. There are also several characters who play storytellers, keeping the action and pace moving throughout.

"It saves the best for last, the ride of the headless horseman."

Mexico High School students rehearse for "The Legend of Sleepy Hollow"
which they will perform as their fall play.

As much fun as the play presents, it saves the best for last, the ride of the headless horseman.

Performances will be 7 p.m. Friday and Saturday, Nov. 1 and 2, 2019, in the high school auditorium, located at 3338 Main St., Mexico, NY 13114.

Tickets will be $5 in advance and $7 at the door. Advance tickets can be obtained by contacting the play's director teaching assistant Cassie Story at [email protected]

Cast: Ichabod Crane - Devon Thayer, Katrina - Anna Pluff, Brom Bones - Luke Kinsey, Washington - Colin O'Neill, Irving - Kelly Mason, Peter - Avery Oakes, Emily - Alli Kerr, Charlotte - Jen, Babcock, Judith - Olivia Linerode, Meredith - Katelynn Spaulding, Arthur - Grace Mason, Violet - Lauren Salisbury, Van Ripper - Collin Hatch, Van Tassell - Alayna Walker, Sleepy Hollow Boys - Sabria Summers, Harmony Schoeder and Cali Hopp, Tea Time Ladies - Meg Sidoti, Emmalee Walker and Eileen Bouchard

Curious about ArtReach's THE NUTCRACKER PRINCE?
Follow Your Heart to a Happy Ending!

August 9, 2018

The Nutcracker Prince is a dramatic adaptation of the story by E.T.A. Hoffmann's story The Nutcracker and the Mouse King. The story was the basis for the beloved Christmas ballet scored by Peter Ilich Tchaikovsky that has been delighting children and their families for decades. Now ArtReach has adapted the story for a large cast of kids to perform.

As the play begins, Storytellers welcome the cast to their small village which is preparing for a very special holiday. It is Christmas and the snow is falling. Clara and her brother Fritz are having fun playing with the snow and throwing snowballs when Uncle Drosselmeyer appears to greet them. He is a kindly and beloved man who provides them with surprises each Christmas. Back at home, Clara's parents are preparing for Christmas Eve. There is a magnificent tree and also the gift of a magical gingerbread castle. When Uncle Drosselmeyer shows up he has gifts for the children. First he gives Fritz a set of toy soldiers. For Clara, Drosselmeyer has a special Nutcracker doll. Clara's cat Shadow is afraid of the doll but Clara loves it. Fritz tries to crack nuts with the doll and breaks it. Drosselmeyer assures Clara that the Nutcracker will get well and puts the doll underneath the tree. Everyone agrees it has been a lovely Christmas Eve and they all depart for a good night's sleep.

Clara worries about her doll and creeps downstairs to check on him. She introduces him to her other dolls, Mother Ginger and Katarina. Before she goes back to bed, Clara kisses the Nutcracker. Little does she know that the kiss has broken a spell! The Nutcracker and the dolls now come to life and we are plunged into the make believe world of Clara's dream.

A battalion of ruffian Mice appears with the mission of finding better food than they are used to getting in the house. They have set their sights on the gingerbread castle. The Nutcracker Prince takes charge of the castle's defense calling all the toy soldiers to battle. He dispatches them to the far reaches of the house to defend against the enemy. Suddenly the Rat King appears and he is surrounded by his adoring Mice.

The Rat King is determined to get at the castle but just as he approaches, Nutcracker comes out of hiding and draws his sword, setting off a battle between the Mice and the Soldiers. The Rat King is defeated and dies an elaborate death. The Mice carry him away.

Everyone cheers for Clara and the Nutcracker explains that she has broken his spell. He invites her to the wonderful Land of Sweets. Clara and Shadow join the Nutcracker Prince on a thrilling journey through the castle doors and on to a land of enchantment.

The Sugar Plum Fairy is preparing for Clara's arrival by directing the Snowflakes to decorate the Land with sugary snow. When she arrives, Clara sees that everything is made of candy. The Flowers appear and direct the audience in the art of filling the Land with flowers. The Sugar Plum Fairy tells Clara that she is now their Princess. The Nutcracker Prince asks her to stay with them.

Clara Follows her Heart to a Happy Ending!


Just as Clara is about to answer, the Mice come marching into the Land of Sweets. The Rat King appears to them and explains that he was never really dead. Clara's cat Shadow has been enjoying her stay in the Land of Sweets and suddenly confronts the Rat King with a terrifying roar and hiss! The Rat King did not expect to defend himself from a cat! Shadow advances on the Rat King and the Mice until she and the others drive them away.

Everyone cheers for Shadow and now it is time for Clara to make her decision. Will she stay in the Land of Sweets forever? Though she loves the Nutcracker Prince and everyone in the beautiful Land, Clara tells them that she wants to grow up to be a woman. Therefore, she must go home. The sadness of her choice causes the dolls and make-believe characters to go back to the original state as inanimate toys. Clara calls out for her Nutcracker Prince as the dream begins to fade and she wakes up.

It is Christmas morning and Uncle Drosselmeyer is there to show her that the Nutcracker doll has been repaired. Fritz has been imagining a wonderful battle with his toy soldiers. He describes a battle that sounds a lot like the one in Clara's dream. Clara tries to tell the grownups of her wondrous journey. But no one believes her. She dances with the Nutcracker and remembers her Prince...

The Storytellers bring us back to the small village and everyone dances in celebration of another special Christmas Day.

"The nutcracker sits under the holiday tree, a guardian of childhood stories. Feed him walnuts and he will crack open a tale..."
Vera Nazarian
The Perpetual Calendar of Inspiration
---
Jack and the Beanstalk is Fun with Giants!
Let's Talk About Famous Giants!

Get your kids talking about the big stuff! Can they think of any other big characters/giants in books, movies or TV? Discuss the personality of the most well-known giants. If you were a giant, would you be good or bad?

Jack's Giant: Often the first concept of a giant children are exposed to, nearly everyone knows the tale of Jack and the Beanstalk. The story's origin is somewhat murky, with some scholars pointing to early Norse tales. There are dozens of different versions of the story, but most include Jack climbing a magic beanstalk to steal golden treasure and, eventually, murder the giant that lives at the top, thus living happily ever after.

Bigfoot: The Bigfoot, or the Sasquatch, is an animal which might exist but for which little to no scientific evidence exists. Described as 'ape-like', this 'missing link' stands well over six feet tall, prowling the wilds of America, particularly the Pacific Northwest. Often the only clue left behind by the Bigfoot are the enormous impressions of his feet, many of which – if they are fake – are extremely realistic hoaxes.

Fee! Fie! Foe! FUN!

Jack and the Beanstalk! School Play Musical for Children to Perform!

Paul Bunyan: First documented in the stories bandied about by French-Canadians, Paul Bunyan is a giant lumberjack. A larger than life character in the tradition of many such tall tales, Paul played a role in various creation myths, such as dragging his axe behind him to cleave out the Grand Canyon. Bunyan is always accompanied by his pet, a blue ox named Babe, of equal enormity. Giant statues of Paul and Babe have become a roadside staple in dozens of towns around America.

Frankenstein: The monster, which remains nameless throughout Mary Shelley's gothic masterpiece, is described as being eight feet tall and clad in transparent yellow skin, hideous beyond comprehension. Victor Frankenstein tacks his beast together out of spare parts taken from graveyards and slaughterhouses, and he is forced to make it huge because of the inherent difficulty of replicating the tiny, intricate parts of the human body.

Jolly Green Giant: The mascot of the Green Giant vegetable company (a subsidiary of General Mills), the Jolly Green Giant has been the subject of innumerable television commercials, concluding with his trademark "Ho ho ho." Upon his debut in 1928, the giant was a stooped, menacing creature, but subsequent versions have been increasingly genial, adopting a frock of leaves and an always present grin.

Goliath: Arguably the most famous of all giants, Goliath was a massive Philistine warrior who faced off against the Israelite army in the Valley of Elah. Offering to defeat any Israeli in one-on-one combat, Goliath was rebuffed, until the challenge was taken up by young David. Eschewing armor, the smaller combatant knocked Goliath down with a stone hurled from his sling, securing victory for the Israelites and proving himself, by his valor and faith in God, to be the one true king.

"Peter Pan" will fly into Magnolia Arts Center June 23-26
Magnolia Reporter, AR

Rehearsals are under way for the Magnolia Arts Center production of "Peter Pan."

Rehearsal is the fun part!

ArtReach emphasizes the process. Have fun!

The show, Peter Pan, written by Kathryn Schultz Miller, will be staged at the Arts Center on South Washington Street at 7 p.m. Thursday, June 23 through Saturday, June 25, and at 2 p.m. Sunday, June 26. Advance tickets for the play are $5 for Magnolia Arts members and $7 for the general public. They are available at Lois Gean's or by calling 870-901-3600.

The Legend of Mulan: STUDY GUIDE/SYNOPSIS OF THE PLAY
Here is ArtReach's Version of the Age-Old Legend of Mulan

The Legend of Mulan is based on an ancient Chinese poem that has been the inspiration for countless films, books and television productions around the world. It tells the story of a girl who wishes to save her father from forced conscription in the Chinese army. Dressed as a boy, she becomes a distinguished warrior and heroine. Mulan's spirit of adventure and courage makes it a beloved story for children everywhere.

The play begins with the Ancestors of the Fa family describing the country of China and its philosophy of "Yin and Yang". The Chinese Emperor is introduced and his assistant Momo instruct all in this presence to offer "respect and honor". The Emperor says that he has information that the country will be safe if they trust in him.
"The story of a girl who wishes to save her father."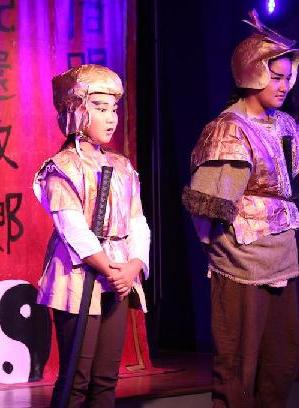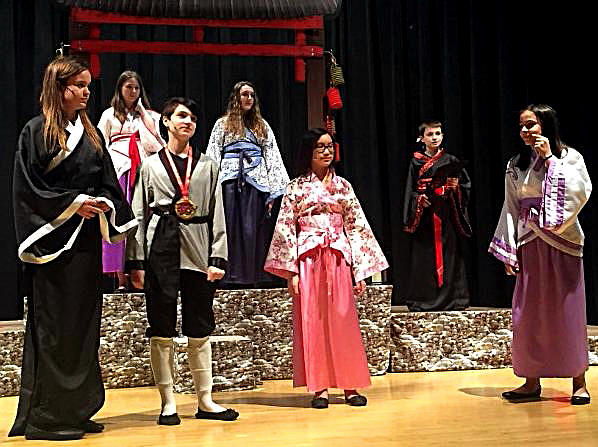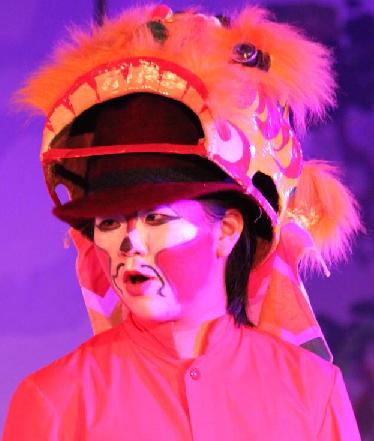 Huns - Intro to Asian Culture - Imoogi the Dragon - Island School HI & Lansing Middle School, MI
The Ancestors direct us to a valley where Mulan and her Little Brother are playing at sword fighting. Mulan is much better than her brother and dreams that one day she could grow up to be a soldier. Father and family love her but disapprove of her aspirations and wish that she conduct herself with more feminine modesty that will lead to marriage. Though she promises to do better, Mulan asks her father if her dream will ever come true. Her father promises that it will.

But war is stirring up in the country and the Emperor issues a decree that every family must send one adult male to the army. Little Brother is too young and Father is too old. Mulan begs the family to let her go but they tell her it is against the law for a girl to serve. Father is resolved to join, though the prospect of military life cannot be safe for him since he is in a frail state of health.

Mulan begs the Fa Ancestors to help her save her father. They tell her that she must go and introduce her to the rabbit Pika, and the Dragon Imoogi, who will help her on her journey. Imoogi tests the girl in martial arts and determines that she is worthy of the task. In the morning, the Fa family wakes to see that Mulan has taken the horse and fled to take her place in the army.

Mulan, with Pika and Imoogi, travel to the Imperial Army camp. Pika attempts to teach Mulan how to be like a man but Imoogi objects. The dragon tells her that the way to convey strength is to summon the spirit of the sword within her own heart.

The army Captain Cheng attempts to ready his men for war. Momo, the Emperor's assistant is with Captain Cheng and believes the soldiers are of poor quality. Captain Cheng says his problem is that there are not enough men. Mulan introduces herself and shows him her superior ability to use a sword. She tells him her secret is that she trusts in her heart as well as her head. Captain Cheng is impressed and asks her to fight by his side in the coming battle.

"Mulan returns to her beloved Father and the rest of her family."

Lansing Middle School, "The Legend of Mulan"

The Huns are headed by General Lu Bu who believes that Captain Cheng has secret plans and sends one of his men to discover them. Captain Cheng has sent Momo with orders to the Emperor to send more troops. The Hun soldier Yu Fie stops Momo on his journey, takes the orders and reports back to General Lu Bu. With this information, the Huns now feel confident that they will win the battle.

But the Huns had not expected to encounter one such as Mulan (going by the boy's name Me Lang). Imoogi helps her and the audience conjure a chaos inducing storm. Captain Cheng despairs and believes the storm will destroy his battalion's chances. Mulan reminds him to use his heart. With Mulan's encouragement he wins a sword fight with General Lu Bu. Then, Mulan commands the army (audience) to rise and raise their weapons to the Huns, forcing a retreat. Mulan is hailed as a hero.

However, Captain Cheng has been injured by General Lu Bu's sword. As Mulan nurses him to health, the Imperial soldiers tell her that she has been summoned to the Emperor, who wishes to honor her bravery. Terrified that this event will reveal her secret, Mulan runs away.

At the golden Imperial Palace the Emperor asks to meet Me Lang but is told that the heroic soldier will not appear. At last, Mulan does appear and finally reveals to all that she is not a male soldier named Me Lang, but a woman named Mulan. Momo insists she be punished, but the Emperor prefers to honor her anyway. He offers her gifts and honors but Mulan says she just wants to go home.

After the painfully long absence, Mulan returns to her beloved Father and the rest of her family. They are overjoyed to see her again. After greeting her they ask who is the person standing beside her. It turns out that Captain Cheng has followed Mulan from the Imperial Palace to her valley home. He asks her father for permission to marry her but Mulan says she has made up her mind. Though she respects her father's wishes this is her own decision. She has decided to marry Captain Cheng.

The Ancestors welcome the couple into the Fa home and into the family that they represent. They speak of the Chinese belief in yin and yang, offering their approval of the couple to be wed.

"The firm, the enduring, the simple, and the modest are near to virtue."
-- Confucius, The Confucian Analects

The FWSU Story: Arts Abound for BFA 4th and 5th Graders:
BFA Fairfax Elementary, VT, 4/5 Drama Club Continues to Entertain
Principal Tom Walsh writes about the spring 4/5 Grade Dramatic Club presentation

Dramatic Arts at BFA Fairfax continue to grow and thrive. This year our school has offered four performances that have provided opportunities for over one hundred students in grades 3-12. This past Tuesday, our grades Four/Five Drama Club put on two highly entertaining performances of Kid Frankenstein for students, parents and staff members.

I always appreciate the opportunity to watch the expressions and reactions of audience members as they see their friend, sibling, or family member shine during the performance. The smiles, laughter and pride are contagious. It never gets old watching our students take a risk and discover the enjoyment of performing for others. Most importantly, students have fun, build positive memories, and foster the continued desire to participate in theater.

"We are so fortunate to have a dedicated group that value dramatic arts."


I want to extend a big thank you to Katie Haddock, Juliet King, and Jennifer, Mark, and Nevan Kalbfleisch for continuing to provide this opportunity for our students. We are so fortunate to have a dedicated and committed group of people that value dramatic arts, and offer these engaging opportunities annually for our students. I appreciate that our community continues to support local theater and I look forward to next year's performances.

East Pointe Drama Club presented The Little Mermaid
Greenwood Life, AR

East Pointe Drama Club presented The Little Mermaid, Thursday, January 29, at 6:30PM at the Greenwood High School Performing Arts Center.

The Little Mermaid by Hans Christian Andersen is a beloved story of a little mermaid longing to be human. Kathryn Schultz Miller took this story and transformed it into a play suitable for the youngest cast. With a grant from the Greenwood Education Foundation, East Pointe Drama Club auditioned over 90 Kindergarten through 5th grade students for the play.

Rylee Trice, a 5th grader in Mrs. Summer Martin's class, enjoyed seeing how happy everyone was when she performed. In the production of The Little Mermaid. Complete with cute little jellyfish, adorable sea creatures, and comical humans.

"I love drama. It is fun, awesome and cool!"

East Point Drama Club, Greenwood AR

"Since the beginning of the school year, over 80 students and dedicated staff volunteers have practiced tirelessly to provide a quality show," stated Mr. Mike Dean, East Pointe Elementary Principal. "It is exciting to see the awesome talent that we have here at East Pointe Elementary!"

Talk about talent! Many drama club participates play musical instruments such as the violin, piano, guitar, and drums. Also, many members take singing, gymnastic, and dance lessons.

East Pointe Drama Club is sponsored by Malynda Sayers, Third Grade Teacher. Volunteers include Stephanie Griffith, Literacy Specialist; Hilary Huneycutt, First Grade Teacher; Leslie Peresta, Music Teacher; Rick Clow, Gifted and Talented Teacher; April Norris, East Pointe Cafeteria; Jessica Cole, University of Arkansas - Fort Smith; and Natalie Mulvihill, East Hills Middle School.

Lyric Graves, a 4th grader in Miss Amber Quillman's class, replied, "I love drama. It is fun, awesome, cool, and super fun."

Proceeds from the show benefited East Pointe Drama Club and "Pants for Pupils."
Behind the Scenes: < Prev | 1 | 2 | 3 | 4 | 5 | 6 | Next >
All Free Resources