FREE RESOURCES: News & Reviews [ Page 1 ]
News media articles, reviews, press releases for ArtReach plays
< Prev | 1 | 2 | 3 | 4 | 5 | 6 | 7 | 8 | Next >
BWW Review: THE WIZARD OF OZ at The Producer's Club
By Donna Marie-Nowak, BroadwayWorld.com, July 30, 2018

Tucked away in the heart of New York City's theater district - known as Broadway (although only those with 500 seats or more can officially be called Broadway theaters) -- are many off- and off-off-Broadway gems like the Producer's Club which make theater accessible and affordable to thespians and audiences alike.

At the Producer's Club on July 28, 2018, AlphaNYC Theater Company presented the beloved children's classic The Wizard of Oz. It tells the indelible tale of farm girl Dorothy Gale and her dog Toto who travel to Oz via tornado. The show is directed by Elizabeth Aquino and the story is adapted by award-winning playwright Kathryn Schultz Miller. Based on L. Frank Baum's popular book, The Wonderful Wizard of Oz (1900), which spawned 13 sequels, MGM's 1939 film The Wizard of Oz became one of the greatest and most iconic films of all time, an enduring part of our cultural history. Its sublime star Judy Garland, forever associated with it, remains equally an icon. With its simple but profound theme of longing for faraway worlds "over the rainbow" and finding that those searches for our heart's desire ultimately lead home, The Wizard of Oz is a universal and timeless story.
ArtReach's Wizard of Oz Off-Broadway Production!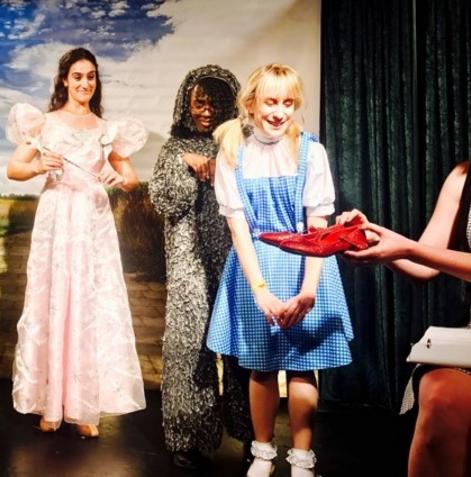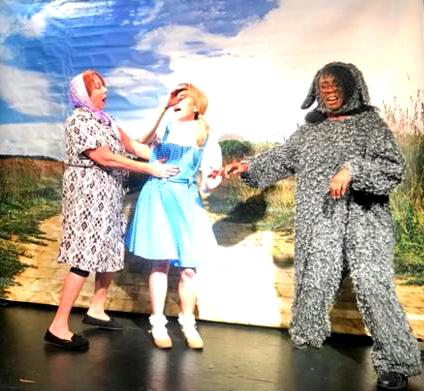 The simple backdrop depicts cornfields and a yellow brick road, including emerald green curtains. Perhaps one interpretation of the tale's subtext would be about surviving through imagination and dreams. It reminds us that even in Oz, Dorothy travels through farmlands similar to her native Kansas, except they are suffused with color. (The book opens, in fact, with describing the gray and joyless plains that Dorothy inhabits, noting that Toto was not gray and made Dorothy laugh, saving her from becoming as gray as her surroundings.) But on a literal level, the friendly and fanciful characters and spunky "child" heroine speak for themselves.

The story is condensed into an economical 30 minutes to engage young audiences. Schultz Miller makes some imaginative tweaks, while maintaining all the signature elements of the plot (including famous lines from the film). It is an all-female cast with each actor bringing something distinctive and original to her role, aided by the script's engaging, child-friendly wit.

Throughout the show narrator Veronica Murphy is perched in a corner of the stage and holding a book, lending an apt story-time atmosphere. Kansas farm girl Dorothy Gale and her dog Toto are whisked away to the Land of Oz by a tornado where they meet a Scarecrow (without a brain), a Lion (without courage) and a Tinman or, rather, Tinwoman (without a heart).

The trio of misfits join Dorothy in her journey down the yellow brick road to the Emerald City where they each hope the Great Wizard of Oz will give them the qualities they lack. In Dorothy's case, she wants to go home. But when they finally reach Oz, the Wizard tells them they must kill the Wicked Witch of the West first before their wishes are granted.

Hannah Rahe Goodman as Dorothy gets her spirit - a combination of sweetness ("I, the meek") and sass when pushed. When the Wizard boasts, "I remember everything because I am so great and wise," Dorothy says, "You've already told us that. It's not polite to repeat yourself." Karen Goldfarb, with great comedic presence, plays four different characters, including Auntie Em and one of the Wicked Witch's monkeys. She uses a broad and lively delivery that is perfect for children and makes the adults laugh as well.

Jayla P. Corbin delights as Toto and truly brings to mind an inquisitive, little dog; it is Toto, not the humans, who unmask the Wizard, after all. The dog remains a vital character, making frequent, little "ruff ruffs!" When she meets the Scarecrow, she paws him curiously until the Scarecrow cries, "Seriously?" She also nabs a bag of potato chips an audience member allegedly left behind.

Sarah Middough, playing both Glinda, the Good Witch, and the Wicked Witch of the West, is utterly sensational. Schulz Miller has reimagined the Wicked Witch as one-eyed, which makes a wonderful visual like a squinting pirate, and Middough uses great physical flourish and vocals deliciously recalling Margaret Hamilton's unforgettable film witch. ("They don't call me wicked for nothing," she pipes at one point.)

The cast is rounded out by Ambrealys as the Scarecrow, Catherine E. Seraceno as the Cowardly Lion, Stacy DeGolier as the Tinwoman and Niki Rose Woods as both the Gatekeeper and the Wizard. They are all delightful and play beautifully to the kids in the audience, being both engaging and relatable.

At the end of the show, children in the audience are invited to come onstage and take photos with their favorite characters. One little girl didn't want to leave the stage.

AlphaNYC's Wizard of Oz offers a little bit of magic on a shoestring and a way to introduce children to beloved classics. It also enables families to go to the theater without breaking the bank. Best of all, it's fun for all ages and frequently made me laugh out loud. (When the Scarecrow finally gets her brain, she crows, "I before E except after C" to prove it.)

THE WIZARD OF OZ played at the Producer's Club on July 28, 2018 at 10am, 11am, 12pm and 1pm. The Producer's Club is located at 358 West 44th Street in New York City.
---
Applebox theater presents 'Jungle Book'
By Audrey Caro, Polk County Itemizer-Observer, July 2, 2018

MONMOUTH — The themes of community and family that run through The Jungle Book also are apparent in The Apple Box Children's Theater production of the Rudyard Kipling classic.

The theater collaborated with several other entities, including Arts Integrated Ministry, Children's Educational Theater and Central High School's performing arts department, said Rob Harriman.

"It's really cool. I'm really enjoying it."

Rob Harriman coaches the cast of The Jungle Book before rehearsal on June 27

Most of the masks used in the play are from Central High School, he said, and Apple Box has lent costumes to CHS for other productions. Western Oregon University is taking care of the sound.

"It's a reminder that for as small of (an area) as this is, there is a huge pool of people invested in doing this," Harriman said. "There are four solid kids' theater programs (in the area)."

Harriman is directing the play and Barbara Harriman, his wife, is the production manager. Rob read through the book with their daughter Fiona and she added some scenes, he said.

Kathryn Schultz Miller adapted the book.

"The author of the play said do whatever you want with it," Harriman said. "We recalibrated the play to make it fit into our vision of the author's vision."

Harriman said he enjoys the theme of community and working together that is implied throughout The Jungle Book.

The story follows the journey of Mowgli, a boy who was raised by a family of wolves since his birth, but must flee his home for safety from Shere Khan, the tiger.

"The biggest challenge will be breaking away from the Disney version of the story," Harriman said.

The Apple Box Children's Theater production of The Jungle Book is "truer to the source material," he said.

They reinserted the poems that are at the beginning of each chapter in Kipling's book.

In its eighth season, the theater group is experiencing some firsts with The Jungle Book production — it's the largest cast, at 51, and it is the first production that features choreography.

Children from The Dance & Fitness Studio were in last year's play and were asked to be involved this year, Harriman said.

"That's how we got so many kids," he said.

There are four dance numbers, choreographed by Janey Jefferson and Bethany Allen, the dance studio.

"In auditions, we asked if they wanted to dance," Harriman said. "A lot of the kids were really excited about dancing."


The cast of The Jungle Book rehearses a scene at Western Oregon University.

The casts for Apple Box Theater productions are 8 to 14 years old. Veteran participant Haley Taylor, 16, passed the age limit to act in the plays, so she is taking on the role of assistant manager/stage director.

"It's fun to see from new perspective," Taylor said. "It's really cool. I'm really enjoying it."

(Photos by Audrey Caro)
---
PCC play 'Cranes' is all about hope
By Nicky Hamila For the Arizona Daily Star, Sep 19, 2008

Betsy Kruse Craig has the ultimate teaching tool: Theater.

Craig has been instrumental in bringing theater for children to the Pima Community College stage.

Based on a true story, it's about a young girl named Sadako Sasaki who lived in Hiroshima. She was 2 when the atom bomb was dropped on the city, and 12 when she was diagnosed with leukemia from the radiation.

ArtReach's "A Thousand Cranes"

It touches on culture, war, self-empowerment, empathy.
And that's just for starters.

Japanese legend holds that if a sick person folds a thousand cranes, the gods will make the person healthy again.

Sadako starts folding cranes in hopes she will recover. It's a task she can't complete — she lives long enough to fold 644 cranes. Her classmates fold the rest and bury them with her.

"She is the icon for hope and peace," Craig said. "I think it's important for kids to understand that they have a voice and that their voice is powerful."

The play also teaches about war and its ravages.

"There have been children throughout history that have had to go through war," Craig said. "I think it's important for kids to know how other children have lived in countries of war. . . . For a piece like this, it teaches you about culture and history and sympathy and empathy."

And that makes "A Thousand Cranes" a play of a different sort.

"It's less of a play," said Craig, "and more of an epic poem."

PREVIEW
"A Thousand Cranes"
• Presented by: Pima Community College Theatre Arts.
• By: Kathryn Schultz Miller.
• Director: Betsy Kruse Craig.
• When: 7 p.m. Fri and Sat; 2 p.m. Sat and Sun through Oct. 5.
• Tickets: $6.
• Information: 206-6986.
• Running time: 60 minutes, with no intermission.
---
'The Wizard of Oz' by Middlebury Elementary School
"One hundred sixty students took part in their first theatrical experience; one played the Wizard of Oz."

"A heart is not judged by how much you love, but by how much you are loved by others." - Wizard in 'The Wizard of Oz'

Middlebury, CT - One hundred sixty students that attend Middlebury Elementary School are clearly loved a lot by others. With great joy, they presented a lovely production of 'The Wizard of Oz' on the stage of Memorial Middle School on Thursday evening with the help of many parents and staff members of their school. Only one performance remains on Friday evening at 7pm and admission is one item for the Middlebury Food Bank.

Director MaryLou Torre, the interim principal of Middlebury Elementary School, understands the importance of theatre in our schools. "The project was all about process. The rehearsals and practices were as much as a part of the experience as the performance you will see tonight. Fun and freedom of expression for the students and the directors were key goals along this journey."

This version of the classic book by L. Frank Baum is a play adapted by Kathryn Schultz Miller. It included a huge chorus of "vivacious" students in a rainbow of t-shirts that narrated the story with choral reading from the bleachers house left. The cast included six different girls in the role of Dorothy, four different Scarecrows, two Tin Man characters, two Lions, two Gatekeepers and many, many others. Everyone had their own wonderful costume; kudos to Amy Raefski on her adorable design work and to the large costume crew.

Corinna Flanagan and Kathy Miller served as the Art Director/Set Design team. The panels of the set were painted by a large group of students (shout out to Nick Salvucci) that got to wear cool painted t-shirts on opening night. Michael Kaulins served as AD and Lydia McCarthy did the choreography. Chris Turecek was the Music Director/Tech Director. Community theatre actor/dad Ian Diedrich did the prop construction, including the head of the wizard painted on a white curtain; shout out to Kalman Zold who played Oz. Michaela Turecek did the pretty impressive make-up for the actors that needed an unnatural face color. I had a great reserved seat in the front row, but the sound with microphones on stands was really very good throughout the gym.

A bunch of young male actors was the pretty adorable Flying Monkeys with Luke Humphrey as Chimp, Emma Taglialatella as Scamp and Kyleigh Favale as Rascal. Eva Guerrera rocked the role of the "they don't call me wicked for nothing" Witch and melted impressively. Addison Mitchell and Owen Lattanzio did well with the shared role of the Gatekeepers. Ryan Dawes and Madison Ferguson were both good Lions and Cole Hughes and Luke Jackson in full silver were effective Tin Man, I mean Men. Scarecrows were Matteo DelBuono, Caitlin Flaherty, Peter Skabardonis, and Kiera Daweese.

Glinda in the classic pink dress and crown was played well by Rachel Anderson, accompanied by bubbles. Featured Munchkins included Ryan Murray (Joe,) Emily Raefski (Curly,) and Hunter Diedrich returned to the stage to play Burly. Leah Wasserstein was Auntie Em and Jack Sedensky was Uncle Henry. Joey Bernardi barked well in the role of Toto because there was no stuffed dog in a basket in this play. The poppy scene gave new meaning to "pulling my leg" in a cute way.

The gaggle of girls in the blue and white gingham included Emma Kulla, Faith Graziano, Lauren Anderson, Grace Jackson, Elizabeth Raefski and Aubrey Guiditta. The most adorable Munchkins specialized in stealing hearts in their floral hats and technicolor outfits. Best featured ensemble was billed as "The Forest" and included Brailee Batista, Evan Deschaine, Lilyana Reed and Shaelyn Walsh as the apple-throwing trees with lots of attitude.

The curtain closed between the scenes and if the transitions were a bit long, what the audience saw when they reopened was worth the wait. The students could never be heard backstage and that can be hard for the very young. The director shared during her curtain speech that the young thespians, some as young as six, had been practicing since January, during which time their "little school play" grew into a full 55-minute production. The students all knew their lines and if they hadn't expected to perform in front of people sitting in the 600 seats, it did not show.

Thank you to this elementary school staff for giving most of these young performers their first theatrical experience in a safe setting. Congratulations on a job well done.
News & Reviews: < Prev | 1 | 2 | 3 | 4 | 5 | 6 | 7 | 8 | Next >
All Free Resources