NEW The Nutcracker Prince
Large Cast Christmas Play for Kids to Perform

THE NUTCRACKER PRINCE
CAST LIST
Running Time: About 35-40 minutes
Flexible Cast of 29-35: 3-5 Male, 2-4 Female, All others M/F
Easily adapted for larger or smaller cast
Everyone has an important role in the play!
STORYTELLERS: (M/F, 10 lines together)
ANGEL - (M/F, 8 lines)
EVERGREEN - (M/F, 11 lines)
HOLLY - (M/F, 11 lines)
JOY - (M/F, 11 lines)
NOEL - (M/F, 10 lines)
STAR - (M/F, 7 lines)
CLARA - (F, 48 lines)
CLARA #1 - (F, 18 lines)
CLARA #2 - (F, 12 lines, enter page 16)
CLARA #3 - (F, 18 lines, enter page 28)
FRITZ - (M, 21 lines)
FRITZ #1 - (M, 16 lines)
FRITZ #2 - (M, 5 lines, enter page 35)
DROSSELMEYER - Clara's Uncle - (M/F, 21 lines)
DROSSELMEYER #1 - (M/F, 17 lines)
DROSSELMEYER #2 - (M/F, 4 lines, enter page 35)
MOTHER - (F, 11 lines)
FATHER - (M, 9 lines)
SHADOW - Clara's Cat - (M/F, 12 lines)
CLARA'S DOLLS:
MOTHER GINGER - (M/F, 14 lines)
KATARINA - (M/F, 10 lines)
MICE: (M/F, 17 lines together)
GNARLY- (M/F, 4 lines)
ROCKY - (M/F, 3 lines)
HUGHIE - (M/F, 3 lines)
NUTZO - (M/F, 3 lines)
RAT KING - (M/F, 23 lines)
RAT KING #1 - (M/F, 10 lines)
RAT KING #2 - (M/F, 13 lines, enter page 30)
TOY SOLDIERS: (M/F, 2 lines together)
ALEX - (M/F, 3 lines)
BORIS - (M/F, 3 lines)
VIKTOR - (M/F, 3 lines)
IGOR - (M/F, 2 lines)
NUTCRACKER PRINCE - (M, 27 lines)
NUTCRACKER #1 - (M, 21 lines)
NUTCRACKER #2 - (M, 6 lines, enter page 28)
SUGAR PLUM FAIRY - (M/F, 13 lines)
SNOWFLAKES:
CRYSTAL - (M/F, 2 lines)
DIAMOND - (M/F, 2 lines)
FLOWERS:
LILY - (M/F, 3 lines)
TULIP - (M/F, 3 lines)
---
Fun Mice Characters for Kids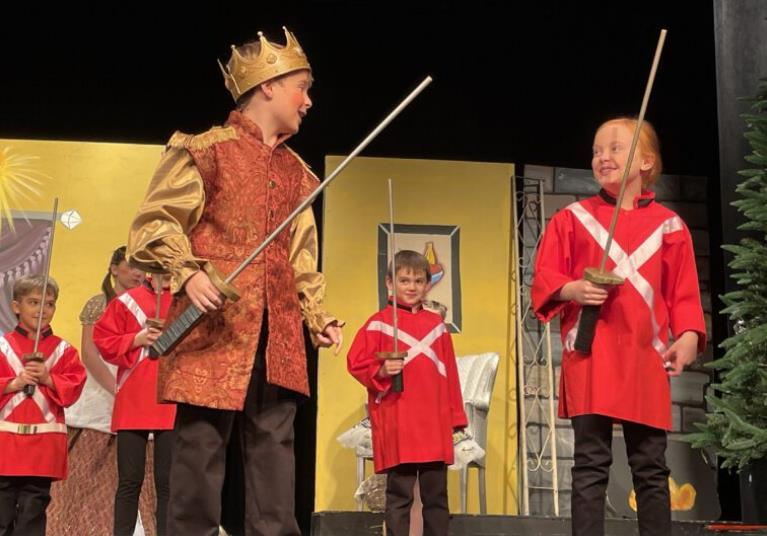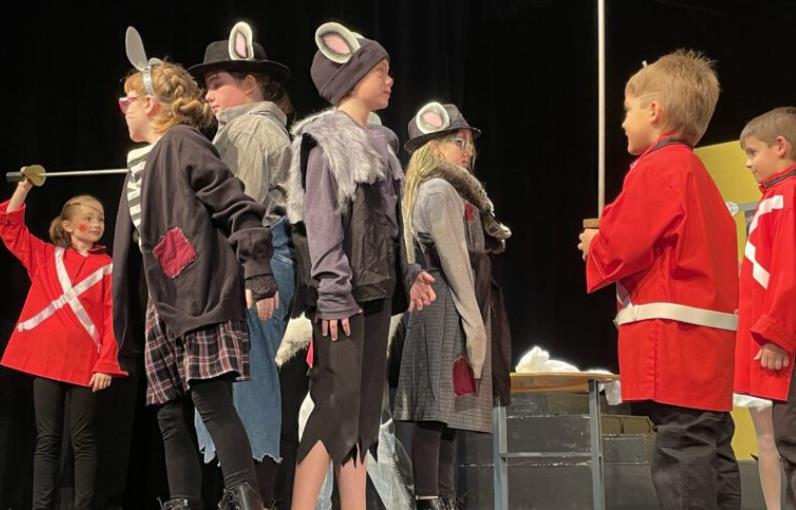 Hans Christian Andersen Theatre, Greenville MI
Christmas Mice battle the Toy Soldiers. Rat King gathers his troops: Gnarly, Rocky, Hughie and Nutzo. Each nutty mouse has a personality and several comic lines. Just enough for every child to have their own special moment.

"ArtReach is a great source for material for teachers. Accessible clever theatre for all kinds of kids!"
Karin A. Stratton, Pike High School, Indianapolis, IN

---

THE NUTCRACKER PRINCE
WHY IS THIS PLAY BEST FOR YOUR SCHOOL?

Written especially for young people to perform.
While you may find large cast plays from other publishers, most of those were originally written for adults or professional actors to perform. They often contain difficult dialogue, unfamiliar or complex language, and speeches too long for young children to memorize. They may even contain jokes, innuendos and subject matter that may not be appropriate for children.

Easy to understand and memorize.
Dialogue is simple, fresh, quick and humorous, keeping the action flowing without stops and starts between scenes. This keeps young people and young audiences engaged throughout the performance - no awkward pauses, no dead-time, no wiggles!

Everyone participates!
All children are involved throughout the performance. This builds confidence, promotes team spirit and eliminates rehearsal rowdiness. The audience is often asked to join in the fun, and action often spills into the aisles! All of our SCHOOL PLAYS give suggestions on how to divide up large parts (such as Dorothy in Wizard of Oz) among several performers so that no one child is the "star".

Familiar stories with upbeat endings.
The story line stays as close as possible to the familiar story the kids already know. While some authors feel the need to "improve" the story, our SCHOOL PLAYS stay as close to the familiar narrative as possible, making it easier for children - and your audience - to understand.

Feel free to edit! Go ahead and tape it!
Most publishers insist that no changes may be made to their scripts. We know that your goal is to engage every child in the most meaningful way and that your needs are unique. Cut, eliminate, re-assign lines, or add as much as you like! Also, there are no restrictions on video tapes. Parents want a tape or DVD to remember their child's big moment. Go ahead and tape away!

---

Artists often ponder the nature of the creative process, searching for ways to make it work better. We search our childhood experiences and our dreams for clues to unlock our hidden imaginations. As I listened again to the beautiful Tchaikovsky music I loved as a kid, I felt my thoughts and creativity open up. It gently whooshed me back to my early days. Remember that daydreaming time? When absolutely anything could happen?

While most fairy tales seem like dreams, the Nutcracker actually is a dream. Clara creates it herself and stars in a magical world of her own making. Her creation is a celebration of everything youth has to offer. It is all about Christmas surprises, love of family and friends and joyful anticipation of the future. We are very lucky that Clara has invited us along for this special ride.

This is one of those scripts that just poured itself onto the paper. I have a feeling that directing inspiration will come to you just as easily. Remember that everyone in your young cast is just like Clara, enjoying their dreams and looking forward to the future. They completely understand what this story is all about. So when in doubt, take their hands and follow their lead. And as always, remember to relax, laugh and enjoy the process.

The Nutcracker Prince was a pure joy to write. It has been a delight to live for a while in a child's universe where anything is possible. I hope you enjoy it as much as I did!

- KSM

"Remember that daydreaming time?"

The Nutcracker Prince - Dance Craze Academy -- Budapest, Hungary

---
THE NUTCRACKER PRINCE
CD SOUNDTRACK CUES
Cues, sound effects, background music (traditional-classical)
The CD Soundtrack contains special sound effects and background music (public domain classical) that may be used to greatly enhance the performance. Cues have 10 seconds of silence at the end - times shown below include silence.
[ Click on [sample] to hear a short sample of the indicated cues ]
1. OVERTURE (3:06) [sample]
2. THE CHRISTMAS TREE (1:30)
3. PAS DE DEUX 1 (1:31) [sample]
4. BEDTIME (1:13) [sample]
5. HORN FLOURISH, CALL TO ARMS (0:19) [sample]
6. BATTLE 1 (1:49)
7. BATTLE 2, DANCE (1:18) [sample]
8. MAGIC CASTLE (1:49)
9. DANCE OF THE REED FLUTES (0:38) [sample]
10. WALTZ OF THE FLOWERS (1:09)
11. PAS DE DEUX 2 (1:14)
12. BATTLE 3, CAT'S ROAR & HISS (0:44) [sample]
13. PINE FOREST IN WINTER (1:06)
14. PAS DE DEUX 3 (1:14)
15. CURTAIN CALL MUSIC (1:46) [sample]
---
Note: Some teachers choose familiar songs, obtain sheet music and insert these songs into the play. We recognize that each school has a wide variety of educational needs to fulfill and we invite you to be creative in your use of our scripts; including changes or additions that are appropriate for your students. As author/publisher of our own creative works, we do ask that you obtain proper copyright permission for any additions you might make - that responsibility is up to you.

Music & Sound Resources Available on the Internet
( Sheet Music, Song Books, CDs, DVDs, Sing-along, Karaoke, Sound Effects )
Internet Music Resources: Karaoke CDs & Sheet Music







Click to search Internet for karaoke cds or sheet music
---

Clara Follows her Heart to a Happy Ending!


The School Play Package gives you the rights to add characters, lines, songs! You also have the rights to make a Video/DVD of your special performance!

---
THE NUTCRACKER PRINCE
SCRIPT SAMPLE
After Clara falls asleep on Christmas eve, strange and magical things begin to happen.
(Script pages 18-20)

NOEL: Up in her room, Clara fell into a deep sleep...

STAR: And while she slept the strangest things began to happen.

(SOUND CUE ENDS.

MICE begin to enter from behind the audience. GNARLY and ROCKY enter from down one aisle as HUGHIE and NUTZO enter down the other.

The MICE carry weapons that are their size like spoons and forks, paperclips, knitting needles, they may have rubber bands for sling shots, bottle caps for shields, thimbles as helmets etc.)

MICE: (Chanting as they march, entering.) Hal-Loo! Hal-Lay! Hal-Loo! Hal-Lay!

KATARINA: Goodness!

MOTHER GINGER: Oh dear, this can't be good!

(MICE march in rhythm to the chant and rhyme. When they reach the playing area they address the audience.)

MICE: We're sick of cheese
It makes us sneeze,
We're done with crumbs
And day old buns
We've had our fill
Of milk you spill!
It is the hour
For Mousy power!

(They raise their fists and cheer themselves!)

Mousy Power! Yay! Hal-Loo! Hal-Lay! Hal-Loo! Hal-Lay!

(MICE walk up to audience members and snarl in their faces, acting cool and tough. They chant quietly as each introduces himself.)

GNARLY: They call me Gnarly on account of my tail. See. (Wiggles his rear end at audience.) Gnarly isn't it? Rar!!

ROCKY: Rocky here. 'Cuz I'm gonna rock your world, baby! Rar!!

HUGHIE: My name's Hughie. My mom wanted to call me Stewie but she changed her mind. Rar!!

NUTZO: My name's Nutzo. (Shakes his head and lets his eyes roll around, sticks fingers in his ears, crosses his eyes, blubbers his lips etc. Ends the performance with a shrug.) I don't know why. Rar!!

(They turn and wiggle their tails at the audience.)

MOTHER GINGER: They're in a nasty mood.

KATARINA: But what do they want?

MICE: We like to eat the gingerbread!
It keeps our mousy bellies fed!
Hal-Loo! Hal-Lay! (Cont.)

NUTCRACKER: The castle!

KATARINA: Oh no!

MOTHER GINGER: Nutcracker, you've got to do something.

(NUTCRACKER grabs a brass horn ornament off the Christmas tree and blows. He stands on top of the toy chest.

SOUND CUE #5: Horn flourish, call to arms! [sample]

SOLDIERS enter. ALEX, BORIS, VIKTOR, IGOR line up in front of NUTCRACKER and salute. MICE remain enjoying their chant on the other side of the playing area or out in an aisle.

SOUND CUE ENDS.)

NUTCRACKER: Listen up, my trusty warriors. We face great peril as our time of courage draws near. We will soon face the onslaught of a heartless enemy.

MICE: Hal-Loo! Hal-Lay! (Cont.)

NUTCRACKER: If our intelligence is correct they will soon attack the castle!

SOLDIERS: (Gasping!) The castle, not the castle!

NUTCRACKER: Yes! There I've said it. We are faced with nothing less than the total destruction of the world as we know it!

MICE: Our king he likes his pastry sweet
He likes a lot of it to eat!
Hal-Loo! Hal-Lay (Cont.)

ALEX: But sir! They can't do that...

BORIS: If they take the castle we will never be able to go back!

VIKTOR: What will happen to all the sweets?

IGOR: Not to mention our beloved Sugar Plum Fairy...

NUTCRACKER: Don't say it, Igor! We can never let it happen! We must scout the countryside, the entire house-world if necessary and find this enemy and stop him!
---
Note: This is a sample from the actual script. To review the entire play, order the PERUSAL SCRIPT (online instant download). Or to save 20% on the full production kit and royalty for one performance, order the SCHOOL PLAY PACKAGE (below) and start rehearsals today!