A Thousand Cranes
Medium Cast One Act Play for Middle, Jr., High Schools

---
A THOUSAND CRANES (Medium Cast Version)
CAST LIST
Running Time: About 40 minutes.
Flexible cast of 13, 4 Male, 4 Female, All others M/F.
Easily adapted for larger or smaller cast.
ACTOR 1 (29 LINES, M/F)*
ACTOR 2 (27 LINES, M/F)*
ACTOR 3 (26 LINES, M/F)*
ACTOR 4 (25 LINES, M/F)*
SADAKO (105 LINES, F)
KENJI (42 LINES, M)
FATHER (17 LINES, M)
MOTHER (19 LINES, F)
GRANDMOTHER OBA CHAN (26 LINES, F)
MASASHIGE (SIGNIFICANT MOVEMENT, M)**
MR. ARAKI (1 SPEECH, M)**
MRS. WATANBE (1 SPEECH, F)**
DAISUKE (1 SPEECH, M/F)**
---
* Number of ACTORS 1-4 may be doubled or divided.
** These parts may be played by ACTORS 1-4.

---
Easy to Stage a Stunning Production!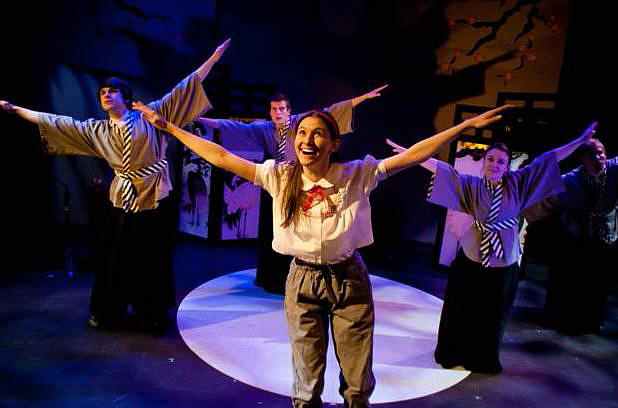 Barter Theatre, Abington VA
"Thank you for writing such an inspiring play. I've been teaching drama for three years at St. Mary Magdalen and never have my students been more engaged with a story."
Anne Mantha, St. Mary Magdalen School - Hazel Park, MI

---

A THOUSAND CRANES (Medium Cast Version)
WHY IS THIS PLAY BEST FOR YOUR SCHOOL?

Easy Choice! Top Quality! All of these plays were professionally developed by ArtReach Touring Theatre or were commissioned by Professional LORTS like Florida Rep and Rep of St. Louis. All have had professional tours to theatres and schools across the country. Many have won awards in High School One Act Play Contests, Drama and Thespian Speech and Theatre Competitions.

Easy Staging and Travel! Competitions rarely take place on your own stage! These One Act Plays have been designed to travel to the Contest Host Theatre on that important competition day. All have easy staging, simple sets & costumes, minimal props, flexible tech for a mainstage or gym/open facility performance space. At last your students can worry about their performance, not the set!

Easy to Adapt with Flexible Casting! When you license any of our One Act Plays you have permission to cut, adapt and adjust cast size! You also have permission to make a video or DVD of the production! At last, you are allowed to adapt a play to your students' needs!

Easy Budget! These One Act Plays, can be successfully produced on limited budgets and by small or medium student casts with little or no tech assistance. Many have great background CDs for an easy, inexpensive professional touch!

Easy Ordering! Follow the steps to order and pay your royalty, once you've paid, you're good to go! No complicated applications and the endless trouble of getting permission to make changes for your students' needs!

Tried and True! Our One Act Plays have been performed literally thousands of times by many professional theatres such as Stella Adler Theatre, Solano Youth Theatre, Nebraska Theatre Caravan, Singapore Repertory Theatre, George Street Players, Fulton Theatre Company, Indiana Repertory Theatre, Boarshead Theatre, Virginia Stage, Honolulu Theatre for Youth, Kennedy Center and Sundance Children's Theatre, to name a few. High Schools, Junior Highs, Middle Schools have been performing these plays for over 30 years!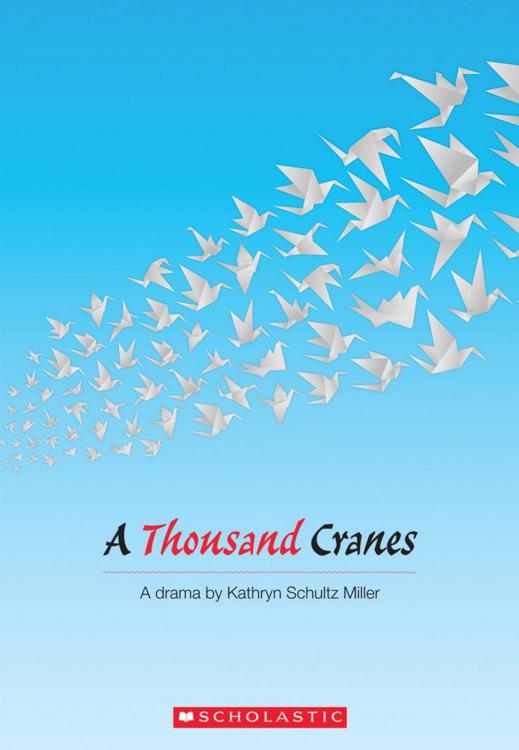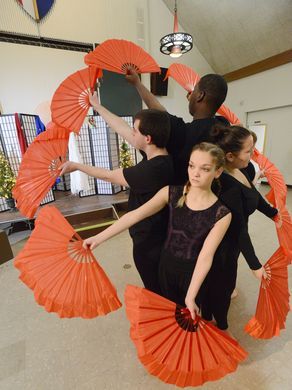 Published by Scholastic - Centenary Stage Co. NJ
---
A THOUSAND CRANES (Medium Cast Version)
CD SOUNDTRACK CUES
Cues, sound effects, original background music

The CD Soundtrack contains special sound effects and background music (original music written for the play) that may be used to greatly enhance the performance. It does not contain music for the performers to sing along with. Cues have 10 seconds of silence at the end - times shown below include silence.
[ Click on [sample] to hear a short sample of the indicated cues ]
1. CRANE FOLDING / A-BOMB (2:09) [sample]
2. RUNNING MUSIC (1:44) [sample]
3. HOSPITAL VOICES (1:14) [sample]
4. KENJI CRANE FOLDING (1:06)
5. KENJI FROG (0:48) [sample]
6. HOSPITAL / FOLDING (1:21)
7. FOLDING / FLYING (repeat) (6:58) [sample]
8. A-BOMB (0:38)
9. FOLDING / CURTAIN CALL (5:05)
---
Note: Some teachers choose familiar songs, obtain sheet music and insert these songs into the play. We recognize that each school has a wide variety of educational needs to fulfill and we invite you to be creative in your use of our scripts; including changes or additions that are appropriate for your students. As author/publisher of our own creative works, we do ask that you obtain proper copyright permission for any additions you might make - that responsibility is up to you.

Music & Sound Resources Available on the Internet
( Sheet Music, Song Books, CDs, DVDs, Sing-along, Karaoke, Sound Effects )

---
Proven Winner in Play Contests!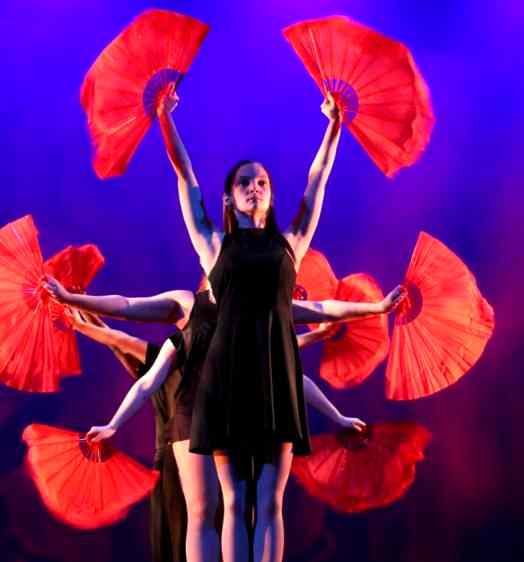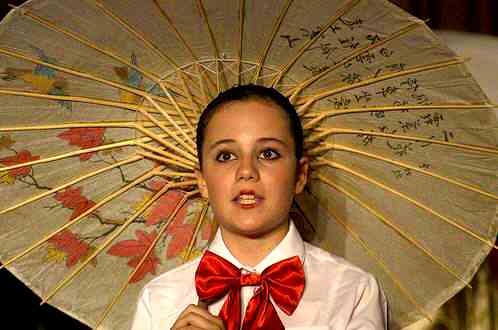 Centenary Stage, NY - Fusion Youth Theatre, Grimsby, UK
"We won the Oklahoma State Championship in one act play contest by a solid decision! The profoundly moving script allowed us to make the most of our resources with its simple open staging."
Jim Ryan, Drama Teacher, Norman North High School OK

---
A THOUSAND CRANES (Medium Cast Version)
SCRIPT SAMPLE
A Thousand Cranes has many light moments! This is a fun, lively exchange between Sadako and her friend Kenji.

KENJI: I have a present for you.

SADAKO: You do?

KENJI: Close your eyes.

(She squinches her eyes shut, KENJI puts a piece of gold paper on the bed.)

KENJI: Now you can look.

SADAKO: (Looking at paper.) What is it?

KENJI: (Laughs.) I've figured out a way for you to get well. Watch!

(He slowly folds paper into origami crane. Recorded music heard earlier in the mimed folding is heard:

SOUND CUE #4

NOTE: There may be 3 paper cranes hidden in the bench or covered by KENJI's satchel. He may secretly change one crane to another to show it in 2 or 3 stages of folding. At last he taps its wings and head into place and holds the crane in the palm of his hand as if it is very precious.)

SADAKO: Kenji, it's beautiful. (Takes crane.) But how can this paper crane make me well?

KENJI: Don't you remember that old story about the crane? It's supposed to live for a thousand years. If a sick person folds one thousand paper cranes, the gods will grant her wish and make her healthy again. There's your first one.

SADAKO: (Very touched.) Oh, Kenji. It's beautiful.

KENJI: Make a wish.

(ACTORS make musical sound of chimes from the music stand. SADAKO holds it out before her, closes her eyes, and her lips move silently. She looks up at KENJI, very moved by his gift.)

SADAKO: Thank you, Kenji. Thank you.

KENJI: Don't thank me. You have to fold the rest yourself.

SADAKO: I'll start today. (Looks around.) But I'll need paper.

KENJI: (Putting her on.) Now where in the world could we get some paper? (Pretends to think, then pulls paper out of his satchel.) Well, what do you know? Look what I have here. (Hands it to her.) This ought to keep you busy.

SADAKO: (Takes paper, smiles at his fun, becomes serious.) Kenji?

KENJI: Yes?

SADAKO: (Trying to be strong.) Who won the race?

KENJI: (Carefully.) Oh, I don't remember her name. She wasn't very fast. She was a turtle.

SADAKO: But you always said I was a turtle.

KENJI: Oh, well, I was only teasing when I said that. You're much more like that crane there. You run very fast, Sadako, like a bird. Like the wind.

SADAKO: (Almost ready to cry, bolsters herself.) So if I'm not a turtle, does that mean you're not a frog?

KENJI: What? Me? A frog? Why, that's the silliest thing I ever heard... croak! Oops! There's that sound again. Croak! Uh-oh. It's starting again, Sadako. Look! Croak! I'm turning all green and warty! Croak! Croak!
---
Note: This is a sample from the actual script. To review the entire play, order the PERUSAL SCRIPT (online instant download). Or to save 20% on the full production kit and royalty for one performance, order the SCHOOL PLAY PACKAGE (below) and start rehearsals today!.