FREE RESOURCES: Directing Tips [ Page 3 ]
Ideas & suggestions for producing a creative, fun school play
< Prev | 1 | 2 | 3 | 4 | 5 | 6 | Next >
Everyone Loves Audience Participation
Audiences and Kids Have Fun Together

During the revolutionary 60s and 70s, a British director named Brian Way forged a new direction in children's theatre that centered on inclusion. His plays were the first to have all children participate together in a way that really offered kids a chance to use their natural impulse to play and imagine. For us at ArtReach, Brian Way is a hero.

With ArtReach's School Plays, we strive to find new and creative ways to bring audience and cast together. We don't believe in lecturing kids about how to behave during a play – we let them know that something fun is going on and they are invited to enjoy it with us. Whether you are on stage or in the audience, you are a part of this very special event we call live theatre.

In The Emperor's New Clothes, the audience is invited to help the conniving tailor pull a fast one on the Emperor. In Alice in Wonderland, the Queen of Hearts invites the audience to play along during the flamingo croquet game. In Pinocchio, the audience actually becomes the whale that swallows Geppetto and his little puppet son. In Aladdin, market sellers come right up to the audience members to sell their wares. Hope you have a coin, because the merchant is ready to make a deal!


Audience members pretend to hold the Emperor's invisible coat.
Young market Sellers in Aladdin present their wares to the audience for sale.
See more photos here: The Emperor's New Clothes and Aladdin

Every ArtReach School Play will give you lots of tips and instructions on how involve your audience. As a director, you can be sure that the audience participation is clearly explained in the script. The School Plays even have blocking suggestions that will bring your scenes right into the aisles! You will be amazed at how easily everyone catches on and how eager your audience is to join in the fun.

---

How to Hold Auditions for a School Play
Create a Safe Place for Kids to Explore Their Talents

It's important to decide what your goals are for the production. Do you want to produce a play that is as close to professional as possible? Or do you want to provide an educational experience for lots of kids in order to expose them to the dramatic arts?

ArtReach's School Plays can serve either of these goals. There's no one "right way" to do it! Many teachers produce wonderful elaborate productions with professional sets and costumes. And we love to see pictures of these productions! Take a look at these: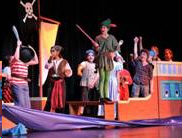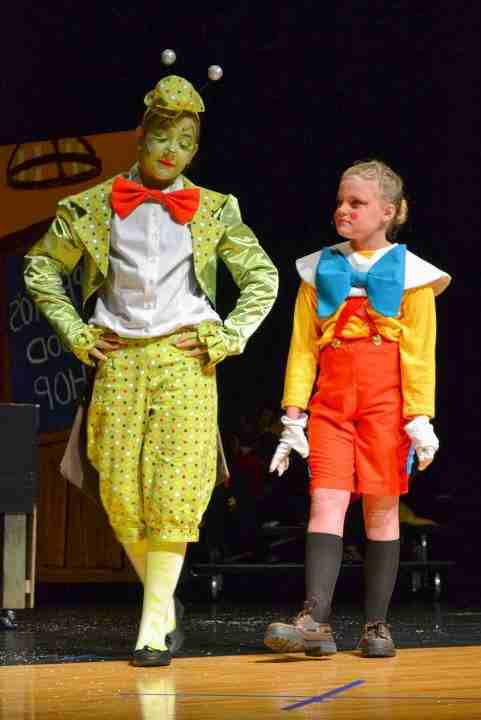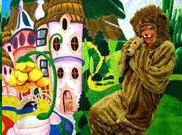 Peter Pan ----------------- Pinocchio -------- The Wizard of Oz
But for every gorgeously realized production, there are many productions that are quite informal that put the emphasis is on simply learning and having fun. These productions are just as exciting and meaningful to your kids!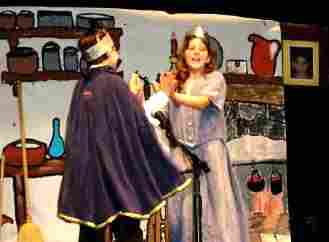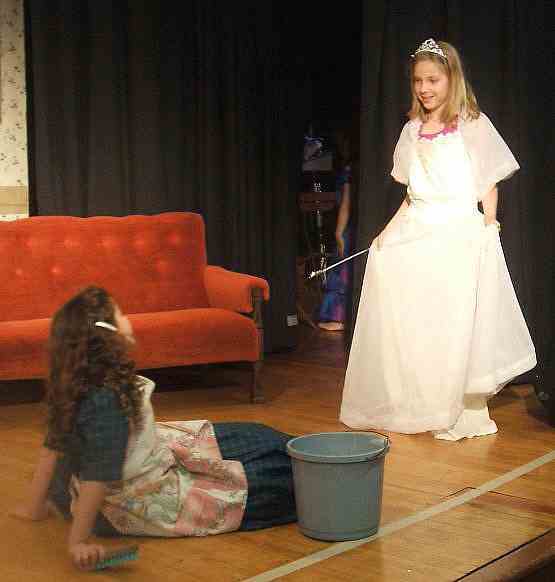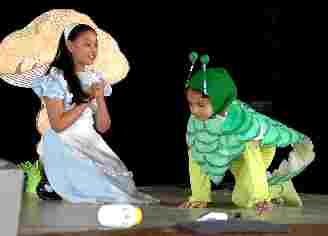 ------------------------ Cinderella ---------------------- Alice in Wonderland
If your concern is providing kids with their first taste of acting, we suggest starting with a policy of inclusion. For auditions, have everyone who is interested gather together in one large room. Have everyone stay together throughout the process. At the beginning of the session explain that everyone is being considered and everyone who wants to be in the play will be cast. Then encourage your young hopefuls to support each other during auditions. Tell them to laugh and applaud their fellow auditioners if they feel like it!

Rather than concentrating on monologues or 2 person scenes, choose group scenes from the script and have a several kids audition together. Let everyone who wants to read a scene have their chance. Never say a line for your actors and ask them to mimic you. This limits your performers and sends the signal that there is a "right way" to say the line when in fact the possibilities are endless! Your young performer may surprise you with an incredibly creative reading! Also, never interrupt a student while he or she is auditioning. Stick to the scene as you have provided it and show great respect for the performers' efforts.

Keep your eye open -- not for the next Broadway star -- but for all the signals the kids will send you about where they are in the creative process. Look for opportunities to cast kids in roles that do not seem obvious for them. The class clown might be challenged by playing the less than comic role of Prince Charming. The shyest kid in your group may come alive as Captain Hook. Look for the kids who help others and put them in roles where they can strengthen the sense of camaraderie in your cast.

At every turn in the process offer your kids a chance to explore and discover their own unique talents. Give them a safe place to enjoy this wonderful new thing called live theatre. Without a doubt you will find treasures of talent where you least expect it!

---

Which School Play is Best for Your Age-Group?
The Simplest Play Not Necessarily the Easiest

Teachers with very young kids often ask which play is the simplest for their kids to learn. The Wizard of Oz will always be fairly easy for the youngest kids because they are very familiar with the story. ArtReach's Wizard of Oz follows the L. Frank Baum book and does not stray into new side-line stories or tangents, so every part of the script will feel familiar to you and your students.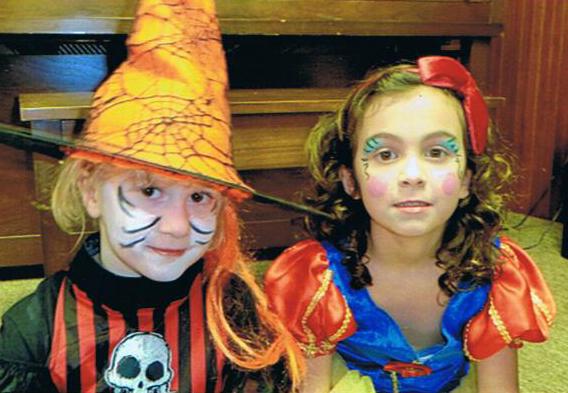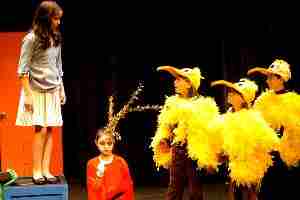 ----- Snow White ----------------------------- Alice in Wonderland
Great plays for K-3 kids are Cinderella and Snow White. These are a little shorter than the other plays and have lots of great roles for kids with very simple dialogue. If you are looking for a play that is written in scenes you might consider Alice in Wonderland. Alice is episodic and each scene can be separated from the whole, so that you can concentrate on one scene at a time during rehearsal.

Surprisingly, A Thousand Cranes is a very easy play to put together. Dialogue is quite simple and costumes and scenery are easy to make. However, the subject matter is a bit deeper than other plays and it's a good idea to factor discussion time in your rehearsal schedule. A Thousand Cranes is often performed by kids as young as kindergarten with terrific results!

---

Let Your Imagination Soar!
Your School Play Can Be Easy, Stress-Free & Fun

Long-time ArtReach Friend and Director Sarah Ackerman-Hale posted this last week just before the opening of her TREASURE ISLAND: YOUNG PIRATES OF THE CARIBBEAN: "Directing plays inspired me to go back to school to become an elementary teacher. As I've completed my schooling, I've come to really understand and appreciate your philosophies about the emphasis being on the process, not so much the completed "product." Here's a pic from Sarah's Madison Avenue Performing Arts summer show!


Check out Treasure Island for more pictures!

ArtReach's "open stage" suggestions give you freedom to let your imagination soar! Just because it's easy doesn't mean it's not good. Sarah gave her kids a blackboard and chalk and they created a one of kind set that is all their own! To create costumes, Sarah invited everyone to dress up for a Pirate Party. Presto! Instant set and costumes that cost almost nothing and make the most of kids' natural creativity and impulse to play.

Sometimes "easy", "stress-free" and "fun" make the end result more exciting than you ever dreamed possible!

---

How to Make Summer Drama Camp Stress-Free
Beware of Little Pirates!

One of the best things about summer is that there are lots of "big kids" around to help you with the "little kids"! Take a tip from ESF Camps at Gilman School in Baltimore. They used ArtReach's TREASURE ISLAND: YOUNG PIRATES OF THE CARIBBEAN to put together a fun and stress-free pirate day camp!


Treasure Island: Young Pirates of the Caribbean
ESF Camps at Gilman School, Baltimore MD

Enlist the older kids in your school, community or church to help put the play together. Divide your little pirates into "tribes" and put 3 or 4 older kids in charge of each. The tribe leaders can work together to coordinate activities before the little ones arrive. Divide the script up and assign portions to each tribe. This way each group has about 10 minutes of material and one song to work on. At the end of the 1 or 2 week session, put all the tribes together for a swashbuckling full-length show. What a way to make little stars shine! It's a great experience for the tribe leaders too!

ESF Camps kicked the whole shebang off with a fun Beware of Pirates Day! This helped with costume creation and gave the kids a taste for the play they would be performing.

Argg, me hearties! A grand time was had by all!

---

Join the Parade to Promote Your Summer Play
Enter a Float in the Local Independence Day Parade

Take a tip from Maumelle Youth Theater (Maubelle AR)! The creative folks at this theatre for kids came up with a fun and effective way to promote their July performance of ArtReach's TREASURE ISLAND: YOUNG PIRATES OF THE CARIBBEAN!

Have your kids design, build and enter their show-themed float in the local 4th of July Parade. This gets young creative juices flowing, costumes built early and gives everyone a shot of confidence! What a fun way to show the whole town how great your upcoming show is going to be!


Maumelle Youth Theatre won first place for their Treasure Island float.
Check out more about TREASURE ISLAND for kids

Maubelle's parade float won BEST OVERALL PARADE FLOAT on the 4th of July! They won a huge trophy and $200! Every little pirate was excited about getting started on rehearsals and looking forward to getting their pirate on! What better way to make performance ship loads of fun? Arggg!

---

Directing Tips: < Prev | 1 | 2 | 3 | 4 | 5 | 6 | Next >
All Free Resources