FREE RESOURCES: Classroom Activities [ Page 3 ]
Student discussions, exercises, games before and after the play
< Prev | 1 | 2 | 3 | 4 | 5 | 6 | 7 | 8 | Next >
What Lessons Does 'Wizard of Oz' Teach Us?
Classroom Discussions – Wizard of Oz

General Discussion / Questions

1. Why does Dorothy want to be in some other place than Kansas?

2. Do you ever feel like Dorothy did?

3. Dorothy is taken to Oz by a "twister", what is another name for a twister?

4. Oz is a very beautiful and colorful world, but Dorothy still finds problems there. Do you think there is any place where there are no problems?

5. Do you think the Scarecrow really needed a brain? The Tinman a heart? The Lion his courage?

6. The Wizard, at the end of the play, turns out not to be a Wizard. Though he didn't have the magic powers of a wizard, do you think he helped Dorothy, the Scarecrow, the Tinman, and the Lion?

7. It is interesting that Dorothy had the power to return home to Kansas anytime she wanted to but she wasn't aware of it. Do you think we often have the power to do what we want but we may not know it?

8. How many books have been written about the Land of Oz? (hundreds) Have you heard of any others besides The (Wonderful) Wizard of Oz?
Let Your Students Roar With Fun!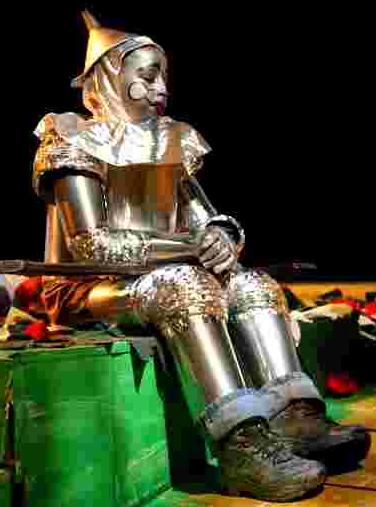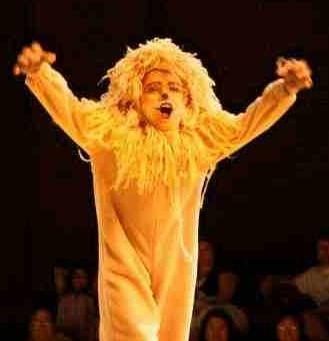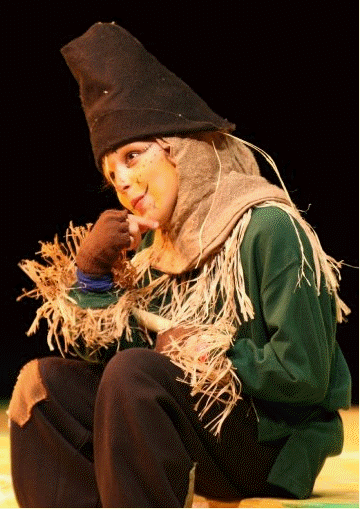 A Roaring Good Time at Lakefront Youth Theatre Experience, New Orleans
Drawing & Art Activities

You saw the Wicked Witch' s castle, what do you think Glinda's castle looks like?

Draw a picture of your favorite part of the show; of your favorite character.

Draw a picture of yourself with characters in the play. Where would you be? What would you be doing?

Famous Wizard of Oz Quotes

Discuss what meaning these sayings have for us in our everyday lives. Can you give an example that illustrates the meaning?

"Never question the truth of what you fail to understand, for the world is full of wonders." -- L. Frank Baum

"..Remember, my friend, a heart is not judged by how much you love, but by how much you are loved by others..." – Wizard

"...if I ever go looking for my hearts desire again, I won't look any further than my own backyard... Because if it isn't there, I never really lost it to begin with."
-- Dorothy

---

Lets Talk about Courage!
The Cowardly Lion in Wizard Of Oz is Perfect for Discussion!

Discussion / Questions: Have a class discussion about the Lion's search for courage. The following questions could be addressed:

Why do you think the Lion felt that he needed courage?

(Lions are known as the King of the Jungle. The Lion felt that he did not have enough courage to live up to the expectations of others)
Talk About the Cowardly Lion in Wizard of Oz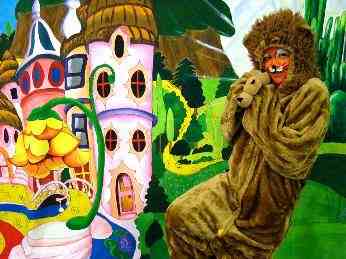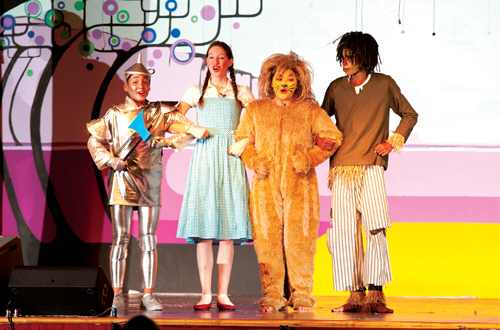 Karapiro School, Cambridge, NZ - British School, Ho Chi Minh City, Vietnam
How important is it to live up to the expectations of others, such as parents, friends, and acquaintances? Do you feel that there are times when you do not have enough courage? What do you do in these situations?

What would you like to do? What is the best thing for you to do?

Was the Wizard able to give the Lion courage at the end of the story?

(No, he discovered that courage must come from within. As various challenging situations arose on the journey, the Lion unconsciously responded courageously because of his desire to help others)

Ask students to reflect upon a time they exhibited courage when they thought that they lacked it. Have students think about ways they can develop courage.

Writing Exercise: Have students write a commercial or jingle that tells/shows the audience: How to Cultivate the Courage that Lies Within Us. Some ideas that can be incorporated are: Believe in yourself. Don't be afraid to say no. Telling the truth is always the best policy. Don't feel that you must follow the crowd in order to survive. It is more important to think for yourself.

---

Martin Luther King in the Classroom
Prepare for 'We are the Dream' with Classroom Activities

Citizenship / Role Playing

This common activity is used in classrooms everywhere – but it's one worth repeating from time to time! The activity helps students understand the concept of "discrimination."

For this activity, divide the class into two or more groups. Some teachers divide students by eye or hair color; some invite students to select and wear badges of different colors (purple, green, and other colors that are not related to skin color); and others isolate students whose first names begin with the letter B (or whichever letter is the most common first letter of students' names in the class).

For a class period or for an entire school day, one group of students (for example, the kids who have blond hair, those wearing orange badges, names start with B, etc.) are favored above all others. Those students receive special treats or special privileges, and they are complimented often. Students who aren't in the "favored" group, on the other hand, are ignored, left out of discussions, and otherwise discriminated against.

At the end of the period, students discuss their feelings.

• How did it feel to be treated unfairly, to be discriminated against?
• Invite students to talk about times they felt they were judged or treated unfairly.
• How does this experiment relate to the life of Martin Luther King?
Let Your Kids Live the Dream!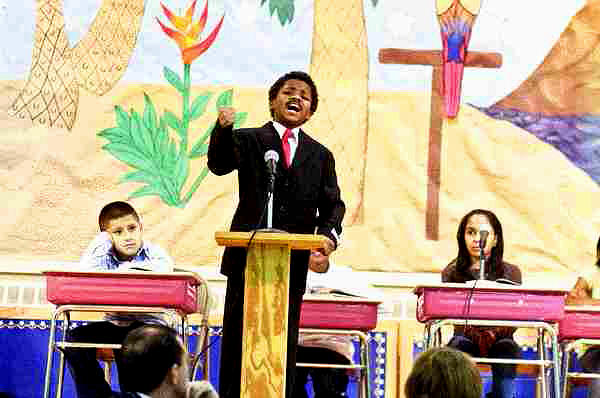 A Student Performs MLK's Dream Speech!
Charteret School, Bloomfield, NJ
Read Aloud

Read aloud one of many Martin Luther King, Jr. biographies to motivate interest in creating a timeline of his life. Your school and local libraries are sure to have several to choose from.

Select a handful of the most important events from the book to start your timeline. Let students fill in other events as they use other books (and online resources) to learn more.

Teachers at the lower grades might focus on books that emphasize a "getting along" theme -- books such as The Land of Many Colors by the Klamath County YMCA (Scholastic, 1993), Together by George Ella Lyon (Orchard Paperbacks), and The Berenstain Bears and the New Neighbor (about the bears' fears when a panda family moves in next door).

Geography

On a U.S. map highlight places of importance in the life of Martin Luther King. Place a pushpin at each location and extend a strand of yarn from the pin to a card at the edge of the map. On the card explain the importance of that place.

History / Role Playing

Make a list of events that are included on your Martin Luther King timeline (e.g., Rosa Parks' bus ride, integrating Little Rock's schools, a lunch counter protest, the "I have a dream" speech).

Let students work in groups to write short plays in which each group acts out one of the events.

Public Speaking

Martin Luther King's "I have a dream" speech is one of the most famous and often quoted speeches of all time.

• Read the speech aloud.
• Invite students to listen to the speech. ( Hear the speech )
• Write on a chart some of the "dreams" Martin Luther King expressed in it.
• Ask students to think about the things they dream for themselves, their families, their country, and the world, and to express those dreams in their own "I have a dream" essays.

Multiculturalism

A simple class or school project can demonstrate the beauty of diversity!

Martin Luther King's dream was to see people of all countries, races, and religions living together in harmony. Gather seeds of different kinds and invite each student to plant a variety of seeds in an egg carton. The seeds of different shapes, sizes, and colors will sprout side by side.

Once the plants are large enough, transplant them into a large pot in the classroom or in a small garden outside. Each class in the school might do the project on its own, culminating in the creation of a beautiful and colorful (and diverse!) school-wide garden.

---

Theatre Etiquette - ArtReach Plays
Here are a few ideas for discussing etiquette with your students and young audiences:

1. Sometimes we forget when we come into a theatre that we are one of the most important parts of the production. Without an audience there would be no performance. Your contribution of laughter, quiet attention and applause is part of the play.

2. When you watch movies or television, you are watching images on a screen, and what you say or do cannot affect them. In the theatre the actors are real and present in person, creating an experience with you at that very moment. They see and hear you and are sensitive to your response. They know how you feel about the play by how you watch and listen.

3. An invisible bond is formed between actors and a good audience, and it enables the actors to do their best for you. A good audience helps make a good performance.

An invisible bond is formed between actors and audience.

Blue Horses -- Huron High School, Sioux Falls SD -- Cast and Audience

Suggestions for Student Etiquette:

1. You share the performance with everyone in the audience. Your talking, movement or any other distracting activity, once the show has begun, not only disturbs the actors onstage but the audience around you as well.

2. Your comments and ideas about the play are important, but save them for after the play to discuss them. Or even better, write a letter to the performers.

3. Before entering the performance area, get a drink of water or visit the restroom if you need to.

4. Once you are seated, you should remain seated. When the play begins, because the actors are directed to move all about the room, it's important for everybody's safety that the walkways and stage areas remain clear of students.

---

The History of Santa's Elves (Elf)
Let's Talk Elves for A Snow White Christmas!

According to tradition, Saint Nicholas (St. Nick, Santa Claus) has many helpers in all the different countries around the world. While each helper goes back and forth to St. Nick's Workshop, many live in the countries they originate from.

In some countries where English is the main language, these helpers are called Santa's Elves. Each Elf , traditionally a green and red clad helper, wraps the gifts and makes the toys in Santa's Workshop, which is located in the Arctic North Pole.


A Snow White Christmas - Bremerton Community Junior Theatre, WA

In days gone by, children loved St. Nick, but were afraid of his helpers. For it was told that is was the helpers who kept track of who had been naughty and who had been nice. Naughty children would get coal in their stockings and may even be carried away in the helper's bags until they learned to be good.

What can you do to help keep an Elf from playing pranks on you on Stocking Day or Christmas Eve? Rumor has it that if you leave a bowl of porridge out for an Elf, it will help keep them from playing any pranks on you.

What are Elves called in other countries?

In the Netherlands, this helper is called Black Peter.

In Iceland they are called Yule Lads

In Germany, they are Knecht Ruprecht.

In many parts of France, the helpers are called, Père Fouettard.

In Luxembourg, they are known as Hoesecker.

In Nordic Countries such as Finland, Iceland, Denmark, Norway and Sweden, an Elf will usually only wear red, not the red and green known in English speaking countries.

In Iceland, from December 12 to December 24 the 13 the Yule Lads visit homes (a different Yule Lad visits every day). It's during that time that the Yule Lads leave presents and also play tricks on the children.

---

Islander students fold 1,000 paper cranes for Japan
Mercer Island Reporter and Sound Publishing, Inc.
Three seventh-grade students at Islander Middle School collected and folded more than 1,000 origami paper cranes to benefit Japan earthquake and tsunami relief last weekend.

Three seventh-grade students at Islander Middle School collected and folded more than 1,000 origami paper cranes to benefit Japan earthquake and tsunami relief last weekend. Elisabeth Williams was finishing performances of "Singin' In the Rain" at Studio East in Kirkland when she saw two boxes filled with paper cranes. She had been making cranes after IMS Leadership classes, as teacher Becky Mullvain and WEB Leaders responded to a Japan relief project of Seattle's Bezos Family Foundation. The foundation's Students Rebuild/Japan partnered with DoSomething.org to encourage students to support Japanese peers.
Seventh Graders Fold Paper Cranes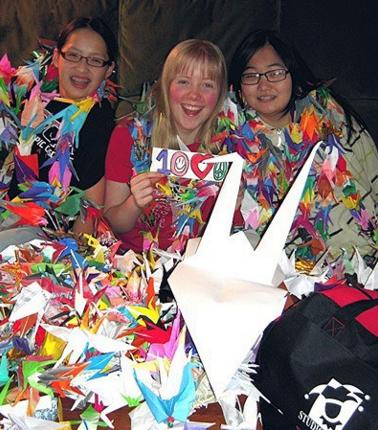 Islander Middle School, Bellevue WA
Paper cranes will launch a $200,000 donation from the foundation at $2 per crane with a goal of 100,000 cranes made by students worldwide. Sabrina Kwan, a leadership student and Gillian Dewhurst, helped Williams fold many cranes and brought the total of their efforts to over 1,000 pieces. Studio East presented "A Thousand Cranes" in February and the cast folded cranes for set decoration. The theater training program was eager to join in the relief effort.

The donation will go to Architecture for Humanity's reconstruction projects in Japan, and the cranes will be woven into an art installation. Prepaid shipping labels for boxes of 50 or more cranes are available by e-mailing [email protected] For more information, go to http://studentsrebuild.org/japan/.

---

IMAGINATION: A World That Never Grows Old
Classroom Talking Points for ArtReach's Peter Pan

Objective: Help students understand the importance of imagination, creativity and the creative arts - for everyone, children and adults alike. Like Peter Pan, it's a world that never grows old.

Activities: Have the class reflect on the familiar story of Peter Pan. Ask students to write a summary of the story (50-100 words).

1. Allow students to read their summaries to the class.

2. Ask students to draw their favorite character or scene (and tell why they picked that character - can combine with summary story, above - helpful in assigning roles in theplay!).

Do you think there's actually a magical place like Neverland?

ArtReach's Peter Pan -- Bremerton Junior Theatre, WA

3. Display all the drawings (great as a guide for costume and set design!).

4. Ask students to name (or draw) the "real life" characters (Wendy, her brothers, John and Michael, her Mother and Father, their dog, Nana). Ask students to name (or draw) the "imaginary" characters from Neverland (Peter, Tinker Bell, Stars, Lost Boys, Tiger Lily, Indians, Captain Hook, Smee, pirates, crocodile, etc.).

5. Never grow up and to live in an imaginary - make-believe - place like Neverland: What would happen if you never grew up, never got older? (You'd be in this same class forever! No more birthdays! Nor birthday presents! Your friends would get older, graduate, go away, you'd still be a kid! Etc., etc. This can be fun.) Why do you think Peter Pan never wanted to grow up? (On the day he was born his parents told him all the things he would have to do when he grew up - so he ran away from home! Now, that's pretty imaginative!)

6. Do you think there's actually a magical place like Neverland? (There was for Peter Pan! Neverland is an imaginary place created by the man who wrote the story, J. M. Barrie. Even Peter Pan and all the people in the story are imaginary. But isn't imagination a wonderful thing? Without it we wouldn't have wonderful stories like Peter Pan, the Wizard of Oz, Cinderella.)

7. Can you think of your own magical place? What would you call it? (Magicland? Fantasyland? Funnyland? Weirdland? Darelland, Meaganworld?)

---
Classroom Exercises: < Prev | 1 | 2 | 3 | 4 | 5 | 6 | 7 | 8 | Next >
All Free Resources