FREE RESOURCES: Classroom Activities [ Page 4 ]
Student discussions, exercises, games before and after the play
< Prev | 1 | 2 | 3 | 4 | 5 | 6 | 7 | 8 | Next >
---

Let's Have Fun with Alice in Wonderland!
Classroom Discussions, Questions and Quotes

1. Why is the White Rabbit in such a hurry? Where is he going?

2. What makes Alice shrink? What makes her grow?

3. Why can't Alice get through the door after she opens it with the key?

4. Why is "Cheshire" pronounced "Cheshur"? Where was Lewis Carroll from?

5. Why is the Queen called the "Queen of Hearts"? What other three similar Queens are there? What about the King and Jack and all the other "cards"?

"Curiouser and curiouser!" - Alice

ArtReach's Alice in Wonderland - Bangkok Patana School, Thailand

6. Why use Flamingoes for croquet mallets? What color are Flamingoes?

7. Alice wakes up at the end of the play. Was Wonderland a real place or was it only a little girl's dream?

8. Why is Lewis Carroll also called Charles Dodgson? What is a pseudonym?

"Sentence first -- verdict afterwards!" - Queen

ArtReach's Alice in Wonderland - Bangkok Patana School, Thailand

Famous Alice in Wonderland Quotes:

Discuss what meaning these sayings have for us in our everyday lives. Can you give an example that illustrates the meaning or image?

"What is the use of a book without pictures or conversations?" - Alice

"Curiouser and curiouser!" - Alice

"Good-bye, hello, good-bye, hello." - White Rabbit

"Shall I never get any older than I am now? That'll be a comfort, one way -- never to be an old woman -- but then -- always to have lessons to learn!" - Alice

"Well, then you see, a dog growls when it's angry, and wags its tail when it's pleased. Now I growl when I'm pleased, and wag my tail when I'm angry.

Therefore I'm mad." - Cheshire Cat

"I can't explain myself, I'm afraid, Sir, because I'm not myself you see." - Alice

"I've had nothing yet, so I can't take more." - Alice

"You mean you can't take less, it's very easy to take more than nothing." - Hatter

"Sentence first -- verdict afterwards!" - Queen

"Begin at the beginning and go on till you come to the end: then stop." - King

"What is the use of a book without pictures or conversations?" - Alice

ArtReach's Alice in Wonderland - Bangkok Patana School, Thailand

---

Lexington Children's Theatre - Amelia Earhart
Here's an Excerpt from an Excellent Study Guide for Amelia Earhart Productions

Founded in 1938, Lexington Children's Theatre, "the gem of Lexington", is a professional theatre creating captivating theatrical experiences for young audiences and is proud to be the official Children's Theatre of the Commonwealth of Kentucky. This awesome company has performed ArtReach Plays and plays by author Kathryn Schultz Miller for many years.

See the complete LCT study guide here: http://www.lctonstage.org/wp-content/uploads/2018/09/Amelia-Earhart-Play-Guide.pdf

"Lady Lindy" is American Hero

Amelia Earhart, Lexington Children's Theatre, KY, professional production

Amelia True or False:

Write T if the statement is true and F if the statement is false.

1. ____ Amelia Earhart was married to Charles Lindbergh.

2. ____ The first time Amelia Earhart flew across the Atlantic, she was a passenger.

3. ____ Before she was a famous pilot, Amelia Earhart was a social worker.

4. ____ George Putnam was a Hollywood stuntman.

5. ____ The press referred to Amelia Earhart as "Lady Lindy."

6. ____ Amelia Earhart eventually married George Putnam.

7. ____ Paul Mantz taught Amelia all about the Lockheed Model 10E Electra airplane.

8. ____ Commander Thompson's ship was the U.S.S. Arizona.

9. ____ Amelia Earhart made her last flight alone.

10. ____ Amelia was trying to land on the island of Howland when she disappeared.

11. ____ Amelia Earhart disappeared on July 2, 1937.

13. ____ Amelia once landed in a cow pasture owned by a farmer named Gallagher.

14. ____ There are many theories, but no one knows for sure what happened to Amelia.

Amelia Discussion Questions:

Mention some important events that occurred in Earhart's lifetime and discuss one event in greater detail.

Why do Amelia Earhart's contributions make her an important American hero?

What were some of Earhart's significant challenges? What character traits did she display in meeting these challenges?

Discuss, in your own words, an understanding of the structure of a news story.

Discuss, in your own words, an understanding of the relationship between goal fulfillment and positive character traits.

Lets Talk About Peter Pan!
Get Your Cast and Class Ready With Discussion on Peter Pan!

Discussion / Questions: Have a class discussion about what it would be like to never grow up and to live in an imaginary – make-believe – place like Neverland:

What would happen if you never grew up, never got older?

(You'd be in this same class forever! No more birthdays! Nor birthday presents! Your friends would get older, graduate, go away, you'd still be a kid! Etc., etc. This can be fun.)

Why do you think Peter Pan never wanted to grow up?

(On the day he was born his parents told him all the things he would have to do when he grew up – so he ran away from home! Now, that's pretty imaginative!)
Peter Pan to Learn, Perform and Enjoy!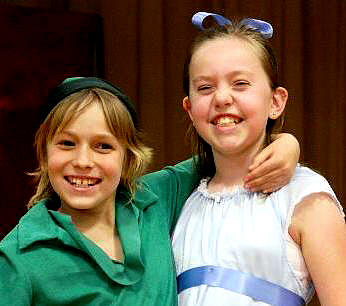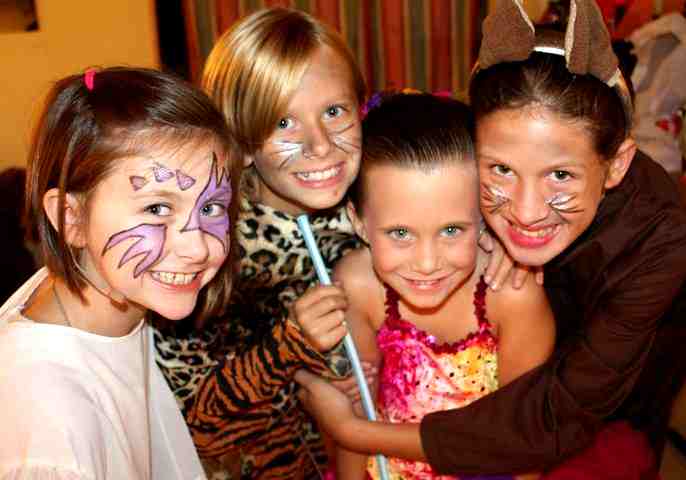 Turkey Hill School, Orange, CT -- Whole Backstage Theatre, Guntersville, AL
Do you think there's actually a magical place like Neverland?

(There was for Peter Pan! Neverland is an imaginary place created by the man who wrote the story, J. M. Barrie. Even Peter Pan and all the people in the story are imaginary. But isn't imagination a wonderful thing? Without it we wouldn't have wonderful stories like Peter Pan, the Wizard of Oz, Cinderella.)

Can you think of your own magical place? What would you call it?

(Magicland? Fantasyland? Funnyland? Weirdland? Billyland, Maryworld...)

Who would live in your magic land?

(You? Me? Pirates? Space people? Crocodiles? Dinosaurs? Green elephants? Hump back camels and chimpanzees? Unicorns?)

Can you really fly? But can you imagine what it would be like to fly?

(Sometimes the only way we can "do" something is to imagine doing it.) (Continue the discussion...)

What would it be like if we couldn't imagine fun or silly or impossible things?

If we couldn't play? If we had to be serious and real all the time?

Even when we get older we'll still like to imagine fun things, won't we?

So even though we all have to get older, maybe we can be like Peter Pan by using our imaginations to create a world where we "never grow up" – like writing stories, painting pictures, playing music...

Or performing a play.

---

Fun Learning with Creative Dramatics
Pantomime! Sculptures! Court of Animals!


Pantomime

Explain pantomime to children as acting without words or props. It combines elements of theater and works best with a strong script or actions and allows the actors to "talk" without speaking. The secret is to exaggerate everything and move in slow motion.

For simple pantomime activities, pick kids and ask them to pretend they are doing sports activities. The kids in the audience should try to guess what the "actor" is doing. If possible, have enough activities so that every child has an opportunity to pantomime.

Creating Sculptures

Divide the class into pairs. In each pair, one student is the "sculptor" and one the "clay." The sculptor "sculpts" his or her partner's body into a statue of his or her choosing. The sculptor may do this by physically moving the partner's body into position, or by showing the "clay" how to stand. The sculptor pays close attention to even small details like facial expression or the position of a finger.

When the "sculpture" is finished, she or he freezes. (It the position is difficult or impossible to hold, the "sculpture" may memorized it and then relax until her or his turn in the "tour" arrives.

Once all of the artists have finished their masterpieces, I call them together in the center of the room. The "sculptures" remain in place around the room. In role as a museum guide, I conduct a tour of the "gallery." When we reach each work, the artist who made it steps forward and explains his or her work to the group. In this way we make a complete tour, giving each artist a chance to show off and describe his or her work.

Once a "sculpture" has been viewed, she or he may relax and join the group on the rest of the tour. Once the "tour" is finished, the partners switch roles and the process is repeated.

Fun With Creative Dramatics!

Audience Participates in the Emperor's Parade! Ensworth School, Nashville, TN

Emperor's Court of Animals

Every good Emperor, like a King, needs a court. A King needs to have people around him who are his friends, whom he can trust and upon whom he can rely. These people are called courtiers. What qualities should courtiers possess? Some will suggest: "strong," and "brave," "helpful" and "loyal," and "clever." Think about which animals exemplify each quality. (For example, elephants are strong and helpful, dogs are helpful and brave, cats are clever and brave, horses are loyal and helpful, etc.)

Discuss the sort of animals who would make good courtiers Appoint an "Emperor" and call the animals forward. He asks, "What sort of animal are you?" The student announces what animal he or she is portraying. The student then describes the qualities of her/his animal that make that court." After the animals have been named have them have a "royal procession" with the Emperor leading the animals around the room.

---

Cinderella Party Games
Creative Dramatics Ideas for Teachers

Pass The Glass Slipper - Play this game like Hot Potato: Turn your back to the guests -seated in a circle - play music and whenever you stop the music the person with the shoe is out - the last person left wins. (An idea for making a glass slipper is to use one of your old high heels and glue a bunch of glitter to it )

Pin The Star On Fairy Godmother's Wand - Print out or draw a picture of the fairy godmother without the star on the end of her wand. Print out or draw enough stars for each guest and play this like pin the tail on the donkey.

Let your students play "Pin the Star on Fairy Godmother's Wand"

Cinderella Performance, Athol-Royalston School Theatre, WA

Who Am I - Before the party, write the names of Cinderella characters on several 3x5 cards; stepmother, step sisters, prince, fairy godmother... To play, tape the cards onto the girls backs, so that they cannot see their own character. The object of the game is to identify who is on your back, by asking yes/no questions of the other players. Example: Am I a girl ? Boy? Am I nice? Do I have magical powers?

---

American Sign Language
A Great Way to Enhance Your School's Performance!

How do you say Merry Christmas in ASL?: Take both of your hands and put them on your chest by your collar bones and extend them outwards twice. Then you make a C (if you don't know how to sign spell then its exactly how you would imagine how a C would be)... and you rest both your arms over each other (like in "I dream of Jeannie") and lift up the arm with the C to a 90 degree angle.

American Sign Language: It is becoming quite common to see a stage production signed for the deaf community in the audience. This not only makes the play accessible to more people it can add a wonderful dramatic element for everyone. I once saw a production of "The Secret Garden" signed in Scotland. It was helpful to me because I often found the Scottish accent hard to understand. But what made the experience memorable was that the signer's reaction to the play. Near the climax the signer was so moved by the performance that she was signing through tears. She may have not been aware that her emotions made her gestures more fluid and they became a kind of background music that made the drama even more poignant.

American Sign Language is Important Part of Performance

The Chorus tells Cinderella's Story! Theatre Works, LLC of Stewartstown, PA

Consider having your students learn to sign a scene from the play. As many as ten or more students may participate in this way and might spark an interest that will become a lifelong skill. The Internet is an excellent medium for learning American Sign Language since it can incorporate short videos to illustrate gestures. Here are some resources:

A Basic Dictionary of ASL Terms: http://www.masterstech-home.com/aSLDict.html

Handspeak.com: http://www.handspeak.com/

Lesson Tutor: http://www.lessontutor.com/eesASLdictionarylinks.html

Start ASL.com: http://www.start-american-sign-language.com/asl-dictionary.html

Using American Sign Language in the Classroom: http://www.brighthub.com/education/special/articles/5250.aspx

---

Treasure Island: Yo-ho-ho and a Barrel of Fun!
Pirate Talk & High Sea Terms in ArtReach Stage Adaptation of Robert Louis Stevenson Classic Adventure
Glossary: These are nautical terms and pirate/sailor slang used by characters in the play.

Blimey: An English expression of surprise or excitement.

Buccaneers: A term for pirates, usually on the South American coast.

Scallywag: A pirate expression for someone who is mischievous.

Land lubber: A pirate expression for someone who is not used to being at sea.

Doubloons: A Spanish gold coin, found in pirate treasures.

Rapier wit: A rapier is a thin sword with a long point. If you say someone has a rapier wit you mean they are very intelligent and clever.

Wench: A pirate type of woman with a fiery attitude.
Dramatic Adventure for Large Cast of Kids!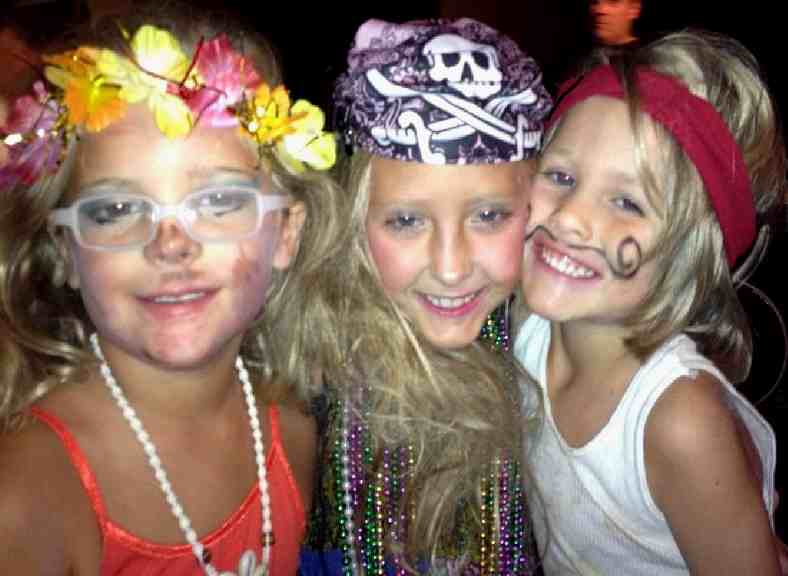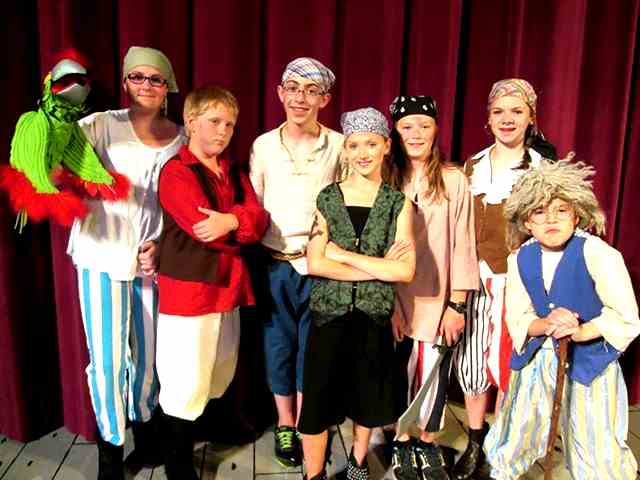 Treasure Island - Brookhaven Little Theatre, MI - Bradley Playhouse, CT
Benbow Inn: In Robert Louis Stevenson's book Treasure Island, Jim Hawkins works at the Benbow Inn, a tavern and hotel, where he meets guest, Billy Bones.

Scurvy and scurviest: Scurvy is a condition caused by lack of vitamin C, common among pirates because they ate few vegetables at sea. Pirates use the term as an insult.

Knave: A dishonest man.

Keep a weather eye: To keep your eyes open and watch out. A term used by pirates because it also means to keep an eye on the changes in the weather.

Afeared: Pirate pronunciation of afraid.

The Black Spot: A spot upon a piece of paper. When one pirate gives it to another pirate it means that his men will no longer follow him. It was so feared by pirates it was almost a condemnation of death.

Jamaica and Tortuga: Islands in the Caribbean frequented by pirates.

Anchors Away: The ship is about sail, also spelled Anchors Aweigh.

Fifteen Men On A Dead Man's Chest: A song that Robert Louis Stevenson invented for Treasure Island. It is like a sea shanty, or songs that sailors sing while on the sea.

Ahoy: A nautical term, now used to say hello or get attention.

Worm in yer grub: It was hard to keep food dry on the ship which often resulted in worms in the sailors food. Since Long John Silver is the cook he can use this as a threat.

Pieces of eight: A Spanish silver coin that could be divided into eight pieces.

Waltzin' with Matilda: Refers to "Waltzing Matilda", an Australian song that pirates sang.

Gaggle: A flock of geese. Pirates used the term to describe a crowd of people they didn't like.

Blaggard: A pirate word for villain.

Mainsail: (main-sul) The largest and most important sail on the ship.

Batten down the hatches: Ship term, to prepare for rough sailing.

Grog: Diluted rum or low form of drink.

Trade Winds: Consistent winds that blow to the east and west around the equator.

Polaris: A bright star that sailors used to navigate by.

Mutiny: A rebellion against authority. It usually refers to sailors or pirates on a ship rebelling against their captain.

Farthing: A British coin of little value.

Cassava: A starchy root plant eaten in tropical areas.

Liverpool: A port town in England. Many pirates left the mainland from this town.

Marooned: A marooned pirate was one who was left behind when the ship left the island.

Stilton: A kind of English cheese known for its strong smell.

Smart as paint: Robert Louis Stevenson made up this phrase to mean fresh and clever. Long John Silver uses this term to charm Jim.

Plague: A contagious disease, particularly fearful in a tropical climate.Swabbie: Pirate talk for sailor, sometimes an insult, referring to a sailor who swabs the deck.

Galley: Kitchen area of a ship.

Davy's locker: Also Davy Jones' Locker. Pirate talk for the bottom of the sea.

---

Education and Outreach Tour 2013-2014 Presents A Thousand Cranes
By Kathryn Schultz Miller, A Teacher's Guide: PCPA's Outreach Tour is funded in part through grants from a number of gracious organizations. Thank you to our generous sponsors: PXP * Target * Nichols Foundation * The Towbes Foundation * Santa Barbara Foundation * Santa Maria Arts Council * ERG * The Children's Creative Project *

1. Ancestors, family, and tradition are all important qualities for the Sasaki family. What are some of the traditions that you have in your family?

2. Sadako's family performs a variety of rituals: taking off shoes before entering the house, preparing sushi, bowing to others to show respect, and the celebration of Obon. What rituals does your family perform? What are some rituals that are carried out in your classroom?

"Why is it important to be hopeful?"

ArtReach's A Thousand Cranes, Marianapolis Prep School, Thompson CT

3. Sadako loves to run and practices very hard. It is very important to Sadako to practice and have discipline. What is something that you love to do that requires hard work and discipline?

4. The play takes place in Japan in 1955, 10 years after the atomic bomb was dropped on Hiroshima. What were the events that led up to the bombing of Hiroshima and Nagasaki? Do you think the United States did the right thing by dropping the bomb? How many atomic bombs have been dropped since the end of WWII?

5. What does the crane symbolize in Japanese culture? Why is it so important to Sadako?

6. Sadako remains hopeful throughout the play, even towards the end of her life. What does it mean to be hopeful? When have you demonstrated hopefulness, even in the midst of a discouraging, or even hopeless situation? Why is it important to be hopeful?

7. Sadako inspired people across the world to strive for peace. At the base of the statue of Sadako reads, "This is our cry. This is our prayer. Peace in the world." What does peace mean to you? What are some ways you can help to bring peace to our world?

"What would your wish be?"

ArtReach's A Thousand Cranes, Marianapolis Prep School, Thompson CT

8. Sadako is diagnosed with Leukemia. What is Leukemia? How is it treated? Why is it referred to in the play as "radiation sickness."

9. Kenji reminds Sadako of the legend of the thousand cranes. If you were to become ill and to build a thousand cranes, what would your wish be?

10. Many people were affected by the bombing of Hiroshima. Grandmother shows Sadako other spirits who tell about how they were affected. What other events in history caused by humans, have affected numerous lives? Why did these events happen? How have you been affected by any such event?

---
Classroom Exercises: < Prev | 1 | 2 | 3 | 4 | 5 | 6 | 7 | 8 | Next >
All Free Resources