FREE RESOURCES: Behind the Scenes [ Page 3 ]
Background info about the stories and themes of ArtReach's plays
< Prev | 1 | 2 | 3 | 4 | 5 | 6 | Next >
Jack and the Beanstalk Play is Full of Folk Music
History of the Songs in ArtReach's Jack and the Beanstalk

Froggy Went a Courting: This great old story song has quite a history. Some people claim that it goes back 400 years to England, and that the frog is actually a French Duke while the mouse is Queen Elizabeth I. It has been popular in America since colonial times, and it seems to change a little with each person who performs it. In some versions of the lyrics include "uh-huh", some "mm-hmm", some "hey hey". Look the song up and you will find there are so many versions with so many verses you could sing this song all day!

Old Dan Tucker was a Mean Old Man!

"Old Jack he went a running and he did run, uh-huh!" - Tale Tellers!

Polly Wolly Doodle: This familiar American song dates back to the Civil War where it was a favorite in minstrel shows. It came to be used as a "walk-around," often the finale of the show in which each performer would step out to do a verse, answered by the cast and audience, leading to a final verse with everyone joining in clapping and dancing. Polly Wolly Doodle appears in the existing manuscript for Laura Ingalls Wilder's These Happy Golden Years.

Buckeye Jim: Made popular by Burl Ives in the 1950's, Buckeye Jim was first recorded around the time of the Civil War. There are many versions and some believe it belongs in a category with "Limber Jim" songs. It may have come from the slave culture of the south since it expresses a wish for escape and flight. It was heard most recently in the animated film "Fantastic Mister Fox".

Old Dan Tucker: Published in 1843 by Dan Emmett (the author of "Dixie") who also claimed authorship, Old Dan Tucker may have evolved from a popular slave song about a part-time minister who lived near Elberton, Georgia. The song was popular around Northern and Southern campfires during the Civil War. In later years it became a standard for bluegrass and country music with recordings by Pete Seeger and most recently, Bruce Springsteen.

On Top of Spaghetti: A well-known parody of "On Top of Old Smoky" deals with the loss of a meatball "when somebody sneezed." It is a well-known children's song. The song appeals to kids because it's about an inanimate object that comes to life. A meatball defies expectations, and defiance—within reason—is usually celebrated in children's literature.

"All music is folk music. I ain't never heard a horse sing a song."
-- Louis Armstrong

---

The Story of ArtReach's Play The Jungle Book

"Now this is the Law of the Jungle
—as old and as true as the sky;
And the Wolf that shall keep it may prosper
but the Wolf that shall break it must die.

As the creeper that girdles the tree trunk,
the Law runneth forward and back;
For the strength of the Pack is the Wolf,
and the strength of the Wolf is the Pack."

Rudyard Kipling's classic books, The Jungle Book and The Second Jungle Book have been read and loved by generations of children and their grownups. It can be argued that the main story is about a Mowgli, a boy who was raised by wolves in the Indian Jungle. The greater meaning of the story seems to be a call for peoples of every kind, animal and human, to overcome life's cruelties and work together to order themselves and their actions in a way that serves the greater good. ArtReach's new School Play version of the story uses audience participation to bring everyone together to create their own unique Jungle world.

The play begins with the storytellers – the Jungle-People – reciting the law of the Jungle. They then begin the story of how Mowgli was found one dark night. A Man-Father was traveling through and was attacked by a tiger, the legendary Shere Khan. Bagheera, the panther, witnessed the attack and also saw that a human boy had been abandoned as a result. Bagheera takes the baby to wolves Akela and Raksha to raise along with their own four cubs. At first hesitant, Akela resolves to keep the Man-Cub but must gain the permission of all of the pack at Council Rock. At Council Rock, the wolves of the pack give permission and Bagheera promises to educate the boy in the ways of the Jungle.

Years later Bagheera teaches Mowgli the Master-Words and the Hunting Call. He also cautions Mowgli against noticing the Bandar-log or Monkey-People. Though Mowgli is interested in learning, he is a typical boy who loves to climb and swim and doesn't take his lessons as seriously as his teacher would like.

A bad time comes to the Jungle in the form of drought. All of the animals are starving and Akela calls everyone to the Peace Rock. This is a rock that is exposed in the river when the waters dry up and leave only a little water for the animals to drink. Because the animals are starving, Akela calls a Water Truce, meaning that they may all drink from the small supply of water but must not hunt each other during the time of the Truce. All the kinds of animals agree and the Truce is sealed by a prayer from Hathi the great elephant with a chant of "Peace, Peace, Peace!"

None of the animals are happy to see the great tiger Shere Khan arrive at Peace Rock because he seldom cares about the greater good and acts only for himself.

Shere Kahn tells the group that Mowgli the Man-Cub endangers all Jungle creatures because when he grows up he will be a Man, the enemy of the Jungle. The animals see the truth of Shere Khan's words, even though Raksha begs them to let her son stay. Finally, Bagheera says he will take the boy to the Man-Village and Mowgli makes his tearful goodbyes.

On the journey, Mowgli defies his teacher Bagheera and runs away from him.

Kaa, the Rock Python, appears and uses her large, shining eyes to hypnotize Mowgli. The Man-Cub falls for her charms and is almost eaten when Baloo, a big bear, ambushes the snake chasing her off and saving Mowgli's life.

Mowgli loves his new friend, Baloo, who is easy going and funny. The two of them hit it off and develop a friendship. Soon, Bagheera appears and convinces Baloo that the boy must be taken to the Man-Village in order to save his life and keep the Jungle safe from Man. Mowgli feels betrayed and leaves them both, running off alone.

As he travels alone in the Jungle, Mowgli is captured by the Monkey-People who swing him among the treetops and have fun with him like a toy. They take him to their leader, the Golden Queen of the Bandar-log. The Queen tells Mowgli that she wants him to go to the Man-Village and bring her the Red Flower, which is a word the animals use for fire. The Golden Queen tells him that Akela, the boy's wolf father, has been killed by Shere Khan.

Coming to Mowgli's aid, the vulture Chil flies in and restrains the Monkey-People so that Bagheera and Baloo may rescue the boy. They tell Mowgli the sad truth, that Akela has indeed been defeated and killed by Shere Khan. Once again the boy defies his friends and runs away. Only now Mowgli runs straight for the Man-Village with the goal of securing the Red Flower for his own use.

When Mowgli reaches the Village he encounters a woman who seems to be the mother he left when he was a baby. Mowgli begins to understand that he is not Wolf or Man, but he is both, becoming another kind of Jungle-Creature. The Villagers recognize the value of Mowgli's mission and give him the Red Flower.

Mowgli runs back to the Peace Rock in the Jungle and when he gets there, the tiger Shere Kahn is waiting. Mowgli knows that he must fight the tiger in order to earn his place in the Jungle. All the animals gather to see the struggle between the two and recite the Law of the Jungle. Mowgli uses the power that his human relations have given him, the Red Flower, to defeat Shere Kahn. But unlike the tiger, Mowgli is generous and lets the tiger live.

When they are free of Shere Khan the animals realize that Mowgli has earned his place among them and cry out "All hail, Mowgli!" and again recite the Law: "The strength of the Wolf is the Pack!"

---

ArtReach's Version of Kid Frankenstein
Compare ArtReach's Kid Frankenstein to Mary Shelley's Novel

Mary Shelley published her most famous book name "Frankenstein; or, The Modern Prometheus in 1818 and it has been fascinating readers ever since. The story of a scientist who created a living being from inanimate tissue has inspired an unending parade of satires, movies, novels, cartoons and comic books. ArtReach's play Kid Frankenstein is a light-hearted satire, comedy and fantasy, very loosely based on Shelley's novel, which is intended for kids to enjoy and perform.

SYNOPSIS OF THE PLAY

The play begins with students, Kidz, introducing the weird and spooky event that happened at their school. They begin their story by explaining that the Science Fair was coming up and their friends Frankie and Irving had big plans for their project.

Frankie and Irving are regular kids with very vivid imaginations. We see them in Frankie's basement, pretending to be scientist and assistant. It all seems like a silly fantasy until a package arrives. The box has been sent from Transylvania and contains a book by Dr. Frankenstein, explaining how he accomplished the amazing feat of creating a living being. Frankie is delighted to have a blueprint for his extravagant science project.

Frankie and Irving are late for school the next day and are presented by the principal Mr. Klondike to Mrs. Newton, the science teacher. Troublemakers, T-Bone and his Gang of Bonez make Mrs. Newton's job difficult. She introduces two locals who are making donations for the science lab: Mr. Spots brings a monkey's brain and the nearsighted Mrs. Magillacutty brings her late dog's brain.

Mrs. Newton assigns Helga to be partners with Frankie and Irving in their science project. The three friends pretend that they are in the laboratory where Frankie has assembled a being made from stuff he found in his mom's freezer. He directs Irving and Helga to get the monkey's brain to complete the project.

At night, Irving and Helga attempt to sneak into the school to get the brain but are caught by the Gang of Bonez who try to disrupt their plans. In the comic fracas, the monkey's brain is dropped. Irving and Helga get the dog's brain and take it to Frankie – but they don't tell him that they had to switch the brains.

Frankie has rigged his laboratory with everything needed to bring his creation to life. They are very excited when they flip the switch to give the creature a life inducing jolt of electricity. However, the creature does not move. Frankie believes all is lost. The kids leave to eat dinner feeling that their experiment is a failure.

But in their absence, slowly the Monster comes to life, dances around the laboratory and escapes to explore the world. The town is in an uproar as there are several sightings of a creature that cannot be explained. The Monster comes to Mrs. Magillacutty's house. She cannot see him clearly and assumes he is a local school student who would like some chicken soup. When she goes to light the pilot light on her stove the Monster goes crazy at the sight of fire, and runs away.

Meanwhile, Frankie and his crew find the Monster. As Helga distracts him by playing her violin, the boys drop a net over him, capturing him. They take him back to the laboratory where they prepare him for the Science Fair.

Principal Klondike is keen to get the Science Fair underway to distract the frightened population from the worry of a Monster running loose. T-Bone and his Gang of Bonez present their less than impressive Volcano experiment which fizzles. At last, Frankie is thrilled to present his creature – the Monster who makes a show of himself by dancing to Helga's fiddle. Surprisingly, the Bonez' volcano erupts belatedly, scaring the Monster. The kids wrestle him to the ground and bring him back to the laboratory.
Villagers Rally Against the Monster!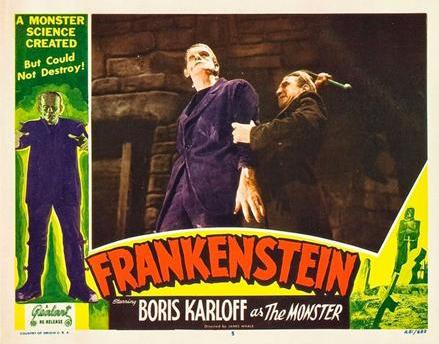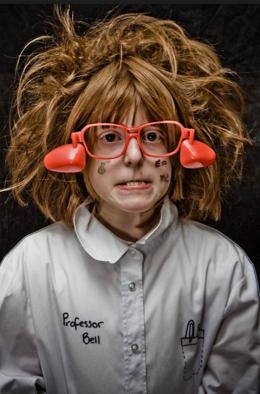 ArtReach's Kid Frankenstein
Learning the brain he has used is the dog's brain, Frankie decides he must perform brain transference. He hooks his head up to the Monster's head but at the last moment, Mrs. Newton appears and stops him. It turns out, Mrs. Newton was much like Frankie in her youth and she knows what Frankie is up to. She knows that he must stop now. Finally, Mrs. Magillacutty arrives, insisting that the Monster is really her late dog and insists on taking him home. The Monster loves the idea and everyone agrees.

All are gathered in the laboratory when Mrs. Newton gives a strong defense for kids who love science as Frankie does. She shares old stories with Frankie as they depart and Irving flips the electric switch one last time.

At last the town is safe and Kid Frankenstein has ceased his experiment. The Kidz end their spooky story with a happy: "The End".

"Imagination does not become great until human beings,
given the courage and the strength, use it to create."
-- Maria Montessori

---

A Christmas Wish from Lewis Carroll
To All Child Readers of Alice's Adventures in Wonderland
by Lewis Carroll, 1871

Dear Children,

At Christmas-time a few grave words are not quite out of place, I hope, even at the end of a book of nonsense - and I want to take this opportunity of thanking the thousands of children who have read Alice's Adventures in Wonderland, for the kindly interest they have taken in my little dream-child.
ArtReach's Alice in Christmas Land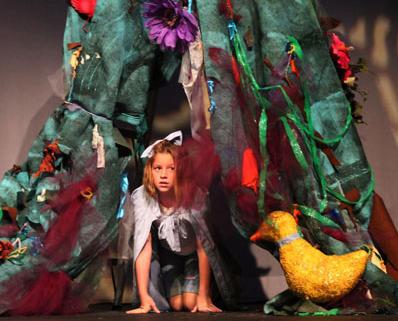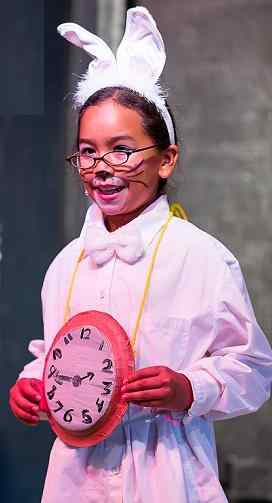 Golfshore Playhouse, FL - Brandenburg Elementary School, Irving, TX
The thought of the many English firesides where happy faces have smiled her a welcome, and of the many English children to whom she has brought an hour of (I trust) innocent amusement, is one of the brightest and pleasantest thoughts of my life. I have a host of young friends already, whose names and faces I know - but I cannot help feeling as if, through "Alice's Adventures" I had made friends with many other dear children, whose faces I shall never see.

To all my little friends, known and unknown, I wish with all my heart, "A Merry Christmas and a Happy New Year". May God bless you, dear children, and make each Christmas-tide, as it comes round to you, more bright and beautiful than the last - bright with the presence of that unseen Friend, who once on earth blessed little children - and beautiful with memories of a loving life, which has sought and found the truest kind of happiness, the only kind that is really worth the having, the happiness of making others happy too!

Your affectionate Friend,
Lewis Carroll
December 25, 1871

---

Love Transforms: Beauty and the Beast
Lessons From a Story Old as Time

By Joseph Dispenza and Dr. Beverly Nelson

The ageless children's story Beauty and the Beast is one of the finest parables we have about the transforming qualities of love -- and about one of life's most important lessons: things are not always what they seem.
"Beauty is all around us -- all the time."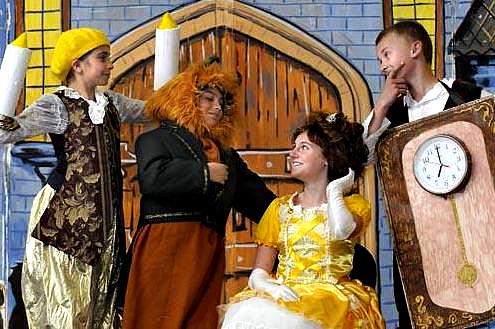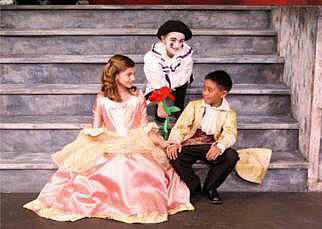 Dana Elementary School, Santa Maria, CA - Solano Youth Theatre, CA
Here are some lessons from Beauty and the Beast about choosing truth over appearances -- and love over fear.

Avoid judging. Virtually all spiritual literature warns us against judging people and conditions. The reason is that when we judge someone or something, we immediately put them in a kind of prison of our opinion -- a prison which they cannot get out of and which we cannot get into. If you think of a person as a thief, for instance, the person is labeled forever -- and your judgment actually can make that person act like a thief. Stay away from judgment: it limits perception and keeps you in fear.

See the beauty. Beauty is all around us, everywhere and at all times. But it is up to us to actually see and appreciate beauty. Many people go through life choosing to regard their reality as ugly and unsatisfying. They look at the half-full glass and see it as half-empty. When all of life is seen only as an opportunity to confirm the human experience as a vale of tears and troubles, then it certainly becomes that! See life for the beautiful journey it truly is, and watch miracles happen.

Stop complaining. Complaining is another form of judging. When you complain, you are automatically saying that people and situations are imperfect, defective, and even ugly. Try to head off a complaint by taking a second to question and reconsider your initial response. Even a brief moment will give you the chance to see things in a different way. A complaint is a comment that comes from a willful ego. Life will go much smoother if you trade a complaint for a compliment.

Move beyond the appearance. Things are not always what they seem. In fact, things are almost always different from how they appear to the eyes and how they sound to the ears. If you will find the truth about people and things, move beyond appearances -- entertain exactly the opposite of what you are seeing and hearing. The truth, like the prince, lies behind the wall of the physical senses, in a place where only the heart can discern.

Choose love. When given the choice between fear and love, choose love every time. If the culture is presenting you with fearful visions, you can personally dispel them by deciding to leave fear behind and go toward love. In this way, by raising your own consciousness into a loving place, you are lifting all of Consciousness with you. This is how wars are stopped or prevented -- and how people and situations in 'terminal' conditions are healed unconditionally.

The lessons of The Beauty and the Beast are everywhere in this enchanting fairy tale. We encourage you to surround yourself this month with the energy of its transformative teachings: love transforms everything, elevates everything, and reveals your life as the truly beautiful experience it is.

---

ArtReach's Cinderella is an Ageless Classic
Charles Perrault – The Classic Cinderella

Charles Perrault was born in Paris in 1628 to a wealthy bourgeois family. He attended the best schools and studied law before embarking on a career in government service. He took part in the creation of the Academy of Sciences as well as the restoration of the Academy of Painting. When the Academy of Inscriptions and Belles-Lettres was founded in 1663, Perrault was made secretary for life.
"Perrault's classic children's literature."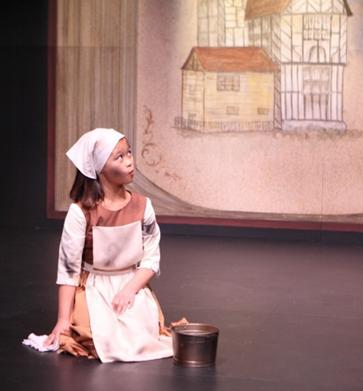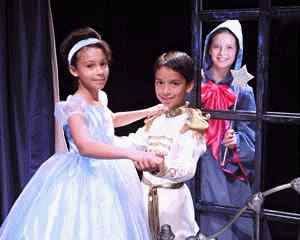 Solano Youth Theatre, Fairfield, CA
At the age of 55 Perrault tried his hand at children's literature and in 1697 he wrote his famous Contes de ma Mere L'Oye – Tales of Mother Goose. Its publication made him very popular and marked the beginnings of a new literary genre, the fairy tale. He used images from around him such as the Chatename au Ussé for Sleeping Beauty and in Puss-in-Boots, the Marquis of the Chateau d'Oiron.

Perhaps because of his age, Perrault did not sign his own name to the collection, but published under the name of his 17-year-old son. Ever since, there has been some dispute whether father or son wrote it, but the tendency of scholarly opinion is to attribute it to the father.

The Contes were instantly successful on their first publication and have remained enormously popular ever since. Although the style of the tales in the original French suggests the sophistication of the courtly audience, by the time the tales were translated into English (by Robert Samber in 1729), they were clearly directed toward a child audience.

In England, the fairy tales became widely available through chapbooks (cheap, inexpensive books sold by traveling peddlers) as well as other, more reputable publications. The first American edition was not published until 1794, although the tales may have been available to colonial readers through imported books.

Perrault's most famous stories are still in print today and have been made into operas, plays, movies and animated films. Some of Perrault's best known stories are:

Blue Beard


Little Red Riding Hood

Puss in Boots

Little Thumb

Donkey Skin

Charles Perrault died in Paris in 1703.

Fremont Civic Theatre needs community's help to make 1,000 paper origami cranes
Behind the Scene: Canon City News, By Carie Canterbury, The Daily Record, Canon City, Colorado

The community is invited to be a part of Fremont Civic Theatre's upcoming production of "A Thousand Cranes" by making paper cranes for the production that also will be sent to the Children's Peace Monument in Hiroshima, Japan.

FCT's Varsity Players need 1,000 of these origami paper cranes by April 1.

The production is based on the true story of Sadako Sasaki, a 12-year-old girl who died as a result of the atom bomb radiation sickness.

"I actually love the story of Sadako."

Chloe Martin, 14, Emma Schmitz, 13, Valerie Goodland, 12, Bella Martinez, 15, and Bjorn Piltingsrud, 14, create paper cranes for an upcoming
Fremont Civic Theatre production of 'A Thousand Cranes' on Thursday. (Carie Canterbury / Daily Record)

The cranes are a tribute to her, and also a global symbol of peace, said Marcy Del Castillo, the production's director.

When Sadako Sasaki finds out she is dying, she tried to fold 1,000 cranes.

"In Japan, there is a legend that if you can fold a thousand paper cranes, you will get your wish to become well, which is her wish," Del Castillo said. "She starts folding cranes, but she dies before she is able to finish them."

Her classmates finish them for her, and they also raise money to build the Children's Peace Monument.

Fifteen-year-old veteran actress Bella Martinez, who plays Sadako Sasaki, already was interested in this story before she was cast for the role.

"I actually love the story of Sadako," she said. "I thought it was really fun that there was a play about her because it combines my favorite things, history and Sadako. I think it will be a lot of fun bringing the character back to life. Her story is so inspiring."

Del Castillo said the cast and crew would like community involvement in folding the paper cranes.

"We are going to send them off to the Children's Peace Monument."

Paper cranes are made in preparation of Fremont Civic Theatre's production of 'A Thousand Cranes.' (Carie Canterbury / Daily Record)

"They will be used in our production, but when production wraps, we are going to package up all of the cranes and send them off to the Children's Peace Monument," she said. "Every year, people that perform this play send cranes to the monument, so we are going to do the same thing."

Those who would like to help are invited to visit FCT's website for paper folding directions or search for directions on Google.

The cranes may be dropped off from 6 to 8 p.m. Tuesdays and Thursdays or from 9 a.m. to noon Saturdays at the FCT office at 623 Main St. The cranes will be placed in the front window display so passersby can watch them grow.

THE LEGEND OF MULAN
Island School News, Lihue, Hawaii - 1/10/2018

Fifth graders are preparing in earnest for their upcoming show, "The Legend of Mulan," by Kathryn Schultz Miller and directed by Peggy Ellenburg. Yesterday, the class had a session on set painting led by former Island School parent and volunteer, Laurel McGraw. These photos capture them painting base colors on their backdrop flats. The finished product will be of a Chinese landscape.
Parent volunteers have been assisting with set building and volunteer coordination. Anyone wishing to get involved with sets or costumes is encouraged to contact Peggy Ellenburg: 808-639-7963.

"The Legend of Mulan" will run the weekend of March 2-4 at the Island School theatre.

Theatre in Education Co. entertains, educates about Cherokee stories
Western Carolina University performs ArtReach's Young Cherokee
WCU Administrator

Western Carolina University students will film the last scenes from the Theatre in Education Company's performance of "Young Cherokee" this week, concluding a year-long theatre initiative that has captured attention at national conferences and connected university students with the Cherokee people.

Glenda Hensley and Claire Eye, visiting assistant professors in the department of communication, theatre and dance, designed the program so Western students could create and perform quality theatrical productions that also are educationally relevant. To explore diversity and help promote cultural understanding, WCU students in the theatre program centered workshops for middle school students and a play for elementary school students on the Eastern Band of Cherokee Indians.

"Cherokee is 20 minutes away, and so few of us take the opportunity to learn about that culture that we are connected to," Eye said. "We hoped it would allow us to pass on to students what we learned."

"Young Cherokee" has captured attention at national conferences."

Western Carolina University students worked with the WCU-Cherokee Center
WCU student Gregory Tomlin records a scene from "Young Cherokee" in which Chosen One, played by Kendris Myers, talks to the Sun, played by Rachel All.

As the theatre group designed costumes and rehearsed Kathryn Schultz Miller's play "Young Cherokee," Western students worked with the WCU-Cherokee Center, its director Roseanna Belt, community elders and artists such as Davy Arch, who produced hand-carved masks for the show. Western students adapted the script, for instance, to change a crawfish to a water beetle to better reflect Cherokee stories of this region, said Sara Dodson, a senior theatre student and the play's director.

"We learned so much about the Cherokee because we wanted to stay as true to the story as possible," said Dodson, who plans to return to her home state of Florida after graduation to work with a drama ministry.

In the play, a young Cherokee boy named Chosen One battles an Underwater Panther and a Thunderbird as he tries to restore power to the sun and fire. He overcomes fear, shows love for all things on earth and glimpses the greatest enemy of the Cherokee culture - the approach of people with vastly different beliefs. The play was performed for elementary school audiences this spring, is being filmed and will have an encore performance this fall.

The program's students and directors have presented their experiences at national conferences to convey how Theatre in Education has helped link college students with younger people in the community and create opportunities to experience literature, theatre, art and music. Another presentation about the program will be delivered this summer at the American Alliance of Theater Educators conference.

"The Cherokee Center opened their hearts to us."

Western Carolina University performs ArtReach's "Young Cherokee."

"Weaving cultural and environmental literacy and service learning into arts-based learning strategies creates so many possibilities for collaborative learning and teaching designs," Hensley said. "Our goal is to create a Theatre in Education program that will serve as a model for both artistic excellence and significant learning."

Eye said with so many positive results, they do not intend for this to be a one-time project.

"The whole process of approaching the Cherokee Center and asking for their help in learning myths, legends and culture opened their hearts to us, and that has been powerful," she said. "We intend to foster the relationships we've been able to establish through this program, toward a long-term collaboration that will benefit everyone."

For more information, contact Glenda Hensley at (828) 227-2469 or [email protected] or Claire Eye at (828) 227-3961 or [email protected]

'Wizard of Oz' comes to Shoultes Elementary
Marysville Globe, By Kirk Boxleitner

Even after three years, Shoultes Elementary's school plays still manage to surprise Nancy Hammer. Hammer, a 15-year teacher at Shoultes who's also served as a school librarian for the past few years, has directed versions of "Beauty and the Beast" and "Peter Pan" in the past two years that were specifically adapted for large casts of young performers. This year's version of "The Wizard of Oz" boasted 38 students in the cast, only three more than last year's play, but it presented new challenges nonetheless.

"School plays still manage to surprise librarian director."

Shoultes Elementary School, Marysville, WA

MARYSVILLE - Even after three years, Shoultes Elementary's school plays still manage to surprise Nancy Hammer.

Hammer, a 15-year teacher at Shoultes who's also served as a school librarian for the past few years, has directed versions of "Beauty and the Beast" and "Peter Pan" in the past two years that were specifically adapted for large casts of young performers. This year's version of "The Wizard of Oz" boasted 38 students in the cast, only three more than last year's play, but it presented new challenges nonetheless.

"I knew that doing 'The Wizard of Oz' would entail so much more work than the others," Hammer said of the play, which was presented March 17 and 18. "I really didn't want to go to the thrift store to try and pull things together that looked like the characters, so I started right after Halloween and purchased costumes for half-off, praying that they would fit the performers that got the parts."

Hammer went online to find costumes such as the Cowardly Lion and Toto, which were purchased and given to Shoultes by the Schmidt family. The school's PTSA supplied the remaining funding for the play.

While Hammer had been able to create a backdrop for last year's "Peter Pan" by using the other side of the backdrop from "Beauty and the Beast" the year before, she had to start from scratch with this year's backdrop, buying large table cloths new and sewing them together. Because she was unable to obtain them at a thrift store, she wound up paying $100 for them, for which she was reimbursed by Troy Van Horn from the Venture Church down the street from the school.

"Teachers in the district were so wonderful for reaching out ."

Tin Man, Toto, Dorothy, Gatekeeper, Munchkin, Shoultes Elem, WA

"Teachers in the district were so wonderful for reaching out and helping us this year," Hammer said. "Aleesha Paddleford from the Marysville Arts & Technology High School volunteered her students and made a movable screen to use as Dorothy's house. Jeff Tillinghast, from the International School of Communications at Marysville Getchell High School, turned our antiquated sound system into a well-oiled machine by lugging his own equipment into our old gym and working his magic. Even my 89-year-old parents could easily hear my little thespians. Andrew Christopher and his video production crew from ISC also came in to capture those precious moments on stage forever by video taping the performance."

Now that Shoultes has sets, props and costumes for three different plays, Hammer plans to take advantage of these reusable resources.

"The kids and I are already gearing up for "Beauty and the Beast' again next year," Hammer said.

Headless Horseman will ride through SVSU's 'Sleepy Hollow' production
SVSU: Saginaw Valley State University

Audiences may lose their minds when they witness The Headless Horseman take the stage at Saginaw Valley State University's Malcolm Field Theatre for Performing Arts beginning Wednesday, April 6.

That's when SVSU's Department of Theatre will present the first of five productions of Washington Irving's classic tale, "The Legend of Sleepy Hollow," featuring the infamously noggin-less antagonist. The show is SVSU's annual children's production intended to introduce young people to theatre and inspire them.

Ric Roberts, SVSU professor of theatre and director of the production, promises a memorable "ride of The Headless Horseman," a character known for using flaming pumpkins as weapons when terrorizing the townsfolk of Sleepy Hollow and protagonist Ichabod Crane.

"A memorable ride of The Headless Horseman"

ArtReach's The Legend of Sleepy Hollow - SVSU's Department of Theatre

"We use a combination of shadow puppetry and a moving bridge to simulate the chase between The Headless Horseman and Ichabod Crane," Roberts said. "The flaming pumpkin is a special effect that will be produced by our own technical theatre department and the students."

"The Legend of Sleepy Hollow" is a storybook tale that revolves around characters such as the bumbling, awkward schoolteacher, Ichabod (played by Joe Green, a theatre major from Shelby Township); the coquettish Katrina Van Tassel (Rebecca Boes, a theatre major from Saginaw); and Ichabod's brutish rival, Brom Bones (Donte Green, a theatre major from Saginaw).

The Headless Horseman is played by Jonah Conner, a theatre major from Warren.

There also are six characters acting as storytellers, keeping the action and pace moving throughout. This adaptation remains dedicated to the spirit of the original work yet expertly involves the audience with suspense and comedy. The play explores scary elements and music, but also is a humorous, G-rated show full of "goofy" characters, Roberts said.

"Expertly involves the audience with suspense & comedy."

ArtReach's The Legend of Sleepy Hollow - SVSU's Department of Theatre

"This stage version - a children's theatre production - is geared to third through sixth graders, but it can be enjoyed by the entire family," Roberts said.

As such, SVSU will stage two productions of the play during school hours. Students from Kingston Elementary School, Pinconning Middle School and Swan Valley High School are among those expected to attend 10 a.m. showings Thursday and Friday, April 7-8.

The public - of all ages - is invited to each showing. Additional productions are scheduled for 7:30 p.m. Wednesday and Thursday, April 6-7; and 3 p.m. Saturday, April 9. Tickets are $13 for general admission, $10 for students and seniors, and $7 for children under the age of 12. For more information, please contact the SVSU Box Office at (989) 964-4261 or visit www.svsu.edu/theatre.
Behind the Scenes: < Prev | 1 | 2 | 3 | 4 | 5 | 6 | Next >
All Free Resources