FREE RESOURCES: Behind the Scenes [ Page 4 ]
Background info about the stories and themes of ArtReach's plays
< Prev | 1 | 2 | 3 | 4 | 5 | 6 | Next >
Frankenstein is 200 Years Old!
The world's most famous monster's birthday

Even National Public Radio is celebrating the world's most famous monster's birthday! Frankenstein still fascinates kids of every age!

Today on NPR: "Two hundred years ago, a 20-year-old English author anonymously published the tale of a scientist – obsessed with the impossible – creating life. The story evolved into a classic. A masterpiece. Revered alongside Shakespeare. Byron. Melville. The book was decades – centuries, even – ahead of its time. Raising deep, existential questions about who we are, our responsibility in science, and our ethical obligations. This hour, On Point: Frankenstein rises again 200 years on. -- Jane Clayson"
Welcome to My La-bor-ra-tory! Ha-ha!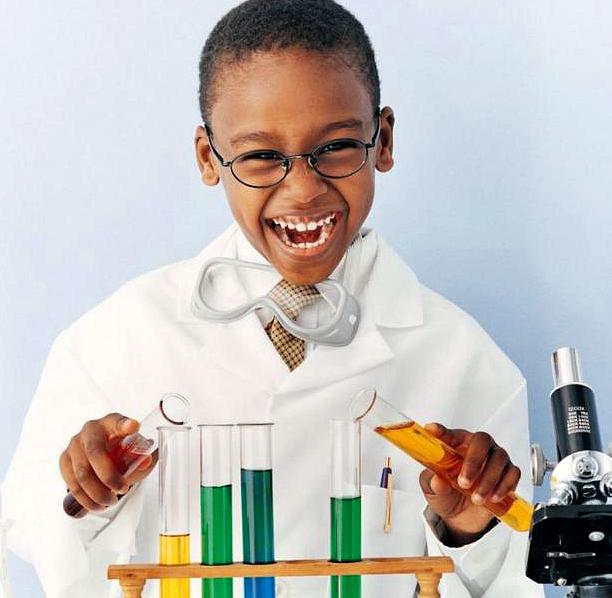 ArtReach's Kid Frankenstein
Frankenstein was written by Mary Wollstonecraft Shelley. She started writing the story when she was 18, and the first edition of the novel was published anonymously in London on 1 January 1818: It is still available for kids today: Frankenstein (Junior Classics for Young Readers) Discover Books, Dalmatian Press.

Critics have responded positively to Frankenstein positive since the mid-20th century. Director Guillermo del Toro describes Frankenstein as "the quintessential teenage book", adding "You don't belong. You were brought to this world by people that don't care for you and you are thrown into a world of pain and suffering, and tears and hunger. It's an amazing book written by a teenage girl. It's mind blowing."

Frankenstein200 is a transmedia project, studying the learning that occurs when people participate in a combination of hands-on activities and immersive digital experiences. The Frankenstein200 kit includes seven hands-on activities that encourage creativity and reflection about responsible innovation.
Check it out here: https://frankenstein.life/

---

The Legend of Sleepy Hollow Script is Kid-Friendly
Halloween Script is Full of Hilarious Comedy

You might be surprised during the first few minutes of ArtReach's The Legend of Sleepy Hollow. Rather than recoiling in horror, you'll be laughing your socks off!

ArtReach's The Legend of Sleepy Hollow has been adapted especially for kids and family audiences. Irving Washington's famous American tale takes center stage, with his story and language in tact. The bumbling school teacher Ichabod Crane woos his heart's desire, the plumb and blushing Katrina, never suspecting that he is the butt of his rival Brom Bones' practical joke. Katrina has no intention of dropping her brawny beau for the school teacher, she just plays coy until Brom wins the match.


The Ride of the Headless Horseman! Great Roles for Middle, Jr/ High School.
Never too scary for the little ones!
ArtReach's THE LEGEND OF SLEEPY HOLLOW

Laughs and audience participation make this a great play for Halloween entertainment. Clearly drawn instructions for building a Headless Horseman costume are included in the Teachers Guide, making it easier for you concentrate on comic timing. Don't hesitate to assure your young audiences that, though there will be moments of thrilling fright, they'll leave the theatre laughing.

---

Mark Twain Loved Childrens Theatre
Every Child Deserves Theatre in School

"Children's Theatre is a great educational feature. The time ought to come when a child's theatre will be a part of every public school in the land."
Mark Twain (The New York Times) August 10, 1909

The occasion of Mark Twain's quote was the closing of East Side Playhouse due to lack of funds. Just one year earlier Mr. Twain had delighted in a performance of an adaptation of his book, The Prince and the Pauper, produced for a young audience. Our most beloved American author knew more than a century ago what we all know now, children's theatre should and must be a staple of feature of education.

For many years, we would hear from teachers who lamented the fact that there could be no drama club at their schools because they had no stage. Sometimes they would say their school could only afford a few dollars toward the expense of a theatrical production. Without sewing machines there could be no costumes. Without a work shop there could be no scenery. But anyone who has read or seen an ArtReach play knows that none of these things are needed to put on a wonderful show that will light kids' imaginations and make their parents fairly burst with pride!
Mark Twain's Greatest Hits for Teens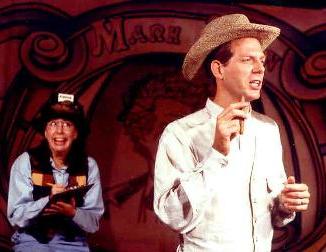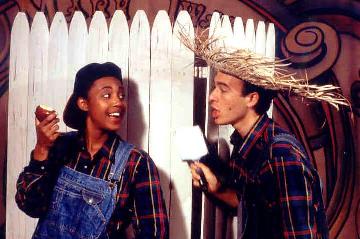 ArtReach Touring Theatre, The Mark Twain Show
At ArtReach we encourage educators to concentrate not on what they don't have, but what they do have in abundance! Every teacher and every student has a deep well of imagination that can be called on to delight, dazzle and enchant. ArtReach's plays are designed to coax out the treasures that already exist in the hearts and minds of every student, young or old.

One of ArtReach's biggest fans, Sarah Ackerman-Hale writes:

"Directing plays inspired me to go back to school to become an elementary teacher. As I've completed my schooling, I've come to really understand and appreciate your philosophies about the emphasis being on the process, not so much the completed 'product'."

As you might have guessed, Sarah's recent production of ArtReach's TREASURE ISLAND was huge hit. Mark Twain would have loved it!

---

The Importance of Being Tinker Bell
Why is Tinker Bell one of children's theatre's most beloved characters?

In the play PETER PAN, Tinker Bell is Peter's best friend and constant companion. She tags along with him to the Darling house, helps Peter find his shadow and sprinkles pixie dust on the children to help them fly. She may even be in love with Peter though he doesn't know that since he's only a little boy. Before it's all over Tinker Bell has saved Peter's life by drinking the poison that was meant for him. And in a way, she has saved us -- the audience, by inspiring us to "believe".

Tinker Bell is a child's ultimate imaginary friend. One who loves Peter no matter what and will help him in life's struggles and even save him from death.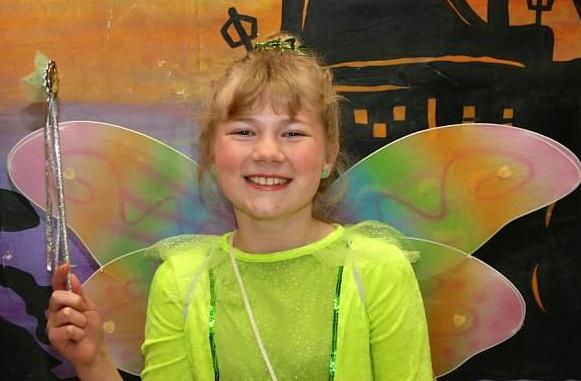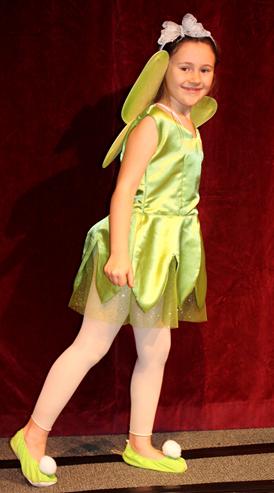 Tinker Bell from Shoultes Elem (WA) & Welsh Hills Granville (OH)
In the original production of PETER PAN, Tinker Bell is seen only as a reflected light and heard only as the tinkling of bells. ArtReach's production allows the Tinker Bell to come fully alive onstage. Instead of a light, a real performer uses only a kazoo and body language to communicate, which retains the effect of her original otherworldliness while allowing the young actor to fully embrace and enjoy Tinker Bell's unique fairy/pixie character.

At ArtReach we often point out that Tinker Bell is a great role for kids who love to act but have trouble learning lines. That doesn't mean that this is a simple role to perform -- only that a playful, imaginative child can truly convey Tinker Bell's rare and magical gifts.

---

Why is ArtReach's Wizard of Oz so popular?
It's not hard to understand why teachers all over the world recommend ArtReach's version of WIZARD OF OZ over all others.

This script is one of the most beloved because it stays true to L. Frank Baum's original book. This no need for gimmicks, stage tricks or elaborate effects. There are no long speeches or complicated sequences. Just as Baum gave kids a safe place for dreaming in his classic book -- this version uses the written word as a structure for kids to hang their dreams on. It uses the child's innate impulse to play and invent – the essential elements that make the story so endearing. Using creative play as its base, kids are allowed to be silly, to day dream, to explore a land of Oz that is distinctly their own. Why just watch a storm appear? Why not become the storm yourself? Why should Toto stay in his basket when he has so much to do and say? Why does there have to be just one Dorothy? Why can't everyone who wants to play the girl from Kansas have her own special moment?
Creative Script Sparks Kids' Imaginations!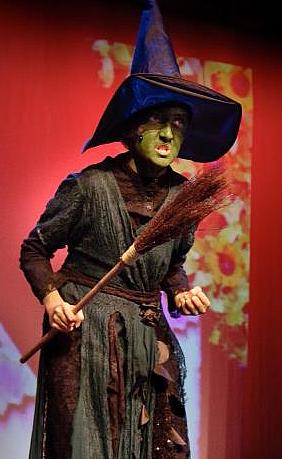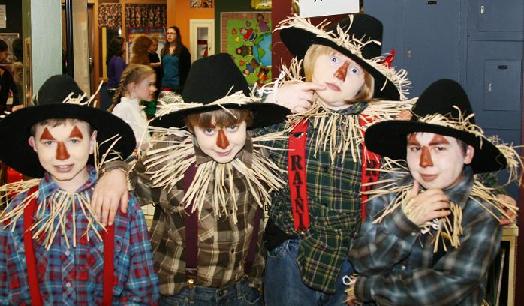 Stage Kids (CA) & Shoultes Elem (WA) - Up to 4 Scarecrows!
ArtReach's version of THE WIZARD OF OZ was written just for kids. Fun, freedom and creative joy are infused in every page of this script, inviting children and directors to create a play that is meaningful for their special kids. No hassle, no fuss and no demands. Whether you are a professional or a first time director, you can't go wrong with ArtReach's WIZARD OF OZ. The script takes you by the hand and lets you and your kids find your own yellow brick road.

---

Peter Pan is Theatre – Not TV
So you didn't like the TV Special PETER PAN LIVE? Almost nobody did. Here's why.

The TV Special Peter Pan Live! had hardly begun before twittering folks all over the country were sharing their displeasure. It seemed everyone was disappointed in this most anticipated production. Why?

Allison Williams and Christopher Walken gave heartfelt performances. The scenery and costumes were unique, colorful and imaginative. The songs were the same great songs we remembered. So why did so many folks feel let down when they watched this beautiful and exciting TV event?

At ArtReach, we realized long ago that a live performance never translates to video or TV. Television productions are written, acted and edited for television's unique platform – a screen. A stage performance is a once in a life-time event, and its magic depends entirely on the interaction and participation of a live audience. When we watch live people pouring their hearts out on stage we engage, sympathize and feel invested in the success of the performance and performers we are watching. We are as exhilarated as the performers because for just a short while we are sharing an extraordinary moment of human connection.


ArtReach's Peter Pan, North Shore Children's Theatre, Salem, MA

J. M. Barrie wrote PETER PAN specifically for the stage. He didn't write his novel PETER AND WENDY (which is now in the public domain) until long after the stage play's spectacular success. Never was there a story that depended more on the delicate interaction between actor and audience. Try as they might, the best actors directors and designers in the world cannot save PETER PAN from looking bland and lifeless on a TV screen.

People reacted negatively to the TV Special Peter Pan Live! simply because they instinctively wanted more. They could feel in their bones that this would be terrific if only they were actually there to expereince it. That's why no matter how many media screens we own on our TVs or our phones; we will still seek out live theatre performances. Peter Pan will always fly into our hearts, as long as theatre lives.
Behind the Scenes: < Prev | 1 | 2 | 3 | 4 | 5 | 6 | Next >
All Free Resources