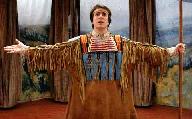 ArtReach Children's Theatre Plays
Great Plays for Great Kids!
Plays, Scripts, Musicals for Children, Kids, Teens, Families, Schools & Theatres
.
ArtReach's
'Young Cherokee' combines Native American culture with exciting drama for an unforgettable theatre experience!
---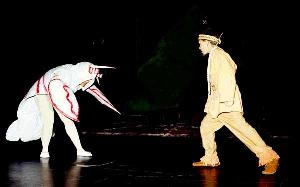 "Young Cherokee was very well received! I worked with a full-blooded Cherokee who
was much impressed with the production."

Deb Wall, Education Director, Salina Community Theatre
---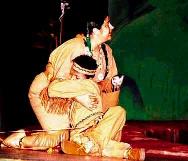 "Young Cherokee was the best by far of any I've seen in children's theater! Thank you for a well told timely tale of Native American history."
College Hill Fundamental School, Cincinnati, OH
---

Watch: Young
Cherokee
Documentary!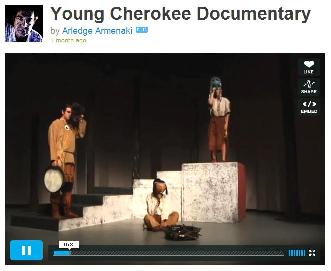 Western Carolina University, Cullowhee, NC
---

"The principal remarked that he had never seen the kids so attentive as they were for Young Cherokee."
Harlan Co Performing Arts Center, Cumberland, KY
---

Making the
Cherokee
Documentary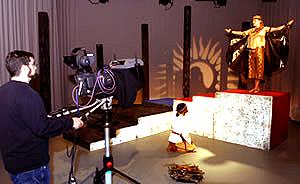 WCU Play Production
Community Awareness
Program
---

"Our music teacher found the musical background CD great and lent itself to many musical theories in the classroom!"
Conneaut Community Arts Center, PA
---

Young Cherokee: WCU established a partnership with the Eastern Band of Cherokee Indians to work towards cultural and environmental literacy. Cherokee artists and scholars worked together to creative an extraordinary cultural experience!
---
Young Cherokee
One Act Play for Schools and Theatres!
Native American Script for Young Audiences!
Western Carolina University Theatre in Education, Cullowhee, NC

Imagine America in its unspoiled state - the land of a young Cherokee. Through his eyes we witness the great myths and legends of early Native American life and culture!
Native American History!

Powerful Story for Young People!
Here are the stories of the Underground Panther and the Great Thunderbird. Our hero, Chosen One, must do battle with these traditional foes!

---
Audience Participation!

Children in the audience learn authentic American Indian sign language and to speak key words of the authentic Cherokee tongue. The audience participates in a Cherokee tribe session and helps Young Cherokee build the sacred fire!
Traditional Cherokee Myths and Creatures!

Crawfish! The Underwater Panther! Chosen One Speaks to the Sun!

"Young Cherokee was superb and tied in very well with what the students were learning about Native American legends and folklore."
Carborro Schools, NC

---

Extraordinary Theatre for Children!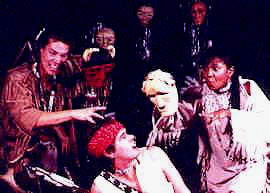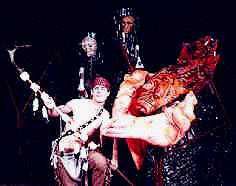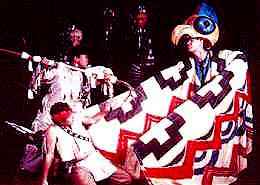 ArtReach Touring Theatre, Cincinnati
Producers, this one act play was developed for a professional tour. It is very easy to book and tour, simple masks and props give it stunning style. Schools, Principals, Teachers, love the educational tie-ins to History, Native American History, American Indian History and Culture.

"Young Cherokee was dramatically presented in a style
that is refreshing and exciting."
The Hemmens, Chicago, IL

For School Tours or Mainstage Theatres!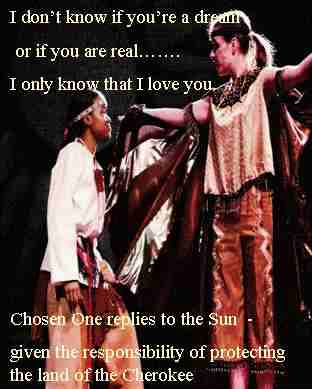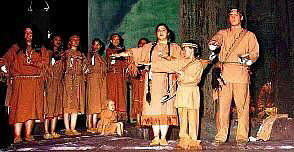 Angelina College, Children's Theatre Mainstage Production
"Students of history will find that performances will bring them a deeper understanding of Native American culture."
Hal Paltrow, Renaissance Center, Ashland, NC
---
Young Cherokee and its companion play Trail of Tears may be performed together to make an in-depth two hour production. Both plays have independent stories however, and may be performed alone.
"Thank you for a well told timely tale of Native American history."
College Hill Fundamental School, Cincinnati
---
Production Information

| | |
| --- | --- |
| Audience | Elementary Schools, Middle Schools, Parents, Teachers, Families, Community |
| Cast | Flexible cast of 8 (smaller with doubling) |
| Time | About 50 minutes |
| CD | Original music, cues, sound effects |
| Royalty | Royalty & Performance License Required (Details) |