FREE RESOURCES: News & Reviews [ Page 2 ]
News media articles, reviews, press releases for ArtReach plays
< Prev | 1 | 2 | 3 | 4 | 5 | 6 | 7 | 8 | Next >
James Strath students ready to bring 'Frankenstein' story to life on March 5
WhatsOn by Lance Anderson, Peterborough This Week, Ontario

"Kid Frankenstein" is a funny, charming story."

James Strath student Mitchell Shedden, as The Monster, rehearses a scene from the school's latest production titled Kid Frankenstein.
Approximately 30 students have been working on the play since January. The play is based on the famous Frankenstein story.

James Strath Public School students are bringing new life to the famous Frankenstein story.

Since January, approximately 30 students in grades 7 and 8 have been preparing to stage the play Kid Frankenstein, a fun take on Mary Shelley's frightening story about a scientist who brings a monster to life.

"Kid Frankenstein" is a funny, charming story about Frankie, a young scientist, and Irving (aka Igor), her long suffering friend. Frankie receives a mysterious book called "How I did it" by Doctor Frankenstein, and so begins her quest to create life. She thinks she has put the brain of a recently deceased brilliant monkey into her creature, but has she?

"A mysterious book from Doctor Frankenstein."

James Strath students Peter Caldwell, Sarah McGinn, Georgia Dueck, Mitchell Shedden and Eunsae Lee rehearse a scene from the school's latest production titled Kid Frankenstein.

ArtReach's Kid Frankenstein was written by Kathryn Schultz Miller.

The play is being staged at the Brealey Drive school in Peterborough on March 5 at 7 p.m. Tickets are $10 at the door which goes back into the James Strath drama program to help fund next year's production.

Crane Attraction: 'Legend of Sleepy Hollow' comes to life at Covey
"Just the right mix of comedy, suspense and thrill."

The Covey Center for the Arts' production of "The Legend of Sleepy Hollow" combines humor with horror to create a unique experience for audience members. Washington Irving's classic story, as dramatized by Kathryn Schultz Miller and directed by Jarom Brown, is perfect for getting into the Halloween spirit this season.
The play takes audiences back to Puritan New England where stories of witches, demons and ghosts haunt the town. The new school master of Sleepy Hollow, Ichabod Crane, finds himself in frightening predicaments as he navigates life, love, fear and the church bridge.

The set was in a black-box theater and conveyed a creepy country town, but it was the lighting that changed the mood from a warm autumn afternoon to a dark night through the use of black-lights and warm amber lights. This setting was the perfect atmosphere for the actors to get into character and become the boys and girls of Sleepy Hollow.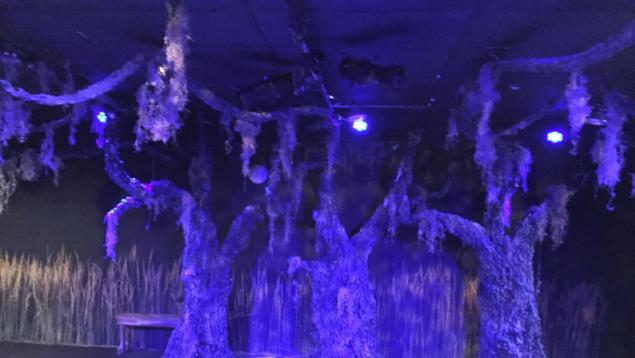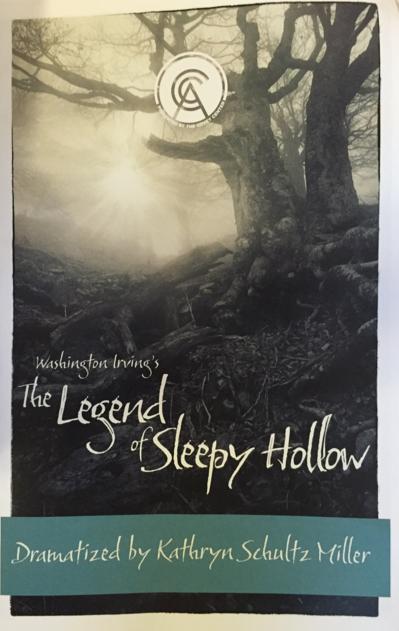 The set for "The Legend of Sleepy Hollow" at the Covey Center for the Arts.
Before the opening-night performance of "The Legend of Sleepy Hollow" began, a storyteller told two stories to frighten the audience. Unfortunately, the stories felt out of place and detracted from the theme of the evening. The lack-luster opening was the only downside of this particular performance however.

Funny character quirks and rhythm the actors embodied seemed natural, as did the seventeenth-century body movements.

Shelley Boyd, the dramaturg for "The Legend of Sleepy Hollow," said that she helped the actors understand the proper etiquette of the time period. She said she worked with the actors on a variety of movements, including how to point and bow properly.

Tyler Fox, with his sharp movements and nervous demeanor, played an impeccable Ichabod Crane. Fox's performance was the highlight of the evening and his interactions with and reactions to the other actors were natural and hilarious.

While the entire performance had some good scary moments, the most frightening was the appearance of the "Headless Horseman." The costume for the horseman was great, but the unknown actor inside was able to instill fear into the audience with the large pumpkin he held as his makeshift head.

Douglas Bowen, who attended with his wife for their second anniversary, said the performance was "just the right mix of comedy, suspense and thrill." His wife Callie said it was funnier than she had expected.
---
DAVIS SCHOOL PRESENTS "A CHRISTMAS PETER PAN"
In December, the Edgar B. Davis K-8 School's "Lights on for the Arts" program staged a festive production of "A Christmas Peter Pan."

More than 100 students participated in the production, which was adapted from J. M. Barrie's story by Kathryn Shultz Miller. Lights on for the Arts is an after-school program that provides Davis School students with opportunities to realize their potential in drama and artistic expression. The Davis School Singers, under the direction of Music Teacher Susan St. Pierre, provided the musical accompaniment to 31 actors and 45 dancers.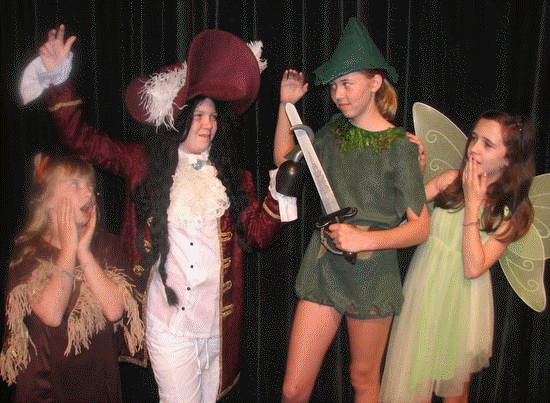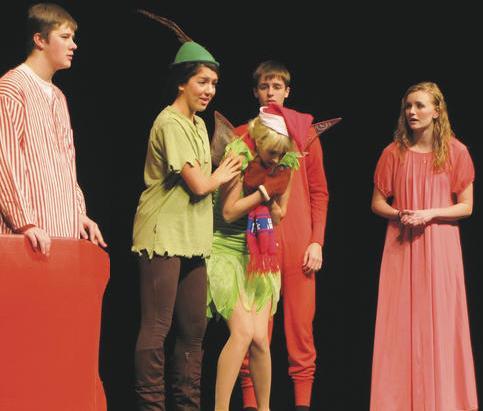 Gorton Center, Lake Forest, IL - Christian Needs Center, LaMars IA
The story is about how the Neverland Pirates, led by the evil Captain Hook and his sidekick Smee, try to hijack Christmas. Aided by the pluck of a couple of elves, the insouciant Tinker Bell and the three Darling children, Peter Pan is able to save the day.

The students' talents shown through thanks to the direction of Davis School Teacher Steven Alves and his army of educators who helped with everything from choreography and sets to stage lighting and back-stage direction.
---
Robin Hood brings Adventure to Adirondack Families!
"Kids can expect to be put right in the middle of the story."

GLENS FALLS - The Post Star

Daria Mathis wasn't sure she should take her son Quinn, 4, and daughter Adeline, 2, to see a play.

Her nanny bought the kids tickets for their April birthdays to the Adirondack Theatre Festival's "Robin Hood" at the Charles R. Wood Theater's PB&J Cafe, which kicked off its month long dinner theater for kids Wednesday afternoon.

The Mathis kids were both familiar with the story of Robin Hood.

"They've seen the Disney movie and we have the books," Mathis said. "She's obsessed."

Mathis' fears were laid to rest as she held Adeline on her lap while the toddler lunched on peanut butter and jelly posted stickers on a piece of paper.

"That's the show right there," Adeline yelled out, pointing to the stage.

"They can expect a fun adventure with Robin Hood."

Adirondack Theatre Festival's "Robin Hood" at the Charles R. Wood Theater's PB&J Cafe

Young theatergoers like Quinn and Adeline were encouraged to participate in the very kid-friendly dinner theater, which takes place at noon until July 27. Kids can order a meal from the cast of characters, participate in an art activity, dine during a live theater performance and leave with autographs from the actors.

"They can expect a fun adventure with Robin Hood complete with fights and love stories and comedy," said Director Henry Hanson. "And kids can expect to be put right in the middle of the story."

Literally.

At one point in the funny love story, the actors pulled kids from the audience to participate in an archery tournament. Robin Hood, played by John Anthime Miller, often encouraged the crowd to cheer him on, shouting "Down with Prince John!"

At one point, Miller asked 8-year-old Clark Seeley to stand up and pretend he was a tree, and then proceeded to "chop" the boy down.

"Fall down now," he whispered to the boy with curly blond hair, eliciting laughter from the audience.

This is the fourth year the Adirondack Theatre Festival has offered a show specifically geared toward children, said Chad Rabinovitz, the producing artistic director.

"So this gives kids the opportunity to learn what it's like to have a live performer in front of you, to experience it as an adult would experience theater," Rabinovitz said.

Most of the entertainment kids experience these days is on a screen.

"There's just stuff you can't do while watching Netflix," Hanson said. "You can't join in the actual archery contest when you're on Netflix. You have to be in a space with the characters. There's something magical about that."

"Robin Hood" is preparing the young audience members to be lifelong theatergoers, and there's a lot of value to be gained by seeing live theater, Rabinovitz said.

"There's also just a different element of appreciation of social skills," he said, "of teaching people how to show respect for someone who is sharing their talents with you, whether it's on stage or in a classroom."
---
LMS Presents "Mulan" May 9-12
"The flower that blooms in adversity is the most rare and beautiful of them all."

Lansing Central School District: On May 9 to May 12, Lansing Middle School will bring "The Legend of Mulan" to the Lansing Central School District. The play will take place in the LMS Auditorium. "The Legend of Mulan" is from the Ancient Chinese Poem adapted by Kathryn Schultz Miller. Over 28 students from Lansing Middle School are taking part in helping "Mulan" bloom to life.

"She just wants to leave the world a better place."

Lansing Middle School, "The Legend of Mulan"

"This play is about the fearless effort of a young woman to save her father from being drafted into the army," said Audrey Hummel, who is directing the musical. "She inspires us to be the best we can be through her honesty, bravery and tenacity. She knows it doesn't matter if she is a boy or a girl - she just wants to leave the world a better place, a mark of a true hero! Mulan serves as a model, encouraging us to grow up and achieve any occupation we desire - regardless of gender. Come and experience the culture of ancient China with us and you might even be asked to join the cast on stage!"

"Mulan" will take place May 9, 10, and 11 at 6:30 p.m., and May 12 at 12 p.m. Tickets are $7 each and can be purchased at the LMS auditorium door. The show will be directed by Audrey Hummel and Kimberly Williamson, with assistance from Julie MacMartin. The show will feature lighting design by John Phillips, set design by Jase Baese, Emily Franco, and Lee Ianone, choreography by Priscilla Hummel, and graphic design by Heather Hamilton.
---
'A Thousand Cranes': Young actors tell a sad but hopeful story
Ashville, NC, BlueRidge.com, Times-News Online

They may not be professionals, but the children and young adults in Flat Rock Playhouse's Studio 52 youth theater program have achieved that rare acting ability to elicit simultaneous and contrasting emotions through onstage storytelling.

Their current production of "A Thousand Cranes" in the Playhouse's downtown Hendersonville theater is both terribly sad and inspiringly hopeful.

There are few sadder events in life than the death of a child. In this true and simple story, the child is 2-year-old Sadako, a Japanese girl who survived the initial blast of the atomic bomb that the United States of America dropped on Hiroshima on Aug. 6, 1945, killing some 140,000 people.

Although they were at ground zero, she and her family thought they had been spared any radiation sickness, only to be told 10 years later that Sadako was quickly dying of leukemia. And - spoiler alert - she does.

"A worldwide and enduring tribute to an inspiring life."

A Thousand Cranes at Flat Rock Playhouse, Ashville NC

Star of the play this past Saturday night was Asian child actress Jia Hind. Her parents were played by teenagers Andrew Johnson and Aniela Lane. Hind was a natural in this role, ever optimistic with more concern for others than herself, her strong voice and character engulfment endeared her to the audience that was disappointingly sparse. Both Johnson and Lane took their parental roles seriously, displaying convincing sorrow that was masked to lessen the reality of impending death for their daughter.

These were but three of many youthful actors who were called upon by Director Dave Hart to carry the weight of the play through the character development and interaction. The set was starkly bare with a slightly raised stage and a simple Japanese arch and two large panels in the far background.

Throughout the play only the simplest props - a few boxes and makeshift hospital bed - were brought forth to aid the actors. The set's color scheme was mostly gray to symbolize the gray ash that fell upon the city after the bomb and to accentuate the color red that was used to symbolize life and hope. Overall, it was very Zen.

Instead of elaborate sets, lighting and special effects, the actors had to rely on each other and creative delivery to advance the story. With the exception of the spector-like Kabuki dancer and Sadako's cherry-blossom kimono, most of the costumes were simple, plain and drab. It was obvious this play was used as a teaching tool to help the budding thespians in their acting, as well as their understanding of Japanese cultural and modern history.

A great deal of factual information was needed to give the audience enough understanding of World War II to appreciate the historical significance. Many times this information was delivered by the actors by simply standing at apt attention and shouting out dates and statistics. Hart is commended for challenging both his actors and his audience to appreciate a play that required both imagination and acceptance of the Far East mindset.

Although the story's foundation is profoundly sad, its true message is one of hope. As Sadako lay hopelessly dying in a hospital bed, she was reminded of the ancient Japanese legend that if a dying person were to fold 1,000 paper - origami - cranes, the gods would cure the person of her disease. As the story goes, cranes are symbols of long life in Japan, as it was once thought that cranes themselves lived to be 1,000 years old.

Despite Sadako's enduring spirit and origami efforts, she dies, but her spirit lived on - both figuratively and in reality. The final scene of Sadako's spiritual ascent is a tribute to good acting, good directing and traditional Japanese thinking.

In reality, Sadako lives on. Through the efforts of her classmates, manifested as a statue of her in Hiroshima Peace Park. And every year since, children from around the world make and send paper cranes to the park as their statement to the world that no child should ever have to die because of war. At the base of the statue, it reads: "This is our cry. This is our prayer. Peace on Earth."

Hart and his cast of young actors took many but thoughtful liberties with this modern classic play to present a message that is as loud as an atomic blast, yet has gentle as the wings of paper crane.

"A Thousand Cranes" will show again this weekend, Friday, Saturday and Sunday, Nov. 18-20. Don't miss this opportunity to witness the power of youth as it struggles to survive in a world at war.

DHS One Act Play advances to Bi-District
The Devine News, TX

"Every cast member and one crew member received awards."

Photo: The cast and crew of DHS One Act Play (back row, left to right): Amada Guardiola, Abbey Paulson, Ariana Russell, Miguel Palma, Emilie Dudley, Charlize Benavidez, Josephine Taitano, and Mrs. Taitain. Front row, left to right: Jose Guardiola, Paige Reyna, Jillian Courtade, Paige Williamson, and Gaby Romano.

This year's production is A Thousand Cranes, by Kathryn Schultz Miller. The play is being produced by special arrangement with The Dramatic Publishing Company. The play is based on the true story of a girl in WWII-era Japan, who falls ill with leukemia ten years after the bombing of Hiroshima.

The cast and crew have attended several clinics in preparation for competition. At the Wimberley Festival last month, our team competed against four other schools for acting awards. Of the four cast members, two received accolades: Senior Jose Guardiola made All-Star Cast, and Senior Ariana Russell received Best Actress of the day.

At the UIL One Act Play District competition this month, every cast member and one crew member received awards: Sophomore Jillian Courtade made All-Star crew, Sophomore Amada Guardiola received an Honorable Mention award, Seniors Jose Guardiola and Abbey Paulson made All-Star Cast, and Ariana Russell was named Best Actress.

Devine High School advanced to the UIL One Act Play Bi-District competition to be held on Friday, March 24 at Lytle High School. Five other schools will perform that day. The first show will begin at noon, with shows running back to back. Show times usually average between 30 and 40 minutes. The event is open to the public and everyone is encouraged to attend. Devine High School is scheduled to perform third in the lineup.

The public performance of the play at Devine High School will be scheduled after the completion of the UIL competition cycle.
News & Reviews: < Prev | 1 | 2 | 3 | 4 | 5 | 6 | 7 | 8 | Next >
All Free Resources