FREE RESOURCES: News & Reviews [ Page 2 ]
News media articles, reviews, press releases for ArtReach plays
< Prev | 1 | 2 | 3 | 4 | Next >
All-Kids Cast presents 'Beauty and the Beast'
"Beauty and the Beast will illuminate you with a lesson and give you light and laughter!"
By Doug Collie, Olds Albertan, May 20, 2018

Grades 5th & 6th Perform!

Members of the cast of the École Deer Meadow School production
of Beauty and the Beast ham it up for the camera.

Forty-eight grade 5 and 6 École Deer Meadow School drama club students will be performing Beauty and the Beast as adapted by Kathryn Schultz Miller.

The drama students have been preparing for their production since their auditions in September. The production will be hosted at the TransCanada Theatre at Olds High School on May 31 and June 1. Tickets will be sold at Ecole Deer Meadow School office for $10 each. The play begins at 7 p.m. each night, with doors opening at 6:30.

The play is being directed by Dawnna Morgan and Jennifer Rabchak who are assisted by Olds High School students Russel Rabchak and Hailey Larson, who both have experience with acting and directing.

Beauty will be performed by two actresses who will each have a public performance. They are Hannah Turnbull and Sophia Dodd. The Beast will be performed by Mannix Thorburn.

This beloved story follows Beauty as she takes the place of her father at the Beast's castle to pay off his debt for stealing a rose. This unlikely love story involves music, dancing, mystery and comedy.

"Beauty and the Beast will illuminate you with a lesson and give you light and laughter," says Ethan Giesbrecht (Grade 6) who plays Mr. Sparkle.

---

College of Southern Maryland announces cast for 'A Thousand Cranes'
"We are hoping to collect 1,000 cranes from schoolchildren before the start of the play."
Charles County 09/24/2014 By College of Southern Maryland

The College of Southern Maryland's Children's Theatre Company presents its cast for the production of "A Thousand Cranes," a drama by Kathryn Schultz Miller. Performances are at 7 p.m. on Oct. 10, and 2 p.m. and 7 p.m. on Oct. 11 at the Fine Arts (FA) Center on the La Plata Campus.

CSM's cast includes Kaylin Beach of Pomfret as Sadako, Surasree Das of Olney as Kenji, Cory Bragg of Nanjemoy as Sadako's father, Emily Garcia of Waldorf as Sadako's mother and Alex LaClair of La Plata as puppeteer. Community members Sarah Infante, Ava Jones and Alayna Stewart round out the ensemble.

The play follows the story of Sadako Saski, a 2-year-old girl who lived in Hiroshima, Japan, with her family when the city was bombed during World War II. Ten years following the bombing, Sadako, is hospitalized, and it is discovered that she has "radiation sickness" or leukemia-an effect of the bombing that occurred a decade before. Kenji visits Sadako at the hospital and reminds her of an old legend about the crane. If a sick person folds a thousand origami cranes, the gods will grant her wish and make her healthy again.

"The Community is Invited to donate origami cranes."

Kaylin Beach of Pomfret plays Sadako, a Japanese child with leukemia in the CSM Children's Theatre production of A Thousand Cranes.

"We are hoping to collect 1,000 cranes from schoolchildren and organizations before the start of the play," said CSM Theater and Dance Coordinator, Associate Professor Keith Hight. "We have received 300 expertly folded cranes from the Japanese Embassy in Washington, D.C. and are expecting students from Robert D. Stethem Educational Center in Pomfret and Hollywood Elementary School to bring cranes when they attend the Oct. 10 matinee. Following the performance, the origami cranes will be donated to Children's National Hospital." In addition, the Chin Hamaya Culture Center of Waldorf is supplying authentic kimonos for the production.

The community is invited to create and donate folded origami cranes for the production. Instructions on folding the origami cranes can be found online at http://www.csmd.edu/Arts/children/index.html. A collection box for donated cranes is located outside the Box Office of the Fine Arts Center on the La Plata Campus. The Children's National Health System requests that all cranes that will be distributed to their patients must be made of new, clean materials and that those individuals making the cranes must wash their hands prior to doing so.

For a promotional video for the play, visit http://youtu.be/xbd5K-AyeX4. Performances are at 7 p.m. on Oct. 10, and 2 p.m. and 7 p.m. on Oct. 11.

---

Review!! The Legend of Sleepy Hollow
Lex Fun 4 Kids, Lexington, KY, Oct 24, 2017

Public Performances and School Matinees. Recommended for ages 8+. Recommended for grades 3+. Performed on the LCT Main Stage. By Kathryn Schultz Miller from the story by Washington Irving.

Description: In a drowsy, dreary hollow where time stands still, new schoolmaster Ichabod Cranes is losing his head over the lovely Katrina. Unfortunately, local brute Brom Bones is vying for her affections as well and making Ichabod's life terribly difficult. But as night draws in and the stars sink deeper into the sky, Ichabod soon realizes that there may be even worse things in Sleepy Hollow, lurking just over the bridge.

The Legend of Sleepy Hollow

Lexington Children's Theatre Production

Review

My family and I love Halloween and all the spooky fun that comes along with it. Getting a chance to enjoy a theatrical performances that's a little spooky and a lot of fun is perfect for families looking for a great way to have a hauntingly good time this weekend!

The show is based on the famous tale by Washington Irving. Set back in the late 1700's there are three actors that do a magnificent job of weaving us through the story of Ichabod Cranes, a new schoolmaster in the town of Sleepy Hollow. The design is warm, fall colors and eerie fog wafting through the room. It sets the mood perfectly as we travel back in time to meet our easily frightened friend, Ichabod, played by Mark Andrew Tucker.

The set also assists in creating additional characters with stand up wooden people the actors use throughout the show to speak to and dance with as well as a very cleverly created dog and horse. Seeing the actors use these props to create additional characters in a fun way to teach children that their imaginations can be used to create and perform their won plays at home even without the help of others. It's always amazing to see how three actors can make the show come to life while playing multiple characters. Watch the costume changes and talk with your children after the show about how the work of the costume artists and the variety of costumes helped define each character.

The play opens on a tavern and talk of ghosts and stories told throughout the town of Sleepy Hollow, one of those tales is that of te Headless Horseman. Our friend Ichabod believes in and is easily frightened by spooks. Abraham "Brom Bones" Van Brunt, played by John Michael McDonald, can see this very quickly upon meeting Cranes. He delights in scaring Crane any chance he can get, including telling the tale of the Haunted bridge that Crane must cross each day to get to the schoolhouse. You may get a bit of a fright during the show courtesy of old Brom!

As we are taken inside the tavern and also inside Cranes' schoolhouse we meet Jan Marie Erickson in some of her may roles. Each character plays a multitude of people throughout the story. She does a wonderful job of shifting from a Sleepy Hollow Boy to Katrina, a lady both Brom and Cranes are trying to woo!

Our three actors weave us through as both Cranes and Brom try to win the heart of Katrina. It's fun to watch the interaction between the two men as they try to outdo each other. There are lots of great laughs thanks to the great expressions John Michael McDonald uses throughout the play! As Brom continues to cause trouble for Cranes the story of the Headless Horseman and the haunted bridge become something he uses to scare Crane.

There is a scene at the bridge where Irving allows the audience to draw their own conclusions about what happens to our friend Ichabod. This might become a bit scary for younger children (the show is recommended for ages 8 and up) but its very quick and the costumes are beautiful!

Be sure to stop by the front of the house before the show and complete a fun 'Mad Libs' wall or fill out a leaf for the response wall. After the show you can meet the actors and get autographs for you Playbill!

The Legend of Sleepy Hollow

Meeting the actors after the show. Lexington Children's Theatre Production

This is a perfect introduction to The Legend of Sleepy Hollow if your children or even you yourself are unfamiliar with the story. If you're looking for additional reading you can grab a copy of Irving's original book. There are also movies and kindle versions of the story.

By Betsy, Lex Fun 4 Kids, Owner
---
Young Actors Take on Martin Luther King's Story
"This Play is for Everyone Who Believes in Freedom for All"

"It's for all of us... We are the dream."


Review by Jane Belden for the Trinity Journal (CA)
Performance by Trinity Players Summer Youth Theatre Workshop, 7/16/14
Directed by Bridget Rogers and Brittany Meredith

After only four weeks of education, Trinity Players Summer Youth Theater Workshop pulled off an excellent production at Trinity Alps Performing Arts Center in Weaverville.

We are the Dream opened with the actors singing and walking down the stairs to the stage where paintings of posters of civil rights were hung at the back and risers where the cast were placed casually, yet quietly, unseen until actively participating in the scene.

I had the opportunity to read the script a few months ago and it emotionally moved me, but made me wonder how non-blacks would pull it off. Well, I have to tell you that it didn't matter what the ethnic background of the actors were, they did pull it off royally.

Bridget Rogers says in her director's notes, "We have come a long way since segregation, though we still have progress to make. We mustn't let it make us bitter, or have hate in our hearts. We must always love others. The dream continues to live in the hearts and souls of every person, young or old, male or female, who believes in freedom for all."

-- Jane Belden for the Trinity Journal (CA)

---

MLC presents: 'Peter Pan'
The Journal, New Ulm, MN -- March 7, 2018

NEW ULM — Join the plucky Peter Pan and the Darling children in Neverland as Martin Luther College (MLC) students perform "Peter Pan."


Staff photo by Connor Cummiskey Tinker Bell (Sara Marquardt, left), Peter Pan (Dan Granberg, middle), and Peter's Shadow (Noelle Boucher, right) ask the audience to blow air at the stage to make a wind for them to fly to Neverland.

At 7:30 p.m. Friday and Saturday in the auditorium at MLC, guests can watch the MLC Children's Theatre performance for $2 a ticket.

"I have an amazing cast and I appreciate all of the work they have done and I would love for everyone to come see it if they can," Director Alec Bergmann said.

The show, written by Kathryn Schultz Miller, follows the classic story told in the Disney adaptation.

Peter Pan (Dan Granberg) takes Wendy (Alyssa Tessmer), Michael (Corey Paske) and John (Duke Backhaus) to Neverland so Wendy can mother the Lost Boys.

Meanwhile, Captain Hook (Eric Dorn) single-mindedly pursues vengeance for his hand that Peter fed to the Crocodile (Noelle Boucher).

The show has a few twists and turns that Bergmann said he would like to keep secret for now. Though one major aspect is audience participation.

"We have a large variety of things for the audience to do all throughout the show," Bergmann said.

From helping Peter find other characters to summoning a wind to help the children fly, the audience is almost as much of the show as the cast.

The breakdown of the fourth wall begins as guests enter, where they will find the actors in character.

"We decorate the entire hallway for all the children to walk through and have fun with the characters before the show," Bergmann said.

The evening performances follow hard upon two days of shows for students bused in from around the state, Bergmann said.

The actors perform three times a day Wednesday and again Thursday (not counting the public performance) to over 5,000 kids, Bergmann said.

But that is not all.

"With this show, what is different about it from all other MLC shows is that we travel," Bergmann said.

Each year the show alternates between two schools, thus the set is pretty minimalistic. That is also to encourage children's imaginations, Bergmann said.

So put on some dancing shoes, sprinkle on some fairy dust and join MLC Children's Theatre on their way to Neverland.

Connor Cummiskey can be emailed at [email protected]

---

THE LEGEND OF MULAN
Island School News, Lihue, Hawaii - 1/10/2018

Fifth graders are preparing in earnest for their upcoming show, "The Legend of Mulan," by Kathryn Schultz Miller and directed by Peggy Ellenburg. Yesterday, the class had a session on set painting led by former Island School parent and volunteer, Laurel McGraw. These photos capture them painting base colors on their backdrop flats. The finished product will be of a Chinese landscape.
Parent volunteers have been assisting with set building and volunteer coordination. Anyone wishing to get involved with sets or costumes is encouraged to contact Peggy Ellenburg: 808-639-7963.

"The Legend of Mulan" will run the weekend of March 2-4 at the Island School theatre.

---

ROBIN HOOD Hits The Bullseye
BWW Reviews by Teresa Rodrick, Jun. 9, 2014

If you have children and you live in the Treasure Valley, you need to know about Treasure Valley Children's Theater (TVCT) and Treasure Valley Youth Theater (TVYT). These two programs were started by Autumn Kersey and they will keep the children in the valley entertained and entertaining.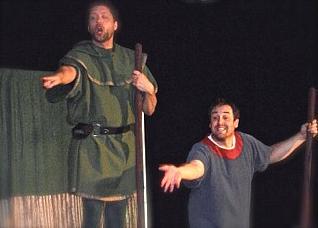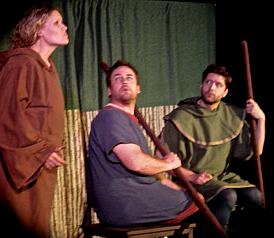 Treasure Valley Children's Theatre, ROBIN HOOD
This production was ROBIN HOOD (an interactive play for young audiences by ArtReach's Kathryn Schultz Miller). Many of the children polled in the audience had not seen or heard ROBIN HOOD, however, they all enjoyed the performance. The actors are professional how they present the children's play and a few of them are professional comedians in Poise (improve helps when you work with children). This story of ROBIN HOOD is told to us by three actors: Jordan Peterson, Jared Stull, and Nicole Stull (the Stulls are players with ComedySportz improve group, as well). We are told of how King Richard has gone off to war and left Prince John to run the kingdom. Prince John is the kind of character toward who the audience "Boos". The prince wants to marry Mad Marian but she is in love with Robin Hood. The audience is told exciting tales of how Maid Marian and Robin Hood get together.

The Productions I have seen by Treasure Valley children's Theatre are great at getting the audience involved and keeping them there!

---

"Blue Horses"
Herald & Review, Decatur, IL

Co produced by Decatur's Golden K (Kiwanis) and the Millikin School of Theatre and Dance, this year's Theatre for Children is "Blue Horses" by Kathryn Schultz Miller.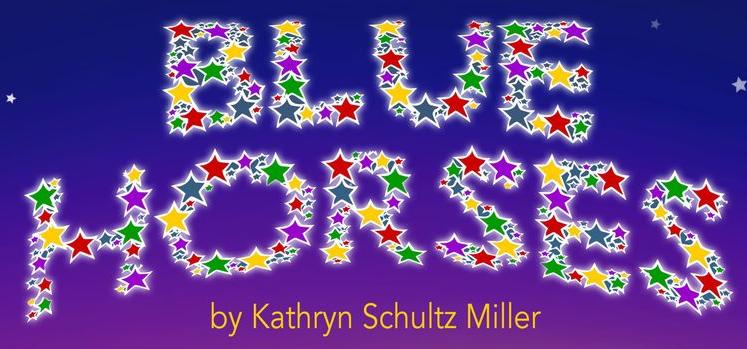 On a summer evening four young people don't want to go home just yet. One invents a game of "wish upon a star" which demands that each friend tell a life story in which the others can take roles and help the central characters achieve their goals. One rides his intergalactic bicycle through the asteroid belt to a distant plant to discover and defend against hostile beings. Another wishes for his twin brother to help him solve the day-to-day problems of schoolwork. His wish is granted until he discovers his unique talents and chooses to be independent again.

Finally, one who struggles to be normal in her family of artists find that vision improves when horses really can be blue. Each person's story helps him or understand and assist one another in the trials and tribulations of grow up, gaining self-confidence and making friends.
News & Reviews: < Prev | 1 | 2 | 3 | 4 | Next >
All Free Resources