FREE RESOURCES: News & Reviews [ Page 8 ]
News media articles, reviews, press releases for ArtReach plays
< Prev | 1 | 2 | 3 | 4 | 5 | 6 | 7 | 8 | Next >
What happened to Amelia Earhart? A new show explores the mystery, this weekend.
Lexington Herald Leader
"What Happened, Amelia?"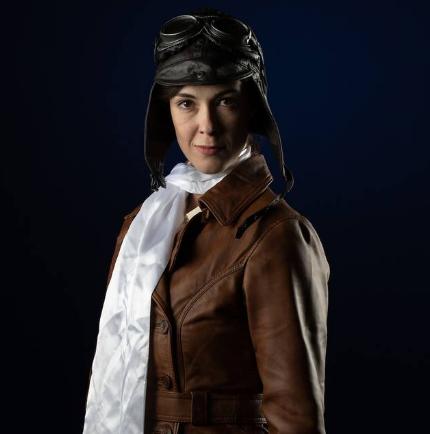 Emily Asbury plays the title role in "Amelia Earhart" at the Lexington Children's Theatre.
Mark Mahan Lexington Children's Theatre
By Rich Copley

It's one of those plays that makes reporters look cool, and you know, we're kind of partial to those. In "Amelia Earhart," a modern day journalist seeks to crack the mystery of what happened to the title aviator when she went missing over the Pacific Ocean during a 1937 attempt to circumnavigate the globe.

In addition to the mystery, the play lays out the many accomplishments of the First Lady of Flight. It's at 2 p.m. Sunday and 7 p.m. Sept. 29 at the Lexington Children's Theatre, 418 West Short St. There are also school matinees this week and next. Contact the theater at lctonstage.org or by calling 859-254-4546 for more information and tickets.

As a bonus, the Aviation Museum of Kentucky is offering free admission to kids who bring an Amelia Earhart ticket to the museum from Sept. 22 to Oct. 31. Find out more about the museum at aviationky.org.
---
Summer Theatre Kids Camp Tackles Oz
Grand Rapids, MN Herald Tribune

The Grand Rapids Players Summer Theatre Kids Camp invites you to travel with them to meet the "Wizard of Oz" at the Reif Center June 20 and 21. In keeping with the timeless classic, you'll meet Dorothy, Scarecrow, TinMan, the Cowardly Lion, Glinda, and the Wicked Witch of the West. Oh, and let's not forget Toto! They'll take you all the way from Kansas to Oz and back again!

This 75-minute production is a condensed version of the well-known story and celebrates the 75th Anniversary of the making of the movie. When a twister uproots her house Dorothy (Lydia Mariano) finds herself and Toto (Luke Torrent) in the Land of Oz where she meets two witches, Glinda (MacKenzie McKay) the Good Witch of the North, and the notorious Wicked Witch of the West (Kayla Witherill). Anxious to get back home to Kansas, the Munchkins send her on her way to Oz where the Wonderful Wizard (Kyle Pennertz) just might be able to help her. That is, if the Oz Gatekeeper (Arianna Erickson) will let her in! On her journey she meets up with three misbegotten characters that could also benefit from the magic of this mysterious wizard: The Scarecrow (Isabella Eastman), the Tin Man (Lucas Berard) and the Cowardly Lion (Madison Christianson).

"The kids have made this their show!"

Grand Rapids Players Summer Theatre Kids Camp

"We have 37 participants this year ranging in age from 8-16. This show, with its many scene changes, created lots of opportunities for lots of kids on stage," said program coordinator, and one of the show's three directors, Sharon Marty-Rasmussen. "We have many kiddos who'd love to be on stage so, by golly, they are! You'll see them come out as Munchkins, flowers, crows, trees, spooks, jitterbugs, flying monkeys, Winkie guards, and characters in Oz."

This program divides the participants into 3 groups: The principal characters, the chorus (who narrate the show and provide special effects), and the ensemble. The chorus consists of Yellow (Charli Seelye), Red (Noelle Gunderson), Orange (Olivia Gunderson), Green (Kaitlyn Lokken), Blue (Dalton Thoennes), Purple (Rece Kuschel), and special effects from Ava Peters (Auntie Em/Scamp), Caleb Christianson (Uncle Henry/Bobo), Nathaniel Bush (Joe Crow), Jacob Anderson (Moe Crow), Aubrey Mendonsa (Woody/Chip), Bethany Mendonsa (Shady/Rascal).

The ensemble group, usually the largest, weave through the entire show, out front on-stage and backstage with scene changes. Those participants include Eiley Lien, Bailey Bunes, Andrew Kottke, Ella Downing, Ella Knutson, Sydney Sjodin, Aidan Thoennes, Nathan Nichols, Zachary Nichols, Jayna Tabbert, Kiira Halvorson, Hunter Seabolt, Kaden Pennertz, Taylor Turman, Samara Eastman, and Brianna Peters.

According to directors Jean Goad, "Everyone has put their unique mark on this wonderful production of 'The Wizard of Oz.' From our audition day through dress rehearsal, the kids have made this their show, not only doing the acting, singing and dancing, but working with costumes, sets and props."

In addition to broadening skills and knowledge in theatre, the children develop interpersonal skills as they learn to operate as a team-player, take risks, build trust, fine-tune their focusing ability, take on responsibilities that include memorizing their lines and blocking cues, organize their props and costume pieces, and make good choices that enhance the progress of their colleagues and the quality of the performance.

"They have all worked hard and been great sports as they learn to act "outside the box," improvising as necessary and learning to develop a character enough to know what that person would do or say in a given situation," said director Amy Thurm.
---
'THE YOUNG CHEROKEE' SHARES NATIVE AMERICAN CULTURE
Baker City Herald, OR

BAKER CITY - Baker City youth have learned a bit about Native American legends as they've learned their lines for ArtReach's "The Young Cherokee," the latest production by Eastern Oregon Regional Theatre's youth program.

This story follows "The Chosen One," a young Cherokee boy who goes on his vision quest. Through his eyes, the audience learns about Cherokee myths and legends. Many of these are taught by his parents, Mountain Flower (played by Savannah Brown) and Walking Bear (Jadyn Berry).

"He was tasked by the Sun to guard the sacred fire," says director Scot Violette. "But he gets lured away chasing a deer, and the sacred fire goes out. The earth disappears - it's all flooded."

So The Chosen One must trick the Underwater Panther into giving up the earth (with help from a crawfish), and then trick the Great and Mighty Thunderbird into giving him fire. Throughout these trials, Mountain Flower and Walking Bear sit on each side of the stage to narrate and explain the action.

Authentic Cherokee language is used throughout the play, and the audience will also have a script to participate when Walking Bear speaks directly to the crowd. The audience also participates in a tribe session and helps The Chosen One build the sacred fire.

Brown, a seventh-grader who plays Mountain Flower, worked on her lines at the same time she was rehearsing for "The Curious Savage," a play at Baker High School. And rehearsals for "Savage" started the day after she finished the Christmas play in December.

"The audience learns about Cherokee myths and legends."

ArtReach's Young Cherokee - Eastern Oregon Regional Theatre, Baker City, OR

Two plays at the same time can be a challenge, Brown said.

"It's really hard, actually," she said. "I have a rehearsal every day of the week."

But she didn't worry about confusing the parts on stage. In one performance, she played a patient at an insane asylum and in the other, the mother of a young Cherokee boy. For "The Young Cherokee," she said Violette taught them about Cherokee legends as they rehearsed. "The legends are really interesting," Brown said.

Berry said she has enjoyed learning about the Cherokee culture. "Just from the script I've learned that the Cherokee really respect and kind of worship the sun and Mother Nature." Berry has many speaking parts throughout the play, including some in traditional Cherokee language. For those lines, she also had to learn the Cherokee style of speaking.

"We have to slow down the words and pause every couple syllables," she said.

Violette has also taught the young cast Cherokee music, which Berry found a particular challenge during rehearsals. "I cannot for the life of me keep up with the beat," she said

"The Young Cherokee" is a one-act, family-friendly play. The cast includes Daniel Crist, Grace Taylor, Cassie Pettit, Luciano Eaton, Izzy Watchtel, Emese Marvin and Reece Hatfield. Taya Riley is the stage manager/assistant director, and Evee Collard is handling the sound and lights.

Letters to the Editor for March 29, 2017
Kiddos deserve another round of applause for "Young Cherokee"

"We attended the March production of Eastern Oregon Regional Theatre.

Live before a packed house, the one-act play, "Young Cherokee," was cast by members of the EORT Youth Theatre. The young actors were flawless, and delighted the audience in coaching a few words of the Cherokee language.

These kiddos devoted countless hours to memorizing their roles and additional hours together in rehearsals. They each deserve another round of applause.

By supporting live theatre, you will see a friend, family member, or someone you least expect, on stage simply to entertain you. And the popcorn is only $1."

Deanna Davis, Baker City Herald, OR
---
Sauratown Summer Theatre to Present "The Red Badge of Courage"
The Stokes News, King, NC

Stephen Crane's classic story of the Civil War comes alive on the stage of the King Central Park amphitheater, 302 Kirby Road in King, as the Stokes County Arts Council presents the community theater production of "The Red Badge of Courage."

Local actor Colin Anderson portrays Henry Fleming, a young man anxious to join the Union Army. To the innocent Henry, the war is exciting and romantic. Later, swapping stories around the campfire with his fellow troops, the reality of war begins to darken his thoughts. Facing the chaos of combat for the first time, Henry panics and runs. As he ponders his actions, Henry realizes that he will never be the same. He knows that he must discover his own courage, humility and wisdom as he attempts to atone for his moment of cowardice.

To help tell the story, the play utilizes a sort of "Greek chorus" in the form of four female narrators, who move around and through the action on the battlefield and in the soldiers' encampment. They speak directly to the audience, moving the story forward and reading from actual Civil War letters.

Sauratown Summer Theatre, King, NC - ArtReach's Red Badge of Courage

The script for "The Red Badge of Courage" was adapted from Stephen Crane's book by Kathryn Schultz Miller and is faithful to the story and language as Crane wrote it. The production is presented without an intermission and runs about one hour. - Courtesy photos

Several times the cast breaks the "fourth wall," charging into the audience in the heat of battle. The play also uses music from the Civil War to bridge scenes and add dramatic effect.

The look of "The Red Badge of Courage" is especially authentic, thanks to local historian and Civil War reenactor Eric Marshall. Marshall has drawn from his extensive collection of artifacts and replicas to provide the production with uniforms, weapons, flags and other gear, including tents and a wagon.

"Eric has been an invaluable resource for this play," said director Brack Llewellyn. "He has not only loaned us an incredible amount of props, he has served as our technical advisor, instructing our actors in everything from terminology to handling a rifle to how Civil War soldiers saluted. Much of the show's realistic look is because of Eric's assistance and generosity."

"The look of The Red Badge of Courage is especially authentic."

Phantom Project Theatre, CA - Lexington Children's Theatre, KY

The script for "The Red Badge of Courage" was adapted from Stephen Crane's book by Kathryn Schultz Miller available through ArtReach Plays and is faithful to the story and language as Crane wrote it. The production is presented without an intermission and runs about one hour.

Performances of "The Red Badge of Courage" are Friday August 26 and Saturday August 27 at 7 p.m. each evening at the King Central Park amphitheater. The rain venue will be Mount Olive Elementary School, 2145 Chestnut Grove Road in King. Concessions will be available at both performances. Attendees should bring blankets or lawn chairs for seating. Tickets and more information are available by calling the Stokes County Arts Council at 336-593-8159 or at www.stokesarts.org.
---
Angels Academy presents "A Christmas Peter Pan" story
Abaco Island Press, Bahamas

Angels Academy's students and staff added a holiday spin to last year's Christmas Program with "A Christmas Peter Pan" story, which was directed by Stacey Adderley, the school's drama teacher.

Even the Christmas Sing-A-Long Songs were sung to familiar tunes with a variation in the words to reflect the program's theme.

"Sing-A-Long Songs were sung to familiar tunes."

A Christmas Peter Pan in the Bahamas

In Act I, Tinker Bell summoned a few of the characters to help save Peter Pan and Santa Claus from Captain Hook's pirates on Christmas Eve. Act II revealed that Santa Claus had been frozen in the North Pole, so he was unable to deliver Christmas presents. Santa's elves were tasked with searching for the Lost Toys.

Snow fairies along with the help of the audience un-froze Santa Claus in Act III, so he gathered the Lost Toys on his sleigh to deliver them to children all over the world. In the final act, Peter Pan led Wendy and the children home. They were surprised to find that Santa Claus had left them the Lost Toys they had met at the North Pole.

Barbara Johnson thanked the parents for their attendance and support of the school. She added that it was only the beginning of things to come, so they must prepare themselves for the future. She invited the teachers to sing a few Christmas songs before dismissing the audience.
---
Downtown Mission to benefit from A Christmas Peter Pan
Windsor's Premiere Youth Theatre Company, Ontario

"The best Junior show ever"

The happy cast of A Christmas Peter Pan at the end of dress rehearsal!

On December 8th and 9th, Riverfront Theatre Company presented A Christmas Peter Pan at the Downtown Mission's Chapel.

We had been fortunate to receive permission from the Mission to hold our performance then when our planned venue space was unavailable. In gratitude, we decided to hold a can drive for the Mission, and to split the proceeds from the admission and bake sale, both of which are always by donation for our Junior productions.

For a regular Junior Production, we anticipate donations coming in around $1000-$1500 for the weekend. We were delighted and astonished to receive not only a wonderful, massive pile of canned goods donated by our generous audience members, but to raise $2600 for the production overall - which means a $1300 donation that we are able to make to the Downtown Mission.

That means that 23 young performers have done a pretty good thing, indeed. In addition to giving two fine performances of a delightful little play "The best Junior show ever," one audience member enthused), they've managed to make a sizable donation of food and money to a worthy cause, through their hard work in rehearsal and performance.

Special thanks to our wonderful hosts, of course, but also to the director of the Juniors, Jeffrey Gartshore, and his able Assistant, Perla Pichardo. We're also thankful to Caitlin Jacobs for her help with the Juniors during rehearsal, and to all the parents who donated enough baked goods to feed an army, helped to decorate our set and entranceway, and helped so much with props and costumes. As always, many thanks to Denise Duckett for her lovely costume work!

The Riverfront Theatre Company provides all youth, regardless of ethnic, social or economic background, the opportunity to participate in a collaborative theatre experience. We offer a safe, accessible, open forum in which young people can express themselves and we provide them with the resources, tools and leadership to study, produce, promote, market and perform live theatrical works.

Join The Academy of Children's Theatre as They Tell the Story of A Thousand Cranes.
The Huntsville Hospital Foundation to benefit

Thought provoking and dramatic true and poignant story of Sadako Sasaki, who was 2 years old when the atomic bomb was dropped on the small city of Hiroshima, where she lived. Ten years later, Sadalo is diagnosed with leukemia-an effect of the bombing that happened 10 years before, during which her grandmother was killed. Through her friend Kenji, He reminds her of the old story about the crane. If a sick person folds a thousand origami cranes, the gods will grant her wish and make her healthy again.

"A heartbreakingly beautiful story."

Academy Childrens Theatre, Huntsville AL

Sadako learns that her true wish may be granted. Sadako's friends and classmates finished Sadako's work. They folded enough paper cranes to make a thousand.The Academy Children's Theater, partnered with Huntsville Hospital Foundation to raise awareness for childhood cancer, and to help fund the St. Jude's in Huntsville.

At every show, you will have an opportunity to purchase a paper crane. 100% of the money raised to purchase the crane, and other fundraising activities will go directly to The Huntsville Hospital Foundation to benefit our local St. Jude.

Please come see this show, A Thousand Cranes. It is a wonderful script with a heartbreakingly beautiful story based on a true story.

Thank you for your support of our efforts. For School Bookings please email [email protected]

We Are The Dream: The Legacy of Martin Luther King Performance
St. Francis of Assisi School Marks Black History Month
February 19, 2019 by Sister Annette

Our Black History Program began with Principal, Mrs. Lewis, welcoming the families and friends of our students who had come to enjoy the production of ArtReach's "We are the Dream: The Legacy of Martin Luther King, Jr." by Kathryn Schultz Miller. According to tradition, the performance was preceded by the audience, faculty, staff and student body joining together in the singing of the Black National Anthem, "Lift Every Voice and Sing" by James Weldon Johnson.

"Audience, faculty, staff and student body joining together."

ArtReach Children's Theatre Plays: We Are the Dream the Legacy of Martin Luther King, Jr.

A prelude was offered by Sr. Kathleen's Pre K and Kindergarten. They performed "Siyahamba", singing the lyrics in Swahili and accompanying themselves with rhythm sticks. This was followed by the dramatic presentation of the life and times of Dr. Martin Luther King. Students of Pre-K through Grade 6 made up the choir and the cast of characters. The program opens with a teacher explaining to her class the dream of Martin Luther KIng and announcing that he would be coming to visit their school. The play unfolds by offering vignettes of various events in the life and growth of Dr. King. He is first portrayed as a young boy and the script offers insight into some of the early experiences of Martin as he learns the effects of segregation. The plot moves on to Martin's proposal to Coretta Scott.

"Students of Pre-K through Grade 6 Performed."

Young Martin with his parents considering the purchase of new shoes.
Coretta is unsure of her desire to leave her cultured life to share in the dream of Martin.

Dr. King really began his public pursuit of racial equality in the wake of Rosa Parks' courageous stand on the bus in Montgomery, Alabama. Thus her story became part of the performance. Woven throughout the story of Dr. King's life, were renditions of spirituals and Civil Rights era songs by the student choir. Selections in included "My Lord, What a Morning", Nobody Knows the Trouble I've Seen", Oh Happy Day", "We Shall Overcome" and "Free At Last".

"Spirituals and Civil Rights era songs."

Rosa Parks was tired of being discriminated against.
Sister Kathleen Directed and guided the students throughout the program.
After many hours of practice and concern the students of St. Francis "did her proud"!

The cruelty dealt to the youth who participated in the Birmingham Children's March was portrayed powerfully by the students as a sound track from the actual event played in the background. The audience was solemnly silent as this moment was replayed before them.

"Children's March was portrayed powerfully by the students."

The students fell to the floor as the scene in Alabama of the fire hoses and dogs attacking the children was enacted.
Martin Luther Kings speech "I Have A Dream" was was the crowning point of the program.

The scenes of the drama continued with the latter part of Dr. King's life and the apprehension he and his family endured due to his activism. A recording of Dr. King's voice boomed out over the audience in the well known words of his "I Have A Dream" speech. Our student actor froze in witness form as this speech played. The members of the choir, as well as the rest of the student body, sang the spirituals from their hearts and in full voice.

"The little ones sang their hearts out!"

The choir sang Spirituals and Civil Rights era songs.
The little ones sang their hearts out! All the members of the cast joined together in the closing song; "We Shall Overcome".

As the last notes of the closing song rang out through the church, all breathed the joyful words, "Free at last, thank God almighty, we are free at last!" There was much to be proud and happy about in the St. Francis School community.

Oswego Children's Theater to Host Chicken BBQ Fundraiser March 16th
The Oswego Children's Theater will be hosting a chicken BBQ as a fundraiser to support their upcoming production of "A Thousand Cranes".

"OCT is presenting the one act drama for adjudication."

Pictured in the photo are show cast members Lannie Osbourne,
Alexa Bell, and Sydney Osbourne. Lyndsie Lee Jones photo.

The BBQ will take place on Saturday March 16, at Lighthouse Lanes, in Oswego., with dinners costing $12. for ½ a chicken along with beans, salt potatoes, and a dessert. The proceeds of the BBQ will be used to aid the teen ensemble of the Oswego Children's Theater as they travel to the Auburn campus of Cayuga Community College to participate in the Micheal J. Harms Youth Theater Festival by presenting the one act drama for adjudication.

Oswego Children's Theater has participated in the festival for several years winning many awards along the way.

This Years production, "A Thousand Cranes", by Kathryn Schultz Miller, tells the story of Sadako Saski a 12 year old Japanese Girl who after surviving the atomic bomb dropped at Hiroshima, finds she has radiation sickness, several years after the event.

The cast of five includes Sydney Osbourne, as Sadako, Lannie Osbourne, as Kenji, Alexa Bell, as Mother, Scott Swindells-Lepage, as Father, and Carolynne Benedetto, as Grandmother. The show will utilize various Japanese styles in the production including traditional Kabuki theater and Noh drama techniques.

The production is directed by Lyndsie Lee Jones assisted by Kelly and Wayne Mosher, and is presented by special arrangement with Dramatic Publishing,

The show will be presented locally in late March at the Mc Crobie Building in Oswego and April; 6th at the Micheal J. Harms Theater Festival held at the Auburn campus of Cayuga Community College. For more information concerning the BBQ or the show call 315-342 5265.

Students' letters show the impact of A THOUSAND CRANES
To Imaginary theatre Company, Repertory Theatre of St. Louis
Tuesday, Feb. 28, 2017

From time to time we receive thank you letters from schools where our Imaginary Theatre Company has visited. We wanted to share a few with you today.

The quotes below are from the students at Wilson School who attended our presentation of A Thousand Cranes, a show that looks at the impact of the atomic bombing of Japan through a child's eyes. It's inspiring to see what a huge impact we are having on their lives!

"I hope that someday, Sadako's wish will come true."

A Thousand Cranes, Repertory Theatre of St. Louis School Tour

"From this presentation, I really know how much peace really means. From now on, I am going to be as kind and peaceful as I can. This play really touched my heart." - Austin

"I will go see Sadako's paper crane in the museum someday. I hope that someday, Sadako's wish will come true. No more atom bombs will ever fall again." - Alana

"I will always think of Sadako in bad times. Sadako is so strong even though she had leukemia. She is an amazing character that will always inspire me!" - Sahar

"Thank you for bringing the Repertory Theatre of St. Louis to us. Their plays are always amazing, but this was the best so far. I think it is good to spread awareness about the atomic bomb. People need to know about what happened to the people of Hiroshima and Nagasaki so that we don't do it again." - Sofia

"I loved how well they performed something that happened again so realistically. I have learned so much because of these plays&ldots;.If there's one important message of this play, it's keep hoping, and I think that's a very important message." - Brielle

Theatre Review: 'Pinocchio' at Red Branch Theatre Company
MD Theatre guide, Washington DC
Posted By: April Forrer

Red Branch Theatre Company's production of Pinocchio is a charming retelling of the well-known tale of a mischievous animated marionette who wishes to become a real boy. In this production, the story is told in a truly interactive way.

"The children were surprised and delighted."

Red Branch Theatre Company, Columbia MD Photos: Susan Porter (Lorenzo), Kate McNichol (Alberto), Tegan Williams (Puppet), Caroline Wolfson (Pinocchio), Kelsey Painter (Puppet), Kristala Pouncy Smart (Hickory Cricket), and Geppetto (Kathryn Marshall). Photo by Erika Hagen.

The theatre audience becomes an integral part of the play, and the children were surprised and delighted. Without the audience's help, Pinocchio (Caroline Wolfson) wouldn't have wood for his fire or books for school, and without the aid of the very enthusiastic voices of the combined audience, Hickory Cricket (played by a wonderfully spirited Kristala Pouncy Smart) could not have heard Pinocchio's cries for help.

All of the characters, (over 14 different ones) in Red Branch's production of Pinocchio are played by a seven-member cast, and each actor brings a distinctive style and is a joy to watch.

The original Adventures of Pinocchio was written by Carlo Collodi in Italy. Originally printed between 1881 and 1883 as a series of short stories, the book for children was compiled and released in February 1883. There were few books written for children at that time, and it was also unique for its story: it was the first to confront everyday realities like the need for food, shelter, education and the importance of listening to one's parents to truly be happy. As the Blue Fairy points out at the end of Adventures of Pinocchio:

"Boys who minister tenderly to their parents and assist them in their misery and infirmities, are deserving of great praise and affection, even if they cannot be cited as examples of obedience and good behaviour. Try and do better in the future and you will be happy."

Pinocchio eventually learns that lies and disobeying his father, the woodcutter Geppetto, lead to nothing but loneliness, heartbreak and a very long nose! He then vows to tell the truth, listen to his father, and go to school. Pinocchio sustains his vow and, in the end, he gets his wish and the Blue Fairy turns him into a real boy.

"Hurry over to catch this not-to-be-missed gem."

Red Branch Theatre Company, Columbia MD Photo: Caroline Wolfson as Pinocchio and Kathryn A. Marshall as Geppetto. Photo courtesy of Red Branch Theatre.

All of the characters, (over 14 different ones) in Red Branch's production of Pinocchio are played by a seven-member cast, and each actor brings a distinctive style and is a joy to watch. This production only plays through December 16th, so hurry over catch this not-to-be-missed gem.

Running Time: 45 minutes with no intermission. Pinocchio is playing through December 16, 2012 at the Red Branch Theatre Company at 9130-I Red Branch Road, Columbia, MD. For tickets call the box office at 410-997-9352 or click here.
News & Reviews: < Prev | 1 | 2 | 3 | 4 | 5 | 6 | 7 | 8 | Next >
All Free Resources