FREE RESOURCES: In the News [ Page 6 ]
News media articles, reviews, press releases for ArtReach plays
< Prev | 1 | 2 | 3 | 4 | 5 | 6 | 7 | 8 | 9 | Next >
This page (Page #6) has great articles from newspapers and school newsletters. Check out all these great comments about ArtReach popular titles: Sleepy Hollow, Kid Frankenstein, Christmas Carol, A Thousand Cranes, Peter Pan, Christmas Peter Pan, Snow White, The Velveteen Rabbit, Pinocchio, Hansel and Gretel, Welcome Home.

Theatre Review: 'Sleepy Hollow Experience' at Serenbe
Atlanta In Town, In the Loop: By Manning Harris

Serenbe Playhouse, which thrilled us this summer with their outdoor Woodstockian version of "Hair," has come out of their customary fall hibernation with a delightful theatre piece called "The Sleepy Hollow Experience." It will run through October 31 at The Stables in Serenbe; it's based, of course, on Washington Irving's short story "The Legend of Sleepy Hollow," published in 1820.

"Flows smoothly from comedy to horror!"

The Legend of Sleepy Hollow by ArtReach - Serenbe Playhouse, GA

That's the good news. The not so good news, if you'd like to go, is that the theatregoing cognoscenti of Atlanta has made the show a complete sellout-even before the opening night. But there's hope! Four late night shows have been added: October 18, 19, 25, 26 at 10:30pm. The show runs just over an hour, so that's not as late as it might seem. Be sure to check the theatre website in case there are additional changes.

This unprecedented popularity and confidence in the Playhouse is a tribute to the excellence of their work and also to the vision and expertise of their founder and Artistic Director, Brian Clowdus. To him and to the whole Serenbe group we offer our congratulations.

"A perfect Halloween entertainment."

The Legend of Sleepy Hollow by Kathryn Schultz Miller - Serenbe Playhouse, GA

Now on with the show. Have you heard of the nervous schoolteacher Ichabod Crane (Chris Mayers) and the Headless Horseman? You're about to meet them, if you go. The story's quite well known, but I won't supply the plot; don't want to be a spoiler. But there's Katrina Van Tassel (Jessica Miesel), the 18-year-old daughter of a wealthy farmer, eminently marriageable. And there's the town bad boy, Brom Bones (Jacob Cooper), known to have a fondness for playing pranks on the superstitious Ichabod. Two storytellers, Laura Floyd and Brandon Connor Patrick, not only keep the story moving but usher the audience from place to place. All the actors look splendid, dressed in period costumes designed by Brittany Quigley.

The story is set in 1790 near the Dutch settlement of Tarrytown, New York, in a secluded glen called Sleepy Hollow. It begins upstairs in the stables; heavy mist and fog set in; occasionally an apparition of a woman in white appears, usually accompanied by a shrill scream.

Are you beginning to perceive that "The Sleepy Hollow Experience" is, among other things, a perfect Halloween entertainment? It is. There's also charming, original music composed by Jevares C. Myrick and Bobby Johnston and directed by Seth Davis. The show is adapted from Irving's story by Kathryn Schultz Miller. The entire production is directed by Brian Clowdus.

"Sleepy Hollow" is what we'll call participatory theatre."

The Legend of Sleepy Hollow by Kathryn Schultz Miller - Serenbe Playhouse, GA

I haven't emphasized that "Sleepy Hollow" is what we'll call participatory theatre: There is some audience interaction, but it's not distracting or excessive. I was quite thrilled to suddenly find myself in private conversation with Brom Bones; I forget what he asked me, but it was great fun. The show "roams"; it's "situational theatre"; but the whole piece flows smoothly and easily from place to place, from comedy to horror!

At the end the audience is safely corralled in the stables to allow the Headless Horseman (we're talking real horses here) to fly by. Is he really headless? Is he as big as Ichabod's imagination pictures him? You'll have to wait and see. And talk about authentic ambience-the Serenbe Stables redefines the term.

I haven't said enough about the cast; but they're all superb-from Ms. Floyd's lovely, powerful voice to the quite dashing Brom to the nervous Ichabod to the coquettish Katrina to Mr. Patrick's easy charm.

As I mentioned, the problem is tickets. If you already have them, rejoice. If not, check the site. This year Serenbe has, quite obviously, broken through to the other side, as Jim Morrison would say.

Hunter Drama is bringing Kid Frankenstein to the Civic Playhouse in Newcastle
By Ken Longworth: Newcastle Herald, Australian Community Media

WHEN English novelist Mary Shelley's Frankenstein was published in 1818 she didn't see it as being so popular that it would have many stage adaptations, plus sequels that were written by other people.

Just five years after it was published it received its first theatrical treatment with Richard Brinsley Peake's Presumption! Or The Fate of Frankenstein. Shelley attended a performance and reported that, though she was "most amused", she thought the story was "not well managed". And when films were initially presented in the early 20th century a short film which kept the book's name was made by the first film company established in the United States, a country that subsequently developed many very different Frankenstein films that had people very eagerly seeing them.

"Will the brain transference work?"

Hunter Drama presents Teen Cast of ArtReach's "Kid Frankenstein"

In 1931, for example, Boris Karloff, an actor who often played very demanding people, was a monstrous creature that was as sympathetic as it was frightening in the film Frankenstein.

And as the film was a hit, the film company produced a sequel, Bride of Frankenstein (1935), that also had many full houses, followed by several other films: Frankenstein Meets the Wolf Man (1943), House of Frankenstein (1944), and in 1948 its first comedy version Abbott and Costello Meet Frankenstein.

As the films attracted people of all ages, it's not surprising that an American playwright recently adapted the story for theatre stages, with the casts being mainly young people.

So the play's title is Kid Frankenstein.

Hunter Drama, a Newcastle theatre company that trains young people in acting and other theatre activities, such as directing and writing plays, is staging Kid Frankenstein at the Civic Playhouse, with six performances between Thursday, April 21, and Saturday, April 23.

"The play has many of the teens played by male or a female."

Hunter Drama presents Teen Cast of ArtReach's "Kid Frankenstein"

It is an interesting play because the nature of the story has many of the friends who are in their teens played by a male or a female.

And while the play is often publicised as a just-for-kids version of Mary Shelley's classic novel, it remains true to Shelley's original text and has people of all ages enjoying it.

After Victor Frankenstein discovers the secret to life in the novel and uses it to build an eight-foot-tall monster, he realises he's made a creature that he can't take care of - or control.

Frankenstein and the monster chase each other across Europe, along the way learning lessons about ambition, the effects of technology on our lives, judging others based on looks, and the healing powers of nature.

In Kid Frankenstein Victor is a kid scientist, Frankie Stein, who collaborates with his friends, Irving and Helga, in creating a monster to help them win an award at the upcoming Science Fair. The kids sneak into the science lab to grab a monkey brain for their monster. But it gets mixed up with the brain of little Fluffy, a sweet puppy dog. Chaos ensues. Will the brain transference work? Can order be restored at the Science Fair? Will the villagers storm the kids' basement laboratory and ruin everything? And how will they react when they see the monster?

"Will the villagers storm the kids' basement laboratory?"

Hunter Drama presents Teen Cast of ArtReach's "Kid Frankenstein"

Kid Frankenstein has a brisk 50-minute running time. It has been directed by Tim Turner, who is an actor, educator and entertainer, with a strong passion for teaching and instilling the joy of performance in young people.

A new twist on old Dickens
Review of ArtReach's stage adaptation of A Christmas Carol
By Jenna Prewett, Washington Times-Herald, IN

The Veale Creek Theatre is putting a new twist on an old tale this Christmas season.

The theatre will be presenting "A Christmas Carol" by Charles Dickens and adapted for the stage by Kathryn Schultz Miller of ArtReach Children's Theatre Plays, Bradenton FL.

"It's a new way to appreciate A Christmas Carol"

Young Cast Veale Creek Theatre, Washington IN

The original Charles Dickens tale tells the story of Ebenezer Scrooge, a miserly old man who has spent his life being uncharitable and cruel toward others. On the night of Christmas Eve, Scrooge is visited by the ghost of his old business partner, Jacob Marley. Marley was greedy in life and, as a result, must wander the world in his death, weighed down by heavy chains. He warns Scrooge that he will spend his afterlife with the same fate, unless he changes his ways.

Throughout the night, Scrooge is visited by three different ghosts. These ghosts show Scrooge different aspects of his life and death in the hope he will change his self-serving ways.

"This musical teaches people to be kind and helpful to others," said Colin Craig, a 10-year-old boy playing Bob Crachit, Scrooge's accountant.

This particular adaptation of the popular novel features several different parts for children, as well as adults. The play features several different story tellers, including Charles Dickens and several fairies. Popular Christmas songs are also featured in this musical, including "Silent Night," "Joy to the World" and "Deck the Halls."

"It's a new way to appreciate 'A Christmas Carol' and get into the Christmas spirit," said Dean Dorrell, who plays Marley's ghost.

Veale Creek Theatre's 'A Christmas Carol' will run today and Nov. 29 through Dec. 1. The performances will begin at 7 p.m. each night. Tickets are $10 for adults and $7 for children age 12 and under. Contact Hibbett Sports at 257-0892 to purchase tickets. Performance nights have already begun to sell out, so it's recommended to buy tickets ahead, rather than trying to buy them at the door.

"We hate to turn people away, but we love to turn people away," said Elke Guratzch, one of the directors. "It means we've sold out."

Music for the program will be performed by Elain Dahl, and refreshments will be provided in the theatre after the show.

A Thousand Cranes
By Kathryn Schultz Miller | Directed by David Hsieh
January 13, 2018 - February 3, 2018

The true and poignant story of Sadako Sasaki, who was 2 years old when the atomic bomb was dropped on the small city of Hiroshima, where she lived. The star of her school's running team, Sadako is lively and athletic ... until the dizzy spells start. Then she must face the hardest race of her life - the race against time. A Thousand Cranes celebrates the courage that makes one young woman a heroine in Japan. The Hiroshima Peace Memorial, completed in 1958, has a statue of Sadako holding a golden crane. At the base is a plaque that says: "This is our cry, this is our prayer: peace in the world."
SECONDSTORY REPERTORY
Live Theater at the Redmond Town Center
www.secondstoryrepertory.org
The summer campers performing "A Thousand Cranes" are having a blast.
Grand Rapids Herald Review

Grand Rapids is a city that is proud of its spectacular theatre scene. At the base of this amazing theatre presence are the youth programs available for budding actors, costumers, tech helpers, and more. For 10 years, The Grand Rapids Players have been hosting a Summer Theatre Kids Camp for community kids interested in the world of theatre. 60 kids will be performing "Jungle Book" and "A Thousand Cranes" on Friday, July 22 at 7 p.m. and Saturday, July 23 at 2 p.m. in the Reif Center.

The camp has always aimed to teach children as much as possible about theatre in a short three weeks; campers learn about acting, stage directions, blocking, costuming and makeup, set design, and much more.

"It's all about the kids, and exposing them to the entire world of theatre," said Sharon Marty-Rasmussen, who has been a director of the camp since its inception.

This year, the camp is switching things up. In past years, campers only performed one show. However, this year, the camp has split into two separate groups, and are performing two different shows, which are directed by Marty-Rasmussen, Jean Goad, Susie Morgan, and Taylor Eck. Dave Martin has also contributed to the camp this year.

The first group, which meets in the morning, will be performing Disney Junior's musical version of "Jungle Book." The story follows a young boy Mowgli, played by Manny Lister, who has adventures with his animal friends in the jungle.

The afternoon group will be performing the famous Japanese show "A Thousand Cranes," which tells the story of a girl Sadako, played by Lydia Mariano, who was diagnosed with leukemia in the aftermath of the dropping of the atomic bomb in Hiroshima. This second show is a lot more serious than those the camp has tackled in the past.

"These guys are ready."

The Grand Rapids Players, Summer Theatre Kids Camp

Marty-Rasmussen said this decision to have two groups was about including as many kids as possible, and letting the returning kids be challenged. The first group will be focusing on the fundamentals of theatre, and are performing a more lighthearted show. The second group is composed of campers with more theatre experience, and are taking on an emotionally complex show that is serious in tone. Those campers will be focusing on more complex emotion, character development, and advanced blocking.

"We have so many kids that want to come back, so it's time to let them move beyond," Marty-Rasmussen explained.

This is also the first year that the camp is held daily in the Reif Center. In the past, the camp was held in the old Grand Rapids Players building on the south side of town, and campers moved into the Reif for the last week of camp for a tech week. Marty-Rasmussen said being in the Reif for the whole camp has really streamlined the process.

Kids in both groups started rehearsing on July 5, and have learned a ton so far about the world of theatre. All campers are looking forward to performing for their families, friends, and community members.

The campers performing "A Thousand Cranes" said they are having a blast, and are learning a lot about theatre.

Students are "learning a lot about history by doing this show."

The Grand Rapids Players, Summer Theatre Kids Camp


Andrew Kottke said he is learning a lot about history by doing this show. He expressed interest in World War II history, and found it interesting to learn about the tragic Japanese side of the story.

In general, the campers in "A Thousand Cranes" are enjoying doing a more serious show. It is a new thing for them, and it has been very educational.

"I just like how it's more of a serious play, it has a story with it," explained camper Morgan Tinquist.

"It's so sentimental," said camper Charli Seelye. "I can't wait to make the audience cry."

The cast of "A Thousand Cranes" is also doing a little something special. In the show, Sadako folds 1,000 paper cranes in the hope that her with to live would be granted. Today, people from all around the world send paper cranes to the Children's Peace Monument, located in Hiroshima, Japan. The cast is in the process of folding 1,000 paper cranes, that they plan on sending to the monument. This has been an emotional experience for the campers.

All the campers and directors are looking forward to the performances in the Wilcox Theatre. They all hope to see the community there at the shows. Marty-Rasmussen has faith in all of the campers to perform two great shows.

"These guys are ready," she said, smiling.

Theater Review: A Thousand Cranes by Studio 52 at Flat Rock Playhouse
Mountain Express, Ashville, NC

A Thousand Cranes opens with a stunning Kabuki theater-style dancer, who inhabits the stage with a silent, flowing grace. The show, at times, delves into Japanese culture and ritual, and the presence of this Kabuki Lion Dancer amplifies the differences between our culture and theirs. Sara Jane Killian performs this role with a poetic flourish.

"A Thousand Cranes packs an emotional wallop."

Studio 52 Kids fold cranes at Flat Rock Playhouse, Ashville, NC

The opening sequence is a series of vignettes that brings the audience from the humble lives of those living in Hiroshima to that fateful day, when the bomb - known as "Little Boy" - dropped from the Enola Gay bomber and forever altered countless innocent lives. The opening also includes Travis Pressley as an Enola Gay officer. He shares the reactions of the airmen who had no idea of the devastating impact of their duty that day. It is haunting and refreshing to experience that often-overlooked perspective.

By the end of the opening sequence, many audience members were softly weeping. It packs an emotional wallop. The show pivots to the mundane day to day lives that the survivors cobble for themselves afterward. For Sadako, reality is worrying about winning a school relay race and playing with her friends. The normalization after such a traumatic event is stark, and reminds us of the innocence of children. But Sadako's youthful journey is interrupted by Leukemia (which she develops a full decade years after the bomb decimated her family's lives and home). Her fight to overcome the disease is often sad, but also inspiring.

Many of the roles are cast with actors who alternate weekends of performance, but several play the same roles across the full run. Andrew Johnson and Aniela Lane play Sadako's parents, and though they are clearly too young to comprehend the span of emotions required, they give it their all and provide a solid anchor of emotion for the show.

Nearly two dozen young actors are a part of this production, with a dozen more involved behind the scenes. Their ambitious production is remarkable in its execution, and holds its own as a serious piece of theater, youth or otherwise. These kids and their families and friends should be proud of the powerful message they are presenting.

'Peter Pan' sprinkles enjoyment on RRES
Nelson County Times, Staff Reports Feb 14, 2017

Rockfish River Elementary School had an adventure to Neverland last Thursday as students were treated to a performance of "Peter Pan."

"Actors include students from second through fifth grade."

The Play Peter Pan at Rockfish School, Lynchburg VA

Wendy, Tinker Bell, Captain Hook and other legendary figures of the classic from novelist and playwright J.M. Barrie came to life in the school's cafeteria with plenty of laughter from the audience. Actors include students from second through fifth grade.

The Rockfish River Players is putting on the play this Wednesday, Feb. 15 and Thursday, Feb. 16 at 6 p.m. Tickets are $3 at the door and children 2 and under are free, according to the school's website.

Celebrate season at Villagers Theatre with 'Christmas Peter Pan'
Franklin theater presents 'Christmas Peter Pan'

My Central Jersey: Part of the USA Today Network

FRANKLIN (Somerset) - Capt. Hook is at it again! No longer satisfied with disrupting the peace in Neverland, he has decided to take a "stab" at ruining Christmas. That is the premise of "A Christmas Peter Pan" opening at the Villagers Theatre on Saturday and running through Dec. 20.

Hook's plan includes preventing Santa from making his deliveries, capturing Peter Pan to keep him from interfering with Part One of the plan, and, for extra-bad measure, scattering all the toys out over the frozen North Pole landscape. Now it's up to Tinker Bell and those darling kids, Wendy, Michael and John - with a little help from the audience - to save the day.

"Captain Hook is at it again!"

Gorton Center, Lake Forest, IL - Christian Needs Center, LaMars IA

The production is directed by Tina Lee and produced by Paul Carver, both of township residents. Performances are 12 and 3 p.m. on Saturdays and 12 p.m. on Sundays. The 12 p.m. performance on Dec. 19 is not open to the public and is reserved for the "My Name is Matthew" program. The purpose of the "My Name is Matthew" program is to invite children with special needs to enjoy the experience of live theatre.

Theatre Experience - The Dalles Chronicle: Columbia Gorge News
By Mark Gibson, Dalles OR

The Dalles Theater Company presents Snow White and the Seven Dwarfs on June 23 (6 p.m.) and June 24 (2 p.m.) at The Dalles High School auditorium. The Dalles Theater Company will "bring to life the enchanting tale of the beautiful, gentle Snow White and her jealous stepmother, the Queen. Sent on a perilous journey into the woods, Snow White befriends the forest animals and the delightful seven dwarfs in this classic tale." Doors open half an hour before each performance.

"Performing arts helps foster creative thinking."

The Dalles Theatre Company - Snow White and the Seven Dwarfs

The Dalles Theatre Company sponsored a children's performance of ArtReach's Snow White and the Seven Dwarfs this weekend at The Dalles High School Auditorium. Above, the 30-minute play climaxes with a rousing cheer of triumph.

In an age where performing arts, of any type, is sometimes eliminated from the classroom - TDYTC recognizes the importance and value such a program will have on our youth. Performing Arts helps foster creative thinking, improve positive self-worth and instill proper etiquette that children will use in their daily lives now and in adulthood. TDYTC will provide a safe learning environment where theatre skills will be all encompassing. Children will be given the opportunity to explore ALL aspects of the art of theatre. TDYTC recognizes that not everyone wants to be on stage. Therefore, learning set/prop building, lighting, staging, and costuming concepts will be offered as well.

Fleetwood Community Theatre presents The Velveteen Rabbit
A Christmas Musical by Margery Williams, adapted by Kathryn Schultz Miller, on Dec. 4 and 5.

On Christmas morning, a young boy receives, among many gifts, a stuffed velveteen rabbit. When the little stuffed Rabbit shows up under the tree, the other toys laugh at him. And although the little boy loves his little rabbit, it is often overshadowed by the other toys the boy likes better. But Skin Horse, the shabbiest and wisest toy in the nursery, tells him to be patient. A young boys love for his toys is a magical thing!

The cast brings to life this innovative, creative script which is full of lively action, comedy and tender moments! The production offers endless surprises, including a swashbuckling adventure and a spin on Christmas carols that will captivate audiences both young and old. Fleetwood Community Theatre's junior cast is comprised of young actors from all of Berks County and is directed by Debbi Silas, with Aimee Deibert as musical director and Ashley Frankhouser as choreographer.

"The production offers endless surprises."

Fleetwood Community Theatre performs The Velveteen Rabbit

Fleetwood Community Theatre is a volunteer organization of theatre lovers currently in their 28th season. FCT is committed to the education and development of their membership within the theatre arts program by offering opportunities to all ages both on-stage and behind the scenes. As an outlet of quality musical, dramatic and ensemble productions, it encourages and supports local youth to pursue performing arts opportunities through school, church, collegiate or other local productions.

The Velveteen Rabbit - A Christmas Musical is performed one weekend only at the Fleetwood Area Middle School Auditorium, 407 N. Richmond St., Fleetwood. Two performances are scheduled for Friday, Dec. 4 at 7 p.m. as well as a Saturday, Dec. 5, matinee performance at 2 p.m. Tickets are for sale. Tickets can be pre-purchased online at http://www.brownpapertickets.com/event/2444332 or by calling Fleetwood Community Theatre at 484-637-7067.

Finding the funny: Children's 'Pinocchio' show at Valley Center Stage gets the youth crowd's approval
by Carol Ladwig, Snoqualmie Valley Record and Sound Publishing, Inc

Logan Eubank is hooked. The 4-year-old is on the edge of his seat - make that his mom's lap - watching the adventures of Pinocchio in a new Valley Center Stage production. He grins when Lorenzo chases Pinocchio through the audience, chirps like a cricket on cue, nods his head vigorously in answer to "anyone want a free ride to the Land of Toys?" and, hands to his mouth, he looks really, really worried when Pinocchio's dad can't wake the boy-puppet up.

"Their imaginations are so limitless," said a gratified Craig Ewing, who plays Pinocchio's father Gepetto in the children's show opening Feb. 7 at the North Bend community theatre. The children, a group of Cub Scouts and their families, not only enjoyed the first full dress rehearsal of the show last Tuesday, they also had a few suggestions to improve it.

"This is called an interactive show."

Valley Center Stage, North Bend, WA

For instance, several of the children thought both Pinocchio and Alberto should stay out of the "fire" in one of the final scenes, and nearly all of them thought Pinocchio should dance "Gangnam Style" when he first comes to life. Just at the suggestion, a handful of Scouts got up to demonstrate their dance moves from the Korean pop video.

Director Gary Schwartz, delighted with the reaction, says "It's funny, right?"

Funny is what Schwartz wanted, which is why he invited the Scouts to watch the rehearsal.
The writer "just knows how to write this kind of interaction."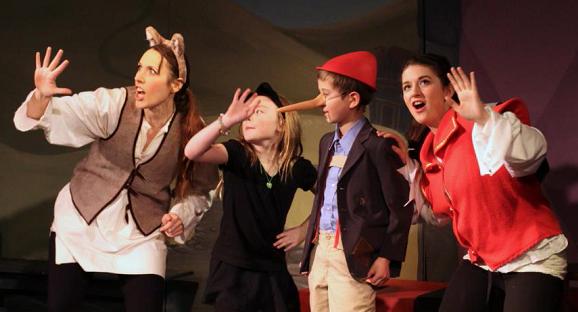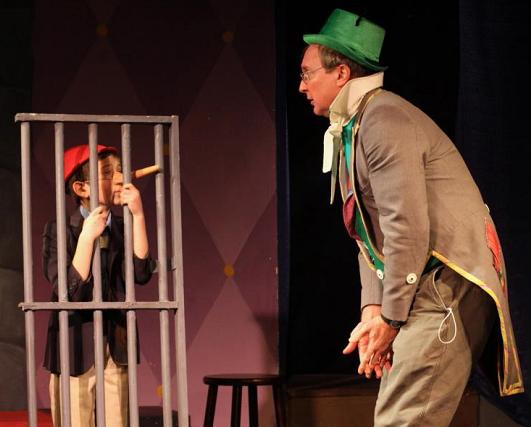 Valley Center Stage, North Bend, WA - Gary Schwartz Director
"This is called an interactive show," he explained to his audience, so the actors will sometimes ask for help from the audience. Since it was also a dress rehearsal, "sometimes we'll stop the show and do something again, and then you can see it again, and that helps tell us what you think is funny."

Almost anything Hickory Cricket (Peter Cook) did was funny, and running, dancing, and snoring all got great responses, but when Alberto was about to send Pinocchio off to school with only a few books in his backpack, one boy in the audience was distressed. "You forgot his lunch!" he shouted to Alberto. "What about his lunch?!"

Unscripted comedy and all, the actors - Ewing, Cook, Lisa and Peter Bryant and their daughter Alex, Courtney Struelens and James Kolke as Pinocchio - loved having a live audience to work with. "It makes it easier with people, because we get to see what we're doing right," said Struelens, appearing as the puppet Pepperoni, "and (the audience) did such a great job!"

Lisa Bryant, a veteran actor at the theater, likes the contrast between children's shows - she was also in "Jack and the Beanstalk" - and shows for older audiences. "There's a lot of breaking of that 'fourth wall' with a children's show," she said, but it takes "the same amount of focus."

Hard work, too. James Kolke, 11, as the title character, says the weeks of rehearsal so far have been a lot of work, but he knew that going into the auditions, having appeared in several productions of the Valley Center Stage's traditional "A Christmas Carol."

"I (auditioned) because I had the chance to do it," he said. "I just felt like a kid should be Pinocchio, otherwise an adult would have."

The script originally called for an adult Pinocchio. Schwartz praised the writer, Kathryn Schultz Miller, whose scripts he's used in other shows, saying "she just knows how to write this kind of interaction."

After the rehearsal, Schwartz and crew thanked their audience, then took questions and educated them a little about community theatre and production challenges. Asked where the set came from, he explained "We used it two years ago, for 'The Emperor's New Clothes.'" Then gesturing to Ewing, he added "Craig here was walking around in his underwear!"

"Yeah, you missed a good one," Ewing told the laughing crowd. There's no need to miss this one, though. Pinocchio opens Friday, Feb. 8 and runs for two weekends.

ArtReach's 'Hansel and Gretel' becomes "Hannu and Kerttu' in Finland!
Theater review: Theater Imatra's Hannu and Kerttu is a softer tale than Grimm's brothers' version.


Here's an english translation of Finland's Theater Imatra's production of ArtReach's popular playscript: Children are no longer sold, and the evil stepmother just nags. The hand hairs still stand up wonderfully when the show is stolen from Ulla-Maija Järnstedt's Metsännoita

The play is not patched to ruin, but a familiar fairy tale is easily identified. The fresh adaptation could also have updated the image of the woman who saw her last day of use.

Hannu (Kari Kinnari), Kerttu (Marika Märkolin) and father (Marko Kurikka) leave for the forest, but end up on an adventure. Even the smallest spectators can be taken to see Hannu and Kerttu of Theater Imatra without any worries, as the hand program promises a softer arrangement than previous versions. Gone are the evil stepmothers, not to mention the parents who sell their children to the witch.

"There is no time to get bored during the Hannu and Kerttu play."

The forest house presented by Ulla-Maija Järnsted attracts hungry Hannu (Kari Kinnari)
and Kertu (Marika Märkoli) to their gingerbread house.

The arrangement of Kathryn Schultz Miller, performed on the Little Hiisi stage, differs from the original, but it has not been patched to ruin. The Atonement has been skillfully brought into the field of understanding of the latest generation. The basic plot of the fairy tale follows an old pattern in which Hannu and Kerttu get lost in the forest. A cunning witch attracts hungry children to her gingerbread house, with the intention of eating them. Eventually, the kids win with the witch's wit, and get back home.

The show isn't scary, but it doesn't go into sheer Disney either. The threat of the oven still hovers over the children, and the witch's spells lift the hand hairs up wonderfully. Satu has not forgotten her roots. Like the storyteller Pekka Räty , who arrives directly from 19th century Germany, is Wilhelm Grimm himself , one of the brothers who recorded the fairy tale. The female image needs reform.

In an interview with Uutisvuok, Kari Kinnari, who jumped into Hannu's overalls, said that years ago he had thought that he was too old for child roles. The worry is futile. The small audience is not left to marvel at the age of the duo, but lives and identifies with the adventure. Kerttu performing Marika Note: I had to start life as a Theater Imatra ranks convincingly. The performance does not reveal that he has had time to practice the role with his colleagues for a shorter period of time. It will be interesting to see what, in addition to the children's plays by Täholi, it lends itself to.

The performance follows the Grimmie era in its world, but costume designer Jenna Väisänen has left Hannu and Kertu's clothing timeless and colorful, identifiable in the child's eye.

The most delicious character in the play is - whoever is more - than Metsännoita, who lives in his gingerbread house. Ulla-Maija Järnstedt's warty witch , waiting for the audience with fearful feelings, delivers on her promises. In all his wickedness and cunning, the witch has a weakness that Kerttu does not hesitate to strike.

In Järnstedt's second role, the evil stepmother has tended to be a nagging caregiver. The gender roles of old fairy tales are ill-suited to the present day. However, you should try. Schultz Miller's otherwise fresh adaptation is left to miss a more modern image of women. In the roles of children, Kerttu is a more functional party than siblings. Awakening attempts by a father walking in his sleep make the audience laugh. According to the four-year-old theater reviewer , the sympathetic and playful father played by Marko Kurika is the best thing in the play.

Children involved in the plot: Involvement in children's plays is often necessary. Where adults unobtrusively dig into the ranks of theater benches, the majority of children - albeit with a little excitement - thirst for the limelight. The whole audience takes part in the story of Hannu and Kertu. The child is surprised and excited when his role solves puzzles and takes the plot forward.

The audience in a theater aimed at children is direct, and courtesy filters do not filter feedback, especially with the youngest. If it's boring, that too is expressed. There is no time to get bored during the Hannu and Kerttu play. Less than an hour is a great time to keep the little audience in the trap of a fairy tale. The performance proceeds at a brisk pace, and the muks sit as if enchanted.

A Stage of Healing, ArtReach's 'Welcome Home'
The Vindicator, Warren OH

By JUDITH DULBERGER, VINDICATOR CORRESPONDENT

In 1968, when Sean Devlin did his first tour of duty in Vietnam as an 18-year-old recruit, David Vosburgh, then in his early 30s, was in New York City getting his theatrical career started.

Devlin made the military his career for more than 20 years and has committed much of his time recently to POW/MIA and other veterans issues as a member and officer of Rolling Thunder, a motorcycle and veterans advocacy group. Vosburgh continued in the theater. Today he is president of the Arts Council of Youngstown and Mahoning County, adjunct faculty member at YSU's college of Fine and Performing Arts and director of The Actors' Project of Youngstown.

"I had a hard time getting through it without crying."

Rolling Thunder Inc. Ohio Chapter 4 - ArtReach's play "Welcome Home"

Surprising partnership

Despite their differences, Devlin and Vosburgh say they hit it off right from the start. They have teamed up to stage a new play. "Welcome Home" is a story of a Vietnam veteran and his relationship with his wife and teenage son and the memories of the war that haunt him. The play portrays the father's wartime experiences juxtaposed with the backdrop of the anti-war fervor of the Vietnam era and an otherwise "life-as-usual" existence on the home front.

The play's title speaks to the alienation felt by many Vietnam veterans returning to the states after their tours of duty. It was a "welcome home" with a question mark. Soldiers often were welcomed home not as heroes but as killers.

"Welcome Home" was written by Kathryn Schultz Miller of ArtReach's ChildrensTheatrePlays.com in Cincinnati. Schultz Miller has also developed a lesson plan to accompany the play for middle-school teachers who want to fit the play and related classroom activities into the social-studies curriculum. Although originally intended for young audiences, the play's message and emotional appeal transcend age and historical time. It's really the story of the psychological impact of war on individuals and families.

Veterans advocacy

So where does Rolling Thunder fit into the picture?

Devlin, president of Rolling Thunder Inc. Ohio Chapter 4, says the group is underwriting the cost of the production. Despite public perception, Rolling Thunder is not strictly a bikers organization. "Motorcycles become a large part in the public's eye," says Devlin, "because when you put motorcycles together it draws attention." For instance, 250,000 motorcyclists participate in Rolling Thunder's Memorial Day weekend pilgrimage to the Vietnam Veterans Memorial in Washington, D.C., each year.

But the biker image has overshadowed the organization's purpose and contribution, he said. "We identify ourselves as a veterans advocacy group more than anything else, seeking the best interest of current and future POW/MIAs and helping American veterans and their families in need." And the basis of the organization is public education, particularly in the schools.

"The message and emotional appeal transcend age."

Rolling Thunder Inc. Ohio Chapter 4 - ArtReach's play "Welcome Home"

A healing process

Devlin's local chapter has been raising money for three years to develop a major project to educate youths and benefit the community. Once Devlin presented the idea of the play to the chapter's board of directors, it took very little convincing that "Welcome Home" was the project they had been seeking.

Devlin stumbled upon the play more than a year ago while surfing the Internet. With no apologies, he said, "The first time I read it, I had a hard time getting through it without crying."

Since then, Devlin has become the play's producer, a role that makes him more than a little nervous. But the play itself has become a healing process for Devlin, who suffers from post-traumatic stress disorder, as do other Chapter 4 members who have contributed to the stage play as technical advisers.

In a way, the play has been a healing process for Vosburgh as well. Vosburgh's brother, a Vietnam veteran, died four years ago. Although not diagnosed as such, Vosburgh believes his brother died as a result of wasting away over the past 30 years from the psychological and mental consequences of participating in that conflict.

But Vosburgh agreed to direct the play also because it is a good script, and it's the kind of substantive subject matter that The Actors' Project likes to deal with.

At first, Vosburgh was a little reluctant to put on a play with a biker club, but Sean Devlin's sincerity proved the hook. And, he says, the play is not a polemic. It has no ax to grind. It is not pro- or anti-war. "It is pro-people. ... It is a very human story."

Final details

The play's soundtrack and '60s-era music add to the nostalgia and vivid memories that the play evokes for those who lived through the period. For younger audiences, sound and music add a realistic dimension to the story.

The set includes original props and costumes, including army-issue uniforms and demilitarized weapons. A 64-foot replica of the Vietnam Veterans Memorial has been constructed for the production.

The play's main cast members include John Cox and Nick Cordova, who have played opposite each other as brothers in Trumbull New Theatre's productions "True West" and "Death of a Salesman." Now they will be playing opposite each other as father and son. Courtney Bartels, whose most recent role was as Daddy Warbucks' secretary in Easy Street's production of "Annie," portrays the wife and mother.
In the News Page 6: < Prev | 1 | 2 | 3 | 4 | 5 | 6 | 7 | 8 | 9 | Next >
All Free Resources