FREE RESOURCES: News & Reviews [ Page 5 ]
News media articles, reviews, press releases for ArtReach plays
< Prev | 1 | 2 | 3 | 4 | 5 | 6 | 7 | 8 | Next >
A whole new world with 'Aladdin'
By The Garden Island, Puhi, Hawaii, Nov 8, 2015

PUHI — Twenty-five fifth-graders from Island School are presenting "Aladdin" this weekend. Today's third and final show is 3 p.m. at the Island School main hall. Tickets at the door are $5.

ArtReach's Large Cast Aladdin at Island School, Hawaii


The play, based on the legendary story of the magic lamp, was written by children's playwright, Kathryn Shultz Miller.

"This is the fifth play by Ms. Miller that I've directed with my fifth-grade classes," said Peggy Ellenburg. "Her scripts are child-friendly, audience interactive, and have great roles for many children."

The show is suitable for the entire family.

At Island School, the fifth-grade class comes together every year to produce a full-length show, open to the public.

"It all happens during the school day," said Ellenburg.

During drama class, parent volunteers guide the children in making sets and props. Students learn to operate the sound and light boards as well as their lines, cues and blocking directions. Costumes are constructed by parents.

"The show is run entirely by these enthusiastic 10-year-olds," Ellenburg said.


Cast of Aladdin, Island School, Puhi, Hawaii

Island School is a PK-12, independent college preparatory school, located behind Kauai Community College in Puhi.
---
Kids' imaginations run wild in Millikin children's play
Herald & Review, Decatur, IL

DECATUR -- Millikin University students enjoy a good children's program as much as most children, especially when they get to do the pretending.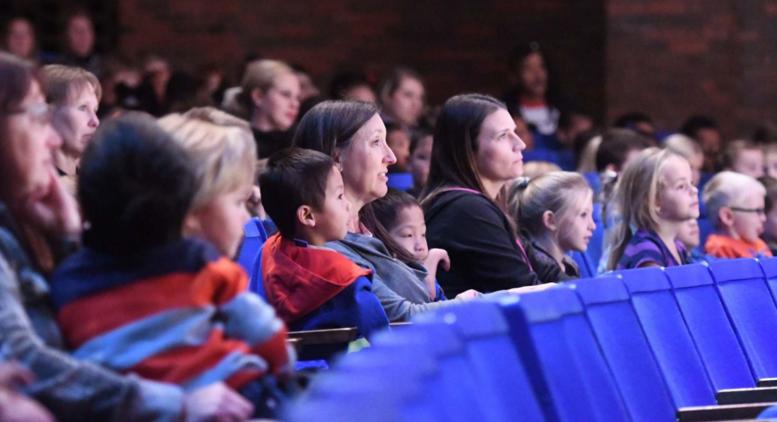 Millikin's School of Theatre and Dance will present two performances of the children's play "Blue Horses" by Kathryn Schultz Miller at 1 p.m. on Saturday, Nov. 4, and Sunday, Nov. 5, in Millikin University's Kaeuper Hall in Perkinson Music Center.

The story is about four children using their active imaginations and learning about themselves along the way. Their game "Wish Upon a Star" sends them on adventures, with their friends helping them through their trips. One rides his bike to other planets. Another dreams his has a twin. Still another simply wants to learn how to jump rope.

Throughout the stories, the friends act out the adventures with help from each other. Each child discovers self confidence and gains new friends.

The play was created to entertain children. However, Millikin students appreciate a good story too.

As a Millikin director, Denise Myers provides the students learning opportunities through various acting disciplines.

"This play has lots of action," she said. "And our students get to learn about how to put on a children's program."

According to Myers, Millikin has presented an annual children's play for 25 years. The shows are produced by Millikin as well as the School of Theatre and Dance. Other civic groups, such as the Optimist Club, have co-produced throughout the years. For nearly 10 years, the Golden K Kiwanis of Decatur has helped support the plays. The organization's mission is to help children through various opportunities of volunteering and fundraising. Myers is grateful for their partnership in creating the children's plays.

"They provide money for costumes and sets," Myers said. "In turn, the money goes back into the community."

---

H-F One Act to Perform at Sub-sections
Jan 26, 2016, Hinckley News, Hinckley, MN

The Hinckley-Finlayson drama department will be performing 'A Thousand Cranes' this Saturday at the sub-section competition in Pine City. The play is by Kathryn Schultz Miller and is based on the true story of Sadako Sasaki who survived the atomic bomb on Hiroshima in WWII.

Participating schools include Hinckley-Finlayson, East Central, Pine City, Rush City and Brraham. H-F is scheduled to perform at 9 a.m.

---

Rose Children's Theatre Puts on a Classic: Robert Louis Stevenson's "Treasure Island"
By Randi Bjornstad, EugeneScene.org, Eugene, OR

More than 125 years after it was written, "Treasure Island" still captures imaginations with its wild tale of searching for buried treasure, running off to sea, fighting evil pirates, actually finding the treasure and finally, returning home to live happily ever after.

Robert Louis Stevenson wrote his adventure novel in the early 1880s, with the express purpose of entertaining youngsters yearning for excitement. Besides becoming a classic in book form, the story has been made into movies several times, as well as adapted as plays, including one that appeared on Broadway for more than 200 performances in 1915.

This time, though, it's the Rose Children's Theatre's turn to take "Treasure Island" to the stage, which they will do for four performances on Feb. 16-18. Their story is a bit different from the usual. In their version, young Jim Hawkins has a very bad day, dreams of becoming a pirate, meets up with Billy Bones and Long John Silver and has his own pirate-and-treasure adventure.

"A wild tale of searching for buried treasure."

ArtReach's Treasure Island, Rose Childrens Theatre, Eugene, OR

Also unlike Stevenson's story, the Rose Children's Theatre play also incorporates an expanded number of colorful characters such as mermaids, dancing crabs and a bevy of very talkative parrots.

The cast includes 51 actors in third through tenth grades, directed by Judy Wenger and Rebekah Hope. The script was adapted by Kathryn Schultz Miller of ArtReach Children's Theatre Plays.

Featured actors are Jack Perini as Jim Hawkins, Isaac Lonergan as Long John Silver and Elias Santin as Ben Gunn, with Enzo Valdez playing Captain Smollett, Clara Christensen as Squire Trelawney, Henry Davis Piger as Dr. Livesay and Ellie Williams as the pirate known as Blind Pew and Hugh Brinkley as Billy Bones, another pirate.

Additional pirates are played by Natalie Stern, Casey Beasley-Bennett, Maren Nixon, Raiden Kautzman, Flynn Miller, Sydney Sattler, Addison Sattler and Noah Wagner.

The cast also includes mermaids Bella Morgan, Vera Lichvarcik, Alana Strand, Peyton Anderson, Sofia Kovash; crabs Nate Rosenfeld, Kevin McCoy, Ethan Park, Tristan Riplinger and August Santin; parrots Gage Wagner, Siena Buchanan, Peter Christensen, Eli Turanski and Greenley Robinson.

Sarah Pearson plays the mother, and storytellers include Avery Puhn, Owen Colley, Ben Carson, Ruby McKrola-Dey, Vivien Tritch, Jani von Ammon, Gus Nelson and Caroline Robinson. Ruby McPherson and Anna Pierce are teachers, and the inhabitants of Skeleton Island are played by Natasha Dracobly, Kaitlyn Pintens, Piper Kyle, Kennedy Powell, Meridian Hula, Dora Boos, Ellie Park, June Robinson and Elena Morris.

---

Wild Swan Theater presents A THOUSAND CRANES This March
by BWW News Desk, Detroit, Feb. 6, 2018

Wild Swan Theater will present A Thousand Cranes as part of its 38th season of bringing high quality professional theater to young audiences in southeast Michigan. Wild Swan is very proud to be bringing A Thousand Cranes back to the stage. This very beautiful and moving play tells the true story of a young Japanese girl's experience after the bombing of Hiroshima. The play recounts Sadako's illness from radiation poisoning and how her friend Kenji teaches her to fold paper cranes as a way of getting well. Sadako's story became a catalyst for children from all over Japan to begin to fold paper cranes in her memory. Now there is a monument to Sadako at the Hiroshima Peace Park in Japan and people from all over the world bring garlands of cranes to it.

As the play begins, Sadako (Monica Mingo) is practicing for a race with her best friend Kenji (Jeremy Salvatori). Without warning, she suddenly falls ill and is hospitalized. As her parents (Jeff Miller and Elaine Riedel) try to keep up her spirits, she begins to fold paper cranes, having learned from Kenji that if she folds a thousand, the spirits will grant her a wish. As her condition worsens, she is visited in a dream by her grandmother (Slavka Jelinkova) who takes her to the spirit world. There she meets and learns the stories of many people who were killed when the atomic bomb fell. As she joins her grandmother in the spirit world, Sadako changes her wish from getting well to hoping for peace in the world.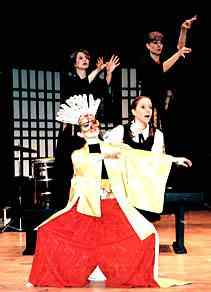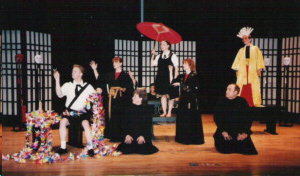 A Thousand Cranes, Wild Swan Theatre, Ann Arbor, MI
The style of the production is very theatrical with music and masks playing very important roles. University of Michigan Professor of Music Erik Santos has written the haunting score for the production, and the music is integrated completely into the production. An array of unusual percussion instruments underscores the flute (played by Lisa Warren) and creates many of the sound effects. All the cast members join the percussionist to play such instruments as drums, bells, glass bowls, a rain stick, and a marimba when they are not acting in a particular scene.

Seven austerely beautiful red and white masks, created by costumer John Gutoskey, help shift the scene, first to the hospital and then to the world of the spirits. Actors Don White masks as they create the hospital scenes. The red masks are worn by actors as they create the world of the spirits.

As is customary in Wild Swan productions, American Sign Language Interpreters take an active part in the production. In this production, Marin Goldberg and Erin Parrish are dressed as the rest of the cast in flowing black Japanese robes. As well as interpreting all the spoken lines of dialogue, they also join other cast members as doctors and spirits and dance with the grandmother and Sadako.

Today there is a monument to Sadako in the Hiroshima Peace Memorial Park, and garlands of cranes are hung there from all over the world. As in past performances of this play by Wild Swan, attending families are invited to bring paper cranes to the theater or make them after attending the A Thousand Cranes. Origami paper and instruction will be provided after each performance so that those audience members can make their own folded paper crane with their own message of peace. All the cranes will be displayed in the theater during the run of the production and will be sent to the Children's Peace Monument in Japan afterwards. If you have visited Hiroshima, you might have seen cranes folded by children from throughout southeast Michigan, transported to the monument after one of Wild Swan's earlier productions of the play in 1994, 1998, and 2005. This production is recommended for children in grades 3 - 12.

This production is supported in part by the Ford Motor Company Fund, James A. and Faith Knight Foundation, Michigan Council for Arts and Cultural Affairs, Michigan Humanities Council, National Endowment for the Humanities, and the National Endowment for the Arts.

Backstage touch tours and audio-description are available for blind theater patrons. These services are free but must be reserved in advance by calling (734) 995-0530.

Wild Swan Theater is dedicated to making professional theater of the highest artistic quality for young people and families that is accessible, diverse and inclusive, through affordable ticket prices and innovative outreach programs. For more information about the company, its current season, touring programs, drama classes and camps, visit the Wild Swan website at wildswantheater.org. For interviews, contact Michelle Trame Lanzi at (734) 995-0530.

---

A young girl's search for peace in 'A Thousand Cranes'
Roxanne Ray, The International Examiner, Seattle, Jan 24, 2018

Since its inception 19 years ago, SecondStory Repertory (SSR) has offered both a mainstage season and a season of Theater for Young Audiences every year. This season, Kathryn Schultz Miller's play, A Thousand Cranes, which tells the story of young Hiroshima resident Sadako Sasaki's pursuit of peace following the dropping of the atomic bomb, will be featured during weekend matinees for children for four weeks.

Mark Chenovick, executive director for SSR, feels that A Thousand Cranes is especially appropriate to the winter season. "I first became aware of A Thousand Cranes while working for the Nebraska Theatre Caravan," he said. "They had mounted a production in their previous season and everyone who worked on the show was profoundly moved."

The show's director, David Hsieh, also finds the show's timing notable. "I'm certainly familiar with the story of Sadako, having read the children's book, and having folded many, many cranes in my lifetime," Hsieh said. "It's funny because I recently performed in a new play that also had many paper cranes featured in the plot and referenced Sadako's story, so it has been my winter of paper cranes in theatre."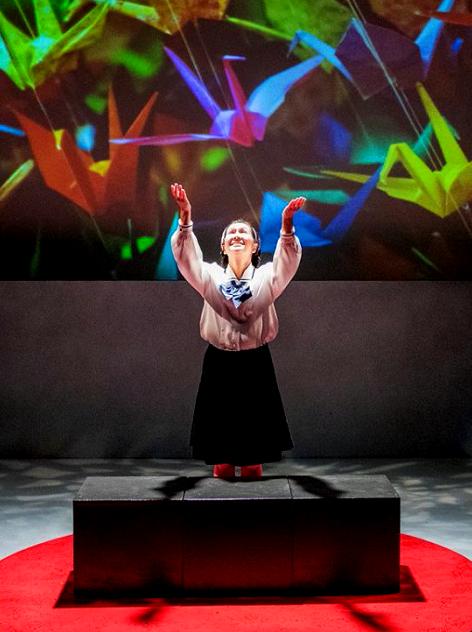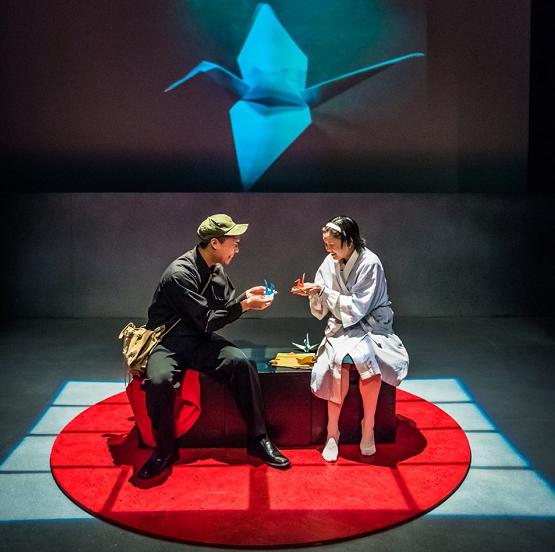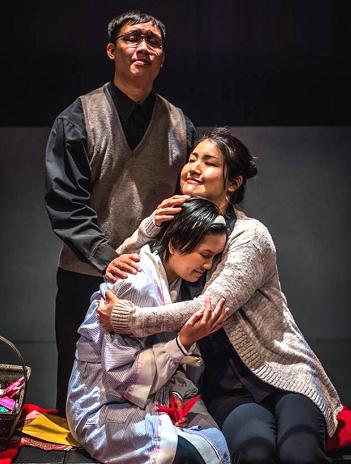 A Thousand Cranes, SecondStory Repertory, Redmond, WA
Current events also highlight the story's importance. "With growing concerns over North Korea's atomic bomb threat, it's definitely an important story to tell," Hsieh added, "and spreading and keeping Sadako's wish alive is of utmost importance."

The timing was also perfect for actor Tomoko Saito, who plays the roles of Grandmother Oba Chan and the Mother, and who felt compelled to audition. "This is a famous Japanese story, but I had no idea that it was adapted to a stage play, so I was very curious about the script," Saito said. "I heard so many good things about SecondStory Repertory, and I always wanted to work with David but never had a chance before, so this production had everything I wanted in one package."

The artistic team is focusing on staging the play to maintain the interest of all grade school age children. "Being a children's show, this adaptation as written is fairly short, almost too short," director Hsieh said. "One of our challenges has been finding interesting and culturally significant ways of expanding what the audiences will experience when they see this production."

Actor Saito relates one instance of this process from rehearsal. "I thought it was funny that we all got notes from David to 'use force' – as in Star Wars – during the course of rehearsals," Saito said. "I learned acting in the U.S. so my initial characterization for my roles were very modern U.S. I was having trouble shifting the gear to be a more traditional, restrained mother, and David advised to not physically show affection but 'use the force to love.' It was effective, too!"

Chenovick hopes that these choices will welcome a broader audience to SSR. "The original artistic director of SSR had written a number of plays and musicals based on well-known fairy tales aimed specifically at young children," he said. "When Jen Klos and I began our tenure at SSR, we kept the program alive but shifted the focus to plays and musicals based on contemporary children's literature. This allowed us to cultivate a larger age range in our audiences and appeal to an increasingly diverse patron base."

He also strives to make SSR a place that kids want to return to. "SSR is a wonderful venue for children to experience theater for the first time," he said. "We lay carpet down on the floor so the kids can be as close to the action as possible, and we maintain a relaxed and supportive atmosphere in which children can learn the basics of theater etiquette and parents can gauge their children's attention spans for potential theatrical endeavors in their future."

At its heart, this production of A Thousand Cranes is intended to present serious issues in a way that sparks compassion. "Although suffering is universal," Chenovick said, "so is the hope for a better tomorrow."

A Thousand Cranes runs from Jan.13 to Feb. 3 at SecondStory Repertory, 7325 – 166th Avenue NE, Suite F250, Redmond.

Theater group to perform fun Christmas musical
Lake Fenton Actors collecting health and hygiene items for 'Hope at Home' program
Linden, MI

"Performed by more than 50 Intermediate School students."

Photo: Tracey Rimarcik finishes getting her son Logan, 9, into his homemade Abominable Snowman costume before rehearsing the Torrey Hill Intermediate School play "'Twas the Night Before Christmas" at Lake Fenton High School Thursday afternoon.

Lake Fenton - 'Twas the night before Christmas and all through the house, not a creature was stirring, not even a mouse.

With that classic story in mind, families and community members will want to attend a performance of 'Twas the Night Before Christmas, an original musical play by Kathryn Schultz Miller presented by Torrey Hill Play Production.

Although everyone knows the classic story by heart, people might not know that the mouse's name was Izzy and that he was shut out of his snug home on Christmas Eve. People might not also know that Christmas was nearly destroyed by a wayward elf.

With Torrey Hill Play Production's performance, guests will be drawn into Izzy's adventure to the North Pole where he meets Santa's elves, Rosie the Reindeer and comes face-to-face with the Abominable Snowman. Izzy and Rosie save the day, helping Santa and his reindeer deliver the goodies just in time for Christmas morning.

The one-hour play will be performed by more than 50 Torrey Hill Intermediate School students at the Lake Fenton High School Auditorium. There will also be special appearances in the commons area by Santa and his frosty friends following the performance.

Each guest who donates three health and/or hygiene items to Lake Fenton Theatre's "Hope at Home" health and hygiene drive will receive a $3 discount.
News & Reviews: < Prev | 1 | 2 | 3 | 4 | 5 | 6 | 7 | 8 | Next >
All Free Resources