FREE RESOURCES: In the News [ Page 4 ]
News media articles, reviews, press releases for ArtReach plays
< Prev | 1 | 2 | 3 | 4 | 5 | 6 | 7 | 8 | 9 | Next >
This page (Page #4) has great articles from newspapers and school newsletters. Check out all these great comments about ArtReach popular titles: Winnie-the-Pooh, Christmas Wizard of Oz, A Thousand Cranes, Robin Hood, Mulan, Kid Frankenstein, Blue Horses, Sleepy Hollow, Christmas Peter Pan, Reluctant Dragon, Peter Pan.

OST production presents the best of Winnie-the-Pooh
Ottawa School of Theatre presents ArtReach's New Script Based on A. A. Milne's Classic
Orleans Star: Orleans Ontario: Fred Sherwin

I have to admit that growing up in the 1970s, I was a huge fan of Winnie-the-Pooh. Which is why it warmed my heart when I heard that Ottawa School of Theatre's all ages class would be presenting a series of Winnie-the-Pooh stories at the Shenkman Arts Centre on April 14, 15 and 16.

"Winnie-the-Pooh still stands the test of time."

Winnie-the-Pooh - Stage One, Richmond Civic Theatre (IN)

When it comes to children's classics from the 1960s and 1970s - I'm talking about the animated versions - Winnie-the-Pooh stands right up there with the Charlie Brown and the Peanuts. And like the Peanuts, Winnie-the-Pooh still stands the test of time.

The OST production, written by Kathryn Schultz Miller (ArtReach Children's Theatre Plays) included six of the most well-known and much-loved stories about Pooh and his friends Rabbit, Eeyore, Owl, Kanga, Roo and Piglet. (For some strange reason, Tigger was not included.)

In the opening story, a hungry Winnie-the-Pooh decides to try and climb a tree to get some honey. When that doesn't work, he comes up with an idea to attach himself to a helium balloon and float up to the honey. When that doesn't work, Christopher Robin has to use a slingshot to burst the balloon so that Pooh can get back to earth.

"Audience all pulled together to free Pooh from the door."
Storytellers are Rabbit's Friends and Relations - Rebels Bluff Youth Theatre, Mt. Vernon MO

The second story was about the time when Winnie-the-Pooh got stuck in the door leaving Rabbit's house after he ate all of Rabbit's honey and had to be extricated by Christopher Robin. In the OST production, the cast elicited the help of the younger members of the audience who all pulled together to free Pooh from the door.

The third story was about when Winnie-the-Pooh and Piglet came up with a plan to catch a Heffalump only to have Pooh get his head stuck in a honey pot which Piglet mistakes as one of the mysterious elephant-like creatures and runs away frightened.

"Christopher Robin throws a birthday party for Eeyore."

The all ages class at the Ottawa School of Theatre perform ArtReach's Winnie the Pooh.

The fourth story is about the time when Eeyore's misplaced tail ends up being used as a bell ringer at Owl's house.

The fifth story, which was entitled "A Very Strange Creature", was about when Winnie-the-Pooh and the gang first meet Kanga and Roo in the Hundred Acre Wood.

The sixth and final story is about when Christopher Robin and Winnie-the-Pooh throw a birthday party for Eeyore to try and cheer him up.

"Large cast enables different cast members to play Winnie-the-Pooh."

The all ages class at the Ottawa School of Theatre perform ArtReach's Winnie the Pooh.

As all ages productions go, you can't go wrong with Winnie-the-Pooh. The A.A. Milne children's classic was first published in 1926, but the stories and the main character didn't become broadly popular until Walt Disney turned them into an animated series in 1961. All of which to say, it has been enjoyed by several generations over the years, which is why it is such an all ages classic.

One of the things I liked most about the OST production was the use of the large cast to enable a different cast member to play both Winnie-the-Pooh and Christopher Robin in each scene or story.

To learn more about the Ottawa School of Theatre and the various classes they provide for aspiring actors of all ages visit ost-eto.ca.

The magic of Christmas merges with a beloved children's story as the Shawnee Playhouse presents Kathryn Schultz Miller's "A Christmas Wizard of Oz,"
Opened Nov. 16 and is presented at 10 a.m. Friday & Saturday mornings up to Christmas.
Times Herald Record, Middleton, NY

The magic of Christmas merges with a beloved children's story as the Shawnee Playhouse presents Kathryn Schultz Miller's "A Christmas Wizard of Oz," which opened Nov. 16 and is presented at 10 a.m. Friday and Saturday mornings up to Christmas.

Shawnee Playhouse Executive Director Midge McClosky is directing the show and said it is a unique holiday treat. "It takes a classic story - one we all know and love - and turns it into a fresh, fun and funny fantasy," McClosky said. "It is a feel-good show, filled with well-known Christmas carols and bright, colorful costumes."

"A fresh, fun and funny fantasy,"

Shawnee Playhouse - Yerlington Intermediate School, NV - Althea Scatliffe Primary, BVI

The production has Dorothy and Toto carried off by a blizzard to the Magical Elfinsland, where Glinda is the Good Witch of the North Pole. Dorothy has to get home by the morning in order to open her presents, so she travels to see the Wizard, who lives in the Great Palace of Toys.

In the show, the Scarecrow is now a snowman; the Tin Man is a tin soldier; the Cowardly Lion is a sad overpriced stuffed animal; the Flying Monkeys are flying reindeer; and the Wizard of Oz is ... you'll have to go see it to find that out.

Local favorite funny man Marty Courtney of East Stroudsburg, Pa., plays Santa Claus and a few other roles in the show. "The kids love it. All kids love 'The Wizard of Oz,' and what kid doesn't love Christmas? At the end of the show, I come down off the stage and talk to all the kids - the eyes of the little ones couldn't possibly get any bigger," he said.

Courtney added that he takes special pride in playing Santa and in making sure the theatrical experience is meaningful for every child. "I absolutely love it. I take a nice slow walk down the aisle and look up and down every row, and I make sure that I make eye contact with - or make some kind of a gesture to - every kid in the audience. I don't want to leave any kid out. They all deserve to have Santa smile at them," he said.

Janice Negvesky, a home-schooled seventh-grader who lives in Pocono Manor, Pa., plays Elvin Curly and Rosy Reindeer. Negvesky is in the show for a second straight year and apparently loves it.

"The script takes the best things from both ideas and creates a new and exciting twist, which is really something fun to watch."

"Enriches the creativity, the memory and the magic of Christmas."

A Christmas Wizard of Oz - A holiday tradition at Shawnee Playhouse, Shawnee On Hudson PA

"Christmas is once a year and this play captures the fun moments of the holidays that are so memorable and that the whole family can enjoy. It enriches the creativity, the memory and the magic of Christmas," she said.

McClosky said this holiday show is ideal for the entire family and a great way to introduce children to theater.

"What I love most about this show is that it is one that parents, children and grandparents can enjoy together. If you bring someone to the theater as a child, you are not only giving them the gift of entertainment for that moment, but also the love of theater for a lifetime.

"Involving children in the theater (as many as we can, as often as we can) is indeed one of our principal missions at Shawnee," she said.

McClosky said the show, which runs only at 10 a.m., has nearly sold out its weekday performances and the best seats left are for the Saturday morning shows.

McClosky added that the message of "A Christmas Wizard of Oz" was a simple one: "There's no place like home ... especially at Christmastime."

---

A Thousand Cranes Review, Festival Performance: "Highly, highly recommended."
Book By Kathryn Schultz Miller. Adelaide Fringe Festival 2019, Australia.
The Gemini Collective. Theatre One @ The Parks Theatres. 5-11 March, 2019

Kathryn Schultz Miller's A Thousand Cranes by Adelaide's 'cross-art form' company The Gemini Collective is based on the internationally acclaimed children's novel Sadako and the Thousand Paper Cranes by Canadian-American author Eleanor Coerr.

Set in post-WW2 Japan it is loosely based on the true story of Sadako Sasaki, whose statue holding a golden crane stands in the Hiroshima Peace Memorial Park in modern-day Japan.

Why one thousand cranes? Because if you make that many paper cranes the ancestors, and/or Gods, will grant you a wish. For 12-years-old Sadako, survivor of the Hiroshima atomic bomb 6 August 1945 when she was 2 years old, this wish is for a cure for the terminal leukemia that is slowly killing her due to the radiation from the atomic bomb.

"Sadako Sasaki's story is truly marvelous."

Adelaide Fringe Festival 2019. The Gemini Collective.

Sadako Sasaki may represent innocent victims of nuclear warfare, but she has also come to represent the hopes and dreams of millions of children throughout the modern world. Every day thousands of paper crane arrive to be placed on her statue from children around the world. Sadako Sasaki's 'Thousand Cranes' stands as a symbol, a vital symbol of Hope.

The new musical version of Sadako Sasaki's story is a truly marvelous. This is mainly due to its poignancy, as well as its elegant, sophisticated and imaginative realization in this production, as envisaged by Sarah Williams (Director/Choreographer), Anthony Butler (co-Director/Designer) and Jennifer Trijo (Musical Director/Composer). Plus, there is a truly exceptional Adelaide cast lead by child actors Maddy Flapper (Sadako), Calin Diamond (Kenji), with Iman Saleh (Father), Jess Goc-Ong (Mother/Obachan), as well as 'on-stage swing' Arwen Diamond.

Without exception they all give terrific performances, bringing to life this deeply moving tale about death and hope. It is without doubt, for me, the strongest and most consistent and uniformly most powerful ensemble of community actors that I have recently seen in Adelaide.
"Elegant, sophisticated and imaginative."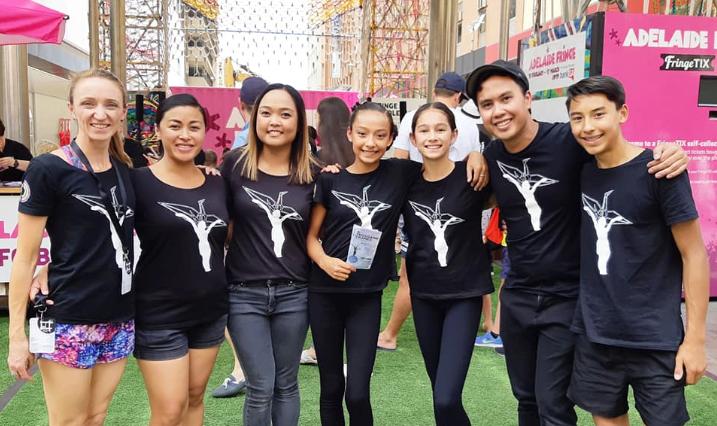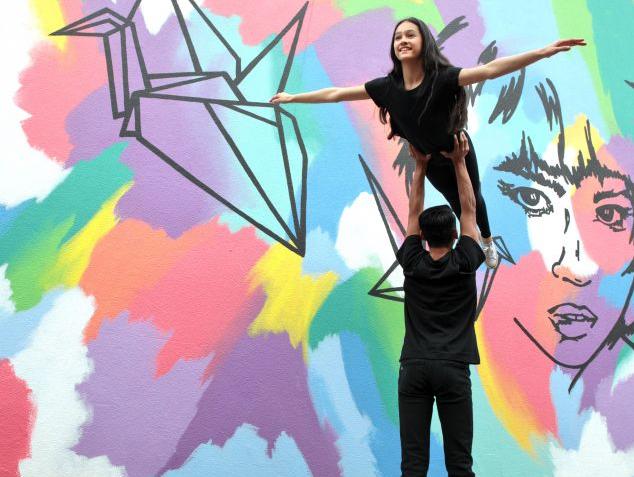 Adelaide Fringe Festival 2019. The Gemini Collective.

High praise indeed, but completely deserved. This is primarily due the various creative and expressive dynamics employed in telling this tale. This includes acting, singing, dancing, playing instruments, working as stage-crew, as well as heart-stopping aerial gymnastics by Maddy Flapper.

Highly, highly recommended.

---

ROBIN HOOD Hits The Bullseye
BWW Reviews by Teresa Rodrick, Jun. 9, 2014

If you have children and you live in the Treasure Valley, you need to know about Treasure Valley Children's Theater (TVCT) and Treasure Valley Youth Theater (TVYT). These two programs were started by Autumn Kersey and they will keep the children in the valley entertained and entertaining.
This production was ROBIN HOOD (an interactive play for young audiences by ArtReach's Kathryn Schultz Miller). Many of the children polled in the audience had not seen or heard ROBIN HOOD, however, they all enjoyed the performance. The actors are professional how they present the children's play and a few of them are professional comedians in Poise (improve helps when you work with children). This story of ROBIN HOOD is told to us by three actors: Jordan Peterson, Jared Stull, and Nicole Stull (the Stulls are players with ComedySportz improve group, as well). We are told of how King Richard has gone off to war and left Prince John to run the kingdom. Prince John is the kind of character toward who the audience "Boos". The prince wants to marry Mad Marian but she is in love with Robin Hood. The audience is told exciting tales of how Maid Marian and Robin Hood get together.

The Productions I have seen by Treasure Valley children's Theatre are great at getting the audience involved and keeping them there!

---

ArtReach's School Play Becomes Epic Musical: The Legend of Mulan
Stamford School, Bandung Indonesia
Directed by, Mary Jane Luyon

The Legend of Mulan is based on an ancient Chinese poem that has been the inspiration for countless films, books and television productions around the world. The story was selected for our musical this year because of its inspiring message about the spirit of adventure and courage as well as its incredibly empowering message to women and girls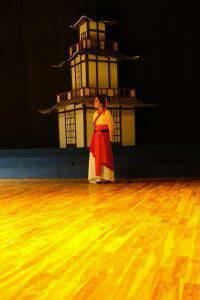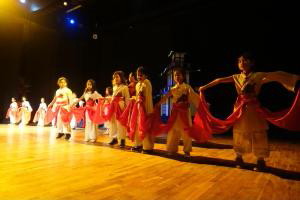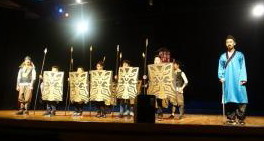 Extravagant Production of Legend of Mulan - Stamford International School Allegro Altura Complex Bandung, Indonesia
This school production took almost one semester of casting, rehearsal and preparations. More than 60 students auditioned for roles, reflecting our students' excitement and anticipation of this event.

Throughout this long and enjoyable journey of preparation, the whole school displayed their talent, commitment and hard work and learned about the joys of working together and relying on each other as a group. The whole school community faced obstacles, solved problems and met challenges together.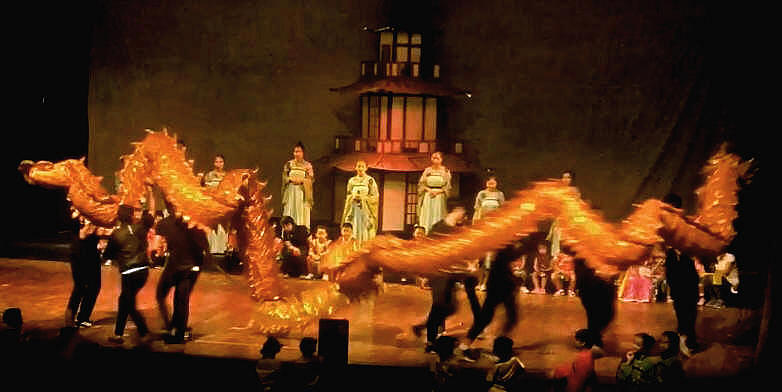 We thank parents for their unfailing commitment and support of this very successful event.

---

Mandurah Catholic College: DRAMA CLUB PRODUCTIONS ALLOW STUDENTS TO SHINE
Posted in The Arts, Mandurah, WA, AU

Last weekend, 100 Mandurah Catholic College students were gearing up for the Primary and Middle School Drama Club productions of Kid Frankenstein and Law and Order: Fairy Tale Unit. The productions were a huge hit with students giving it their all over the three performances.

Kid Frankenstein is a light-hearted comedy loosely based on Mary-Shelley's Frankenstein and follows the adventure of a group of science-loving kids who embark on a crazy adventure to bring their monster to life, creating wise-spread panic in their town.

"Drama is a life skill - being confident and working in a team."

ArtReach's Kid Frankenstein - Mandurah Drama Club Production

Extraordinarily, all of the technical and backstage roles were completed by students. Senior drama students designed and operated the lighting and did the sound for both shows. They also managed the props and set including the many transitions on stage. Two senior drama students also took on the challenging role of stage manager, calling the whole show from the new College mezzanine level 'bio box'. With most schools not having the ability or desire to teach the technical side of a stage production, these students were lucky to have the opportunity to learn about the roll from Production Co-Director, and former professional stage manager, Mrs Corinna Herbert. Remarkably, Drama Club rehearsals for the show only started in Week 6 of Term One - a significant factor considering that for many of the students this was their first big show.

Mrs Herbert said that Drama Club "is layered to cater to all abilities in order to challenge kids at the appropriate level. I feel that the theatre is a place where any child should be able to come and be creative. Drama is a life skill - being confident, working in a team, thinking on your feet and problem solving - these are all important talents to learn. It's about giving kids the opportunity to find what they love. The students gain confidence, learn a lot and make lasting friendships."

Drama club has grown considerably over the years. "We now have so many Years 5-12 students involved we have had to split it into Primary and Middle School Clubs, and we have also had to limit our numbers." Mrs Herbert said. "Drama Club allows students to discover who they are. It is the training ground for the Senior Production and the Musical, and our way to find hidden talent. I would love to see Drama Club continue and build. I am so proud of the students - they handled themselves very well."

The shows were entered into the Catholic Performing Arts Festival with a judge attending the performances on the Friday night. Next is the Whole College Musical, which will be announced in the next could of weeks.

Student Quotes:

"Working as a stage hand was such an amazing experience! Being able to help the actors look even better than they already were was such a privilege for me, also when you are involved in school productions you and the others become like a little family where you laugh and have fun. So for me I loved it and had a great experience!" - Kate Henderson, Stage Hand

"I played Stiltskin in this year's Middle School Drama Club production, Law and Order: Fairy Tale Unit. It was an amazing experience to perform alongside my talented cast members; we're like a family now. But of course, none of this could have happened without our amazing stage crew, Mrs Herbert, Mr Capener and Liz Crook who all sacrificed so much time and patience help us bring these outlandish, fairytale characters to life. Stiltskin was such a fun character to play, my all-time favourite scene has got to be the 'echoey flashback' scene, where I just get to yell 'objection!' at the top of my lungs." - Karoline Magpily, Stiltskin

"It was an amazing experience - we're like family now."

ArtReach's Kid Frankenstein - Mandurah Drama Club Production

"I absolutely loved being a part of both Law and Order: Fairytale Unit and Kid Frankenstein. It was a truly amazing experience watching the Middle School and Primary School actors and actresses really grow and bond; they have all come so far since the start and they pulled of some fabulous shows. We had a really good team helping with tech, costuming, and stage crew as well as directing and stage managing, and I would like to congratulate them all. I loved learning how operate different programs such as qLab and the sound desk. Lastly I would like to thank Mrs Herbert for this amazing opportunity it was really great." - Chloe Sowerbutts - Sound

"I loved playing Mr Klondike in the Primary Kid Frankenstein Production, it was very exciting and was great working as a team. Mr Capener and Mrs Herbert were very encouraging and positive throughout the whole experience." - Harvey Gladman - Mr Klondike

"Kid Frankenstein was a pleasure to be a part of. In the end all our had work, dedication and determination paid off to put on a bright fun and wacky show with plenty of Laughs" - Taylah Green, Frankie #2

"When I found out I got the role Mrs Magilacutty, I was buzzing with excitement! Every single rehearsal was productive and fun! When it got to opening night, I was excited but also I was very sad because I knew this was my last production at the College. Every minute spent reading my lines, blocking my scenes and talking with my fellow cast members was an experience and a memory that I will never forget. I encourage everybody to try out Drama Club to make friends, have fun, and most of all PERFORM! In the time we had creating the production, we had our ups and downs, but in the end it all came together and looked amazing! And remember "Life is not a dress rehearsal, the curtain is up and you are on so get out there and give it your best shot!" - Alice Herbert, Mrs Magilacutty

"Kid Frankenstein and Law and Order: Fairy Tale unit was an AMAZING learning experience, the people I worked with and the environment that The Arts Department has created is amazing. It was an amazing opportunity and would definitely do it again." - Jamie Kilcoyne, Lighting

---

"Blue Horses"
Herald & Review, Decatur, IL

Co produced by Decatur's Golden K (Kiwanis) and the Millikin School of Theatre and Dance, this year's Theatre for Children is "Blue Horses" by Kathryn Schultz Miller.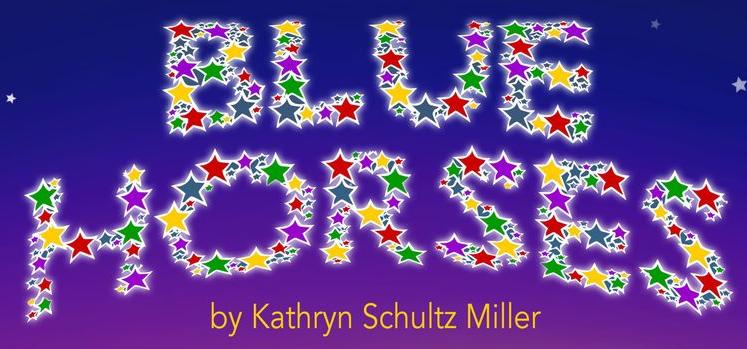 On a summer evening four young people don't want to go home just yet. One invents a game of "wish upon a star" which demands that each friend tell a life story in which the others can take roles and help the central characters achieve their goals. One rides his intergalactic bicycle through the asteroid belt to a distant plant to discover and defend against hostile beings. Another wishes for his twin brother to help him solve the day-to-day problems of schoolwork. His wish is granted until he discovers his unique talents and chooses to be independent again.

Finally, one who struggles to be normal in her family of artists find that vision improves when horses really can be blue. Each person's story helps him or understand and assist one another in the trials and tribulations of grow up, gaining self-confidence and making friends.
---
High School Students Perform Sleepy Hollow
The Nashville News, TN

The Nashville Community High School will present a classic tale of chills and thrills with its upcoming fall play.

"The Legend of Sleepy Hollow" opens on Friday, October 19 at 7 p.m. in the NCHS Auditorium with additional performances on Saturday,, October 20 and Sunday, October 21 at 3 p.m. Admission is $5.

The story follows the American gothic tale by Washington Irving, and it is adapted by Kathryn Schultz Miller.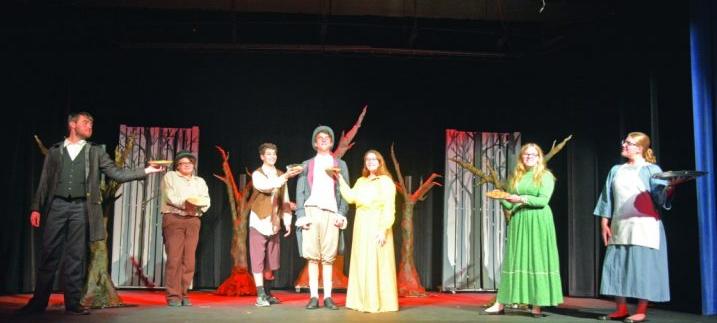 Nashville High School Performs "The Legend of Sleepy Hollow"
Set in 1790 in the countryside around a colonial Dutch settlement, "The Legend of Sleepy Hollow" follows the adventures of the bumbling, awkward schoolteacher Ichabod; the coquettish Katrina; and Ichabod's rival Brom Bones. There will be six characters who play the storytellers who help keep the action going throughout the play.

The play also includes the famous Headless Horseman, who will arrive near the end.
---
Osceola Children's Theatre presents 'A Christmas Peter Pan'
Osceola Sentinel-Tribune

It's time for a magical, holiday adventure.

The 26-member Osceola Children's Theatre will present the musical production "A Christmas Peter Pan" 7 p.m. Friday, Nov. 20, and Saturday, Nov. 21, at Clarke Community High School's auditorium.

Director Kathy Kooiker has been working with these four through 10-year-old children for 10 weeks in a story that tells the tale of Peter Pan trying to rescue a kidnapped Santa Claus from the wicked Captain Hook and his band of rowdy pirates.

"Appropriate for all ages, from toddlers to grandparents."

Osceola Children's Theatre - A Christmas Peter Pan

The toys have escaped Santa's workshop, the elves are trying to find them and the Darling children have followed Tinker Bell and Peter Pan to Neverland to try and help save Christmas.

Live theatre: "This would be a great first experience!"

Osceola Children's Theatre - A Christmas Peter Pan


Kooiker said the show is appropriate for all ages, from toddlers to grandparents.

"If you have never brought your child to a live theatre production, this would be a great first experience," she said. "We keep things very child-friendly and children love watching other children on stage. The is even a little audience participation that will allow you to really feel like a part of the show."

Doors open at 6:30 p.m. and there are no reserved seats, so those to first arrive have first seating choice. The show lasts approximately one hour.
---
Level up with The Reluctant Dragon at the Peterborough Theatre Guild
Family-friendly production re-imagined as 8-bit video game

Kawarthanow.com Peterborough, Ontario
By Sam Tweedle

Katherine Mason as Widget, Samuelle Weatherdon as Mortimer the Dragon, and Emily Keller as Hairytoes at a dress rehearsal for "The Reluctant Dragon", the Peterborough Theatre Guild's annual holiday family play which opens on December 6 (photo: Sam Tweedle / kawarthaNOW)

For the past number of years, the Peterborough Theatre Guild has pushed the envelope in creating intelligent and well-produced family theatre for their annual December show. However, this year director Derek Weatherdon is planning to push the envelope even more when he presents a brand new high-concept version of Kathryn Schultz Miller's play The Reluctant Dragon, based on the book by Kenneth Grahame. Featuring a cast of more than a dozen young performers joined by three adult actors, Derek is reimagining the story in the form of an 8-bit video game that will appeal to audiences of all ages.

"We were really lucky that we selected a script that came with editing rights," Derek says. "That gave us the opportunity to make all the changes that we wanted to."

"I didn't rewrite the plot or the dialogue," he adds. "The story is the same. You've got a kid, a dragon, and a knight. That doesn't change. But how we present the story is a little more novel. Our story takes place inside of a video game. This is our big clever hook."

In the spirit of video games like The Legend of Zelda and Final Fantasy, Derek and his company create a magical world of villagers and shepherds, knights and soothsayers, and a misunderstood dragon. When video game characters Widget (Katherine Mason) and Hairytoes (Emily Keller) discover a friendly dragon named Mortimer (Samuelle Weatherdon), their discovery soon alerts the town's cruel Prince Scumworth (Issac Maker) who calls upon the fabled dragon slayer Saint George (Josh Butcher) to come out of retirement for one last battle.

With their new friend in peril, Widget and Hairytoes must find a way to save Mortimer, who has little desire to fight for her life.

"Our story takes place inside a video game."

Josh Butcher as Saint George the Dragon Slayer, one of only three adult actors in the play
faces off against Samuelle Weatherdon as Mortimer during a dress rehearsal. (photo: Sam Tweedle / kawarthaNOW)

As an added element to the drama, the play takes place inside of a video game controlled by a character called Gamer Girl, played by Aimee Gordon. Described by Aimee as being unlike any of the characters within the play, Gamer Girl was developed as a unique way to create multiple points of contact between the audience and the actors.

"While everybody else is in the video game, I'm the one who's playing it," Aimee explains. "So I watch what's going on and I make commentary that has nothing to do with the plot. I'm the character the audience can relate to, because they really can't relate to video game characters."

This is a departure from the original script, which calls for five narrators who tell the audience what is happening.

"I don't like narrators," Derek says. "It takes you out of the moment of the drama. So what I did was bring all of those narrators together and give the lines to a character who is playing the game."

Aimee explains why she enjoys her role as Gamer Girl.

"I've always played characters that are sweet girls who are nice to everyone," Aimee says. "I like this role because she's sassy and she just says what she's thinking."

Although this is his first year directing the Guild's Christmas family show, Derek has also directed a number of productions at Queen Elizabeth Public School where he teaches. In fact, Derek convinced a number of students he worked with in past productions, as well as adults who worked on sets for the show, to come work on The Reluctant Dragon. "One of things I wanted to do in directing this play was bring some of the talented youngsters I have worked with at Queen Elizabeth Public School with me to the Guild," Derek says. "Young talent deserves the chance to shine and grow, and working on a larger scale like this is the logical next step."

Katherine Mason and Emily Keller, who plays the show's two central characters Widget and Hairytoes, are not only former students of Derek's, but they've worked together on his previous shows and are real-life best friends. This makes for a natural chemistry between these two young performers making their debut on the Theatre Guild stage.

"I'm a kid with an unfortunate name," says Emily of her character Hairytoes. "Basically I meet the dragon and I think he's pretty awesome. I like the dragon because he plays Scrabble."

"The dragon isn't so keen on me though," adds Katherine. "She likes Hairytoes more than me, and I don't like that I'm losing my friend to the dragon."

In the role of Mortimer the dragon is Samuelle Weatherdon, who takes on different voices as well as engaging in stage fights to perform the role.

"To become a dragon you have to abandon all sense of humanity," Sam says with a coy grin. "You just can't be human. You just have to be a dragon. You walk weird and you talk weird."

What is different this year is that adult actors, who were absent in the past two previous shows, are returning to the stage for this production. Although greatly outnumbered by the young actors, The Reluctant Dragon features the talents of local favourites Josh Butcher, Kelsey Gordon-Powell, and Sylvie Dasne.

"If you're going to have children playing adults, that's great in an elementary school," Derek says. "But when you've got access to adults, let them play the adults. There are also great opportunities for mentorship there, and you create a more realistic theatre experience for new actors."

"I've always loved working with a younger cast, and this bunch is one of the best casts I've ever worked with," says Josh Butcher of his young co-stars. "They are very focused, very attentive, and very talented, and lots of fun to work with." "I think we really lucked out with some of our casting," Derek adds. "We have a variety of experience, from multi-page resumes to having never been on stage before, and everyone has done a great job of buying in to what we are trying to do."

Derek and his company are seeking to create a theatrical experience that's not considered a family show, but a piece of theatre that families can enjoy together.

"Despite the fact we are the family show at the Guild, and that traditionally means an all or mostly youth cast, we don't see this as a kid's show," Derek points out. "It's a show, period. It's for kids and by kids, but it's a show. We don't want anyone leaving saying 'That was a great show &ldots; for a bunch of kids'. We want them saying 'That was a great show.' Full stop."

Both Aimee and Samuelle agree with Derek. "Usually when people think of a children's show, they think of people bringing in their own costumes and not having a set and being done on a school stage," Aimee says. "This is not like that."

"In most children's shows, nobody grows and nobody changes," Samuelle adds. "This isn't a kid's show. This is just a show that has kids in it."

"That's what you want from a good play."

Peterborough Theatre Guild's The Reluctant Dragon


"It has ups and downs. People grow. People change. That's what you want from a good play. You don't want a character to do a bunch of stuff and then nothing changes. You want a group of people who do stuff and make changes. You want to feel for the characters. You want to understand their challenges and how they create the solutions to those problems. You want to see that happen."

Filled with clever dialogue, inside gamer jokes, and a young and vibrant cast of new faces, The Reluctant Dragon is a smart and highly original show that both adults and children can enjoy together.

"This is going to be a fantastic show," Josh says. "It's not going to be just laughs and funs and video game lulz. This is going to have everything in it. It's going to be an emotional rollercoaster ride."

A favourite holiday tradition for families in the Kawarthas, the Peterborough Theatre Guild's family show always delivers and this year is no exception. Derek and his company have created something pretty fantastic. Tickets for the annual show go fast, so make sure to purchase your tickets from the box office as soon as possible. This is a show that you don't want to miss out on.
---
ACT's 'Peter Pan' A Fun Play for All Ages
The Daily Republic, Mitchell, SD; By [email protected]

Other than Neverland, the magical home of Peter Pan, there's no place an Area Community Theatre audience can watch edgy sword fights with no-good pirates, a daring rescue of a princess and children flying through the night sky.

The tale of Peter Pan and Wendy will take theater-goers back to their youth in the second children's production this summer. The play was originally written by J.M. Barrie and has been adapted for a young cast by Kathryn Schultz Miller.

"Peter Pan" starts at 7:30 p.m. Friday and Saturday at the Pepsi-Cola Theatre for the performing arts. Tickets are $5 each for general admission seating.

"What they have put together is incredible."

Photo: Katelyn Biggerstaff, right, who plays Wendy, sews on Peter Pan's shadow in a rehearsal for the Mitchell Area Community Theatre and Mitchell Parks and Recreation production of "Peter Pan" Wednesday. Peter Pan is played by Marissa Moller and Peter Pan's shadow is played by Sarah Moore. (Photos by Jennifer Jungwirth/Republic)

The show includes all the classic scenes in the "Peter Pan" story adults and children heard growing up -- finding Peter Pan's shadow, the lost boys looking for a mother, Hook's kidnapping of Tiger Lily and Peter Pan's brave attempt to save her, the mermaids and the crocodile that took Hook's right hand.

A summer collaboration between the ACT and the Mitchell Parks and Recreation Department, "Peter Pan" includes a cast of 25 under the direction of South Dakota State University sophomore Jacob Pecenka, and Brianna Bernard and Emily Grode, who graduated from Mitchell High School this past year.

The show is a five-week program for youth that is meant to teach theater basics. Students started the first week playing games on stage to get them accustomed to each other and the theater atmosphere. Then they read through different parts in the script before casting. Rehearsals continued for a month. Besides starring in the play, the students also help design and create the costumes and set.

"It gives them the full experience of the theater program," Pecenka said.

This is Pecenka's second year directing the children's theater, and he said he's found the experience to really open the kids up.

"It's fun to see the kids that performed last year sign up again and to see the change in them," he said.

And even though they are young actors and actresses, the kids are able to develop their characters and make them their own.

"We're essentially just direction," Pecenka said of the directors. "What they have put together is incredible."
In the News Page 4: < Prev | 1 | 2 | 3 | 4 | 5 | 6 | 7 | 8 | 9 | Next >
All Free Resources