FREE RESOURCES: In the News [ Page 7 ]
News media articles, reviews, press releases for ArtReach plays
< Prev | 1 | 2 | 3 | 4 | 5 | 6 | 7 | 8 | 9 | Next >
This page (Page #7) has great articles from newspapers and school newsletters. Check out all these great comments about ArtReach popular titles: Sleepy Hollow, Wizard of Oz, Shakespeare to Go!, Laura Ingalls Wilder, A Thousand Cranes, World Day, Alice in Christmas Land, The Jungle Book, Kid Frankenstein.

Lake Cumberland Performing Arts and The Center for Rural Development
Presents Children's Prime Time Theatre's 'The Legend of Sleepy Hollow'
ArtReach's Clever Script appeals to Young Audiences

The spooky classic tale of Washington Irving's "The Legend of Sleepy Hollow" is coming to stage just in time for Halloween during the opening performance of Children's Prime Time Theatre's new season on Tuesday, Oct. 16, at The Center for Rural Development in Somerset.

"Clever adaption, loaded with hearty audience participation."

University of Wisconsin Whitewater, Barnett Theatre - ArtReach's The Legend of Sleepy Hollow

Lake Cumberland Performing Arts, in partnership with The Center, presents the legendary story of Ichabod Crane-the bumbling, awkward schoolmaster trying to win the hand of his sweetheart Katrina-in this timeless piece of classic literature.

The play, performed by professional actors from ArtReach, a division of The Children's Theatre in Cincinnati, Ohio, opens at 7 p.m. at The Center and is part of a night of family entertainment for all ages. A Halloween-themed Pre-Show Event with children's activities and an optional child-friendly catered dinner served by Chef Mete Sergin will be held prior to the Children's Prime Time Theatre performance from 5:30-6:30 p.m. in The Center's Front Lobby.

"Thrills, chills, and laughs for young audiences!"

University of Wisconsin Whitewater, Barnett Theatre - ArtReach's The Legend of Sleepy Hollow

"A perfect Halloween treat, this classic storybook adventure comes with all the thrills, chills, and laughs that will keep young audiences on the edges of their seats," said Dianna Winstead, associate director of arts, culture, and events for The Center. "As much fun as the play presents, it saves the best for last-the ride of the headless horseman."

Irving's eerie tale of romantic rivalry along the Hudson pits Ichabod Crane against the local hero and bully, Brom Bones, for the hand in marriage to Katrina Van Tassel, the daughter and sole child of a wealthy farmer. This haunting drama climaxes with the appearance of one of the great, legendary ghosts of all time: the Headless Horseman.

"This clever adaption, loaded with hearty audience participation, is more funny than scary," said Winstead. "Children of all ages are sure to enjoy this Children's Prime Time Theatre performance."

Warrendale Student-Led Production of 'Wizard of Oz' Delights Audience
National Heritage Academy, NHA Communications Team

What began as a video effort to support monthly Moral Focus presentations grew into a student-led production of "The Wizard of Oz" for a live audience at Warrendale Charter Academy.

Sixth-grade Teacher Annie Golick started the Warrendale Warrior Drama Club in October 2021 during virtual instruction due to the COVID-19 pandemic. She began creating monthly Moral Focus Moments for school assemblies on Fridays.

"There were oohs and aahs coming from the audience."

Warrendale Charter Academy performed ArtReach's The Wizard of Oz

"The students involved would audition monthly to have a role in the mini plays," Golick said. "Due to being virtual, we created storybook videos of images that followed the story. The students would then recite their parts over the video recording."

That led to a broader interest in performing once students returned to in-person school.

"Our plan is to increase the Moral Focus Moments to one per month (in person) as we did in the prior year, and to increase our play productions to two separate plays, one for December and one for the end of the year."

For "The Wizard of Oz," two students lead as co-directors: Laila Bell and Dewey Rambin. Both were part of the 2020-21 group who voted for this year's production.

"A highlight of the play was the melting of the Wicked Witch."

Warrendale Charter Academy performed ArtReach's The Wizard of Oz

"These two held open auditions for students to gain parts in the play," Golick said. "They auditioned up to 20 students to decide who would hold which role. They assisted in practices and directed students on positioning and projection. They also took a role in the day of the play by being the lead stagehand in the back (Dewey) and the narrator for the play (Laila)."

A highlight of the play was the melting of the Wicked Witch, played by Natalina Cawthon.

"The Evil Witch truly stole the show with her acting during the melting scene," Golick said. "Additionally, when the students returned back to Oz and the Emerald City scene was revealed there were oohs and aahs coming from the audience."

"About 130 people attended the performance."

Warrendale Charter Academy performed ArtReach's The Wizard of Oz

About 130 people attended the performance and the club is hoping to put on at least two plays next school year.

Warrendale Charter Academy is a tuition-free, public charter school in Detroit, Michigan, serving students in kindergarten through eighth grade. It is part of the National Heritage Academies network, which includes 98 tuition-free, public charter schools serving more than 65,000 students in kindergarten through 12th grade across nine states. For more information, visit nhaschools.com.

CTW Presents The Legend of Sleepy Hollow
Widener Children's Theatre Workshop

The Widener Children's Theatre Workshop (CTW) performed The Legend of Sleepy Hollow, the famed ghost story originally penned by Washington Irving, on November 3, 4, and 6. Unlike Washington Irving's or Tim Burton's version of the story, this was specifically written for a younger audience.

The story still follows the same basic plot: a middle-aged school teacher named Ichabod Crane (Brian Harrington) comes to the town of Sleepy Hollow to take a job as the new school teacher. Ichabod falls for the young Katrina Van Tassel (Kara Gilbert), a woman whom Brom Bones (Jon Owens) has already spoken for. Brom wastes no time in telling Ichabod of the Headless Horseman (Dan Cronin), the ghost who haunts the bridge in the town. This version deviates the most from the others in the play's climax when Ichabod meets his demise at the hands of the Headless Horseman. Unlike other adaptations, CTW's production contains more comic relief and less scares.

"I got a real kick out of making six hundred kids scream."
University of Wisconsin Whitewater, Barnett Theatre - ArtReach's The Legend of Sleepy Hollow

The play, however, was meant specifically for children and in that regard was a success. The children in the audience were very receptive, both during and after the show. "I would ask rhetorical questions and they would answer," Harrington said of his performance. "They're a lot more receptive." Cronin offered a similar sentiment. "With adult theater, people are more subdued. What makes it special for [children] is knowing it played for them." During the show, many of the children offered more audible cues than simply laughter or screaming. If there was a plot point, for example, that a child didn't understand, he would express that aloud.

As a 20-year-old writer, it's difficult to put myself in the mindset of a child and enjoy it in that manner. However, I agree with the performers that the children in attendance found it extremely enjoyable. As a college student, I didn't find the conclusion frightening, but if I were in grade school, I probably would have. During the show's confrontation between Ichabod and the Horseman, the audience reacted the most, both with laughter and screams.

"The play was a success!"

ArtReach's The Legend of Sleepy Hollow - Widener Children's Theatre Workshop

Unlike traditional theater, this production took full advantage of the building in which it was being performed. Most theater creates a separation between the audience and the performers; The Legend of Sleepy Hollow instead tried to build a gap between the two. During the climax, Ichabod is chased by the Horseman not just on the stage, but through the aisles and the seats, which allowed the audience to react even more strongly. To further solidify the union between the performers and the audience, after the performance the cast took questions from the audience.

To be sure, the response I got from the cast was that it was equally as fun for them as it was for the children. "I got a real kick out of making six hundred kids scream," said a smiling Cronin. Lisa Eckley Cocchiarale, the director of The Legend of Sleepy Hollow play, described it as being an intelligent play made specifically for kids. If the reactions of the children were any indication, the play was a success.

THEATRE WINTER HAVEN: SHAKESPEARE TO GO!
A Play for Young Audiences by Kathryn Schultz Miller

An ensemble of teens performing for their peers at local middle and high schools!

PUBLIC PERFORMANCE: SHAKESPEARE TO GO!
Wednesday, February 21, 2018 at 6:30 pm
LOCATION: Theatre Winter Haven | http://www.theatrewinterhaven.com/
TICKETS: $5 General Admission
Co-produced by The George W. Jenkins Fund within the GiveWell Foundation

Please stop by the Box Office to purchase your tickets!

Evergreen Playhouse to Debut the Story of Laura Ingalls Wilder
American Classic: Play Opens on Feb. 12, Runs Through Feb. 28
The Daily Chronicle, Centralia, WA By Justyna Tomtas

Actors at the Evergreen Playhouse will be performing a classic American story of hardships and triumphs focused on a pioneer family trying to create a life on the prairie.

The 15-person cast will open "Laura Ingalls Wilder: Voice of the Prairie" on Friday.

The play will span Wilder's life from early childhood into her older years. The dramatic and heartfelt scenes will depict her family's extraordinary survival of life on the prairie.

Director Angela Wilcox said she was inspired to do this play because it is one of her daughter's favorite stories. It holds personal significance to her, but she also said it's a very important and meaningful story loved by many.

"It is dramatic and genuine. The thing about the Ingalls and Wilder families is that they endured a lot of heartache throughout their whole lives, but they were farmers and pioneers so they just kept moving on," Wilcox said. "It's really about love and family and moving forward in the time of grief and loss."

"It really is a beautiful, heartfelt story."

Laura Ingall Wilder: Voice of the Prairie - Evergreen Playhouse, Eugene OR

The play, written by Kathryn Schultz Miller, is unique because it features over 24 scenes and spans about 60 years of Wilder's life, Wilcox said. The entire production is accompanied by a live musician who plays fiddle and guitar.

"We get to see basic snapshots of poignant memories in her life and her story," she said. "You get to relive the books if you are a Laura Ingalls fan and get to relive some of those favorite scenes."

Wilcox is a new director at the Evergreen Playhouse although she has directed in the past for Performing Arts to Homeschoolers, a Lewis County branch of a homeschool cooperative. Her cast varies in age and features children to actors with a lot of stage experience behind them.

For the opening weekend, a local fiddler family will play music from the Wilder era during intermissions. The Fiddlin' Brownies feature six children from the Brown family. The new addition provides something new for audience members that have enjoyed plays at the Evergreen Playhouse before.

"It will be a meaningful night for your family."

Laura Ingall Wilder: Voice of the Prairie - Evergreen Playhouse, Eugene OR

The play itself is family-friendly and suitable for all ages, Wilcox said.

"Laura Ingalls is a favorite character, so if you love Laura Ingalls Wilder, come and see this because you will be blessed by it, and it will be a meaningful night for your family," Wilcox said. "My actors do a wonderful job, and it really is a beautiful, heartfelt story."

The play will run Feb. 12-14, 18-21, and 26-28. Showtimes are 8 p.m. Fridays and Saturdays, and 2 p.m. on Sundays. Tickets are $10 for adults, and $8 for students with a valid ID.

There will also be a Thursday pay-what-you-can night on Feb. 18 at 7:30 p.m.

Proceeds from the play will help support the Evergreen Playhouse, which is located at 226 W. Center St., Centralia.

Sadako and The Thousand Paper Cranes @ Riverside
The Boys and Girls Club of East Providence RI

February 2 @ 1:00 pm - 2:00 pm: Teens from Rumford Dance Theater will tell the story of a young Japanese girl who becomes ill and attempts to follow an ancient legend of folding a thousand paper cranes in order to get well. Kids will make their own paper cranes at the end of the performance.
This Saturday - Take Your Child to the Library Day! Search the Children's Room at either the Weaver or Riverside Library to find the ever-elusive Waldo and his pals. Each participant will receive a small prize. Also, at 1:00, teens from Rumford Dance Theatre will present the play "Sadako and the Thousand Paper Cranes" at the Riverside Library. Kids will make their own paper cranes at the end of the performance. This is for families with children ages 5+.

Hiroshima Survivor Honored by 'A Thousand Cranes' Cast Members
From Salisbury Post (NC) - March 8, 2014, JON C. LAKEY / SALISBURY POST
"Suddenly," Leonard said, "the play means more. Art is not just about applause. It has a history. There's a lot of good things in it."

"It was kind of like a connection between me and her. I'm Sadako, and she's Sadako, too," says Bayleigh Grace Miller, who plays one of the parts of main character Sadako in the production of A Thousand Cranes.

Piedmont Players Theatre's "A Thousand Cranes" is the story of a young girl growing up in the shadow of Hiroshima. But to the young cast members, it's become much more than that. They've had the opportunity to meet Yoshiko Otey, who survived the bombing of Hiroshima.

And in between shows for the county's fourth-graders this week at the Norvell Theatre, they were folding 1,000 cranes for her.

When Otey was diagnosed with lymphoma a few years ago, their daughter sent her a box of tiny cranes. It meant more to Otey than any words her daughter could've said.

The cast decided to do the same to wish her well.

In the play, the girl, Sadako, becomes ill 10 years after the bombing of Hiroshima. She wanted to fold 1,000 cranes, based on the legend that doing so would restore her to health. She only made 644 before her death, but her classmates finished for her, making an additional 356 cranes. Today, a statue in her honor can be found in Hiroshima — a cry for peace from children.


JON C. LAKEY / SALISBURY POST: Fleming Otey helps Vivien Rudisell with her costume.
Rudisell plays the part of the grandmother in the Norvell Children's Theater production
of A Thousand Cranes.

At 9 a.m., they'd performed for a house full of students, all sitting in hushed excitement, eager to see the 30-minute, one-act play.

Their admission ticket? A folded crane.

There were already hundreds of colorful cranes decorating the lobby. Director Reid Leonard said the lobby would be full of cranes by the end of the week. Theoretically, he said, the cast could give three people 1,000 cranes each — in addition to the 1,000 they were making for Otey. "We're in the healing business now," Leonard said. "It's one of the things this cast never expected."

You never know exactly where a show will go, Leonard noted. "You just launch it and hope." Each cast member dropped a completed crane into his or her own small, plastic laundry basket. The Oteys stood nearby, looking on with gentle smiles.

Pastor Otey has seen the play more than once. "It's just as strong each time," he said.

Seeing the play for Yoshiko Otey has been emotional but healing, she said. "It's been such a long time. It's like waking up from a dream." Following treatment, Otey is doing well.

A Great Review for A Thousand Cranes
Theatre Review: Childsplay, Tempe Center for the Arts
By David Appleford, Phoenix AZ

Sadako was just three years old when the United States dropped the atomic bomb in 1945. Her home was little more than a mile from where it fell. Years later, while training for a foot race with her friend Kenji Sadako feels a pain which causes her to stumble. Doctors diagnose leukemia, a direct result of the fall of the atomic bomb. Sadako is still too young to understand why she's become affected by something that happened several years ago but her mother tells her "Radiation doesn't always show up straight away."


ArtReach's A Thousand Cranes

When Kenji visits the ailing Sadako by her bedside he offers her a folded crane as a gift and explains why. Japanese legend has it that if a sick person makes a thousand paper cranes then the gods will grant her wish of health again. Inspired by Kenji's story, Sadako attempts to reach that number.

Told in just under forty-five minutes with no intermission, director Dwayne Hartford's production presents its story with grace, poise and theatrical precision. Holly Windingstand's wonderful looking scenic design is based on Noh, a form of historical Japanese theatre which originates back as early as the fourteenth century. Here we have a raised floor backed by the traditional painted design of a pine tree all under a raised roof. Stage right stands a sound station where actors produce sound effects and play drums throughout, highlighting moments of action and movement and underlining the drama.


ArtReach's A Thousand Cranes

It's amazing that in such a short amount of time, some important themes, issues and traditions are explored in a manner that can't help but inspire young minds to want to learn more. In addition to the more obvious themes of war, the atomic bomb and radiation, there are also examples of respect for traditions, discipline at home, love of family and pin of eventual loss, not to mention that many, A Thousand Cranes may even be a child's initial introduction to the fun of origami.

Like everything throughout the play, the moment when the bomb drops is handled with taste, style and, in keeping with the traditions of Noh Japanese theatre, even elegance. There's a flash of light followed by a boom of sound. "The thunderbolt" Sadako's father begins. "It took our friends, it took our home. It took your grandmother."

Today a statue of Sadako stands in Japan's Hiroshima Peace Park. Once a year there's a holiday called Obon Day. This is where the country remembers the spirits of ancestors and close family members who have passed on. Each year, on Obon Day, Japan plays tribute to the young girl and other children who died from the radiation effects of the bomb by leaving thousands of paper cranes by the statue. Childsplay's A Thousand cranes shows why.
Following the play, audiences are treated to both an Origami family activity plus a brief Q&A session with the cast. This not only gives audiences a chance to ask questions regarding Sadako but also about theatre in general. At the performance this reviewer attended a child asked Michelle a question regarding D. Daniel Hollingshead's eye catching costume designs, particularly Sadako's kimono. Michelle mentioned how long it would normally take someone from Japan to properly attire themselves of such a complicated outfit, then proceeded to unsnap Hollinghead's clever all-in-one design illustrating how performers can effectively change costumes in an instant.

If excited comments overheard in the lobby after the show are anything to go by, this single simple moment of theatrical reveal was just as inspiring to some as the play itself. Thank about it. How priceless is that?

World Day of Theatre for Children and Young People
ASSITEJ: Uniting theatres, organizations and individuals throughout the world

Did you know that Children's Theatre has its own worldwide advocacy origination? It's called ASSITEJ which stands for International Association of Theatre for Children and Young People. They sponsor a global event entitled The World Day of Theatre for Children and young people, an ASSITEJ campaign, promoted and celebrated through the message 'Take a Child to the Theatre Today'.

"World Day campaign enables National Centres, individual members, companies, arts organisations, academics, teachers, artists, practitioners and others interested in theatre for young audiences to connect with the idea of World Day and 'make the case' for children's entitlement to theatre and the arts. Individuals from across the world are invited to promote the World Day messages and consider additional activity – large or small. Each year ASSITEJ Centres around the globe deliver activities ranging from conferences, performances, workshops and special media events, connected to #takeachildtothetheatre."

Learn more at ASSITEJ website: http://www.assitej-international.org/en/

A Christmas Wish from Lewis Carroll
To All Child Readers of Alice's Adventures in Wonderland
by Lewis Carroll, 1871

Dear Children,

At Christmas-time a few grave words are not quite out of place, I hope, even at the end of a book of nonsense - and I want to take this opportunity of thanking the thousands of children who have read Alice's Adventures in Wonderland, for the kindly interest they have taken in my little dream-child.
ArtReach's Alice in Christmas Land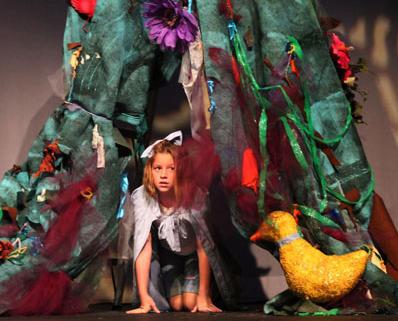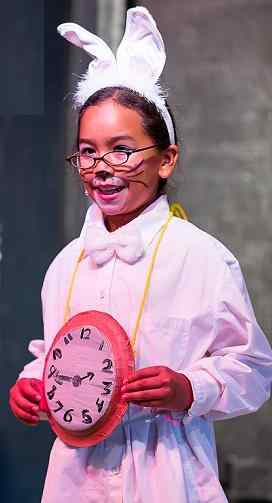 Golfshore Playhouse, FL - Brandenburg Elementary School, Irving, TX
The thought of the many English firesides where happy faces have smiled her a welcome, and of the many English children to whom she has brought an hour of (I trust) innocent amusement, is one of the brightest and pleasantest thoughts of my life. I have a host of young friends already, whose names and faces I know - but I cannot help feeling as if, through "Alice's Adventures" I had made friends with many other dear children, whose faces I shall never see.

To all my little friends, known and unknown, I wish with all my heart, "A Merry Christmas and a Happy New Year". May God bless you, dear children, and make each Christmas-tide, as it comes round to you, more bright and beautiful than the last - bright with the presence of that unseen Friend, who once on earth blessed little children - and beautiful with memories of a loving life, which has sought and found the truest kind of happiness, the only kind that is really worth the having, the happiness of making others happy too!

Your affectionate Friend,
Lewis Carroll
December 25, 1871

'THE JUNGLE BOOK' PREMIERES AT MHCC
Mount Hood Community Theatre, Gresham Oregon
November 12, 2017

"The Jungle Book," a play adapted for children by playwright Kathryn Schultz Miller, is being performed by MHCC theatre arts students for local children to enjoy and be drawn to, making it a great event for families with young ones.

Borrowing from the book by Rudyard Kipling published in 1894, the Children's Theatre Workshop show is about a boy, Mowgli, who is raised by wolves when he is forced to leave his jungle home in India because of a vicious tiger who threatens him.

This sends Mowgli on a journey with a sensible panther named Bagheera, and a humorous bear, Baloo. He meets many different animals throughout his adventure as they come together and form one big team and embrace their wild lifestyle.

The MHCC audience will get taken on an adventure while the Mt. Hood actors transform themselves into wild animals from the story. The cast seems to maintain strong focus despite having to account for 400 young children, and the actors aren't afraid to go beyond the stage as they chase Mowgli around the auditorium.

"Kids Jump With Excitement"

Kaa, Mount Hood's Production of ArtReach's THE JUNGLE BOOK

Joining in a game of hide-and-seek, children in the audience will be sure to shout out and give away any of the hiding actors to the others, making it fun and interactive. The costumes are colorful and creative as one of the actors is transformed into a devious python who hypnotizes the other animals. The set captures the essence of the deep jungles of Madhya Pradesh in India, with its moving vines, bushes, and shrubs - something that looks like the theatre students had a lot of fun designing.

There are really fun effects with lighting that make the walls appear to move with a glow. There's also a vulture who swarms the audience, making kids jump with excitement.

The show is long enough to cover the original story, yet short enough to maintain everyone's attention. The actors seem to bring the better-known jungle animals to the stage, so no one's favorite animal gets left out. The porcupine's costume makes the audience gasp as the character appears on stage showing off its prickly back, and the elephants inspire a unique costume idea for Halloween next year.

While several weekday morning performances in the College Theatre are reserved for area school groups (note: MHCC students and staff are invited to slip into empty seats), there's one showing for the general public at 2 p.m. on Saturday, Nov. 18. At the MHCC Performing Arts office, Room AC2134 on the Gresham campus.

The Making of the Jungle Book Poster at Mt. Hood Community College
More About Mount Hood's Production: Poster Art
Published on Nov 17, 2017

At Mt. Hood Community College, our Academic programs find unique and creative ways to collaborate. For example, when the MHCC Theatre program needed some posters for its fall production of the Jungle Book, it looked to the graphic design students of the college's Integrated Media program. Check out the results for yourself! Youtube:

https://www.youtube.com/watch?v=IUTTb9zYqog

Youth summer theatre programs marks 13th year
Staff Report, June 24, Grand Rapids Herald Review
Productions of 'Aladdin, Jr.' and 'Kid Frankenstein' to come to the Reif June 29 and 30

The Grand Rapids Players would like to invite the community to their Summer Theatre Camp productions of "Aladdin, Jr." and "Kid Frankenstein," June 29 and 30 at the Reif Center. This year marks the 13th year for the youth summer camp, with 50 campers in the morning session and 30 in the afternoon. This year's performances are directed by Sharon Marty, Jean Goad, Alese Pomplun and Chelsey Johnson. This year, in addition to the core (adult) directors, the Players have welcomed a handful of veteran youth performers to take on a number of leadership roles behind the scenes. "These veteran performers are so hooked on theatre that they pack a lunch and stay all day with us," explained Marty.

Taking on the role of Assistant Directors are Kayla Witherill and Glen Key; while choreographers include Charli Seelye, Morgan Tinquist, Lydia Mariano and KelliJo Chandler; and backstage technicians include Mila Adams and Chaz Adamson. "This camp is fast and furious music theatre," explained Marty.

"This camp is fast and furious music theatre."

Kid Frankenstein plays Grand Rapids

In 40 hours, productions will evolve from script to stage, including everything in between such as line memorization, blocking, singing, dancing, character development, costumes, props and scenery. Included in the three-week intensive are a variety of theatre experiences in costume design, set construction/design, improvisation, pantomime, focus, freeze, community-building and more. "In and amongst all of these theatre education opportunities, the kids also acquire some great life skills that include responsibility, accountability, teamwork, self-confidence, character building and making friends," added Marty.

This year, the program includes performances of "Aladdin, Jr." and "Kid Frankenstein."

'Aladdin, Jr.'

"Aladdin, Jr." is the story of the beloved Disney classic, of the penniless Aladdin (Isaac Palacek), who falls in love with the Princess of Agrabah, Princess Jasmine (Kiira Halvorson), who lives in the palace with her doting father, the Sultan (Paul Davis).

The School Science Fair is coming soon and Frankie (Autumn Brisbee) and her friend Irving (Bradley Hewitt) are working innocently on their project in Frankie's basement la-bore-atory. One day, a package arrives from Transylvania, containing a book by Dr. Frankenstein: "How I Did It!" Frankie now has the blueprint to create life from an inanimate object.

"One day, a package arrives from Transylvania..."

Grand Rapids Players invite the community to their Summer Theatre Camp performance of Kid Frankenstein

When they show up for school the next day, they learn that their teacher, Mrs. Newton (Evie Adamson) has a surprise for Frankie and his classmates. Two citizens of Snoozeville are coming to make a contribution to the science lab: Mr. Spots (Asa Dockter) from the local zoo is bringing a monkey's brain specimen and Mrs. Magillicutty (Tori Gunderson) has pickled the brain of her dog, Fluffy.

Mrs. Newton assigns Helga (Lucy Adamson) to join Frankie and Irving's group, and the three of them go to work in Frankie's lab to create life from his dumpster-dive treasures. After foiling the burglary of the brains of Einstein the monkey, the three put all their found pieces together, including the brain of Fluffy, flip the switch, and wait. Nothing happens.

Disappointed, they all head to Irving's house for mac and cheese and, while they are away, the monster (Andrew Kottke) comes to life and begins terrorizing the town. Will Frankie be able to tame the monster and get him to the Science Fair in time?

Performances for youth theater productions will be held Friday, June 29 at 6:30 p.m., and Saturday, June 30 at 2 p.m., at the Reif Performing Arts Center in Grand Rapids. General admission tickets are $7 and are available one-hour prior to each performance. "Aladdin, Jr." is produced with permission from MTI, Music Theatre International, NY, N.Y. "Kid Frankenstein" is produced with permission from ArtReach Children's Theatre Plays, Bradenton, Fla.
---
In the News Page 7: < Prev | 1 | 2 | 3 | 4 | 5 | 6 | 7 | 8 | 9 | Next >
All Free Resources